What Does a
Simple Social Media Contract Template
Look Like?
The expansion of social media platforms created a new way of advertising products—influencer marketing. According to a survey by Social Media Today, 76% of people follow brands on social platforms, making social media the most convenient source of advertising.
Brands reach out to social media celebrities and influencers to help them drive traffic, create content, reach out to a broader public, and ultimately, generate sales. As with any other, this type of collaboration calls for a legally binding agreement.
If you don't know how to write a contract, you are in the right place! In this article, you can find out more about influencer marketing and learn what a flawless simple social media contract template should look like!
What Is a Social Media Contract?
Influencer marketing may seem simple, but it's more than posting pictures and videos and tagging brands in them. Companies have expectations and marketing plans, and they require influencers to fulfill them. The other side has expectations as well, which is usually monetary compensation.
A social media contract—otherwise known as an influencer agreement—is a legally binding agreement between a brand and a social media influencer that outlines the rights and responsibilities of both parties, as well as the outcomes of the campaign.
The purpose of this legal document is to prevent risks and protect both parties in case the professional relationship goes south.
For brands, especially the more famous ones, it is more practical to keep a contract template that they can use at any time with slight alterations. That doesn't mean you shouldn't have one, too—we will show you what a great social media contract template should include!
Key Components of Every Influencer Agreement
All simple social media contracts should include the following elements:
Description of the content that you'll be creating

Guidelines, conditions, and expectations

Compensation details

Legal requirements
Content
To stay on top of creative differences, the influencer and the company should come to an agreement regarding the type of content the influencer is going to publish on their account. It should be a compromise so that it doesn't clash with the influencer's image. Parties should define the number of posts and the type of content:
Photos

Videos

Stories

IGTV videos (as the chosen social media outlet is typically Instagram)
The agreement should outline other aspects of the content, including:
| | |
| --- | --- |
| Content Details | Explanation |
| Timing | Checking Instagram's statistics and figuring out the best time to publish content so that it would reach the largest audience |
| Aesthetics | Finding a way to join the brand's image and aesthetic with the influencer's to keep the followers interested in the account |
| Hashtags and mentions | The brand should specify whether they want the influencer to upload the content with a hashtag and which one they should use |
Guidelines, Conditions, and Expectations
Companies usually set clear marketing campaign goals and expectations. They expect influencers to follow their rules and meet the requirements to help them complete those goals.
Here are some of the most general objectives that brands have:
Driving more traffic to their website

Increasing brand's visibility

Promoting new products

Creating new audience
Compensation
Whether the influencer gets money, free products, or both, terms of compensation should be clearly outlined in the contract. When writing a social media agreement, you should define:
Compensation type

Compensation amount

Time and frequency of payments
Determining the frequency of product compensation is more important because the influencer has to try and review the product to make content about it.
Legal Requirements
In the U.S., all sponsored content on Instagram is regulated by the Federal Trade Commission (FTC). The contract should state what the FTC's rules and requirements are so that the influencer can follow them.
What Should a Simple Social Media Contract Template Look Like?
Sections that a simple social media contract template should include are:
Information about the signing parties

The objective of the collaboration

Description of the collaboration

Duration of the contract

Specific conditions and requirements

Payment details

The Federal Trade Commission (FTC) guidelines

Protection of confidential information

Termination of the contract
Save Hours and Money on Drafting Contracts—Use DoNotPay
DoNotPay created the Standardized Legal Documents product to help people create legal documents without seeking help from expensive attorneys.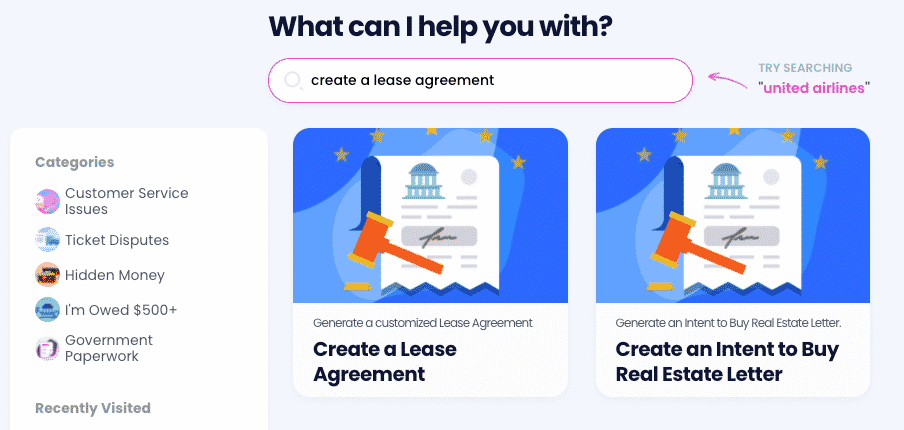 Our handy feature enables you to customize contracts and other legal documents in three steps! Here's what you should do:
Enter the name of the document you need

Answer several questions from our chatbot
You will have your legal document in no time! Does your document need notarization? No worries—once you subscribe to DoNotPay, you get access to our other fantastic features, including the Notarize Any Document service. Use our notary service to connect with an online notary at any time!
What Legal Documents Can the World's Best Virtual Assistant Draw Up?
Once you make a DoNotPay account, you get to create numerous legal documents, some of which you can find in the following table:
Legal Documents That You Can Make Using DoNotPay
Real Estate Documents
Business Documents
Other

Quitclaim deed

Estoppel certificate

Intent to purchase real estate

General business contract

Promissory note

General affidavit

Child care authorization form
Your Online Safety Is Our Priority
The benefits of the internet are numerous, but so are the opportunities for scams of all kinds. DoNotPay can help you fight scammers left and right with easy-to-use features, highly customizable to match your needs. 
Our app can provide invaluable resources for fighting:
If you're an avid online shopper, we have your back. In case something goes wrong, we will help you contact customer service without holding, request a refund, or even sue the company in small claims court.
Diversity Is Our Middle Name
DoNotPay doesn't stop at online safety. Do you need to set up an appointment at the local DMV, but keep procrastinating because you know how awful the lines are? Are you a prospective college student trying to save on application fees? Have you lost track of all unnecessary subscriptions and memberships that keep draining your bank account?
If the answer is yes, DoNotPay is the right platform for you. Whether you're preparing for government-issued tests or looking for ways to lower your bills, our app will be of assistance.