Signs of Drug Dealing Neighbors—When Should You Be Worried?
Due to the vicinity of your homes, your neighbors' activities can affect your life as well. If you are lucky, the nearby residents may only be annoying, and solving the issues won't be much trouble. In other cases, the situation can be a lot more serious, such as making or selling drugs. This article will cover all the signs of drug dealing neighbors and offer solutions to this problem.
Clear Signs Your Neighbor Is a Drug Dealer
Before you call the police or take any other action, you should make sure that there is enough evidence that your neighbors are selling drugs. Check out the table below for all the red flags you should watch out for:
| | |
| --- | --- |
| Potential Sign Your Neighbor Is a Drug Dealer | Explanation |
| Having too many visitors | A significant amount of foot traffic can be a sign of your neighbor's clients coming over to get the drugs. You should also pay attention and see if many new faces keep on going to the property and making quick visits |
| Living a good life despite not having a job | In case you know that your neighbor does not have a job but they keep on buying expensive items, it could be a sign of getting money from illegal sources |
| Having a house that looks suspicious | Sometimes the property the neighbor lives in looks fishy on its own. Black-out window covers on all the time, high fences blocking the view, and smell coming from the house are good indicators of illegal activities |
| Leaving drug paraphernalia around the property | If you see syringes and small plastic bags near the neighbor's house, consider it a red flag. You should also be worried if you notice chemical containers in your neighbor's trash (signs of meth production) |
| Being involved in gang activities | If your neighbor is a member of a gang taking part in dangerous activities, chances are high that they may be dealing drugs as well |
If these signs sound familiar, you need to do something to protect yourself and your family.
What Should I Do if I Think My Neighbors Are Dealing Drugs?
In case you can tick off most of the signs of drug dealing neighbors, you should start thinking about further actions. Here is what you can do when you suspect your neighbor is a drug dealer:
Contact the landlord of the property if it is being rented—In case you suspect the tenant is selling weed or any type of drug at their apartment, the first step should be informing their landlord
Start a neighborhood watch—If you are worried about your safety, other neighbors likely feel the same way. Documenting all activity connected to the suspected drug house with the help of other nearby residents is a great way to collect evidence
Call the police—When you feel endangered by the activities happening on the property near your house, it is time to involve the law enforcement
In other situations involving problematic neighbors, the common first step is to approach the person and communicate the issue. When it comes to drug dealing and other illegal activities, you should skip this approach for your own safety.
DoNotPay can help you send a demand letter for numerous other less serious issues caused by your neighbors.
Use DoNotPay To Point Out the Consequences of Bad Behavior to Your Neighbors
If you wish to let your neighbors know that actions have consequences, you can turn to DoNotPay for help. Our app will create a demand letter listing everything that will ensue in case they keep on disturbing your peace. The process is straightforward—you only need to:
in any web browser
Inform us about the issue you're having—noise, harassment, or a problem with animals
Provide us with some more info—whether you tried talking to your neighbor, for example
Once you're done with the short questionnaire, DoNotPay will send them the letter in your stead. The neighbors are bound to be more careful about their actions if you decide to include the amount of expected compensation in the demand letter.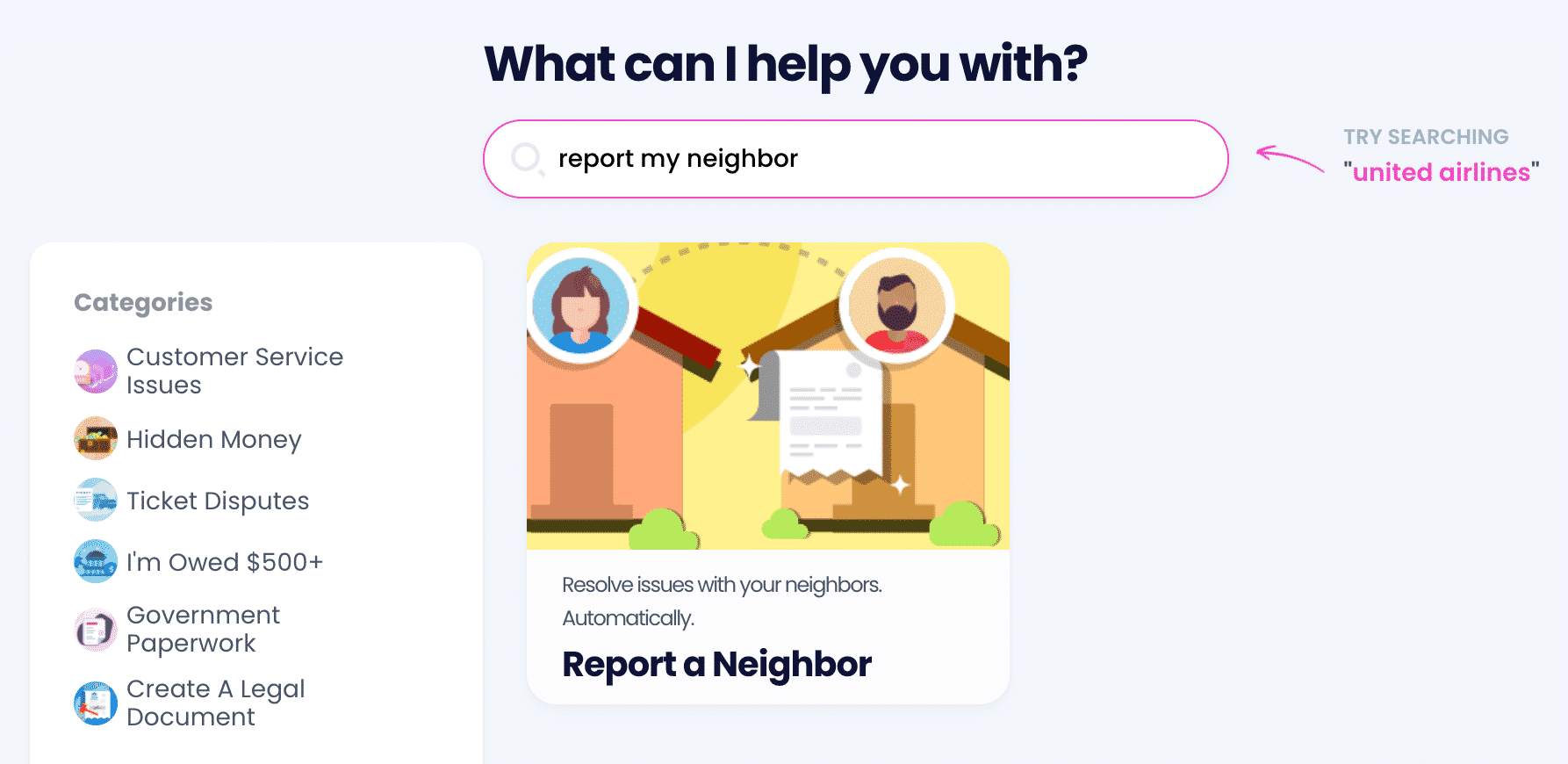 Other Reasons You Should Consider Reporting Your Neighbors
Even if going back home after work does not involve stepping on a syringe or avoiding potential bullets, neighbors can still find a way to annoy you. They are usually most creative when it comes to being noisy. Take a look at the list of reasons when you should consider filing a complaint:
can write a letter to noisy neighbors and tell you how to document harassment and deal with other problems in a legal manner. If necessary, you can check out our guide on when it is advisable to take your neighbors to court.
Use DoNotPay's Features to Your Advantage!
DoNotPay offers a myriad of helpful services you can use to resolve your everyday hurdles.
Do you need help paying bills or finding and claiming missing money? Are you interested in applying for clinical trials in your area? We can help you solve these and many more issues in no time!
Here are some other problems you can handle effortlessly with our help:
Hiring a Lawyer Can Cost a Small Fortune—Rely on DoNotPay Instead
If you're on a tight budget and can't pay a lawyer to help you create legal documents, file a claim in small claims court, or handle stalking and harassment, DoNotPay has a solution for you.
Our app will help you create various documents, including child travel consent forms and complaint letters for a problematic neighbor.
Are you a victim of a crime and need help applying for reimbursement of your crime-related expenses? You can sign up for DoNotPay and allow us to handle your crime victims compensation on your behalf.
DoNotPay can also connect you with an online notary and enable you to get your documents notarized from the comfort of your home.