A Guide to Los Angeles Paid Sick Leave
Are you confused about the Los Angeles paid sick leave?
It's a complicated topic—this type of legislation is different from city to city and state to state. Understanding what you're entitled to and how to use it will allow you to avoid being sick at work.
This article will cover the basics of the three different sick leave ordinances that may apply to you. If you're confident in your eligibility but aren't sure how to make the request, DoNotPay will help. Our app streamlines the process of .
The Fundamentals of Los Angeles Sick Leave Law
The good news is that you're almost certainly eligible for sick leave of some kind. This is not a given—millions of Americans lack coverage.
Your employer must give you at least 48 hours of sick leave every year. L.A. sick leave law allows the following uses of earned sick days:
Recovery from a mental or physical illness, injury, or health condition
Care for a family member recovering from one of the above conditions
Recovery or legal action concerning an incident of domestic violence or a sexual offense
Closure of your workplace or your child's care institution due to a health emergency
The Different Types of Paid Sick Leave in Los Angeles
Different types of paid sick leave for which you may be eligible are the following:
L.A. permanent paid sick leave
L.A. COVID-19 supplemental paid sick leave
California COVID-19 supplemental paid sick leave
L.A. Permanent Paid Sick Leave
To qualify for the standard Los Angeles paid sick leave ordinance, you must:
Work in Los Angeles
Have been employed for at least 90 days
If you are prevented from using your paid sick leave, you can file a complaint with the Los Angeles County office.
L.A. COVID-19 Supplemental Paid Sick Leave
This L.A.-specific form of emergency legislation provides an additional 80 hours of sick leave for COVID-19 and related purposes. Eligible citizens must:
Work in Los Angeles
Have been employed for at least 60 days
Work at a company with 500 or more employees in Los Angeles or more than 2,000 employees nation-wide
California COVID-19 Supplemental Paid Sick Leave
If you do not meet the requirements of Los Angeles' COVID-19 sick leave ordinance, you may be eligible for the state-wide alternative. To qualify, you must:
Work in California
Have been employed for at least 30 days
Work at a company with 25 or more employees
If your employer denies you the sick days to which you are entitled, file a complaint with the California Department of Labor.
Who Is Eligible for L.A. Paid Sick Leave?
L.A. sick leave law does not apply to all forms of employment. Review this table to determine if you are eligible:
| Employment Type | Eligible (Yes/No) |
| --- | --- |
| Full-time | Yes |
| Part-time | Yes |
| Temporary | Yes |
| Undocumented | Yes |
| Federal | No |
| State | No |
What Does Los Angeles Sick Pay Law Mean for Your Employer?
City and state-level legislation prevent employers from:
Calling in Sick 101
Whether it's a case of food poisoning or a strained muscle, medical experts recommend taking time off to rest.
Once you're sure you're too sick to go to work, you need to inform your manager. Find out if your company follows a specific policy for managing sick leave. If not, you can call in sick via:
DoNotPay Takes the Guesswork Out of Requesting Sick Leave
Worried about how to ask for time off? Even when it's legal and justified, it can be challenging to talk to your manager about an absence.
DoNotPay will help—we offer a Request Sick Leave product that streamlines the task of putting together a sick leave request letter.
Here is how it works:
Select the Request Sick Leave product
Provide information about your employment and your upcoming absence
Upload a picture of your doctor's note
After that is taken care of, you can download a copy of your letter or let DoNotPay submit it to your boss for you.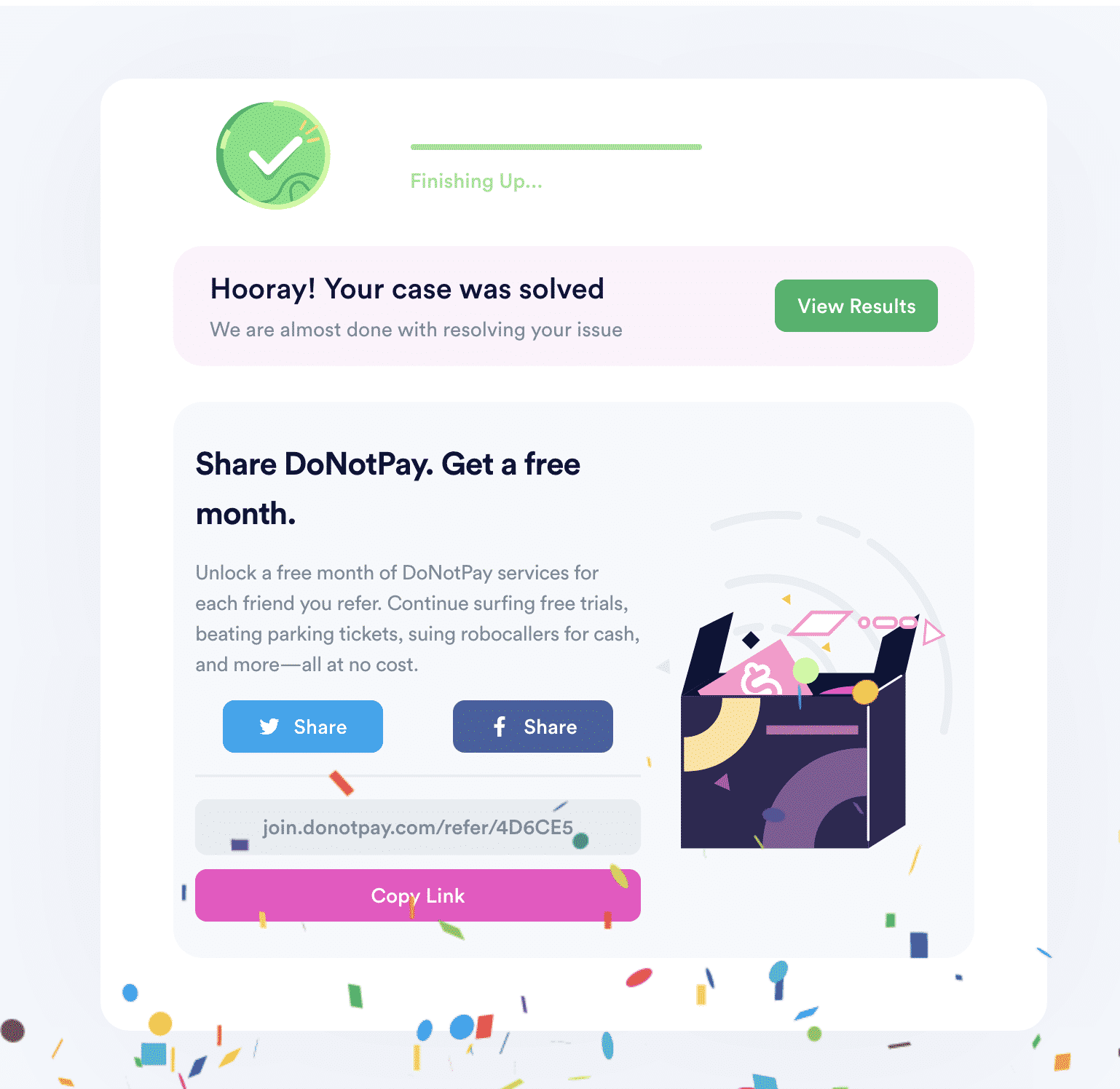 Turn to DoNotPay and Remove Bureaucratic Issues in a Snap
Does paperwork bring you to the edge of a nervous breakdown? With our help, you will skip all administrative impediments and get ready-made legal documents before you know it! No failed drafts or huge legal fees!
DoNotPay can generate:
Once you create the desired document, you can fax it online without a faxing machine or have it notarized with zero complications in the same app!
Your Info Is Safe With Our App
You don't need to leave your credit card info or personal details if you want to start free trials that won't turn into paid subscriptions without notice. DoNotPay will create a virtual credit card with a fake name and generic credit card number for you in just a few clicks. This way, greedy companies won't take a single penny from your account without your authorization!
Our app can also help you file anonymous HR complaints or create burner phone numbers to avoid disclosing your real info when signing up for apps and platforms.