Find Out What Sick Employee Rights Apply to You
Sick employees do have rights, but understanding them within the complicated framework of the U.S. legislation is no easy feat. There are almost no federal paid sick leave laws, but some states have their own sick leave rules that apply to all eligible employees within the state.
We'll look into the sick employee rights for each of these cases and show you how DoNotPay can help you if you feel too sick to work.
What Are the Sick Employee Rights Under the FMLA?
The Department of Labor's Family and Medical Leave Act (FMLA) is an unpaid sick leave policy that provides eligible employees protection during unpaid time off. Based on this law, an employee can request leave to care for:
A newly arrived child—whether by birth, adoption, or foster care
A direct family member with serious health problems
Themselves if they're suffering from a severe health problem that impairs their ability to work
A member of the family who is a servicemember on active duty
The FMLA establishes the following rights:
An employee can take up to 12 weeks off in a 12-month period to care for themselves or direct family members with serious health issues
They can take up to 26 weeks off in a 12-month period if the direct family member is an eligible servicemember
Employees that fall under the FMLA criteria cannot be coerced back to work by their employers while still sick
Employees cannot be fired by their employers for taking sick days under the FMLA
An employee can sue their employer if they are fired while being sick
Employer and Employee Qualifications Under the FMLA
The FMLA covers only the employers and employees who meet specific criteria. An employee that meets all eligibility checks can count on the FMLA-based sick employee rights only if the company they work for is also eligible. The table explains the types of employers and employees covered by the FMLA:
FMLA Eligibility Requirements
Employers
Employees

Public agencies at the local, state, or federal level, regardless of the size of the agency
Public or private elementary or secondary schools, regardless of staff strength
A private company that has had 50 or more employees in at least 20 weeks of the current or preceding calendar year

Must work for an eligible employer
Should have maintained at least 12 months of employment with a specific employer—these months don't have to be consecutive
Should have clocked in at least 1,250 hours in the 12 months before the intended sick leave
Must work at a location where the employee has a staff strength of at least 50 employees who live within a 75-mile radius
Different States and Their Sick Leave Laws
States and counties across the country have developed, are developing, or have expanded their own paid sick leave laws for employees that call in sick—mostly influenced by COVID-19 and the Emergency Paid Sick Leave Act.
The table below contains our guides to the laws of the following states and cities:
DoNotPay's Custom Letter Is Perfect for Requesting Sick Leave
Email templates for requesting sick leave can be easily found on the internet, but they are not reliable or specific enough. You can count on DoNotPay's AI-powered app whenever you need to request time off when you're sick and need to stay professional.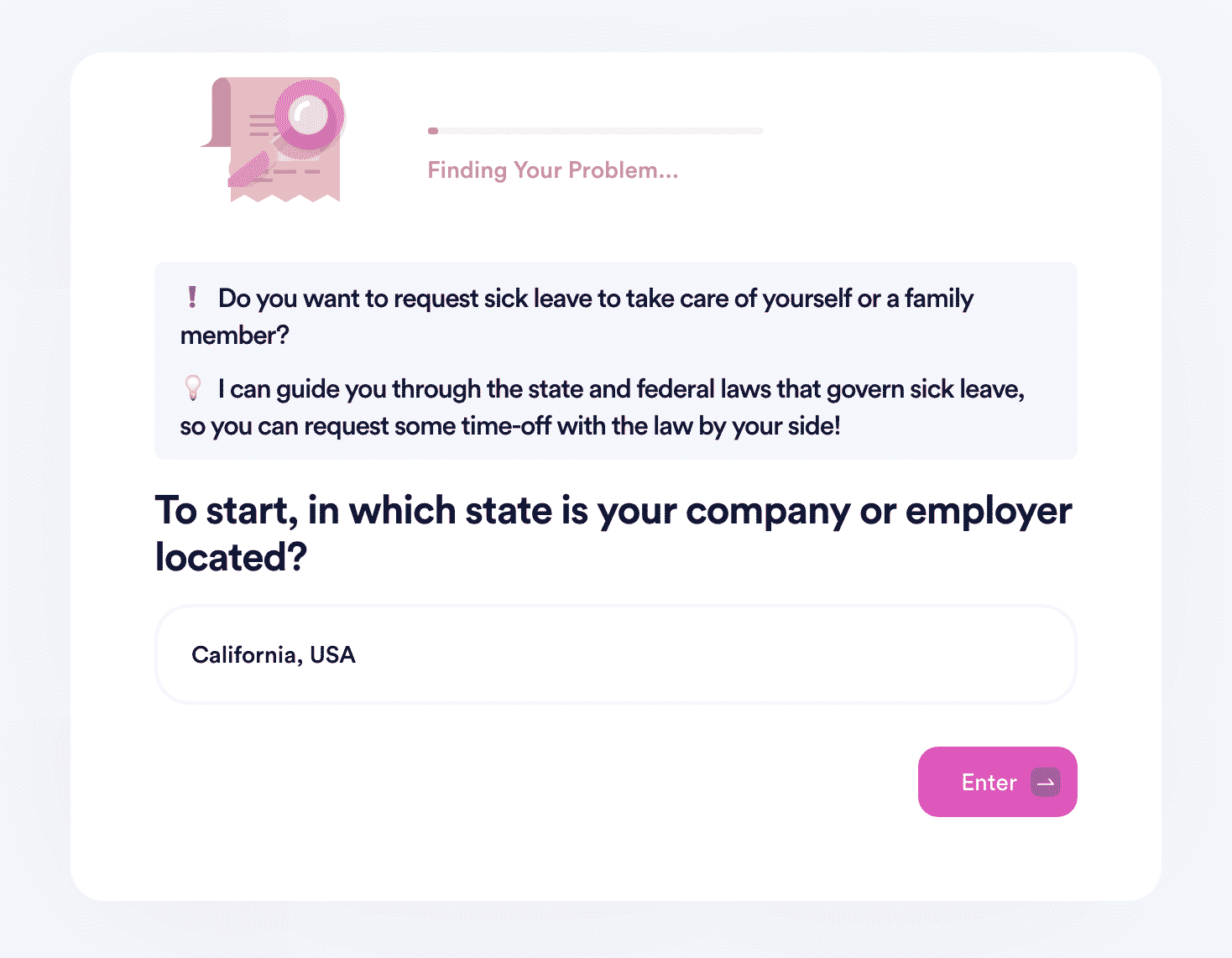 To get your personalized sick leave request letter, take the following steps:
and find the Sick Leave Request tool
Choose the state your company operates in so DoNotPay can check for applicable sick leave laws
Answer our chatbot's questions about your employer and enter the number of days you'll need for sick leave
Choose whether to have our AI app email the letter to your employer on your behalf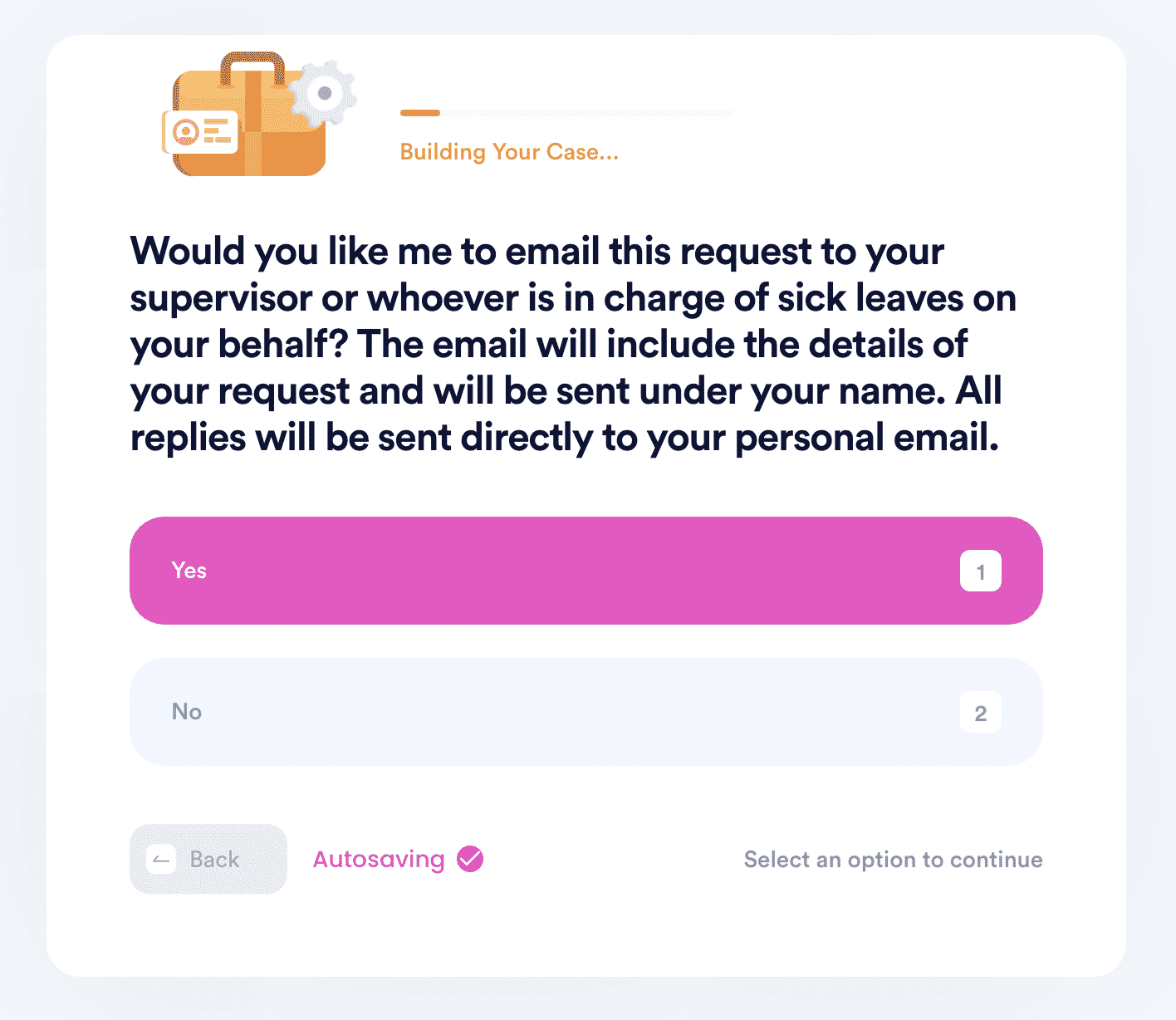 What About Other Perks Our App Offers?
DoNotPay offers valuable assistance with the following tasks:
DoNotPay Cares About Health Matters
Finding suitable and verified clinical trials you can participate in is often complicated and time-consuming. Still, with DoNotPay, it becomes a breeze! Our platform allows you to search through clinical trial databases and apply for the ones that seem acceptable to you.
If you want to make sure your health wishes are honored if you get too sick, we help you compose an advance health care directive based on your preferences. That's not all—you can also name a person who can decide on your finances and estate if you get incapacitated by creating a power of attorney in our app!