Sick at Work—Request Sick Leave in No Time With DoNotPay
Work is rarely fun—it's what we have to go through so that we can afford to do what we enjoy. Still, that doesn't mean we should go to work if it affects our well-being. Nobody should force us to go to work when sick.
What happens if you're already in your office when you become ill, and it's too late to call in sick or send an email? In this article, we'll explain what to do if you get sick at work and how you can use DoNotPay to request sick leave with ease.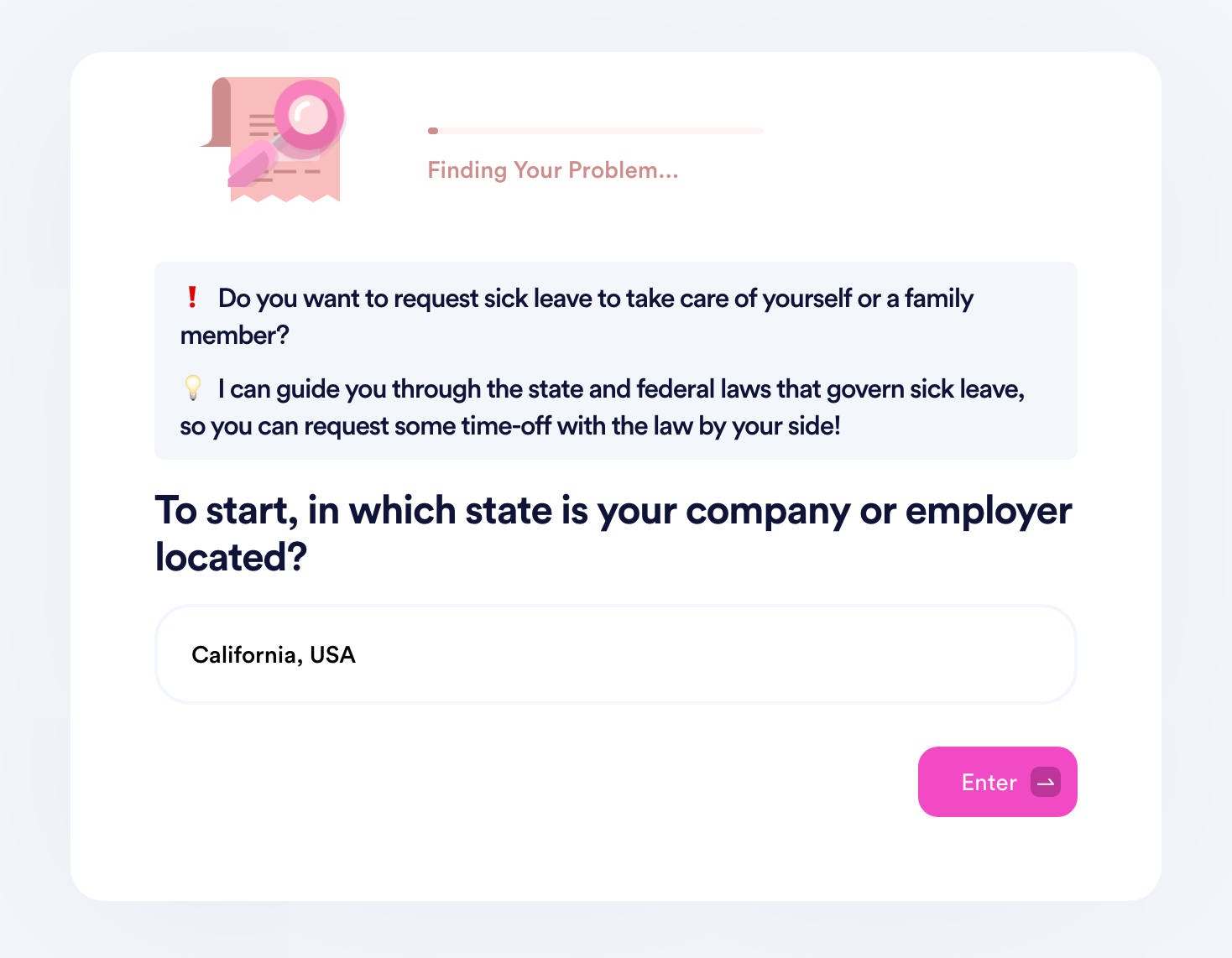 Getting Sick at Work
It's not a coincidence that a lot of people get sick at work. You spend half of your day in an office you share with other people who might come to work sick. Around 90% of all employees decide to go to work sick because:
They don't want to use a sick day
Employer pressures them to show up
They're sick but can't miss work due to a heavy workload
Their colleagues come in sick
Another major reason why people don't do it is that they can't. About 33 million employees don't have access to paid sick leave, and many others are unaware that they do. Some companies don't even offer unpaid sick leave.
How To Go Home Sick From Work
If you're not feeling well, you shouldn't try to power through it—having a fever won't help you be productive, and you may get others sick.
Going home is the logical course of action, especially during the COVID-19 pandemic. If you do contract COVID-19, the employer must allow you to go home under the Emergency Paid Sick Leave Act.
Before going home, you'll need to:
Go to your supervisor
Ask for sick leave
Inform your coworkers you're out of the office
You can also ask to work from home if you can't get sick leave as the employer may not be obligated to accept your request. The federal law doesn't regulate sick leave, and you'll have to figure out on your own if you can take sick leave.
So far, only 16 states (15 plus D.C.) regulate—or intend to—companies' policies about paid sick leave. Check out the following table to find articles with information about different state laws:
If you don't know what your company's policy is, you should go through your contract to learn about sick day rules.
Being Sick at Work—What To Do if You Can't Go Home
If your employer wants you to stick around, or if you have too much work to skip a few days, you'll have to remain at work. The following table shows you the dos and don'ts of how to work while sick:
What To Do
What To Avoid

Sanitize and wipe down public areas you use
Take medication
Wear a mask
Wash your hands
Drink water or tea

Going to in-person meetings
Shaking hands with others
Ignoring signs your condition is getting worse
How To Request Sick Leave Effortlessly With DoNotPay
DoNotPay can help you create a rock-solid sick leave request in no time—it's the quickest and the most convenient way of going about it. Use our nifty Request Sick Leave product, and we'll walk you through your employee rights and create the request for you.
All you need to do is sign up for DoNotPay and:
Locate the Request Sick Leave tool
Insert the state where the company is located, and we'll show you what sick leave laws are in place (if any)
Answer a few questions about the company
Enter the dates on which you'll be absent from work
Choose whether you want DoNotPay to:

Send the request to your employer directly
Share it with you so you can email it on your own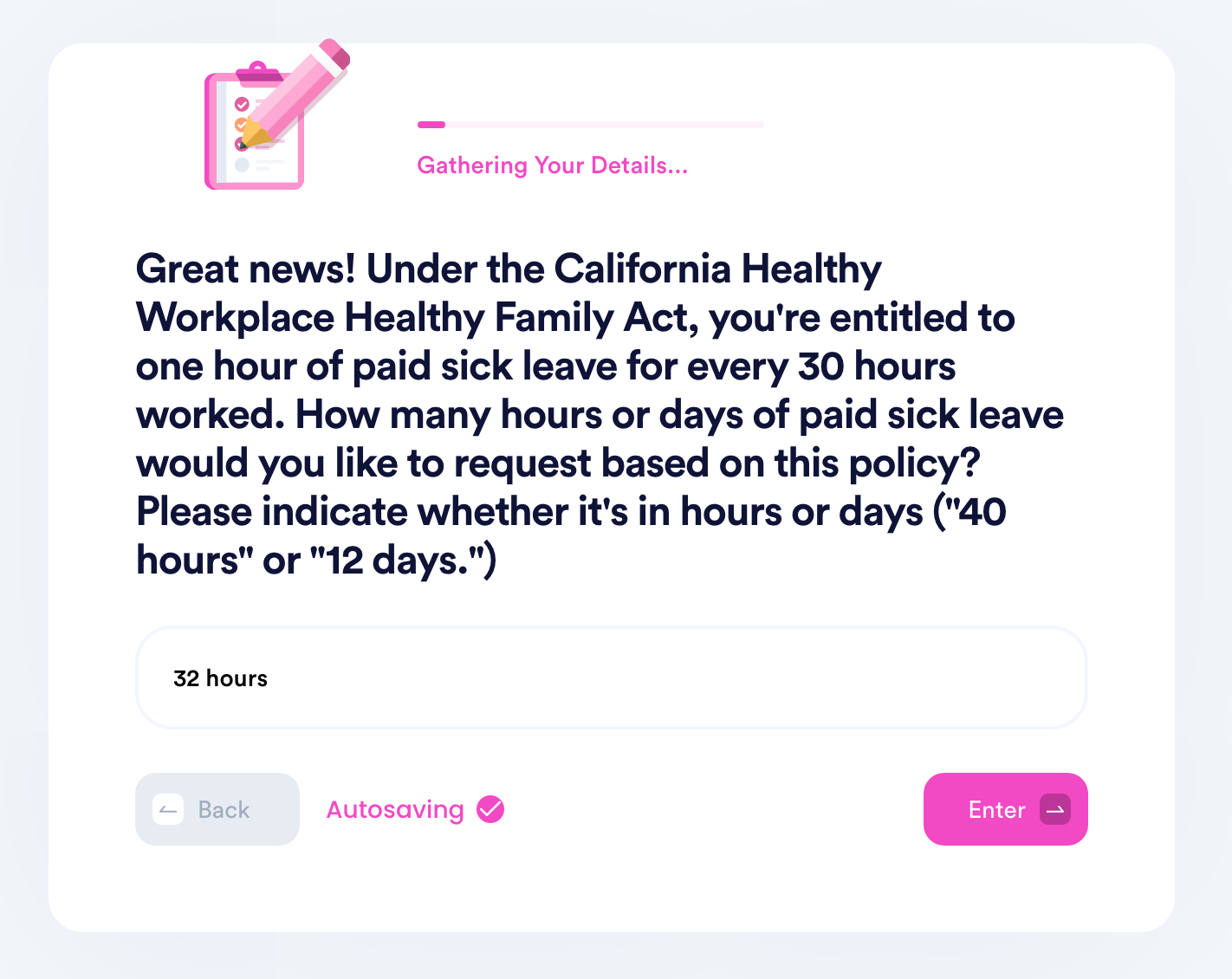 The employer may refuse to give you sick leave—even if the state or the Family and Medical Leave Act (FMLA) requires them to do so—and fire you if you don't show up. In that case, you can sue them via our Small Claims Court product.
Choose From a Vast Variety of DoNotPay's Handy Services
DoNotPay boasts an enviable collection of various tools that help you cope with administrative matters more efficiently. Here is a small portion of the services we generously offer:
| We Can Help You File | We Can Create |
| --- | --- |
| | |
Be Safe Online With the Help of Our App
Keeping your details confident when using the internet is simpler with DoNotPay! Check out virtual credit cards our app can generate for you, and have fun with the free trials no one can charge you for! If you need a quick solution for phone authorization but don't want to use your actual phone number, we can create burner ones and keep your info private.
DoNotPay assists you in reporting defamation as well as stalking and harassment, prevents copyright violation, and helps you eliminate spammers and their annoying texts, emails, and robocalls.