Get Your
Shutterstock Free Trial
in No Time and Without a Morsel of Risk
If a picture is worth a thousand words, then the value of high-quality stock imagery cannot be overstated. If you're running your own business, setting up a website, drafting a visual ad, or pursuing a creative endeavor of any kind, you might find yourself in need of adequate stock photographs.
Of the many stock photo libraries out there, Shutterstock is by far the most popular option. This is a U.S.-based online company that provides its users access to a suite of stock photography, footage, music, and editing tools.
Things You Should Know About the
Shutterstock Free Trial
Shutterstock allows you to try out the service for free and download ten images a month at no cost. The free trial will expire after 30 days, regardless of whether you use up your allowance of ten images.
The ten free images that you download are yours to keep, no matter whether you continue or cancel your annual plan. You don't have to worry about the ugly watermarks ruining your photos, either—the images you download as part of the trial come without watermarks.
What Else Is Included in the
Free Shutterstock Trial
?
In addition to downloading the images, the free trial lets you take some other service features for a spin, including:
How To Get a Shutterstock Free Trial?

You can start your Shutterstock free trial on the company's website in a few easy steps:
Visit the

Shutterstock pricing

page

Hit the

Start a Free Trial

button

Choose a monthly plan for ten images

Fill in your details and payment information

Enter the free trial code

PICK10FREE

at checkout
Does the Shutterstock Free Trial Automatically Renew Into a Paid Subscription?
Yes, if you try out Shutterstock for free, bear in mind it will automatically turn into a paid subscription—unless you decide to cancel beforehand. You can expect to see your first charge for the subscription approximately four days before the end of the trial period. 
If Shutterstock isn't the right service for you, prevent any unwanted charges by canceling online on Shutterstock's website or with the assistance of DoNotPay. 
How Much Is Shutterstock After the Free Trial?
Once the free trial runs out, you will be automatically charged $29/month for the 10-image annual plan, billed monthly.
Shutterstock has other pricing plans, including:
| | | | | |
| --- | --- | --- | --- | --- |
| Plan | 10 images | 50 images | 350 images | 750 images |
| Monthly (no-contract) | $49 | $125 | $199 | $249 |
| Annual paid monthly | $29 | $99 | $169 | $199 |
| Annual paid upfront | $299 | $979 | $1,649 | $1,999 |
You can also choose an on-demand pack when you need access to stock images or footage, but don't want the commitment of a subscription plan.
If a pack of five images is enough for your needs, you'll be looking at the following prices:
Standard license: $49

Enhanced license: $449
For a 25-image pack, you can expect to pay this much:
Standard license: $229

Enhanced license: $1,699
 Visit the Shutterstock pricing page for more details. 
With DoNotPay, You No Longer Have To Worry About Auto-Renewed Charges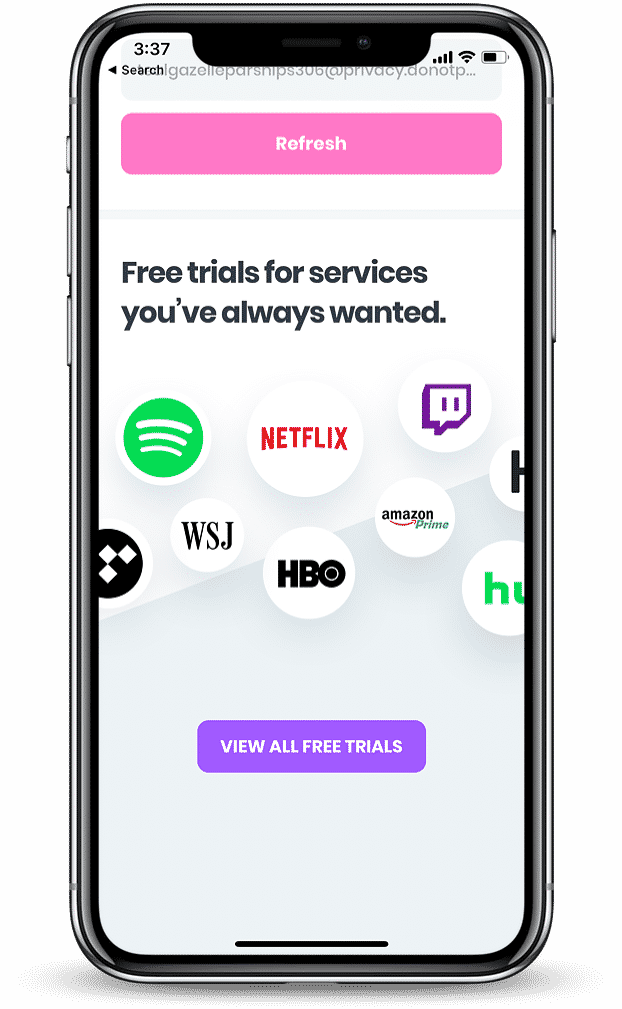 If you've ever tried out an online service for free, you're probably familiar with the "oh, shoot!" feeling when you suddenly realized you had forgotten to cancel the trial before it expired. In many cases, it's already too late—the company charged you, and they don't allow refunds. 
What if we told you there is a way to sign up for as many free trials as you like, without having to use your credit card and risk a single dollar?
DoNotPay's virtual credit card enables you to sign up for a limitless number of free online trials—no payment information needed! Our Free Trial Card is not linked to your bank account or any other funding source. It mimics the credit cards issued by banks by generating a credit card number, an expiry date, and a cardholder's name. To the merchant, this looks like genuine card information. They are not able to see there is no money on the card—which means that, even if you forget to cancel the subscription on time, the automated charge will be void. 
By using DoNotPay's Free Trial Card, you're also safe from ubiquitous online scams that target your credit card information.
DoNotPay Keeps You Spam-Free

Our virtual credit card can also generate a random email address that you can use when you're applying for a new online trial. 
This has a twofold purpose:
Keeping your inbox free of any unwanted marketing newsletters from Shutterstock (or another company whose free trial you just signed up for)

Blocking the service provider from tracking your location and other sensitive data
To get your hands on the Free Trial Card, access DoNotPay from any web browser.
DoNotPay Detects Your Unused or Underused Subscriptions

If you have many recurring subscriptions on the go, it becomes easy to lose track of the fees and charges that go with these services. Because you're being charged automatically, you may not even be aware of how many hefty charges you're incurring. 
Here's a simple way to cut down on costs and identify which services you should unsubscribe from. Connect your bank or email account to DoNotPay, and—while fully respecting your privacy—we will conduct an audit of the services you're paying for. 
Once we find those that are dormant or underused, we will recommend that you get rid of them as soon as you can. To simplify the process further, you can also opt for DoNotPay to handle the cancellation for you.
If You Encountered an Issue With Shutterstock, DoNotPay Can Help You Sue It in Small Claims Court
When a company wrongs you and breaches your consumer rights, taking a stand against them may seem like a battle of David versus Goliath. With our groundbreaking AI-app, this no longer has to be the case.
If you want to take Shutterstock or any other company to small claims court to resolve the dispute, you can now do so with DoNotPay. We will assist you with the required forms, prepare the argumentation, and streamline the entire court process—thus ensuring you have every chance to secure compensation or settlement for your troubles.
If you need further proof of our dedication to extending legal accessibility to everyone, know that DoNotPay has been awarded the 2020 Louis M. Brown Award for Legal Access by the American Bar Association.
The World's First Robot Lawyer Is At Your Service 24/7

Often dubbed as the world's first robot lawyer, DoNotPay can tackle a variety of chores and issues in your stead. 
Applying for a free trial, requesting a refund, canceling a service, or battling bureaucracy—all of these features, and more, comprise our app's strong suit. You can, for example, use DoNotPay to cancel PicMonkey or secure an Avast refund.  
Check out the laundry list of the types of things we can do for you:
Appealing traffic tickets

Fighting speeding tickets
Let's start tidying up your life together! Open DoNotPay in any web browser, then start exploring every marvelous feature our app has to offer.