Should I Homeschool My Child? Here's What To Know!
Whether to homeschool your child is not an easy decision, but learning about other parents' experiences can be helpful. If you get properly informed, it'll be easier to figure out if home-based education is the right fit for your family.
DoNotPay is here to answer the "Should I homeschool my child?" question. We will explain everything about the homeschooling process to help you decide.
To Homeschool or Not, That Is the Question
Homeschooling can be an excellent choice for some children, while others won't thrive in such an environment. We've listed the essential pros and cons in the table below:
Homeschooling Pros
Homeschooling Cons

Adjusting your child's education according to their skill level
Pursuing your child's interests and giving a personalized learning experience
Having a flexible schedule
Bonding with your child
Having a safe environment without bullying or peer pressure
Using vacations as part of your homeschool curriculum
Saving money you'd otherwise spend on gas when driving to school and back
Knowing that your kids can still participate in recreational leagues or amateur leagues
Having your kids join co-ops and knowing who they spend their time with
Knowing that your children will be more comfortable asking questions if they don't understand something

Having to plan school-time activities and handle the administration
Not exposing the child to larger social groups
Having less free time for yourself
Losing income
Not being able to partake in public school sports teams in certain states
Not experiencing award ceremonies like the child would in public schools
These lists include a general view of homeschooling, but you should always consider your specific circumstances.
Is Homeschooling Right for My Child?
Before you decide to start homeschooling your child, you should determine if that is the right choice for them. Homeschooling is beneficial for children who:
Have a problem with bullying
Struggle with fitting into social environments
Are gifted
Face developmental issues
Are deaf or blind
You should talk to your child first to explain what homeschooling would be like and see what their opinion is. It could be more difficult if your child is used to the traditional type of education. In that case, you should join other parents who homeschool and form co-ops, allowing your child to socialize and still have friends "from school".
Is Homeschooling Right for Me? Figure Out if You Are Ready for the Responsibility
Once you've figured out whether homeschooling will help your child thrive, it's time to decide if you are up for the task. Homeschooling is a major responsibility that requires much of your time and energy.
Before you embark on the journey, you should do your research and gather relevant info about homeschooling. You should ask yourself the following questions:
To be a good teacher to your children, you must polish your organizational skills, emanate authority, and separate family from school time.
In some states, you have to be a certified teacher to homeschool your children. Other parts of the country are more flexible and let parents have free rein over their children's education. Depending on the local law, you can even get someone else to homeschool your children.
This is a great option if you don't have time or experience to do so yourself but still want your child to have a private tutor.
Do You Need To Write a Letter of Intent To Homeschool?
Homeschooling requires dealing with paperwork even before the process actually starts. In most states, you need to send a letter of intent to homeschool to the superintendent of your school district. The document should inform the authorities that your child will continue their education at home.
If you don't want to deal with this task alone, you should turn to DoNotPay for help!
We Can Generate a Letter of Intent in a Jiffy
With so many details to plan, getting ready to start your homeschool can be challenging. DoNotPay jumps in to help. We can draft a letter of intent to homeschool for you instantly, so you can focus on more exciting aspects of home-based education.
The entire process is straightforward, and you only need to:
Choose the Notice of Intent To Homeschool product
Provide relevant information about your school district
Provide essential info about you and your child
You can also get your letter notarized and sent on your behalf. We will email a hard copy as well.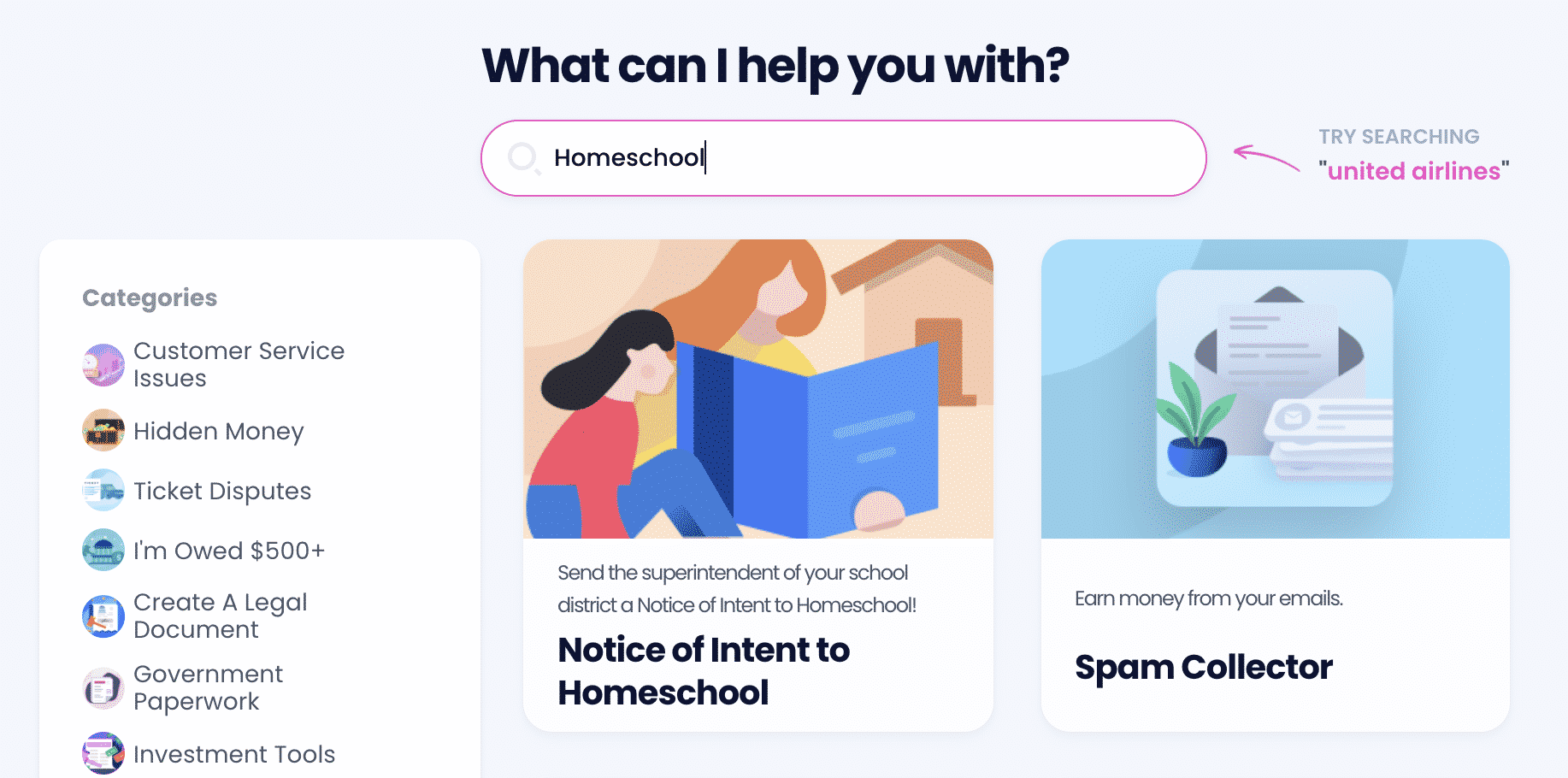 DoNotPay delves into crucial issues regarding homeschooling, such as:
DoNotPay Offers Quick Solutions to Tedious Problems
Are you overwhelmed by your never-ending to-do list? We're happy to jump in with a perfect solution to deal with everyday tasks the easy way!
Once you subscribe to DoNotPay, you'll be able to schedule DMV appointments, lower your monthly bills, and contest parking tickets without breaking a sweat!
If you are looking for further assistance, our app will show you how to deal with the following tasks effortlessly:
We Can Handle a Wide Range of Issues for You
If a company refuses to cooperate, use DoNotPay—the world's first robot lawyer—to sue it in small claims court! Getting the justice you deserve is only a few clicks away!
You can also use our app's various features to do the following: