Get the Lowdown on
Fred Perry Property Tax Reduction
Handling property taxes can be a nightmare. As New York is not one of the states with low property taxes, you don't expect a small tax bill. In NYS, the average property tax rate is 1.69%, and in Nassau County, it's almost double that—2.11%. If we factor in Nassau's history of incorrect property assessment and county-wide appeals, your tax bill is likely to have a couple of zeros more than you'd like.
Many homeowners take the assessed value of their home as a given and don't look into it, and others immediately hire a firm, such as Fred Perry Property Tax Reduction, to file an appeal. We'll explain what Fred Perry does and how this company can help you. We'll also show you that there's a third option—one where you get help with property taxes, but you don't have to pay up as much.
What Does Fred Perry Property Tax Reduction Do?
Fred Perry is the owner of the eponymous property tax consulting firm. His company is situated in Nassau County. Fred Perry has helped Nassau homeowners with filing tax grievances for over 25 years. The company's website offers little to no information about how it operates. If you choose Fred Perry, the firm will do the work for you and handle your appeal. A home inspection is not required.
Fred Perry's homepage is reserved for self-praise, claiming that the company has:
Helped more than 40,000 Nassau homeowners

Had a 94% success rate for their 2017 clients

Helped grant an average of 17% tax reduction for new 2017 clients
While the company is still active, the website is not updated. It says that you can sign up to file an assessment appeal by April 2, 2020.
Fred Perry Reviews
Fred Perry currently has no reviews on the BBB and the Yellow Pages websites. You can find a few mixed reviews about the company on the Revdex site. Some people praise Fred Perry and claim they have worked with him for years. Others complain about certain discrepancies between the tax bills.
Regardless of the property tax appeal service, they cannot guarantee that your tax bill will be reduced. With DoNotPay's help and guidance, you'll be able to file an appeal on your own and try various methods of lowering your property taxes.
Property Tax Assessment in Nassau County Explained
A property assessment in Nassau County is an annual assessment of your property, which encompasses:
Total assessed value

Tax class designation

Taxable assessed values for school and general tax purposes
The Department of Assessment evaluates your property's market value and factors in a fractional level of assessment that should be equal for all properties in the same class.
Nassau County goes by the following assessment review calendar:
| | | |
| --- | --- | --- |
| Steps | 2021/2022 Tax Year | 2022/2023 Tax Year |
| The Department of Assessment publishes tentative assessments based on value as of the given date | January 2, 2020 | January 4, 2021 |
| The last day to appeal the 2021/2022 assessment published in January 2019 | March 2, 2020 | March 1, 2021 |
| The Assessment Review Commission (ARC) reviews appeals | March 3, 2020 to March 31, 2021 | March 1, 2021 to March 31, 2022 |
| The Department of Assessment publishes a final assessment based on the ARC reviews and exemption changes | April 1, 2021 | April 1, 2022 |
| The last day to file for a judicial review of assessments | April 30, 2021 | May 2, 2022 |
| The town receiver of taxes mails the school tax bill based on the assessment in April | October 1, 2021 | October 1, 2022 |
| The town or city receiver mails the general tax bill based on the assessment in April | January 1, 2022 | January 1, 2023 |
Tips for Property Tax Reduction in Nassau County
Finding new ways to keep the numbers low on your tax bill is always a good idea. If you'd like to save your tax money, here's a breakdown of what you can do:
Strategies
Brief Description

Look into the neighboring properties' assessments

You can

find comparable homes

in your area and check their assessment info online. You may discover errors or discrepancies compared to your tax bill

Put off renovating your home

Home improvements could increase your assessed value

Stay close to the assessor if you have an in-person assessment

Being present and asking or answering questions can help you get a fair assessed value

Keep up with the

property tax exemptions

Exemptions, such as the one for

senior citizens

, play a major role in the

property tax reduction in Nassau County

Scan your tax bill for mistakes

You can get in touch with your local assessor and ask them to explain certain details you're unsure about in your bill. As a last resort, lodge an appeal—

DoNotPay

will help you out
Don't Want To Overpay Your Property Taxes? Use DoNotPay!
General tips and tricks to help you manage your property taxes can come in handy, but we offer so much more! DoNotPay can create a personalized Property Tax guide that applies only to your property in the given year. 
Our guide isn't solely about filing an appeal—it's a comprehensive knowledge base covering the following:
Property assessment appeals

Negotiations with the assessor

Evidence you need to gather for the appeal

Appeal submission

Property tax exemptions

Exemptions you qualify for

Collection of the required documents

Guidelines for completing and filing the application
Our AI-driven app customizes the guide by asking you several questions.
You can grab your guide by signing up for DoNotPay and following these instructions:
Select the

Property Tax

feature

Type in the required info, such as your age, location, and income

Answer a few questions about your property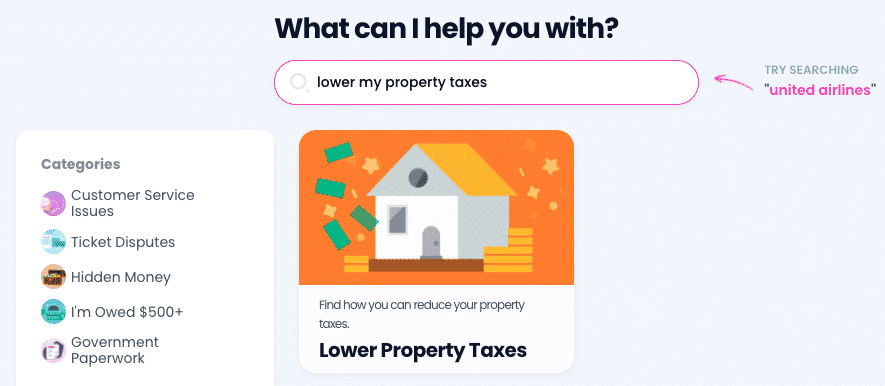 Tired of Companies Not Taking You Seriously? Use DoNotPay To Put a Stop to It
If you're sick of companies that violate your consumer rights, DoNotPay is here to help. If you're struggling with reporting robocalls, requesting a refund, claiming any type of warranty, scheduling a DMV appointment, reporting spam text messages, or anything else, our robot lawyer will help you sue any firm or individual in small claims court.
With DoNotPay, you can also sign up for any free trial, cancel any subscription, avoid getting charged after your free trials end, and much more!
Want Your Money Back? DoNotPay Is Here To Help
Are you looking for your missing money? Do you want to get a refund for a delayed or canceled flight? Are you trying to flip the script on illegal robocalls and earn money off them? DoNotPay will assist you in dealing with any of these pesky issues!
We can also help you bypass phone number verification, sign up for clinical trials stress-free, ace any government test in a jiffy, and block spam emails for good.