Should I Get Divorced or Stay Married? Find Out Now!
While most issues in a marriage can be handled easily, some of them might have you wondering, "Should I get divorced or stay married?" Use our guide to determine whether or not divorce is your only option. If you do decide it is, you probably want the whole process to be over as soon as possible. That's why you should consider filing for an uncontested divorce and avoid involving lawyers and going to court.
if you need help creating a divorce settlement agreement for your divorce in a few clicks.
Should You and Your Spouse Get a Divorce or Stay Together?
No one can tell you whether you should get a divorce or stay married—you're the only one who can decide this. This choice can be difficult to make, especially if you still have reasons to stay married. Some of those reasons could be:
You and your partner still love each other
Your spouse is ready to consider counseling
You have joint finances, or you depend on your spouse
The two of you own a home together
There are kids involved
How Do You Know if Your Marriage Is Over?
Sometimes, love isn't enough to maintain a healthy relationship, but it can be difficult to know whether a marriage is over or it deserves a second chance. You should probably get a divorce if you and your spouse:
Provoke each other constantly
Fight night and day
Are completely detached
Don't love each other anymore
Abuse each other
Blame the other person for everything
Don't want to work on the issues
Notice your kids suffer because of your fights
Fantasize about being single again
Don't communicate
Can't seem to solve your issues
Why Do People Choose To Stay Together in a Loveless Marriage?
Love isn't the only thing that keeps a married couple together. People choose to stay married for various practical reasons, as follows:
| | |
| --- | --- |
| The Reason | Explanation |
| Marital tax deduction | If one spouse wants to transfer assets to the other, they can do so without paying any taxes as long as they're married |
| Filing taxes together | This is a useful benefit if one spouse works and the other is a stay-at-home parent because they can file for taxes jointly and pay less |
| Social security benefits | One of the spouses might receive medicare, disability, veterans, military, and pension plan benefits thanks to the other spouse |
| Individual retirement account benefits | An employed spouse can transfer money to an unemployed spouse's retirement account |
If You Decide To Get a Divorce, This Is What You Should Be Aware Of
Did you and your spouse decide that divorce is the only option? If so, your divorce doesn't have to be complicated or expensive, provided that you and your spouse can agree on important divorce-related issues.
Instead of going for a contested divorce and wasting time and money on court hearings and lawyer fees, you should consider filing for an uncontested and friendly divorce and reaching an out-of-court settlement.
Would you and your spouse like to avoid court hearings but can't reach an agreement on every aspect of your divorce? You can consider mediation. During mediation sessions, a neutral third party will facilitate the communication between you and your partner and help you reach an agreement that works for both sides.
What Are the Steps to Filing for an Uncontested Divorce?
Once you and your partner have all divorce-related matters figured out, you can file for an uncontested low-cost divorce, and here's how:
Collect all the necessary paperwork—You can find all the forms and information you need in your county clerk's office
File a divorce petition—A divorce petition is a document that you have to file with a court in the county where you or your spouse live. This document should contain:

Your and your spouse's names
Children names (if you have any)
The way you want to divide your assets
Information about child support, custody, and alimony

Serve the divorce papers—Once you file the petition, you should serve your spouse with the papers. Some states allow the petitioner to serve the papers, while in others, the petitioner needs to hire someone else, such as a constable, sheriff, private process server, or court clerk. If you and your spouse filed the petition together, no one needs to be served (provided that your state allows this option)
Create a divorce settlement agreement—You and your spouse should create a divorce settlement agreement in which you spell out all the agreed-upon divorce terms. This document is vital in uncontested divorces
How To Draft a Divorce Settlement Agreement
You have a few options to choose from when it comes to creating a divorce settlement agreement, as follows:
Hiring a lawyer
Using online templates
Relying on DoNotPay
Hiring a lawyer might be your first choice, but you should know that lawyers typically charge exorbitant hourly fees.
Using online templates might seem like a good solution since they are usually free, but this can be risky because templates aren't made specifically for your case. Templates can also have numerous mistakes, which might make your document void.
DoNotPay can help you create a watertight divorce settlement agreement effortlessly and help you reduce the cost of your divorce significantly.
DoNotPay Will Help You Draft a Divorce Settlement Agreement in a Snap
With DoNotpay, you can create a well-written divorce settlement agreement without wasting money on lawyers or time searching for the perfect template. Our easy-to-use Divorce Settlement Agreement product enables you to create this document in a few clicks.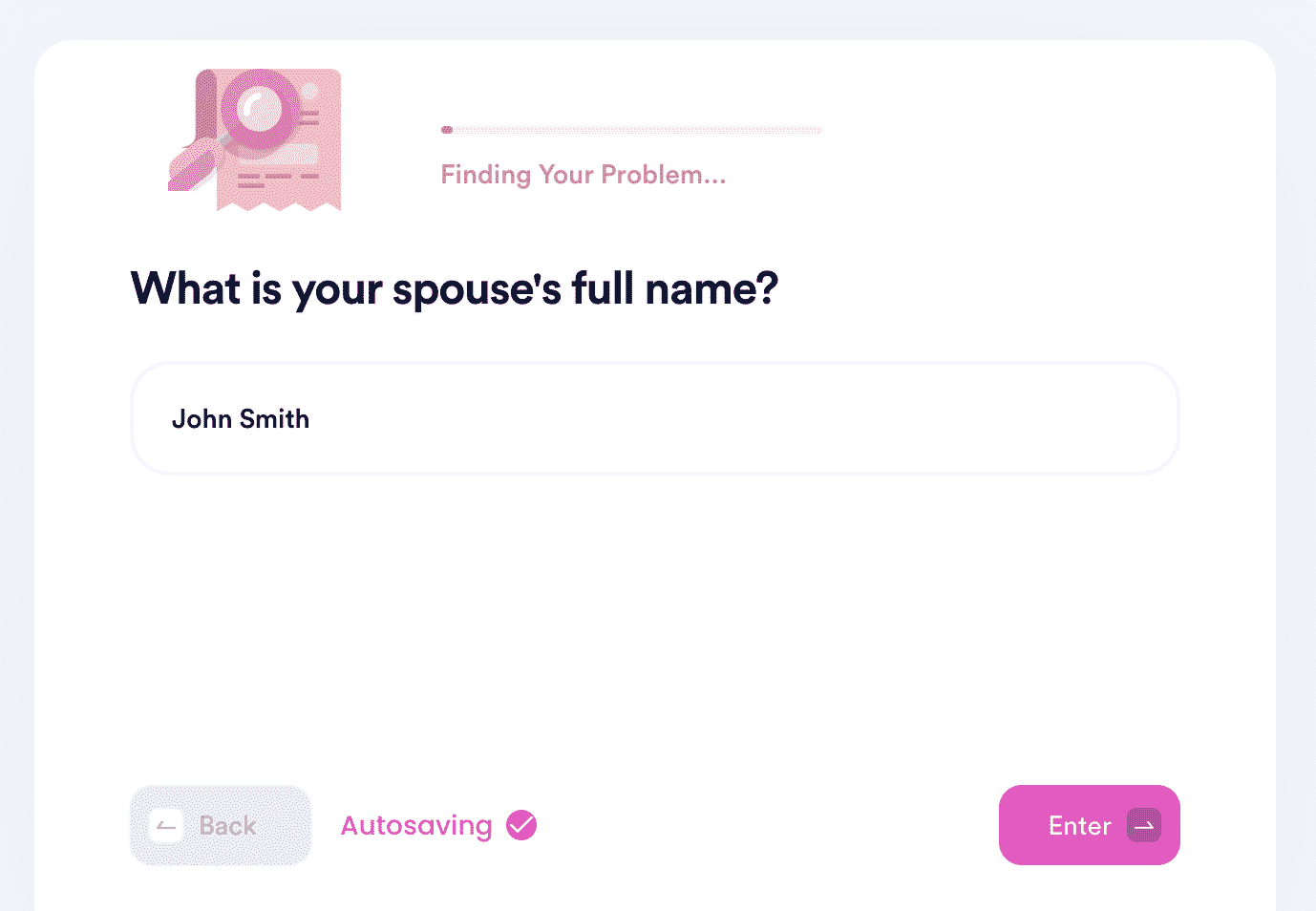 To start drafting your agreement, and do the following:
Open our Divorce Settlement Agreement product
Add all the necessary information about you, your spouse, the date of your wedding, and similar
Provide information about your assets and the way you want to divide them
We will generate your document automatically after you complete these steps. All you need to do is sign the document.
DoNotPay can also help you get your divorce settlement agreement notarized effortlessly by connecting you with an online notary who will witness your signing virtually.
Deal With Your Problems Like a Pro With DoNotPay
Looking for an app that's got enough features to solve any issue you're facing? Look no further—DoNotPay has got your back! Whether you can't sleep from your noisy neighbors or you want to connect with your locked-up relatives, we'll be able to help. We'll bring justice to any person or company that has wronged you and take them to small claims court for you.
The robot-lawyer app can generate numerous legal documents in your name, including:
Once you receive the documents, we can set you up with an online notary so you can get your agreements notarized from the comfort of your home.
Possibilities With DoNotPay Are Endless
DoNotPay stands out not only by the quality of products it offers but by the sheer amount of features it boasts. Check the table below out to see only some issues we can help you resolve: