Should I Get a Divorce? The Warning Signs
Have you felt like your marriage is on the rocks for some time now? Giving up on a partnership is never easy, especially if you've invested a lot of years and effort into the relationship. You might have been thinking about calling it quits, but you're not quite sure if you should take the plunge.
In this article, DoNotPay will explore the signs that may indicate your marriage is beyond repair. Answer the "Should I get a divorce?" question and get helpful tips on how to execute a low-cost divorce!
How Do I Know if I Should Get a Divorce?
Deciding if you should get a divorce depends on numerous factors. While every couple is different, there are common signs indicating that the marriage is not working. Take a look at the table below for more details:
| | |
| --- | --- |
| Signs | Description |
| Increasing self-doubt | Your partner may not prioritize you anymore or make you feel like everything wrong in the relationship is your fault. If they're unwilling to share the responsibility for the marriage, maybe they shouldn't be in it |
| Lack of effort on both sides | If you or your partner are no longer interested in trying to make the marriage work (e.g., going to marriage counseling or reigniting the spark), it may be time to call it quits |
| Less face-to-face time | Spending more time at work than with each other may be a signal that you've begun distancing |
| Communication issues | If you and your spouse don't actively listen to each other or acknowledge each other's needs and feelings, it may trigger both of you to look for understanding elsewhere |
| Unrealistic expectations | You or your partner may be unable to adapt to changes in your marriage, which can lead to disappointments |
| Different views regarding future | If you and your partner have different ideas of married life and neither is willing to compromise, you may have a problem |
| Lack of respect | Constantly feeling rejected and disrespected by your partner often leads to resentment or even contempt |
| Serial cheating or domestic violence | A definite sign the marriage is not working is if your safety is endangered or your partner keeps seeing other people behind your back |
| Emotional exhaustion or depression | If you feel emotionally exhausted or depressed, it's time to contemplate divorce |
I Want To Get Divorced—What's My Next Move?
If you've decided divorce is the way to go, you should think about making it as painless as possible. The best course of action would be to work out the terms with your spouse and avoid courts. Dragging the divorce will only leave you bitter, exhausted, and with empty pockets.
If your and your spouse's goal is to end the marriage on a friendly note, you should file for an uncontested divorce. It implies you have agreed on issues such as:
Child support
Division of property
Child and spousal support
Life and health insurance
Issues related to religion or education
Wondering what filing for an uncontested divorce entails? Take a look at the table below for further clarification:
Standards
Details
Meeting residential and other requirements
Many states dictate that:

One or both spouses have to live for a specific period in the state where they're filing (typically six months)
You should file for divorce according to the regulations of the county you reside in
There has to be a specific cooling-off period or separation period before filing

Serving your spouse
You have to serve a summons and complaint to your spouse and wait for them to file a response to your complaint or petition
Filling out and filing the appropriate paperwork
Divorce papers you typically need to file are:

Affidavit of service for the documents served
Income, spousal support, and child support forms
Parenting plan (in some states)
Divorce settlement agreement (you can sign up for DoNotPay and get it right away)
Findings of Fact and Conclusions of Law
Statements by each spouse
Judgment of Divorce
Other uncontested divorce papers required by your state
Want To Get Divorced? Speed Up the Process With DoNotPay
A divorce settlement agreement is not to be taken lightly. It should define the terms of your divorce in an unambiguous way, which is why an attorney's assistance is often required.
Luckily, you can save money on lawyers and speed up the process by using DoNotPay. Our AI-powered app will take mere minutes to generate a divorce settlement agreement that measures up to those drafted by legal professionals!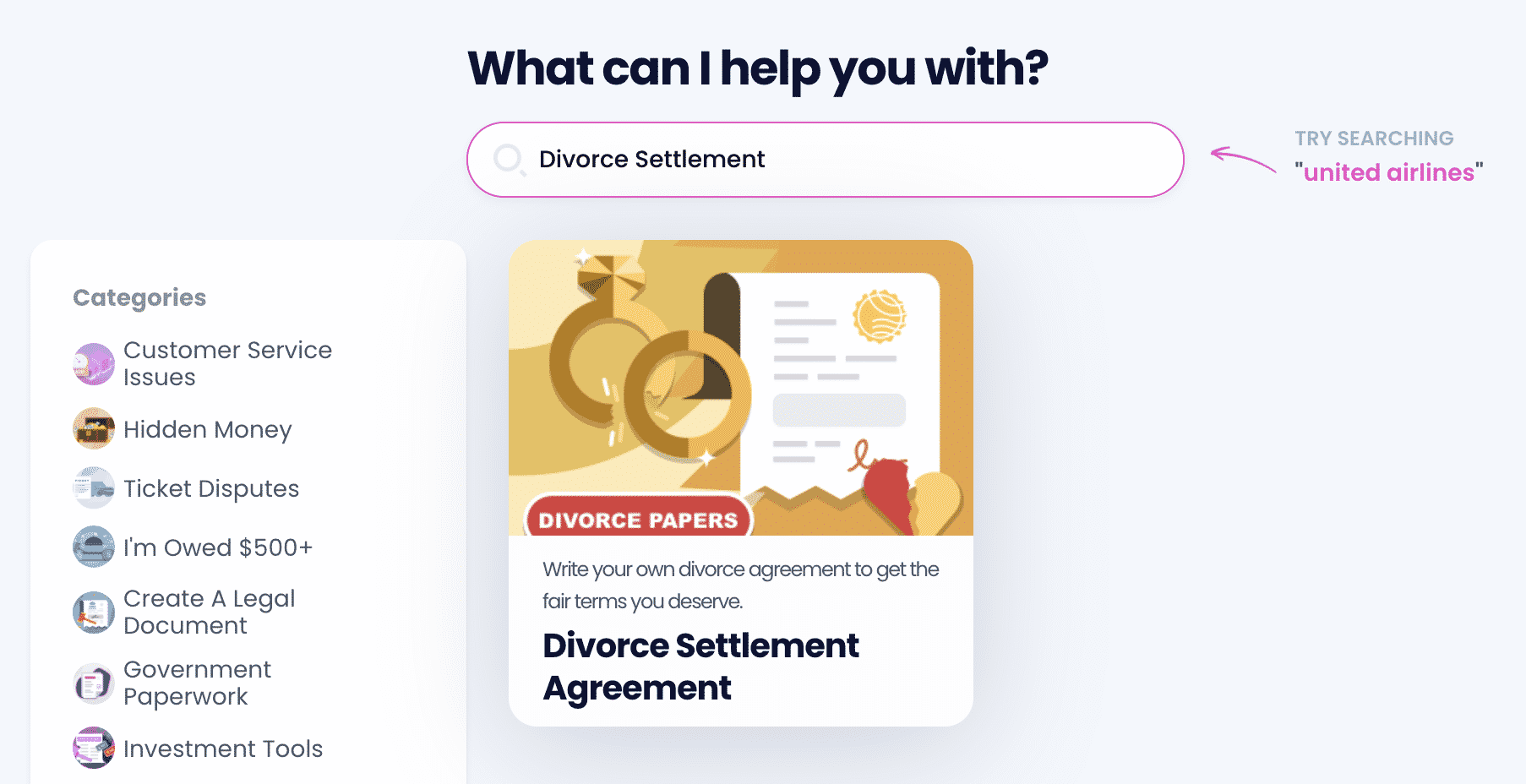 Here are the steps you are required to take:
Open DoNotPay in any web browser
Go to our Divorce Settlement Agreement product
Answer our chatbot's questions to help us personalize the document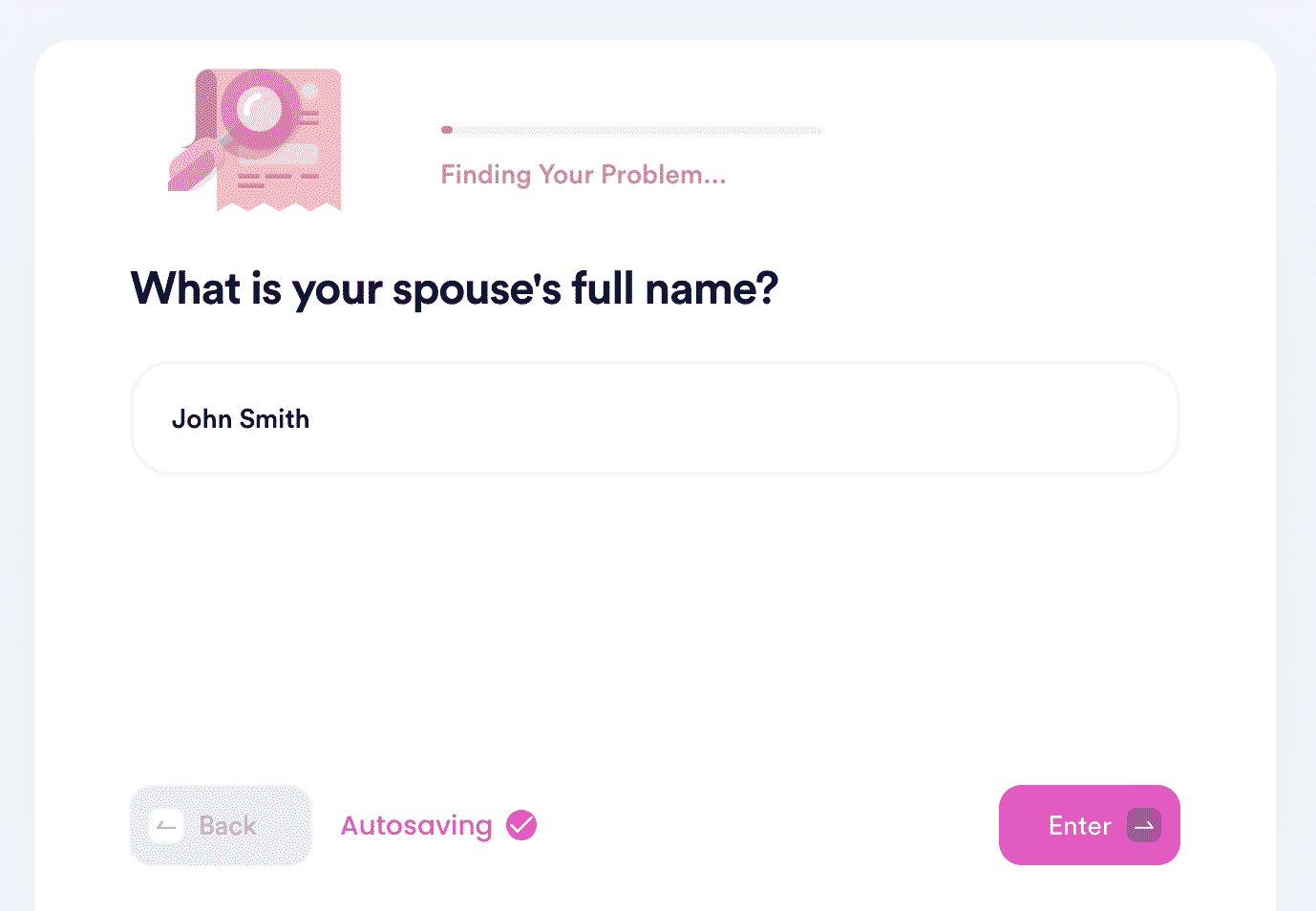 Once you complete these simple steps, DoNotPay will generate an agreement that corresponds with your situation and complies with state-specific laws.
You should have your divorce settlement agreement notarized to add to its validity.
If you want to have the document notarized with our help, we will connect you to online notaries who are available 24/7!
Our learning center is an invaluable source of information on divorce-related topics. Check out the answers to some of the burning questions, such as:
Good Things Come in Small Packages
Siri and Google Assistant are great in their own right, but their skills leave a lot to be desired when it comes to the practicalities of our daily lives. DoNotPay is an app, a true pocket-sized assistant that has the power and the know-how to help you deal with navigating bureaucracy and fighting for your rights efficiently.
Our platform, accessible from your phone or computer, is brimming with products that will help you:
From Government Tests Preparation to Copyright Protection
Whether you are getting ready for your driving test or wish to protect your creative work, DoNotPay has something in store for you.
We can help you handle some serious tasks—like suing someone in small claims court or reporting workplace discrimination—or deal with more mundane activities, such as getting that leftover money from your used gift cards.
The best part is that your DoNotPay subscription gives you access to all our services, be it online fax or virtual credit cards!