Should I Get a Divorce Lawyer? DoNotPay Has the Answers
If you've decided to end your marriage, you're most likely asking yourself, "Should I get a divorce lawyer?" The answer depends on the type of divorce you're getting and how much you want the procedure to cost and last. DoNotPay has prepared a guide to help you with the decision! We'll show you how to get divorced without a lawyer and without spending a fortune!
Do I Need a Divorce Lawyer?
Couples who agree on certain legal issues and get an uncontested divorce don't need to hire a lawyer. Those who opt for a contested divorce should hire a professional as they will need assistance in court.
Should I Get a Contested or Uncontested Divorce?
An amicable separation is always a better option. We listed a few benefits of an uncontested marriage termination:
The cost of the procedure—An uncontested divorce is much cheaper than a contested divorce because it can usually be completed by only paying filing fees. If you get a contested divorce, you will also have to pay for sky-high lawyer services. An average attorney charges anywhere from $200 to $325 per hour
The simplicity—A contested divorce is more complex than an uncontested divorce as you will have to:

Go through unpleasant and lengthy court proceedings
File more forms than you would with an uncontested divorce

The time required—An uncontested divorce is faster because you won't need to go to numerous court hearings if you agree with your spouse. You may also skip serving divorce papers, although this step depends on your state of residence. A contested divorce might take six months of your life, whereas an uncontested divorce can be completed in a matter of weeks if the local legislation allows it
Get an Uncontested Divorce and End Your Marriage Without a Lawyer
Getting an uncontested divorce requires you to agree on the following issues with your spouse:
Reaching a compromise on the essential aspects of the divorce will ensure that the process goes smoothly. Most couples stay in a friendly relationship if the separation is amicable, which is crucial if there are children involved.
Can't reach a middle ground with your spouse? Try divorce mediation and reach a compromise with the help of a professional.
To get an uncontested divorce, you will also need to meet your state's residential requirements. See the table below to check your state's divorce laws:
Can You File Divorce Papers Without a Lawyer?
You can file divorce papers yourself because most forms can be found at your local county house or the official government website, so you can complete and file the documents with the county clerk. Note that you will have to pay the filing fee. If you can't afford it, you could be able to get a fee waiver.
You will also need to file the marital settlement agreement. It's a crucial document as it outlines the terms of the separation and post-divorce arrangements. In case you don't want to hire an expensive lawyer to draw this contract up for you, you can:
Try to write one yourself, which is a risky venture because even minor mistakes can have serious long-term consequences
and get a personalized agreement in a jiffy
DoNotPay Offers a Reliable and Easy Way of Getting a Divorce Settlement Agreement
If you want a professional divorce settlement agreement that won't cost you a fortune, DoNotPay can help! We will generate this document for you in no time, and it will:
Comply with your state's divorce laws
Ensure that both parties get divorced on fair terms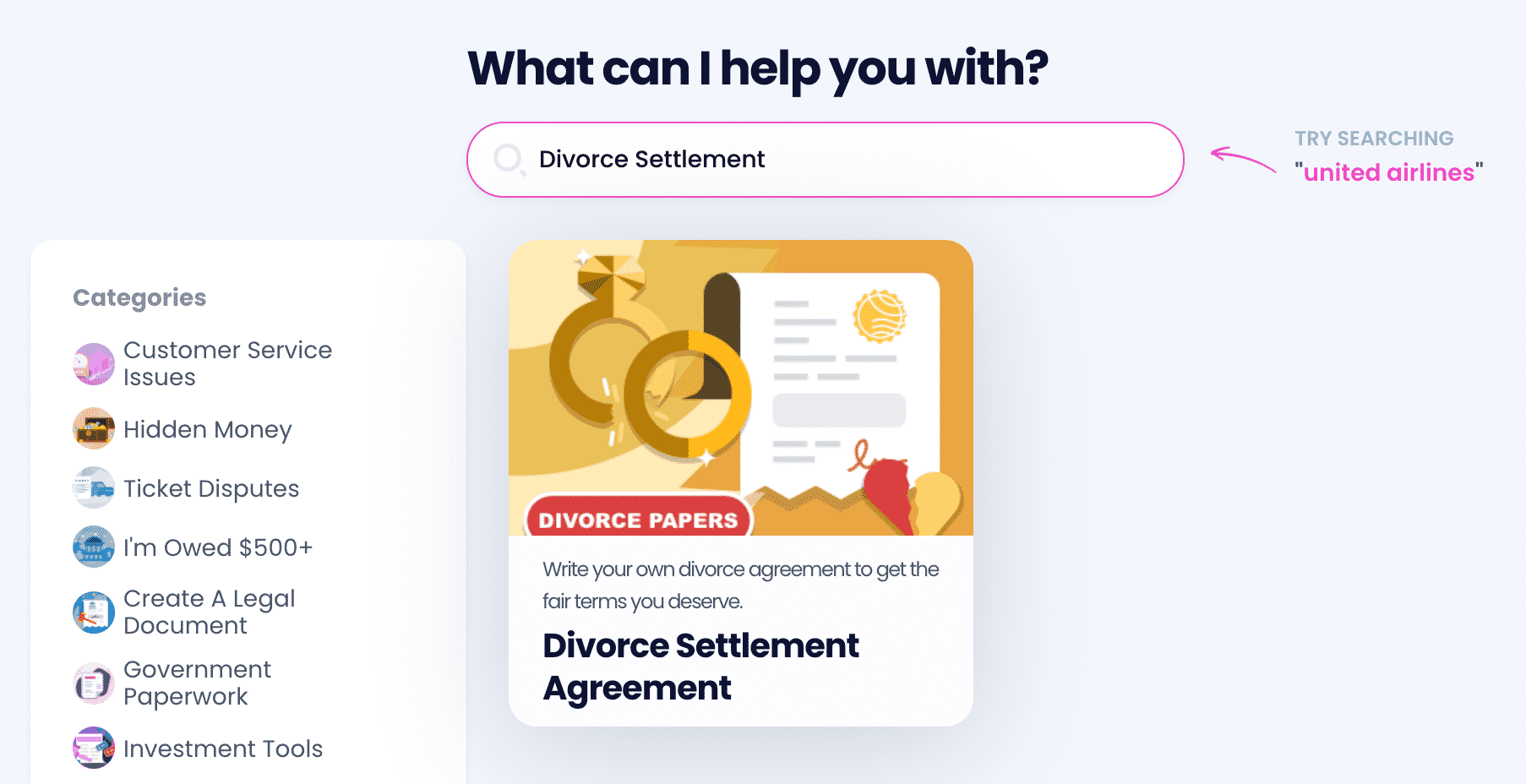 With our app, you can get a divorce settlement agreement in a few clicks. All you have to do is:
Select our Divorce Settlement Agreement product
Answer our chatbot's questions
Opt for online notarization
We'll process your request in no time and send a tailor-made settlement agreement your way. Want to have it notarized easily? Follow the link we send you via email and schedule an appointment with an online notary. Keep in mind that DoNotPay can help only if you and your partner choose an uncontested divorce.
Need additional help? Check out DoNotPay's learning center and read our how-to guides and articles on divorce-related matters:
| | |
| --- | --- |
| How-To Guides | Articles |
| How to: | |
Use DoNotPay To Resolve Administrative Tasks in Minutes!
Tired of brainstorming the easiest way to deal with administrative issues? We know how you feel, and we're here to take the burden off your back!
Once you subscribe to our app, you'll be able to resolve an abundance of bureaucratic issues with ease.
Taking a valid passport photo, reporting workplace discrimination, reducing property taxes, preparing for a government test, applying for a college fee waiver, and appealing a parking ticket are some of the many tasks we assist you with.
In case you need a quick way to draft a legal document, such as a power of attorney, divorce settlement agreement, or a child travel consent form, DoNotPay will do it for you!
Learn How To File Claims the Easy Way
Are you dissatisfied with a certain company and/or its products? You don't have to stay quiet! Use DoNotPay to file your insurance, warranty, or missing/late parcel claim effortlessly! We'll also show you how to request an item return in a few steps.
If you want to cancel a subscription or request a refund or chargeback, you can do it with our assistance without breaking a sweat. Use one app to deal with countless issues!