Setting Up a "Should I Get a Divorce" Checklist—Top Tips
Divorce is one of the most life-changing experiences anyone can go through. The more you can do to lessen the pain, expense, and hassle of your divorce, the quicker you will be able to come out unscathed on the other side.
DoNotPay gives you a "Should I get a divorce?" checklist—read on to get the best tips and advice!
Getting a Divorce—The Pros and Cons
Divorce is a huge step, often taken with emotional considerations in mind.
The emotional questions can be reduced to yes or no questions, the most important examples of which are:
Is the marriage abusive?
Is the relationship getting worse?
Has infidelity taken place?
Have you tried and failed to mend the relationship?
Have you and your spouse unsuccessfully sought professional help to resolve your issues?
If the answer to these is "yes," you could be better off seeking a divorce.
Having weighed up the emotional factors, the question as to whether divorce is your best option often comes down to:
How much will it cost?
How long will it take?
How messy will it be?
This is where DoNotPay can help clarify the process of divorce.
How Does the Divorce Process Work?
Divorce is a legal process that can seem daunting at first glance.
In truth, the process is manageable if you do your homework and prepare as much as possible in advance. A divorce only becomes messy if you or your spouse make it so.
The steps in a divorce are as follows:
Divorce Steps
Explanation
Filing divorce papers
The first step in any divorce is to file a petition for divorce with your local court. The petition will normally include a breakdown of your:

Assets and liabilities
Income and expenses
Family responsibilities such as children or dependents

Serving the papers
You may have to serve your spouse with the papers, meaning using a sheriff or process server to deliver the documents and get confirmation of receipt
Drawing up a settlement agreement
The divorce settlement agreement states what should happen with all the items listed in your divorce petition and regulates elements such as:
The basics of the process are fairly simple, but things can get complicated if you and your spouse are in conflict over the settlement.
The more you and your spouse can work together towards an uncontested or friendly divorce, the easier the process becomes. If you can agree on everything, you can get your divorce granted without lengthy court cases and without even needing a lawyer.
If you need help seeing eye to eye on all divorce-related aspects, you can consider engaging in mediation. It will facilitate communication between you and your spouse and ensure you reach an agreement as quickly as possible.
What Is the Potential Fallout of Getting Divorced?
Your life can change immeasurably as a result of a divorce. Things that may have become the norm over several years of marriage may now have to be re-thought and re-organized, such as:
Living arrangements
Bank accounts
Insurance policies
Employment
Parenting
You may want to set up plans to manage these areas of your life as they are fundamental to your being able to transition seamlessly into the next phase.
If you and your spouse can agree on an out-of-court divorce settlement, the actual process of divorce is relatively straightforward.
The most crucial part of the divorce process to finalize as soon as possible is your divorce settlement agreement. If you and your spouse can nail this, the route to getting your divorce granted is clear.
How Can I Set Up a Divorce Settlement Agreement?
Your divorce settlement agreement regulates how your family responsibilities should be divided after your divorce has been granted.
Your options for setting up your agreement are as follows:
Lawyer
DoNotPay
Lawyer
For many divorcing couples, a lawyer is the first choice when it comes to preparing divorce papers.
Lawyers are expensive, though. Depending on where you live, a lawyer will charge between $100 and $500 an hour—and convention dictates that they work in "billable" hours, meaning that a 15-minute phone call will cost you an hour's fees.
The majority of the costs in any divorce case go towards paying attorneys. The average cost of an uncontested divorce in the U.S. sits at around $4,500. Divorces that go to court come in at nearly $13,000 on average.
Lawyers can also complicate the divorce process as they will seldom agree to act independently and will require confirmation and assent for everything they do.
The expense and hassle of using a lawyer to draw up your settlement agreement may make your divorce more complicated and stressful than it needs to be.
Online
Companies that offer online divorce services are ten a penny, and they all claim to offer low-cost alternatives to the traditional lawyer route.
Getting your settlement agreement from an online provider can be dangerous, though.
Many companies offer generic templates that do not take account of your specific needs, and some templates are only valid in certain jurisdictions.
You may find that your chosen online provider doesn't give you what you need to cover your bases—at which point you have to revert to a lawyer to move your divorce forward and make up for the wasted time.
DoNotPay
DoNotPay offers the perfect solution! Our Divorce Settlement Agreement feature takes account of your location, circumstances, and specific needs to for you!
How Can DoNotPay Help Me Through My Divorce?

If your checklist is full of ticks, DoNotPay is committed to helping you through a painless, manageable divorce!
Our Divorce Settlement Agreement product is designed to take away some of the hassles of finalizing your uncontested divorce papers, giving you one less thing to worry about.
Here's how you can get your settlement agreement drafted by DoNotPay:
in your web browser
Click on our Divorce Settlement Agreement feature
Follow the on-screen prompts and give us the elements you want to be included in your agreement
DoNotPay will handle the rest. In a few moments, your settlement agreement will be ready—all you need to do is print it out, sign it together with your spouse, and have it notarized.
No need to worry if you don't know where to find a notary—our online notarization service can get your documents signed and sealed in a flash!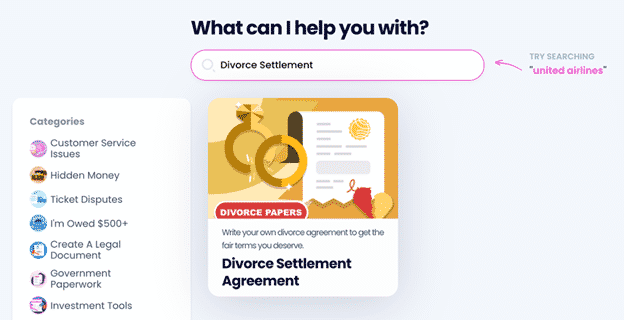 DoNotPay Makes Administrative Hurdles a Piece of Cake
If you ever needed to deal with an administrative task, such as drafting a valid legal document or paying property taxes, you know that it's a struggle. The good news is—it doesn't have to be!
With a bit of assistance, you can draft a POA document and learn how to reduce your property taxes in a jiffy!
DoNotPay will also show you how to tackle any of the following tasks like a pro:
We Offer More Helpful Tools!
Helping you deal with bureaucratic hurdles isn't everything we got in store for you! DoNotPay boasts various other nifty tools that you can use to deal with everyday tasks. You can: