Short-Term Small Business Loans—How Do They Work?
As a company owner, you face various business expenses on a daily basis. From financing initial startup costs to covering day-to-day operations, you need to have cash at hand to be able to react and keep your business running.
What do you do if your budget is in the red? You can turn to small business loans, but many banks can take ages to approve your request. In this article, we will cover short-term small business loans and explain how they work.
We will also show you how to get a small business loan effortlessly with DoNotPay's help.
What Is a Small Business Loan?
Small business loans offer financial aid to businesses in need of money to become (or remain) operational. When you apply for a loan, you need to specify its exact purpose, which can be:
Buying new equipment
Paying startup costs
Managing cash flow
Expanding the business
As there are specific types of loans for varying purposes, lenders set different terms under which they give money to business owners. Loans differ based on the following five terms:
Purpose of the loan
Loan amount
Before you decide to apply for a loan, you should do your research and find out exactly what terms each loan comes with. This way, you can find a loan that best fits your business plan—making a wrong choice can cripple your company.
Due to varying terms, loans are split into several types. Some of the best small business loans include:
Short-Term Small Business Loans
If you are looking for a short-term option, not all types of loans are applicable.
For instance, SBA 7(a) loans are the most popular ones because they do not require collateral—the SBA acts as a guarantee and will repay a part of the loan should you fail to do so by yourself.
The SBA 7(a) loan can go up to $5 million and take up to 25 years to be repaid—it is a loan for the long run and not one you would take out to pay utility bills.
Small business short-term loans have a repayment period of up to three years.
As those loans usually go up to $500,000, most short-term lenders do not require an extensive list of qualifications. This means that you can get a loan even if you do not have a great credit score or you are not an established business. The approval period usually takes no more than a couple of days.
Best Short-Term Small Business Loans
The following table contains details about some of the best short-term small business loans and their conditions:
Lender
Loan Amount
Repayment Period
Interest Rate
SBA—Non-7(a) microloan
$50,000
Shortest term possible—not going over six years
7.75–8.5%
SBA—Export working capital
$5 million
Usually a year or less—three years maximum

Loans of $50,000 or less—prime plus 6.5%
Loans over $50,000—prime plus 4.5%

OnDeck
$5,000–$250,000
Three to 18 months
Annual percentage rate (APR) of 35–54.23%
Credibly
$5,000–$400,000
Six to 18 months
Annual factor rate between 1.15x and 1.45x
Credibility Capital
$5,000–$500,000
One to four years
6.99–21.99%
Funding Circle
$50,000–$350,000
Three months to four years
APR of 11.29–30.12%
If you are having trouble finding the right lender for you and your business, you can subscribe to DoNotpay. Our Find Online Business Loan Lender feature will provide you with the list of available lenders best suited for your business needs.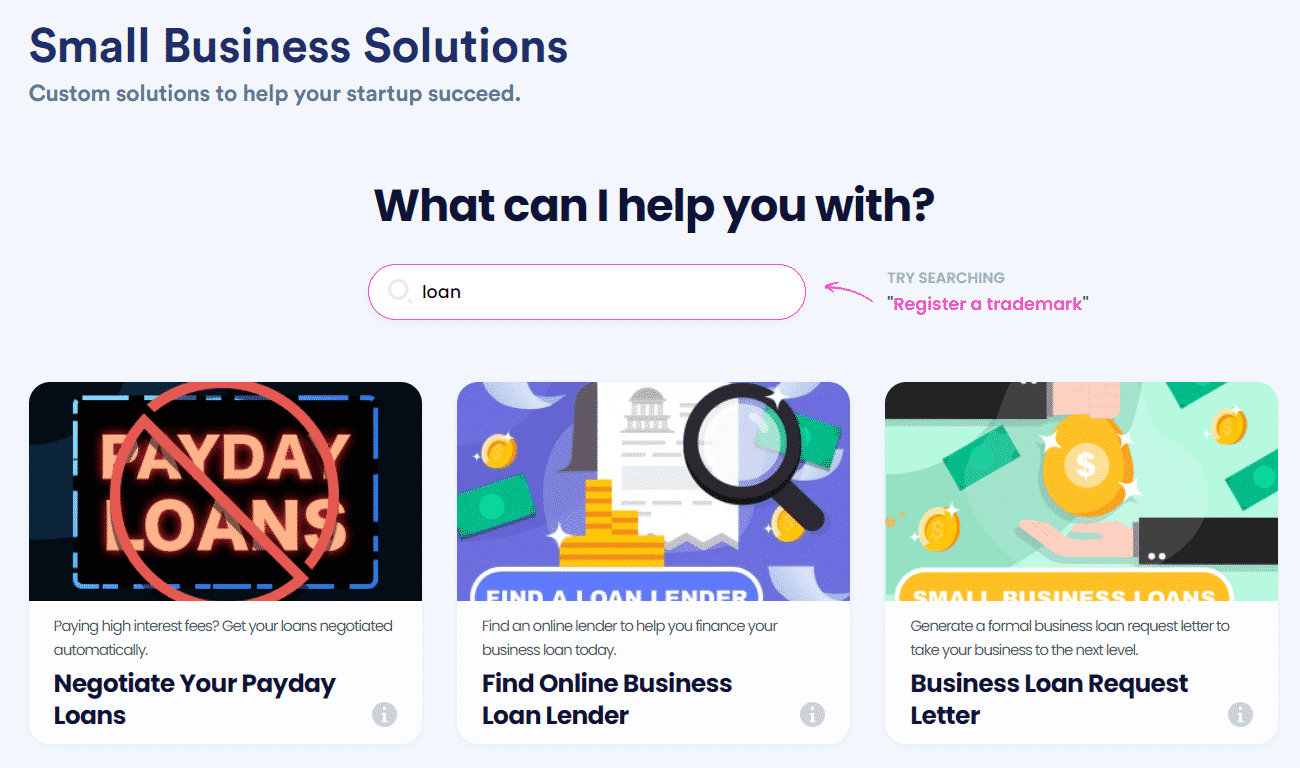 When To Take Out a Short-Term Small Business Loan
Short-term loans are best for businesses that need to make seasonal purchases, have cash flow issues, or are in a period of fast growth. You should get a short-term loan only if you are certain you can repay it in a short amount of time and that your business will not suffer from not taking a longer repayment period.
Some of the examples of when it is best to take out a short-term small business loan are as follows:
Covering short-term operational costs
Managing cash flow
Paying for emergency repairs
Bridging revenue gaps in cyclical businesses
DoNotPay Can Help You Obtain Short-Term Small Business Loans
Getting a small business loan is a daunting task because lenders require extensive paperwork and in-depth information about you and your company. You will need to provide plenty of documents, including:
Business plan
Resume
Credit score reports
Budget sheets
Financial statements
Various legal documents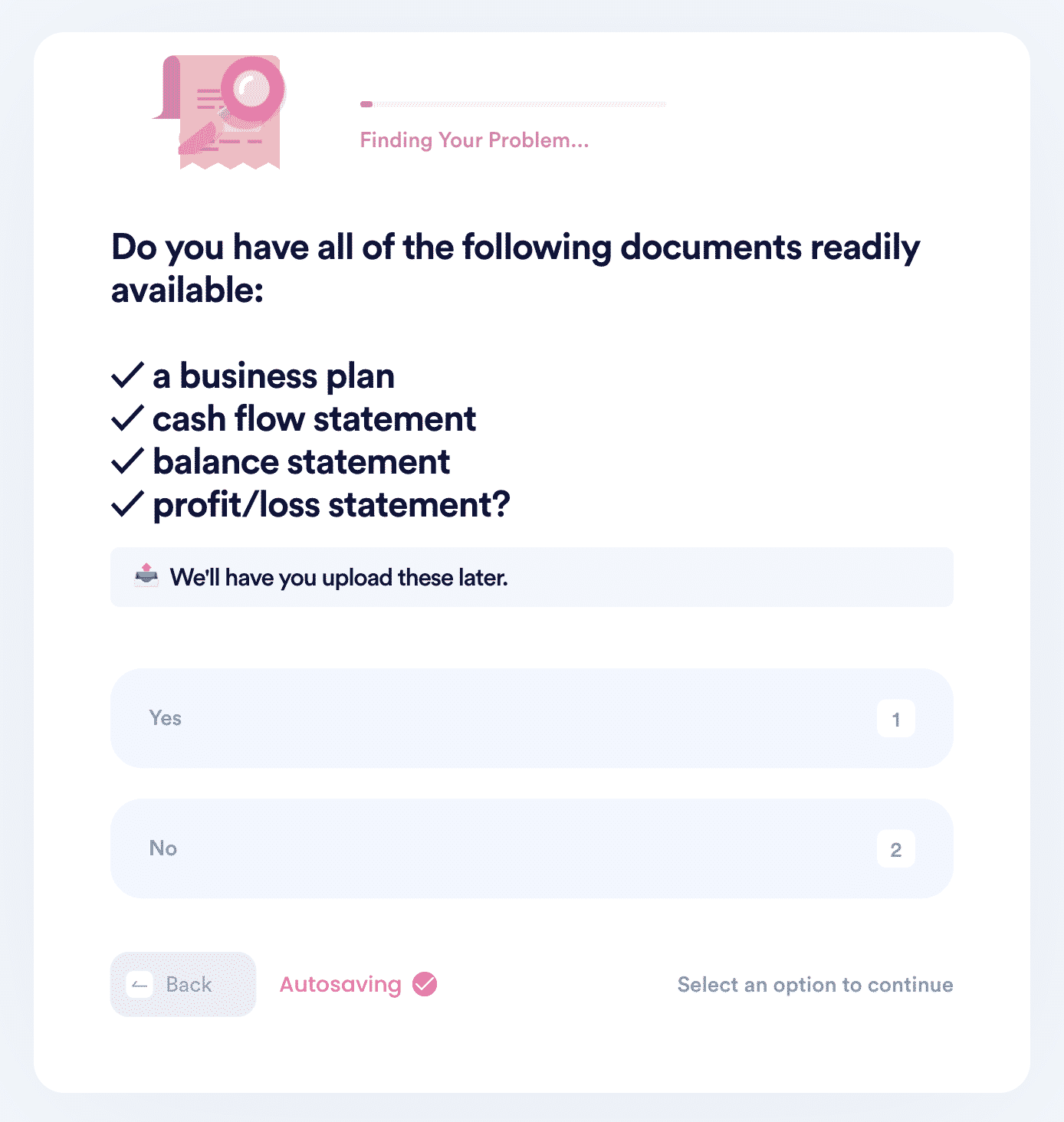 It is easy to leave out a detail and lose a loan as lenders will instantly shoot down any incomplete application. DoNotPay can guide you through the process to ensure this does not happen to you!
Our app will ask you questions to gather necessary details, and we will run a checklist to make sure you submit all the required documents.
All you need to do is sign up for DoNotPay and:
Navigate to the Business Loan Request Letter tool
Gather your personal and business credit scores
Prepare paperwork to prove your eligibility
Answer a few questions from our chatbot
Upload all the necessary documents
Take Care of Pesky Business-Related Procedures Effortlessly!
As a business owner, you are bound to deal with various complex processes. Luckily, DoNotPay can help you handle most of those procedures stress-free. Do you need to register your business name as a trademark, file the self-certification request with the Privacy Shield program, or report illegitimate and inappropriate negative reviews? Our app enables you to do it within minutes.
That is not all we can do for you! With our nifty products, you can make the filing of 83(b) election forms a breeze and take care of DMCA agent and Employer Identification Number (EIN) registration in no time.
Need a solution that will facilitate correspondence with your business associates or clients? DoNotPay has the right faxing and mailing product for you!
Don't Spend a Small Fortune on Lawyers—Draft Various Documents With DoNotPay's Help
Drafting legal documents does not have to be complicated or expensive. DoNotPay has a variety of tools that you can use to get a:
Letter requesting a loan for your small business
Cease and desist demand regarding your trademark (if someone tries to use your business name, logo, or slogan)
Formal demand letter requesting a client to pay for your services
Personalized chargeback rebuttal document based on the:

Chargeback reason
Chargeback code
Service you offer