Do You Need a Short-Term Rental Agreement?
Are you thinking of renting your property or feeling like you need a change of scenery? In either case, you can opt for a short-term rental agreement. It offers great flexibility for both landlords and tenants.
can help you draft various contracts by providing expert, quick, and affordable service to meet your personal and business needs.
What Is a Short-Term Rental?
Short-term rentals refer to apartments or houses available for rent for a short period. These properties are usually furnished and often used instead of hotels for vacation.
You might opt for this type of accommodation when staying somewhere for up to a month since it is more affordable than renting a hotel room. Apart from the financial aspect, most short-term rentals will let you bring your pet, unlike most hotels.
Types of Rental Agreements
When you decide to rent a place, you should sign a rental agreement with your landlord. The landlord will offer the agreement (s)he uses, but you should not sign it before checking the terms and conditions.
Here are some types of rental agreements you may come across:
Rental Agreement
Details

This agreement does not have a specific time limit as the tenancy continues until a party sends a written notice to terminate the tenancy. In most cases, this notice is sent at least 20 days before the next rent is due

One-way

This is the same as a month-to-month rental agreement with an additional clause requesting a termination fee or a waived deposit if you move out before the agreed time

Fixed-term

This type of rental agreement or

lease

is signed for an agreed period of time. Most are one-year rental agreements
In some states, like Washington, verbal rental agreements are legally binding month-to-month tenancy contracts. When you need to provide a deposit, make sure you sign a rental agreement that includes the terms and conditions for getting your money back.
Some U.S. cities, like Seattle, regard one-way leases as illegal, so make sure to check your city or state laws and regulations before you sign anything.
Once you sign a rental agreement, you need to meet the agreed conditions. Otherwise, you will face penalties.
When To Choose a Short-Term Lease Agreement
A short-term rental could be your optimal choice when traveling. You can rent a place for a few days or a couple of months. The options are numerous—furnished condos, apartments, or houses that make you feel as comfortable as possible during your stay. Apart from coziness, the price is an added advantage compared to hotels or even hostels that tend to be crowded. Short-term rental agreements will specify the terms and conditions and protect you from unreliable landlords.
If you own the rental property, this type of arrangement might be the most lucrative one for you.
Here are some items to keep in mind when it comes to renting short term:
Short stays—three to seven days, in most cases

Higher rent fees—$180 a night on average (depending on the city, location in the city, and season)

High turnover and flexibility

Strict short-term lease laws in some states and cities

Applicable tax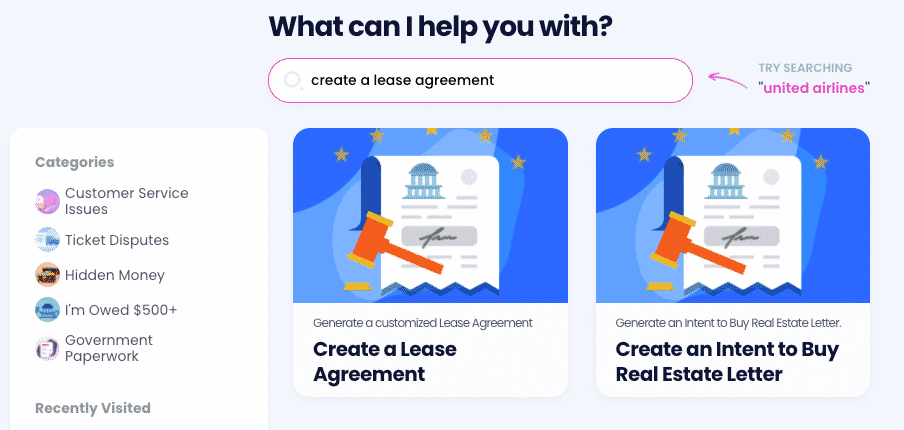 If you are still mulling over the rental period of your property, take a look at the average nightly rent when you opt for a short-term rental agreement:
San Francisco—$217

New York—$215

Washington, DC—$190

Boston—$184

Chicago—$150

Los Angeles—$136

Seattle—$133
For more precise data and calculations, you can visit Inside Airbnb.
What Should a Short-Term Rental Agreement Include?
Regardless of whether you are a tenant or a landlord, you might be interested in what a typical short-term rental contract includes. Take a look:
Tenant information—Name and contact information

Landlord information—Personal and contact details

The address of the rental property

Rental period—Start and end dates and times

Payment terms—Reservation fee, rental amount, and payment methods (by check, card, or in cash)

Security deposit—Amount and refunding terms

Occupancy—Number of occupants/tenants

Furniture and utilities—Lists of furniture and appliances and repair or replacement terms

Subletting—Specifications about whether it's allowed and under what terms

Maintenance and order—Standards relating to cleanliness, property condition, pets, smoking, disturbing the neighborhood

Indemnification—Defining liabilities (such as property loss, accidents, injuries, or death) and the consequences

Amendments—Terms of the agreement modification, e.g., only with the written consent of both the landlord and tenant

Governing law—State laws that govern the agreement

Signatures of both parties

Date
Use DoNotPay as Your Contract Creator
DoNotPay can be your reliable assistant in lots of ways. One of them is to help you create legal documents for different purposes.
Use our tips about how to write a contract and where to look for contract templates. Not only do we provide information, but we can also generate full-length agreements for your different needs.
Business Needs
Personal or Family Requirements

General business contract

Intent to purchase real estate

Child care authorization form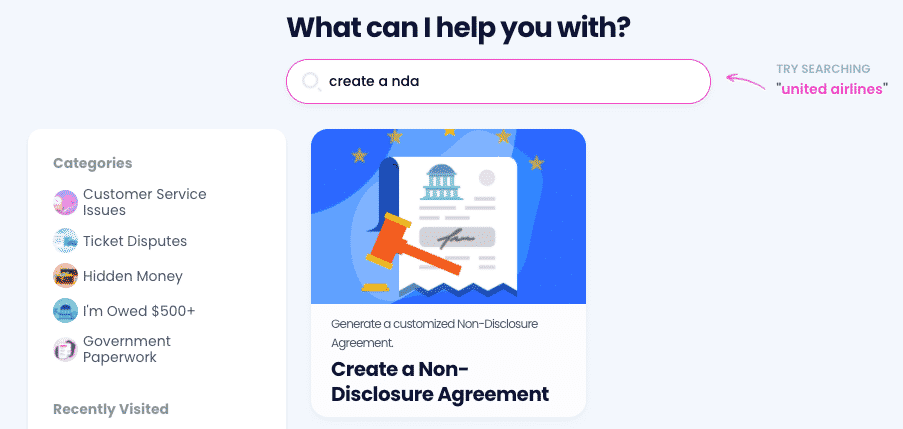 You can get all the above-listed contracts and more in our extensive database. To start generating personalized legal documents, do the following:
Access DoNotPay from your

Provide the document name

Give the necessary details to the chatbot—names, addresses, and other relevant information
DoNotPay will provide a contract based on provided information and your needs. You focus on your projects and life goals, and we will make sure they are supported with adequate documentation.
Clear Out Your Daily Tasks Fast With DoNotPay
Are your parking tickets piling up, but the process of appealing them is way too complicated? Do you struggle to pay your bills but are not sure how to get an extension? Is it time to extend your driver's license, but reaching the DMV is a nightmare?
DoNotPay will turn all of these dreadful tasks into easy-to-do items you can check off your agenda quickly!
Get rid of spam emails, texts, and calls quickly using our AI-powered app!
Learn how to secure compensation from airlines, get your college fees waived, claim your lost funds, or reduce your property tax—all with a few clicks!
Subscription Issues? DoNotPay Can Help!
If you are looking to test out a service, think twice before disclosing your payment info. Companies will often ask you for your credit card details even when signing up for a free trial—they charge you once the trial expires.
Use our virtual credit card, and don't worry about unwanted charges!
Our credit card gets automatically approved for any free trial, but it rejects any real charges since there is no money on it.
DoNotPay will locate and cancel all your unwanted subscriptions without you having to deal with customer service reps.
We can also help you request refunds from companies or take them to small claims court if they refuse to cooperate.