Filing for a Shelby County Divorce Simplified
Are you and your partner thinking of parting ways? To file for divorce in the largest county in Tennessee, you have to be familiar with the state laws, especially if you want to represent yourself in the proceeding. Fortunately, we have all the information you need to get a cheap, do-it-yourself Shelby County divorce.
Besides providing you the necessary details, we can draw up a divorce settlement agreement! All you need to do is and fast-track your uncontested divorce with zero hassle!
Requirements for a Divorce in Shelby County, TN
To start up the divorce process in Shelby County, you have to meet state-specific criteria. Under state law, a person qualifies to petition for divorce if they are a Tennessee resident and have grounds for divorce that are recognized by the state. Take a look at the following table to check if you meet the requirements:
Residency Requirements
To file for divorce in Tennessee:

Either you or your spouse must have been a resident of the state for at least six months before submitting the petition
You (the petitioner) must have been a Tennessee resident at the time the grounds for divorce took place

Legal Reasons for Divorce
Tennessee is a fault-based state for a divorce, which means either you or your spouse is responsible for the breakdown of the marriage. When filing for divorce, you need to specify the legal reason and have proof of the spouse's wrongdoings. State-recognized grounds for divorce include:

Irreconcilable differences
Inappropriate marital conduct
Cruel treatment
Impotence and infertility
Adultery
Bigamy
Abandonment
Conviction of an infamous crime
Desertion for at least one year
Conviction of a felony
Refusal to move
Pregnancy by another man
Two years' separation (with no children)
Infliction of physical pain (or attempt to)
Substance or alcohol abuse
Deliberate attempt to kill a spouse
All About an Uncontested Shelby County Divorce
Tennessee offers two types of friendly divorces:
Simplified or agreed divorce
Regular uncontested divorce
Agreed Uncontested Divorce
An agreed uncontested divorce is a quicker and less expensive option than the traditional divorce.
Not everyone can have this type of marriage dissolution. You are eligible for an agreed divorce if you and your spouse:
Meet residency requirements
Both want to terminate the marriage
Agree on the irreconcilable differences grounds for divorce
Have no children who are:

Younger than 18
Disabled
In high school

Neither of you is pregnant
Have no business or real estate together
Have no retirement benefits
Agree on alimony
Agree on how to divide the property
Regular Uncontested Divorce
If you have children together or share business or real property, it doesn't mean you can't have an uncontested divorce. To get an uncontested divorce with children and property, you and your spouse have to:
Meet residency requirements
Have irreconcilable differences as legal grounds for divorce
Reach an out-of-court settlement regarding important matters, like:
Which Shelby County Divorce Papers Do I Need?
If you and your spouse agree on everything, you don't need a lawyer to get a divorce. In that case, you need to complete the process by yourself, starting with preparing the paperwork. Don't fret—we'll guide you through the process.
To start the Shelby County divorce filing process, you need to gather and fill out the following divorce papers:
Complaint for Divorce
Confidential Information of the Parties
Summons
You can find all of the forms in PDF at the official government website of Shelby County. Keep in mind that there are two packets of uncontested divorce papers—for marriage dissolution with and without children.
Regardless of the type of uncontested divorce—regular or agreed—you'll need a written divorce settlement agreement. This legal document has to outline all of the terms of divorce you and your spouse have agreed on. The judge will use the agreement to determine whether to issue the final judgment or not.
How To File for Uncontested Divorce in Shelby County, TN
Preparing the required documentation takes a lot of time. The rest of the divorce-filing process is less demanding. Here's what is left to do:
Make at least two copies of each document
File the original divorce forms with the court
Serve the papers to your spouse
Pay a filing fee ranging from $135 to $300
Attend the hearing at court after the mandatory waiting period (from 60 to 90 days, depending on whether you have children or not)
Drafting a Divorce Settlement Agreement Is a Piece of Cake With DoNotPay
To complete your DIY divorce, all you need is a divorce settlement agreement, and the world's first robot lawyer can write it for you!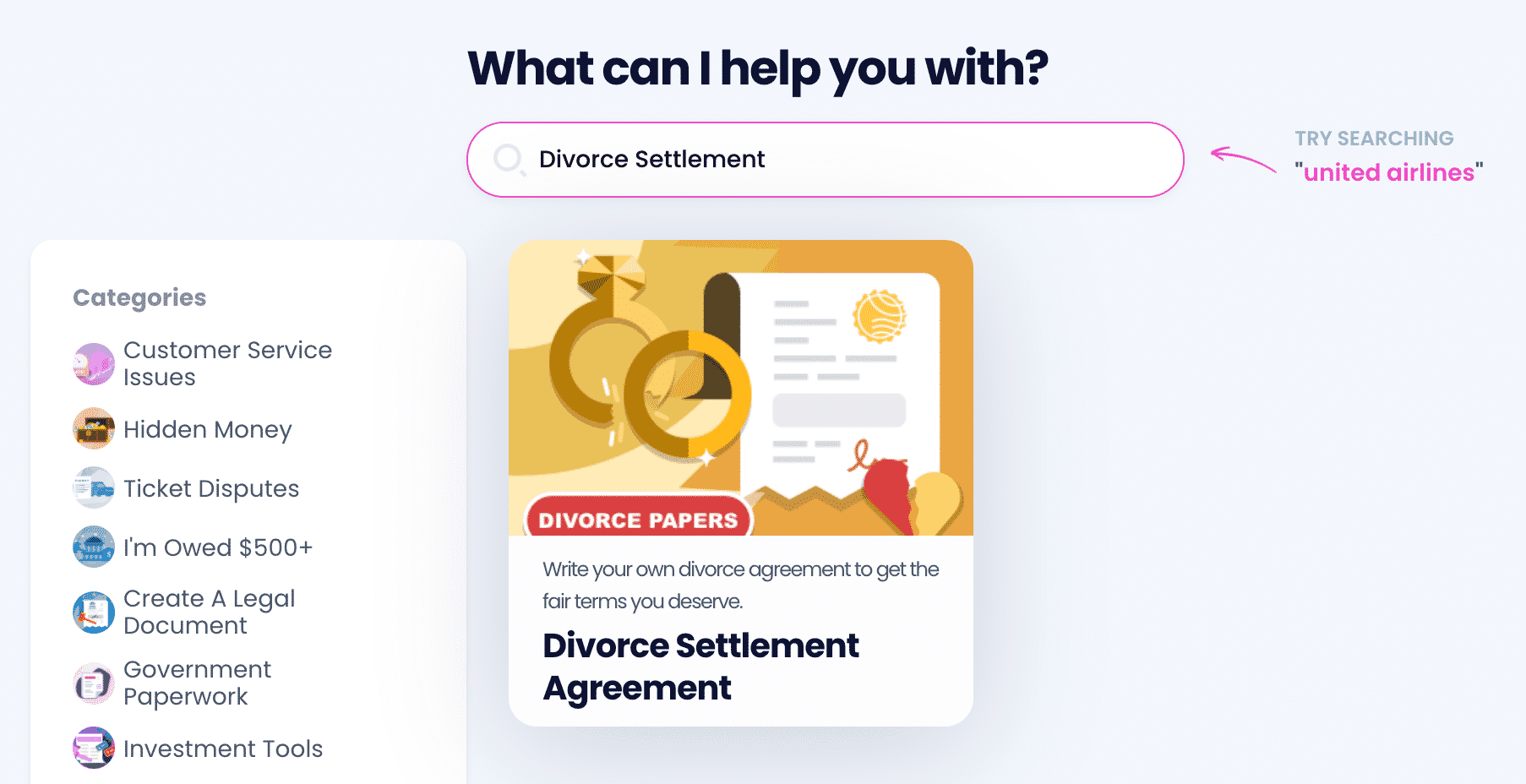 Our service is quick and easy to use—you can get a tailored divorce settlement agreement in four simple steps:
Open the Divorce Settlement Agreement tool
Answer some questions about your spouse, assets, and children (if any)
Inform us if you need a notary
We'll make sure your agreement complies with Tennessee laws and standards and also meets your needs! All you have to do is sign the document, have your spouse sign it, and get it notarized!
That's not all we can do for you! DoNotPay can help you find out:
DoNotPay Is Righting Wrongs Left and Right
DoNotPay is a platform that puts its subscribers' safety in the first place. We can keep you safe from sex offenders, stalking, and harassment. In case you're a victim of a crime, we can help you get compensation.
Fight for discrimination at your workplace with the world's first robot lawyer or sue any company or person in small courts if you feel like you've been wronged.
Is There Anything DoNotPay Can't Do?
The short answer is no, and the list of our AI-based app's features keeps growing by the day. We offer professional assistance with issues that no other platform can help you with. Sign up now and: