Calm Troubled Waters With a
Shared Well Agreement
If you are lucky enough to live in a rural community, you may get your water supply from a well shared with your neighbors.
While this can be seen as quaint and romantic, the truth is that you need to regulate how the water supply is used and managed to avoid conflict and infrastructure problems.
DoNotPay knows how challenging writing a contract or a legal document can be, so we are here to help you with all the info you need to draft a shared well agreement.
What Is a Shared Well Agreement?
A shared well agreement regulates the use, management, and maintenance of a water supply that is shared between two or more households. If you get your water from the same well as your neighbor—and not from the municipal supply—you need an agreement in place to make sure the responsibility for looking after the supply is shared fairly.
If you are trying to get a mortgage to buy a property with a shared well, you may also find that you will only be eligible if such an agreement is in place.
The Department of Housing and Urban Development (HUD) has drawn up a list of minimum standards for a shared well and also sets out what should be in a shared well agreement.
What Points Should Be Covered by a Shared Well Agreement?
The HUD's guidelines state that a shared well:
Should serve no more than four properties

Should incorporate a valve on the line to each property

Must have a minimum flow rate of three gallons per minute

Requires regular water quality testing to ensure potability
The agreement you sign with your neighbors needs to ensure that the system is maintained to these standards.
What Should a Shared Well Agreement Look Like?
Your shared well agreement needs to include the following elements:
Names and details of the parties

Term of the agreement

Cost-sharing

Easements

Maintenance and repair responsibilities

Prohibited practices

Continuity of service

Restrictions

Termination of the agreement
Names and Details of the Parties
All the parties' names, addresses, plot details, and contact details should be included in the agreement. The plot details should be noted as they appear in the deed to each of the properties in the agreement.
Term of the Agreement
You may want to set a time limit on the agreement or leave it in perpetuity. 
A time limit is advisable if you are aware of any plans for a municipal water supply to be extended to the properties in the future or if you expect any of the properties concerned to change ownership in the foreseeable future.
Cost Sharing
The agreement should set out how costs for upkeep, repair, and any construction should be shared between the well users. You should include cost-share stipulations for the construction and maintenance of all infrastructure elements, including the:
Waterworks equipment

Pumphouse

Distribution pipes

Filtration systems
You may also want to mention the split of costs for any initial and ongoing quality testing that is required.
Most shared well agreements provide for the costs to be shared equally by all the parties.
Easements
Easements are permissions for use are sometimes governed by separate easement agreements.
Your shared well agreement needs to state that each party is allowed fair access to the well. To achieve this, the owner of the property on which the well is situated should grant an easement to the other parties.
Maintenance and Repair Responsibilities
The shared well agreement should state that each party is responsible for ensuring that the infrastructure is maintained to be free from leaks or seepage that could cause injury, damage, or water contamination.
This clause should also stipulate that any distribution pipes from the common supply to each property should be at least ten feet away from septic tanks or sewerage installations.
Prohibited Practices
Each party should agree not to construct anything that could cause contamination within 100 feet of the well. This could include:
Septic tanks, drain fields, or sewer lines

Underground storage tanks

Feed stations or pens for grazing animals

Waste or garbage stations

Machinery that could cause contamination due to oil or fuel spillage
You should also stipulate that the parties to the agreement may not cross-connect other water or waste systems to the common water supply without written permission from the local health authority.
Continuity of Service
Each party to the agreement should do everything necessary to ensure continuous water service. If the well should become unusable due to contamination or insufficient supply, all the parties to the agreement should share the responsibility and cost of developing a new water source.
Restrictions
The agreement should make it clear that the parties are not permitted to supply water to any additional parties without written permission.
Termination of the Agreement
You should state that the agreement can only be terminated if each party in the agreement has found and consents to an alternative potable water supply.
Once you have drafted the agreement, all the parties concerned should sign it, and you should have it notarized to give it legal weight.
If you use the guidelines above, you should be able to draft a shared well agreement that ensures you and your neighbors are satisfied.
Can DoNotPay Help Me Draft Legal Documents and Agreements?
DoNotPay understands that drawing up legal documents can be challenging and that hiring a lawyer can be prohibitively expensive. with a range of customizable legal documents and contract templates that you can tailor to your needs.
All you need to do to get one of DoNotPay's legal documents is:
Navigate to DoNotPay in your web browser and

Search for the document you need

Insert the details you want included

Wait briefly while we generate your document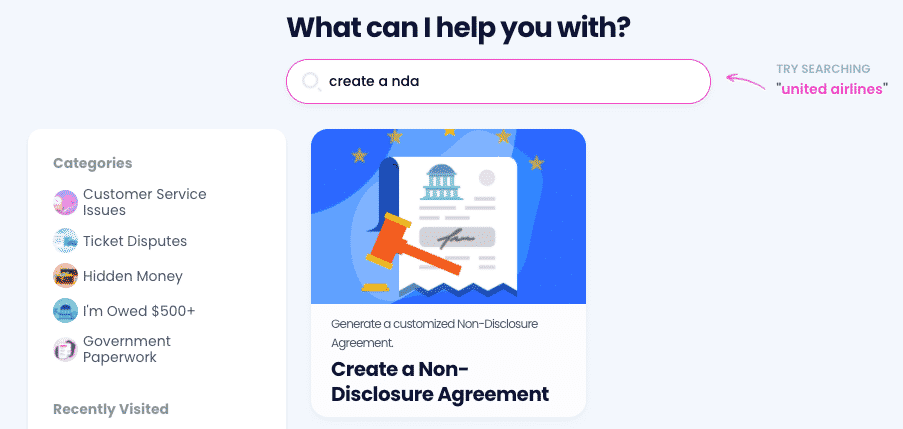 What Kind of Legal Documents Does DoNotPay Offer?
We are growing our range weekly, and these are a few examples of what we have:
Business
Property
Personal

General business contract

Estoppel certificate

Quitclaim deed

Intent to purchase real estate

General affidavit

Promissory note
Money Troubles Got You Down? Use DoNotPay To Get What You're Owed!
If you need help paying bills, you could benefit from our hacks for saving and earning money.
Our app can help you get free trials with no hidden charges, thanks to DoNotPay's virtual credit card. If you want to get rid of a service, we can assist you in canceling it or requesting a refund. We'll get everything done so that you don't have to deal with customer service. In case a company is playing dirty, our award-winning app can help you take it to small claims court.
A slow bureaucratic process shouldn't stop you from getting your money back. This is where DoNotPay comes in! We provide the fastest way of:
Rely on DoNotPay To Manage Different Tasks and Issues
DoNotPay is a multifaceted app making your life easier in numerous ways. Here's how you can benefit from your DoNotPay account: