How To Make a Shared Parenting Agreement With No Fuss
If you need a shared parenting agreement but know little about making legal documents or contracts—sit tight. DoNotPay will help you understand this agreement in detail and make one based on your unique circumstances in a matter of minutes!
Shared Parenting Agreement Explained
A shared parenting agreement—also known as shared parenting, joint residence, shared custody, shared parenting plan, or joint physical custody—is a legal document that is usually found in a group of necessary divorce documents. It regulates important aspects of taking care of a child after the parents get separated.
The agreement exists to ensure a child has both parents equally involved in its upbringing—in terms of finances and parenting.
This document is a written agreement between parents on various matters, including:
Child visitation schedule
Primary residence for the child
Shared responsibilities
Plan reviewing and editing methods
Methods of dispute if the parents disagree in the future
These terms depend on various circumstances regarding parents' living conditions, such as:
Parents' incomes and expenses
School distance from their homes
Hospital distance from their homes
Nature of their residences (rental or bought)
Extracurricular activities the child attends
Other children the parents may have
Can You Compose a Shared Parenting Agreement on Your Own?
Saving money on lawyers by making documents by yourself seems great until you notice a missing term or clause in your shared parenting agreement. There are plenty of templates to choose from online, but none of them are tailored to your and your child's needs.
Don't risk losing precious time with your child or having no say in important decisions. Make your shared parenting agreement the easy way—using DoNotPay.
Create Your Shared Parenting Agreement With DoNotPay
To create an agreement, you must have extensive legal knowledge, but DoNotPay can take that burden off your shoulders and help you draw up a shared parenting agreement in a few steps:
Open DoNotPay in your browser
Type in Parenting Plan as the document you need to draft
Answer the questions to provide necessary information
You'll get a custom shared parenting agreement to download, fax, or print. We can also help you get it notarized, if necessary.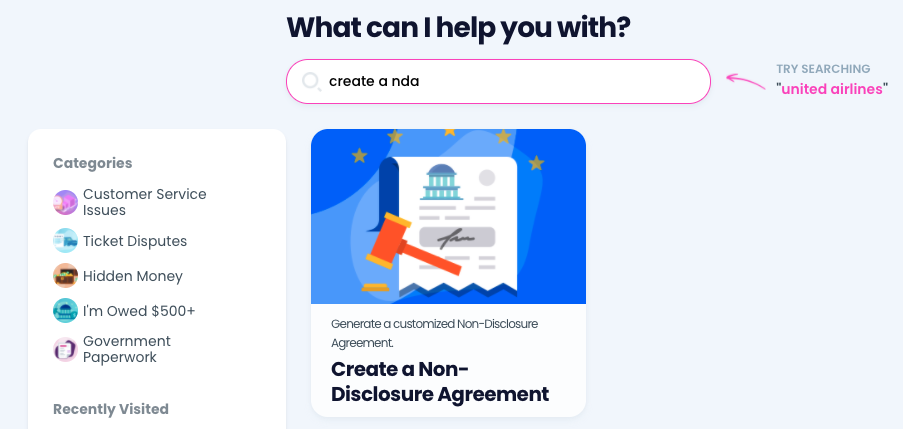 Make the most of our Legal Documents service—we will help you draft as many documents as you need, including:
Category
Legal documents
Business

General Business Contract

Real estate

Quitclaim Deed
Estoppel Certificate
Intent To Purchase Real Estate

Family law

Child Care Authorization Form

Miscellaneous

Promissory Note
General Affidavit
Essential Elements of a Shared Parenting Agreement
Writing a shared parenting agreement is no easy task. As if agreeing with the other parent weren't enough of a hassle, writing down what you agreed on could prove tricky.
If you insist on writing this agreement yourself, you should be aware of the essential clauses that every shared parenting agreement needs to have:
Parent and children information—Names and birthdates of children and parents
Parent-proposed terms and conditions—Decisions regarding education, religion, medical care, transportation means and schedule, procedures for potential future disputes (if needed), and possible future agreement changes (caused by repairs, vehicle loss, change of jobs, or change of residence)
Custody and visitation information—Holidays, vacations, regular weekly schedule, and any exceptions
Child support—Most states require you to file child support papers with your parenting agreement. You should include child support details, so all the information is in one place
Why Is a Shared Parenting Agreement Important?
A shared parenting agreement is essential because every child has the right to grow up with both parents close, despite them divorcing or separating. It's also a good reminder for the parents to take responsibility for their child(ren).
Not agreeing on custody terms requires involving a mediator or judge to decide what is best for the child. Most people settle it peacefully and make a compromise to avoid complications. A well-written shared parenting agreement helps seal the compromise and protect the interests of all involved parties.
Is a Shared Parenting Agreement Legally Binding?
Like any other court-approved document, a signed shared parenting agreement is legally binding. Parents will suffer legal consequences if they disobey its terms or modify the document without consulting the other parent.
What Will Happen if Someone Breaches the Shared Parenting Agreement?
While the agreement requires both parents to obey the stated terms, any parent that violates it will be held in contempt of court. Breaking the deal means:
Not returning the child to the other parent in time
Avoiding returning the child at all
Not allowing your former marital partner to see the child
Setting your child against the other parent
Some of the penalties you can face if you're held in contempt of court are:
Partial or total loss of your custodial rights
Compensation for civil penalties and attorney fees
Time in jail
The other parent getting more days with the child as compensation
Free Yourself From Boring Tasks With DoNotPay's Help
Our AI-driven app comes in handy for numerous bureaucratic or administrative chores that usually take up a lot of time. With DoNotPay's speedy service, even the most tiresome task will be complete in a flash!
You can forget all about waiting in line at the DMV and being on hold with customer service—we will get you to the finish line in a few clicks. Tired of the old snail mail? Use DoNotPay to mail letters fast. Better yet—fax your documents using our app. If your document requires a notary's signature, we can assist you in scheduling a virtual appointment.
No Lawyer—No Problem! Rely on the World's First Robot Lawyer
When you're in a bind but you can't afford a lawyer, there is still something you can do—sign up for DoNotPay and let our award-winning app give you a hand. With our expertise, the following tasks will be a piece of cake: