How To Fight Sexual Orientation Discrimination at Work
Your employer shouldn't concern themselves with your sexual orientation. When your company uses that information to discriminate against you, they are breaking the law.
DoNotPay is here to help you fight for your right to privacy and challenge sexual orientation discrimination at work!
Am I Being Discriminated Against Based on My Sexual Orientation?
Sexual orientation discrimination in the workplace does not need to be overt but can exist in remarks, comments, or subtle actions.
It is important to realize that workplace discrimination can take different forms, including:
Hiring and firing discrimination

Restrictions on promotion, advancement, or

remuneration

Biased job allocation

Harassment
Hiring and Firing Discrimination
Whatever its discrimination policies may say, if a company practices any form of bias in the way it hires employees, it is guilty of discrimination.
Questions about your private life are strictly forbidden in job interviews, and your supervisor is not allowed to pry into your private matters once you have been hired.
Even if you disclose information about your sexual orientation—by furnishing details of your same-sex partner for HR records, as an example—your employer cannot use this information against you in any way.
Restrictions on Promotion, Advancement, or Remuneration
If you are the best-qualified employee for advancement or promotion, your employer cannot use any private information to decide whether or not you should get the job or how much you should be paid.
Biased Job Allocation
It is illegal for your employer to assign tasks to you based on your sexual orientation—this would be classified as sexual stereotyping, and a discrimination lawyer would have a field day.
Harassment
Possibly the most difficult-to-prove type of discrimination based on sexual orientation—yet at the same time, one of the most common complaints—is that of harassment. This can take different forms, such as:
To prove harassment in the workplace, you will need documentary evidence of actual incidents, as well as proof that the occurrences have created a hostile environment.
What if the Discrimination Isn't Obvious?
Discrimination can be practiced in two ways:
Discrimination Type

Explanation

De jure

discrimination

De jure discrimination takes place when your employer actively practices bias or prejudice against you for your sexual orientation.

An

example

would be deliberately allocating non-physical labor to known gay men in the workforce

De facto

discrimination

The more subtle form is known as de facto discrimination, in which the company's actions or inaction allow discrimination to take place—many cases of management culpability in harassment situations are seen as de facto discrimination
Most employers know that de jure discrimination is easy to spot and will ensure they have policies in place to avoid it. De facto discrimination frequently occurs by staff ignoring policies and allowing unacceptable behavior to go unpunished.
Your best weapon is your rigorous collection of documentary evidence.
What Can I Do To Fight Back?
If you have evidence that you are being discriminated against based on your sexual orientation, the law is on your side.
You have to follow a process, though, to ensure your case is watertight. These are the steps you should take before you consider legal action:
Ensure you have read and understood your company's discrimination policy and that it covers sexual orientation

Record all the details of overt or covert sexual orientation discrimination

File a formal complaint or grievance with your supervisor and the HR department

Check the laws of your state to see if any legislation exists apart from federal law
If these steps have no effect, your next move is to contact the Equal Employment Opportunities Commission (EEOC) and file a complaint.
What Is the EEOC, and How Does It Work?
The EEOC is the federal body charged with enforcing anti-discrimination laws throughout the U.S.
You need to go through the EEOC before you can file a private lawsuit against your employer, and you may find the EEOC is prepared to do it on your behalf.
To start the process of an EEOC investigation into discrimination at work, you must file a charge of discrimination listing your allegations in full.
Once it has received your charge, the EEOC will:
Inform your employer of the complaint

Start an investigation into your allegations

Collect as many facts as possible from you, your employer, and any witnesses you have named
If the EEOC finds enough evidence to support your complaint, it will either launch a lawsuit against your employer or give you written permission to do so yourself.
Filing your charge of discrimination can be complicated, but DoNotPay makes it a !
Filing Your Complaint Through DoNotPay
You can lodge your charge of discrimination in a few clicks with DoNotPay—here's what to do: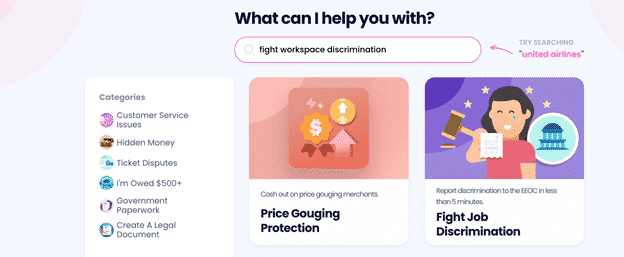 in your web browser

Find our

Fight Workplace Discrimination

product

Give us the details of your case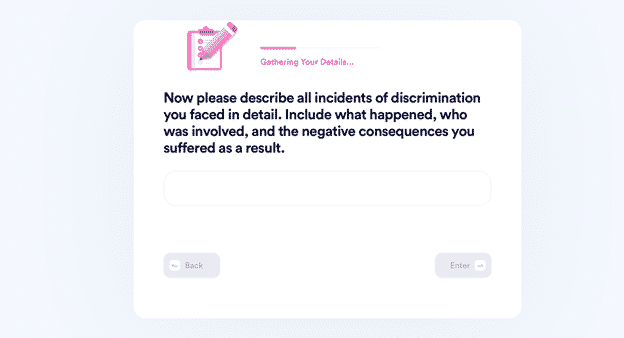 Now, sit back and relax while we file your charge with the nearest EEOC office!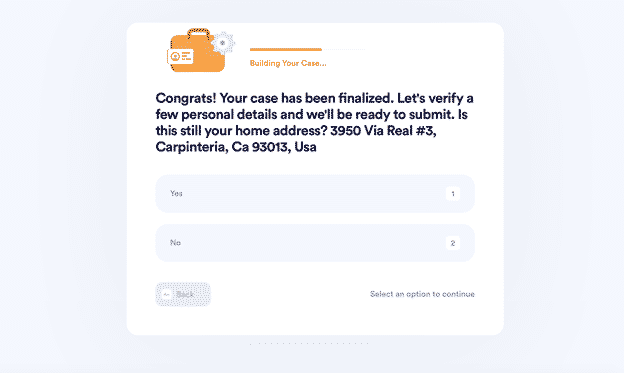 What if My Case Is Complicated?
Discrimination at work comes in many forms, and you may find you are experiencing more than one. The most common discrimination types to be aware of are based on:
No matter how complex your case, DoNotPay is committed to getting you the help you need!
You Can Rely on DoNotPay's Can-Do Attitude
Facing discrimination in the workplace can make you feel drained and depressed, but DoNotPay will be that pick-me-up that you need. Our platform is built around the idea that everyone can and must fight for their rights, so we keep providing you with the most efficient tools and resources to do so.
We've found ways to cut out the middleman in numerous bureaucratic processes and support you by saving your time, energy, and money. DoNotPay can help you:
Accomplish More With DoNotPay
Our platform helps you protect your rights, deal with annoying administration, and increase your overall productivity. We strive to identify complicated procedures that plague everyone's existence and make them as simple as possible.
You can use our app to:
Long story short—DoNotPay does it all, and it's meant for everyone who could use some more help, time, and money!