Sexual Orientation Discrimination Cases That Can Help You
Workplace discrimination is illegal under federal law, but legislation often leaves gray areas that need to be tested in court to determine how the letter of the law works in practice.
Sexual orientation discrimination cases in the workplace are a great example. DoNotPay takes a look at the recent landmark lawsuits that have clarified how the law works.
What Law Governs Sexual Orientation Discrimination in the Workplace?
Title VII of the Civil Rights Act of 1964 states that it is illegal to discriminate against anyone based on their:
It makes no specific mention of the LGBTQ status, so it was up to several individuals to test the power of the act in dealing with LGBT discrimination cases.
Which Sexual Orientation Discrimination Cases Have Broken the Mold?
The recent cases that have been instrumental in proving that Title VII applies in cases of employment discrimination due to the plaintiffs' sexual orientation are:
Hively v. Ivy Tech Community College of Indiana (2017)
EEOC v. Scott Medical Health Center (2016)
Winstead v. Lafayette County Board of County Commissioners (2016)
Hall v. BNSF Railway Company (2014)
Heller v. Columbia Edgewater Country Club (2002)
Hively v. Ivy Tech Community College of Indiana (2017)
The 7th Circuit Court of Appeals became the first federal court to find that sexual orientation is protected under Title VII. The district court had initially rejected Kimberly Hively's claim that she had been discriminated against by her employer due to her homosexuality, but the judgment was reversed on appeal.
EEOC v. Scott Medical Health Center (2016)
The EEOC prosecuted and won a case against Scott Medical Health Center after a gay employee was subjected to harassment and constructive dismissal by management. This case was an example of sex stereotyping, meaning that the sex of the employee's partner was used to claim the employee's unsuitability for the job.
Winstead v. Lafayette County Board of County Commissioners (2016)
This case rested on an exact interpretation of the wording of Title VII, which prohibits discrimination based on sex. The court ruled that this wording includes a prohibition on discrimination against homosexuals.
Hall v. BNSF Railway Company (2014)
The BNSF Railway Company provided healthcare insurance to opposite-sex spouses of its employees but refused to do so for legally married same-sex partners. The court ruled that this was a clear case of de jure discrimination.
Heller v. Columbia Edgewater Country Club (2002)
A country club employee suffered systemic verbal harassment from management and co-workers due to her homosexuality. The court found that the country club was guilty of de facto discrimination as a result of expecting the employee to conform to its sexual stereotypes.
Each of these cases reinforces the idea that sexual orientation should be included under the Title VII rulings on gender or sex discrimination.
What Do These Sexual Orientation Discrimination Cases Mean for You?
If you are experiencing discrimination at work due to your sexual orientation, the cases above prove that the law is on your side. With this knowledge, you should be ready to fight any discrimination against you at work.
The discrimination against you may not be obvious but may take the form of:
Type of Discrimination
Explanation
De facto discrimination
De facto discrimination occurs when an organization allows discriminatory behavior despite anti-discrimination policies being in place. An example would be your employer refusing to invite your same-sex partner to company activities while inviting other employees' opposite-sex partners
Harassment
Harassment can consist of inappropriate jokes, a hostile work atmosphere, or deliberately bullying behavior based on your sexual orientation
Unfair treatment
Examples of unfair treatment would be:

Biased advancement opportunities as a result of your sexual orientation
Prejudice in allocating job assignments

Intrusive questioning
Any attempt by a company to pry into your private life or to use information that you have supplied in confidence can be seen as discrimination
Retaliation
Your employer is not allowed to retaliate against you in any way if you have raised a complaint of discrimination
If you decide that enough is enough, your first step is to attempt to address the issue internally by raising it with the HR department. You should make sure that your complaint is logged officially as you may need this as evidence later.
If your internal efforts don't succeed in resolving the issue, your next option is to file a complaint with the Equal Employment Opportunities Commission (EEOC).
How Can the EEOC Help You Fight Sexual Orientation Discrimination?
The EEOC enforces federal anti-discrimination laws and is your partner in the fight against your employer.
You cannot use a discrimination lawyer to launch a lawsuit against your employer without permission from the EEOC, so you need to file a complaint—called a charge of discrimination—with them as soon as possible.
Your charge of discrimination should include all the details of the discrimination you have experienced. The EEOC often requires you to attend an in-person interview before you file, but DoNotPay can help you start your case online with the minimum of hassle!
Get DoNotPay's Help To Lodge Your Discrimination Charge
DoNotPay always goes the extra mile to make your life simpler.
When it comes to filing your complaint with the EEOC, we can help you get it done in a few clicks—here's how:
Sign up with DoNotPay in your web browser
Search for our Fight Workplace Discrimination feature
Give us the details of your case by following the prompts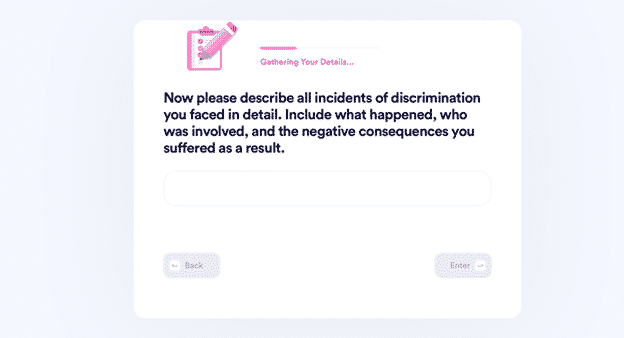 That's all you need to do—DoNotPay will pass your charge on to the nearest EEOC field office.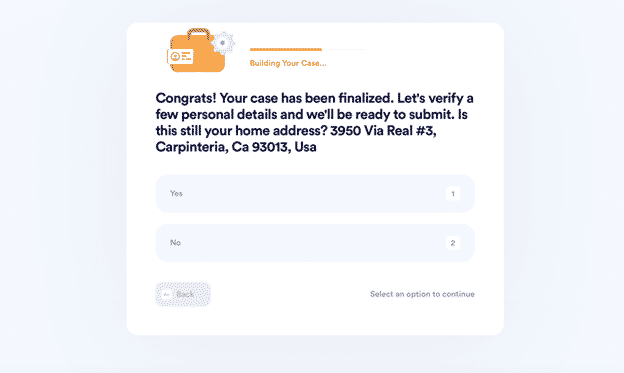 You Can Rely on DoNotPay's Can-Do Attitude
Facing discrimination in the workplace can make you feel drained and depressed, but DoNotPay will be that pick-me-up that you need. Our platform is built around the idea that everyone can and must fight for their rights, so we keep providing you with the most efficient tools and resources to do so.
We've found ways to cut out the middleman in numerous bureaucratic processes and support you by saving your time, energy, and money. DoNotPay can help you:
Accomplish More With DoNotPay
Our platform helps you protect your rights, deal with annoying administration, and increase your overall productivity. We strive to identify complicated procedures that plague everyone's existence and make them as simple as possible.
You can use our app to:
Long story short—DoNotPay does it all, and it's meant for everyone who could use some more help, time, and money!