All You Wanted To Know About a
Settlement Agreement
The settlement agreement is one of the crucial legal documents for employees. You can find numerous settlement agreement samples on the internet, but they are usually incomplete, and none of them can fully explain the purpose and importance of this contract. 
If you want to find out more about it and make an informed decision whether to accept it or not, we have your back. We will teach you how to write a great contract or compose other legal documents with DoNotPay's handy contract templates!
What Is a Settlement Agreement?
A settlement agreement is a contract between an employer and employee stipulating the terms both parties should honor once the employment comes to an end. 
It's usually offered by the employer who wants to prevent the ex-employee from filing a claim against them. By signing this document, they agree to pay a specific amount to the worker to end the collaboration without further conflict. 
When Should a Settlement Agreement Be Offered?
Several situations call for a settlement agreement. Here are some of them:
You have gone through discrimination at work, and you want to sue your employer. They insist they are not guilty but want to avoid a lawsuit to protect their reputation

Your employer has valid proof that you didn't do your job properly and wants to terminate the employment contract with you amicably. In this case, they can offer you money or a reference you can use to get a new job

You want to file a claim against your employer because they dismissed you for no valid reason, but they are ready to pay to avoid court proceedings or employment tribunal

The employer wants to provide you with so-called ex gratia payment—the money you aren't contractually entitled to—because you are terminally ill
What Details Should a Settlement Agreement Include?
Your settlement agreement should include the following information:
The employee's outstanding salary balance

The employee's outstanding balance of all bonuses and holiday pay

The termination amount you agreed upon with the other party

Confidentiality or Non-disclosure clause—it's optional but recommended

Non-derogatory clause—it's an optional clause that prevents both parties from making bad comments about each other 

Your statement saying that you won't bring any claims against the employer

Optional good reference

Employer's participation in paying legal fees

Signatures of both parties and a solicitor or any other relevant official
Is the Simple Settlement Agreement Legally Effective?
Composing a settlement agreement and signing it isn't enough to make it legally binding. If you want it to become effective, you must:
Use the acceptable

settlement agreement format,

i.e., it must be in writing

Refer to a particular procedure or complaint

State that all the terms and conditions align with the local legislation 

Get independent legal advice from a solicitor about it and state them in your agreement. Such legal services can cost up to $500, which is usually too expensive for most people. In some cases, if they want to resolve the matter as soon as possible, the employer may accept to pay your fees 
Create Legal Documents With DoNotPay
If you have ever tried composing a legal document on your own, you know what a challenging and complicated job it may be. 
Free online samples and templates may seem useful, but they rarely contain all the necessary clauses and don't come from verified sources. You can always turn to legal services, but the amount you should set aside for a single document draft can be enormous.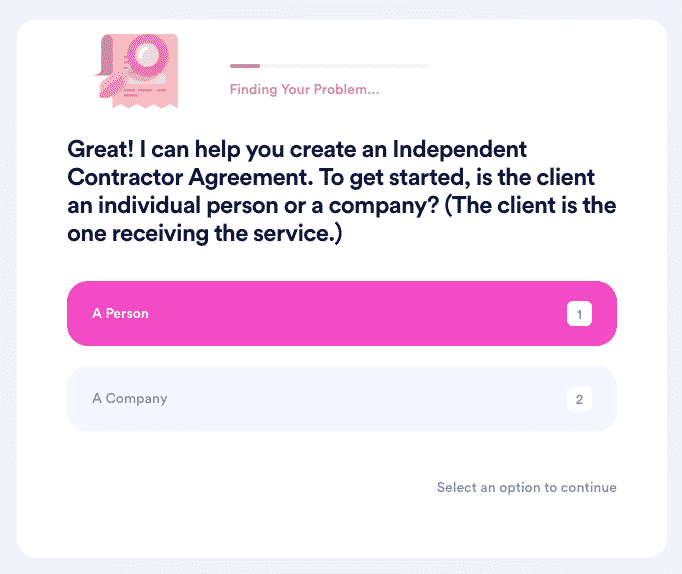 DoNotPay, an awarded robot lawyer, has created a feature that will save your day! You don't need to write your contracts manually. We made a massive collection of standardized legal documents you can customize and change according to your needs.
Here's how to use our service:
Sign in to DoNotPay in your preferred

web browser

Search for the desired document

Provide more details about the contract or document you want to generate
Our app will automatically create a personalized version of the desired document. To make it legally binding, make sure to sign it along with the other party or get it notarized. 
If you want to learn the essentials of other popular legal contracts, check out DoNotPay's knowledge base and read more about: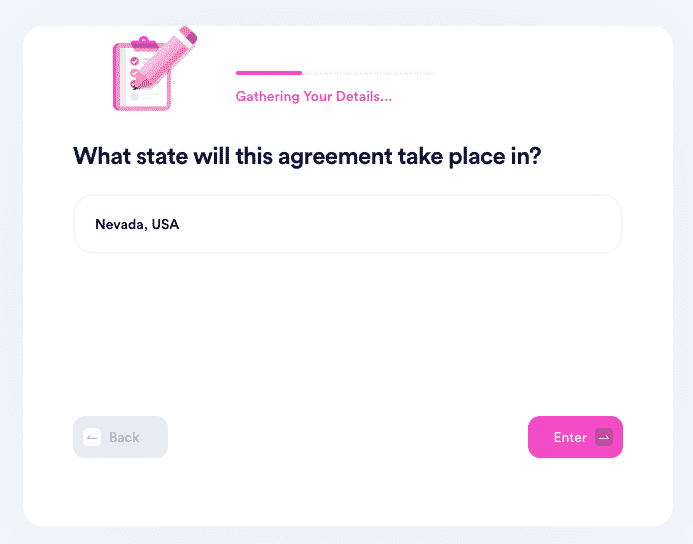 What Types of Documents Can I Generate With DoNotPay?
Our database contains the most popular legal documents. You can see all the templates we offer in the following table:
Real Estate Documents
Business Documents
Miscellaneous Documents

Estoppel Certificate

Intent to Purchase Real Estate

Quitclaim Deed

General Business Contract

General Affidavit

Promissory Note
Need Help Fighting Bureaucracy? Use DoNotPay!
As the world's first robot lawyer, DoNotPay can help you resolve a plethora of tedious administrative issues. Our app will assist you in getting justice in small claims court, getting refunds from merchants, reporting annoying spam emails and text messages, reporting copyright infringement, bypassing phone number verification, and so much more!
You can also rely on DoNotPay's help when it comes to subscriptions. If you want to sign up for a free trial, cancel a service you no longer use, and skip the phone queue when doing so, our app will provide its assistance.
Our App Saves You Time and Money
Are you unable to pay your bills? Use the world's first robot lawyer app to cover them! Do you want to appeal your traffic or parking tickets? DoNotPay will help you appeal them in the blink of an eye.
Our app can do so much more than that, though—with DoNotPay by your side, you can sign up for clinical trials, ace government tests, claim any type of warranty, schedule an appointment with the DMV, and handle any other bureaucratic task.