Everything You Need To Know About a Settlement Agreement and Mutual Release
Understanding and creating legal documents can be quite tricky if you don't know how the legal system works. If you want to learn how to structure your settlement agreement and mutual release, we're here to help you out! Register for DoNotPay to learn how to write any type of contract with little to no effort.
What Is a Settlement Agreement and Mutual Release?
A settlement agreement and mutual release is useful when there is a conflict between two or more parties. By signing the contract, they agree to forgo any disputes and claims against the other party to release them from liability.
The parties sign the agreement after a damage-causing incident occurs. Before signing the contract, they must understand their legal rights and obligations. Once both parties accept and agree to the terms of the agreement, all claims are dropped. No participant can pursue any claims against the other.
The settlement agreement and mutual release is also known as:
Mutual release and settlement agreement
Mutual release and termination agreement
Partnership release agreement
What Are Some Key Components of a Settlement Agreement and Mutual Release?
Most settlement agreements and mutual releases contain subclauses, such as confidentiality or hold harmless provisions. Here are a few key elements every settlement agreement should cover:
Personal details of all parties, including names, addresses, and contact information
The duration of the contract, with the start and end date
Release of liability stating that all parties are released from all forms of liability
Duties, responsibilities, and legal obligations
Conflict resolution
Breach of contract and possible remedies
Termination terms and conditions
Applicable state and federal laws
Signatures of all parties and the effective date
What Makes a Settlement Agreement and Mutual Release Valid?
For a contract to be valid, it needs to contain the following elements:
Consideration—Exchange of values and benefits
Legal purpose—Adherence to the state and federal laws
Legal capabilities—Confirmation that both parties are legally and mentally sound and above the age of 18
Offer and acceptance—One party needs to offer for the other to accept
Acceptance—Both parties agree to the terms and conditions
Although state laws vary throughout the U.S., a settlement agreement and mutual release should be notarized by a notary public to confirm that all parties are signing the contract willingly. If you don't know how to find a notary, we can help you out.
What Happens if a Party Violates the Settlement Agreement and Mutual Release?
A settlement agreement and mutual release is legally binding only if it is in writing. Verbal contracts are not legally enforceable in a court of law.
If any party fails to honor the contract, they can face legal consequences. Possible remedies for violation include:
| | |
| --- | --- |
| Remedy | Brief Explanation |
| Financial compensation | Monetary compensation for damages caused by the guilty party |
| Rescission | The contract is "unmade," and both parties are relieved from their contractual obligations |
| Specific performance | Both parties try to fulfill the terms of the contract as accurately as possible |
DoNotPay Can Draft Numerous Contracts and Agreements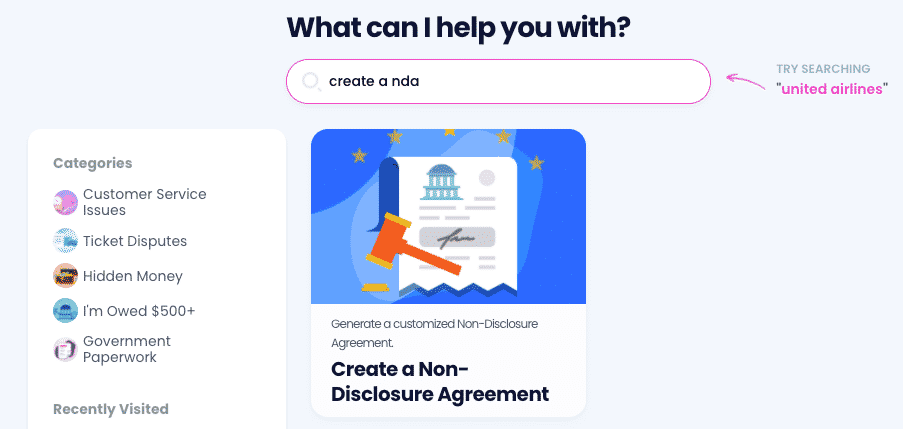 If you don't know how legal documents work, you should consider seeking professional legal help. Are attorney fees too high for your budget? You can browse for contract templates online to get a gist of how to structure your document. You shouldn't copy-paste the entire contract because most free templates are outdated.
Is this information too confusing? Make a better decision and use DoNotPay! We can draw up various contracts and agreements within minutes for a small monthly fee.
To draw up any contract with ease, you need to follow these instructions:
Enter the name of the document you need in the search box
Answer our chatbot's questions to help us customize the document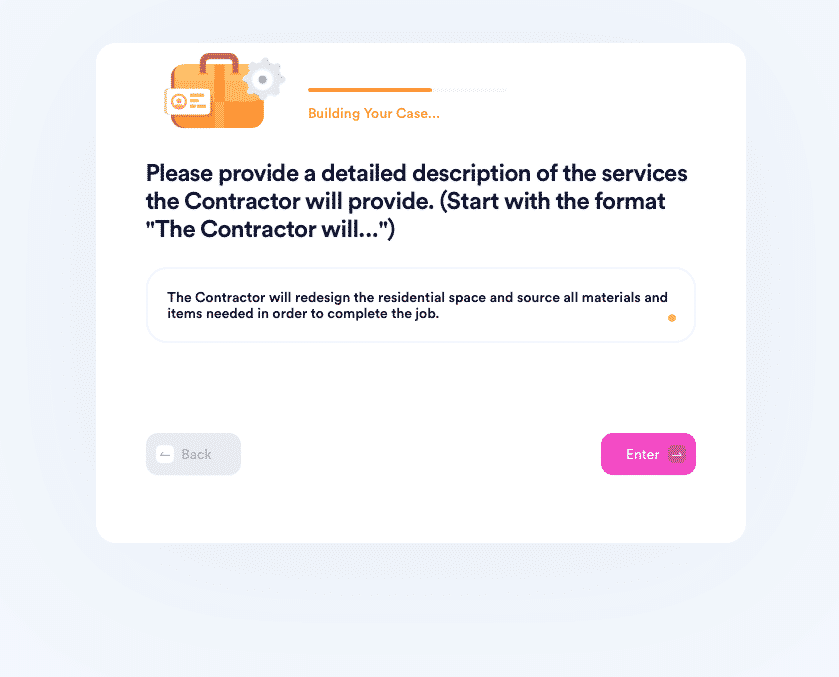 And you're done! Our app will take it from here and send you the contract in no time. You can download, print, and sign the document right away.
In some cases, you might need to get the document notarized. Our Notarize Any Document feature is integrated with the Standardized Legal Document tool, so you can do both within the same app!
What Documents Can DoNotPay Create?
Consult the table below to check out some of the legal documents we can make for you:
Real Estate
Business
Other

Quitclaim deed
Intent to purchase real estate

General business contract

Promissory note
General affidavit
Child care authorization form
Are you looking for more information about other agreements? DoNotPay's knowledge base covers numerous contracts, including:
More Nifty Solutions to Annoying Problems
If you're dealing with problematic neighbors or coworkers, you're not alone—our app can help you handle these issues with our Neighbor Complaints and Fight Workplace Discrimination products.
No problem is too big or too small for DoNotPay! Check out the best time- and money-saving solutions to different nuisances:
An Array of Hacks To Help You Deal With Greedy Companies
Nobody likes to spend more money than they have to. DoNotPay is here to offer many penny-pinching hacks and also stop companies from taking advantage of you.
Almost every free trial nowadays isn't really free. Companies request your credit card info and auto-renew subscriptions. Fight this sneaky practice by using DoNotPay's virtual credit card next time you want to snatch a free trial. We'll also uncover any unwanted memberships you have mooching off of you and help you cancel them in a few clicks.
If you need to contact a company's customer service, avoid wasting your time and money on hold and count on our app to wait in your stead.
Do you need to get your money back, but you don't know how? Use DoNotPay to: