Serving Divorce Papers—What You Need To Know
Serving divorce papers to your spouse can be emotionally draining and hard to understand at first. DoNotPay is here to clear out any confusion and help you speed up the process.
Our article will show you all the methods of serving divorce papers and how to do it in the least painful way possible.
If you want to save time and money, draw up a marital settlement agreement in an instant once you subscribe to DoNotPay.
Do Divorce Papers Have To Be Served?
Even in an uncontested divorce, informing your spouse about the process is mandatory. You are obliged to deliver copies of all divorce forms to the other party (the defendant).
This is called the service of process. The court isn't responsible for handling the papers, so you need to make sure your spouse gets served.
If the divorce papers aren't served in time, your case will be dismissed, and you'll need to file a new case and start from scratch.
How Long After Filing for Divorce Are Papers Served?
The documents need to be served to your spouse within 12 days after filing the complaint. In case you can't make it on time, you can ask the court to extend your deadline. To do it, you will need to:
Fill out the forms for the extension of serving papers
File the declaration with the court
Submit the order to the judge
Can I Serve Divorce Papers Myself?
In some states, you can serve the divorce papers yourself only if your spouse has waived formal service. You'll need to give the defendant copies of the required documents, a notice, and a waiver.
Who Serves the Divorce Papers?
If you're located in a state that doesn't allow you to serve the divorce papers personally, they'll need to be delivered by someone who is a 'disinterested person.' They need to be:
A party who is not involved in the case
Someone who doesn't care about the outcome of the divorce
A person who is at least 18 years old
For example, you can hire your sheriff or pay for a private process service to serve your documents.
How To Serve Divorce Papers
Whoever you choose to be a process server needs to deliver the documents to the defendant in person. The location of the serving isn't important as the defendant can receive the documents anywhere.
The process server needs to complete an Affidavit of Service, which will state:
The date and location of serving
The documents that were served
The affidavit needs to be shown to the court as evidence that your spouse was rightfully served.
Serving Divorce Papers Out of State
If your spouse lives out of the state, the papers will need to be served by sending a copy of the documents to that party by first-class mail. Prepaid postage and a return receipt will also need to be included. The process server needs to complete a Proof of Service that will indicate the method they used to serve the papers.
States have different regulations when it comes to filing and serving divorce forms. To see the different rules across the U.S. locations, check out the table below:
What if I Can't Locate the Defendant?
In case you can't locate your spouse or they're evading service, you will need to either:
Request alternate service—Ask the judge to serve the divorce papers via alternate means, including email, social media, etc.
Request publication—If you've tried everything in your power to find your spouse, you can ask the court for permission to publish a notice of the divorce in the newspaper or post a notice in the courthouse
Want an Easy Way To Write a Divorce Settlement? Use DoNotPay!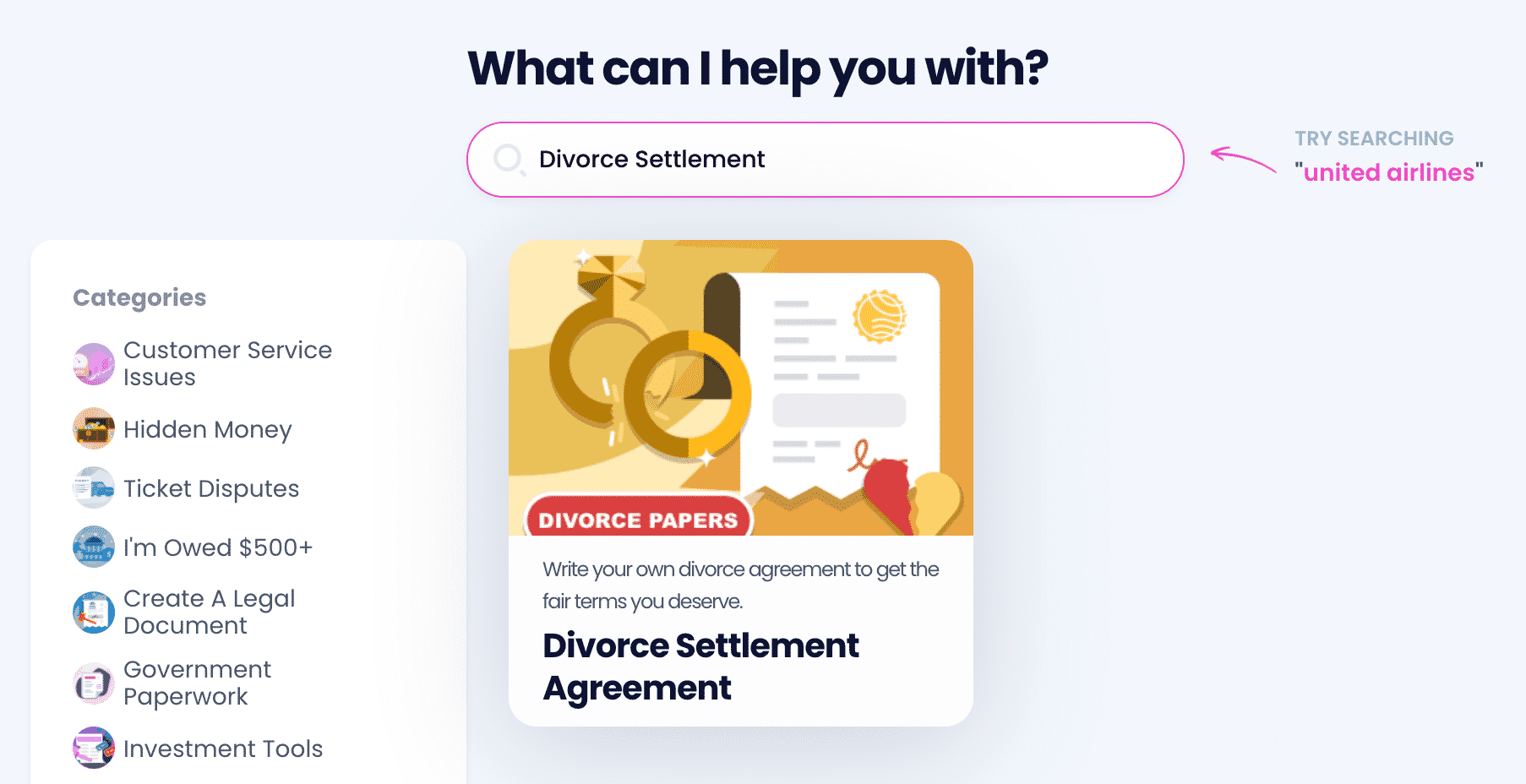 Serving divorce papers isn't the only tough part of the process. Writing a divorce settlement for a friendly divorce can also cause a headache. The lawyer fees can be expensive, and the procedure can take some time.
If you want to do it without breaking the bank or wasting your time, turn to DoNotPay for help! With our Divorce Settlement Agreement product, you can create a legally binding document in minutes. Here's the drill:
Give us the details about your spouse and children (if any)
Tell us about your income and financial assets
Choose if you want DoNotPay to help you get your documents notarized online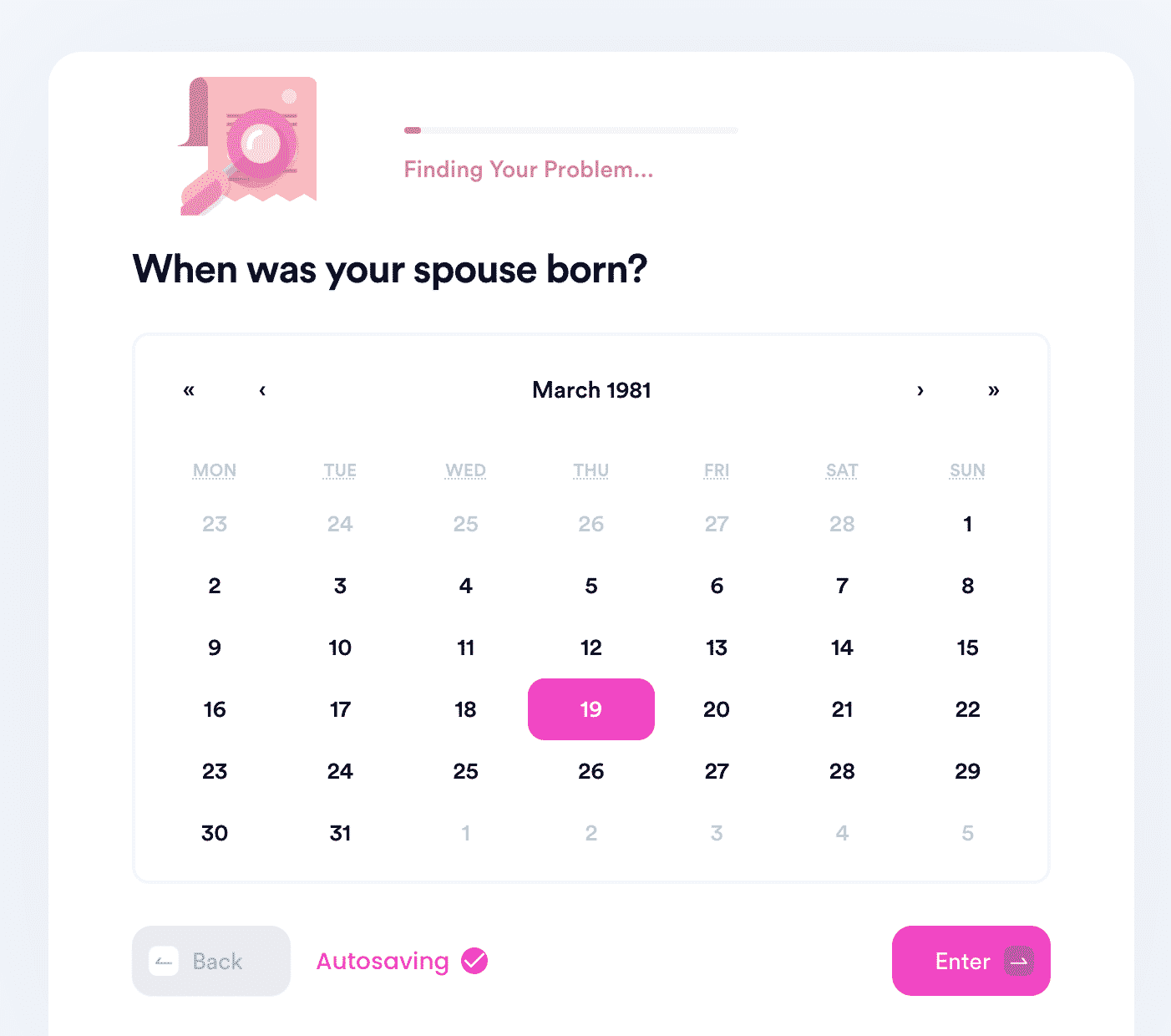 We will generate a tailor-made document for you, which you can then sign with your spouse.
Check out DoNotPay's learning base of divorce-related articles, such as:
DoNotPay Resolves Both Bureaucratic and Legal Issues
One of our app's best qualities is its versatility. You can use your personal AI-powered assistant to overcome both legal and bureaucratic obstacles without breaking a sweat. No more waiting in lines or breaking the bank due to sky-high lawyer fees!
Take a look at what you get access to for a low monthly fee:
Can DoNotPay Do Anything Else?
The world's first robot lawyer is capable of so much more! No matter if you want to find your unclaimed money, apply for clinical trials, get rid of email or text spam, prepare for a government test, fight workplace discrimination, or get gift card cash back, DoNotPay can help!
What are you waiting for? Sign up for DoNotPay now to enjoy our nifty products!