Service Marks vs. Trademarks—Everything You Need To Know
When running a small business, it's important to familiarize yourself with different types of brand protection. In this article, we will break down the key differences between service marks vs. trademarks and explain why you should consider using them.
We will also elaborate on how you can file a trademark registration form using DoNotPay. Don't leave anything to chance—take the proper steps to protect your original idea from infringement!
What Is the Difference Between a Trademark and a Service Mark?
Legally speaking, both trademarks and service marks serve the same purpose:
Providing legal protection for your business venture
Safeguarding your brand from counterfeiting and other fraudulent behavior
Giving your brand a recognizable feature that makes it stand out in the marketplace
Presenting the type of goods and services you provide to potential customers
The key question for trademark vs. service mark is—what type of product are they meant to protect? Trademarks are typically used for labeling goods, while service marks are meant to identify the service provider.
You can use either or both marks for your business, depending on the chosen industry field. It is also not uncommon to apply the term "trademark" to all types of intellectual property since the legal intention remains the same.
Trademark vs. Service Mark Example
You can use different pictorial and verbal symbols as your trademark or service mark, such as:
Businesses with a registered service mark are labeled with the SM superscript, while the ™ symbol is reserved for trademarks. Here are some famous trademark vs. service mark examples:
Nintendo Switch™
McAfee™
F1™
United ClubSM
Do You Need a Registered Trademark?
Registered trademarks and service marks present a necessary precaution against attempts at fraud. Here are some of the main reasons why you should register:
You can pursue legal action in case of infringement and demand monetary retribution
The federal court recognizes trademarks and service marks as irrefutable proof of ownership
The U.S. Custom and Border Protection will prevent the importation of counterfeit goods if you send them your registration certificate
You can choose the level of brand protection according to the size of your operations (e.g., local, federal, international)
Types of Trademark Registration
Brand owners have several options when it comes to trademark registration. Take a look at the table below for a breakdown of the trademark protection laws:
| Protection Level | Description |
| --- | --- |
| Local trademark protection | You don't have to register a trademark to gain ownership over it as per common law rights. Note that local protection is only applicable after you start using it to identify your brand and is limited to a specific geographic area |
| State trademark protection | If you opt for this type of protection, state laws will safeguard your rights as the trademark holder. Once you expand the business, you will either have to register in the new state or consider applying for federal protection |
| Federal trademark protection | Your ownership rights are recognized in the entirety of the U.S. A trademark that is protected under federal laws is labeled with the ® symbol for instant recognition |
| International trademark protection | If you wish to branch out beyond the U.S., it's best to apply for international protection. While not valid in all states, the so-called Madrid Protocol protects trademark holders in over a hundred different states |
How To Register a Trademark or Service Mark With the USPTO Yourself
The only way to register for state or federal protection is by filing a trademark application form with the United States Patent and Trademark Office (USPTO). To submit your application, you must fulfill the following requirements:
Use an entirely original trademark or service mark. You can search the USPTO database to see which ones are taken
Classify your goods and services in predetermined World Intellectual Property Organization (WIPO) categories
Fill in a Trademark Electronic Application System (TEAS) form
Pay the application fees upfront
The initial cost of trademark registration depends on several factors. Each trademark class you include is charged separately. The fees also vary for different TEAS forms, and right now, you can choose between:
TEAS Standard ($350 per class)
TEAS Plus ($250 per class)
Remember—unlike copyright, trademarks and service marks can expire after a certain period, which is why you need to renew them. The renewal fees are unavoidable long-term expenses.
Sign Up for DoNotPay and Learn How To File a Trademark Registration Form FAST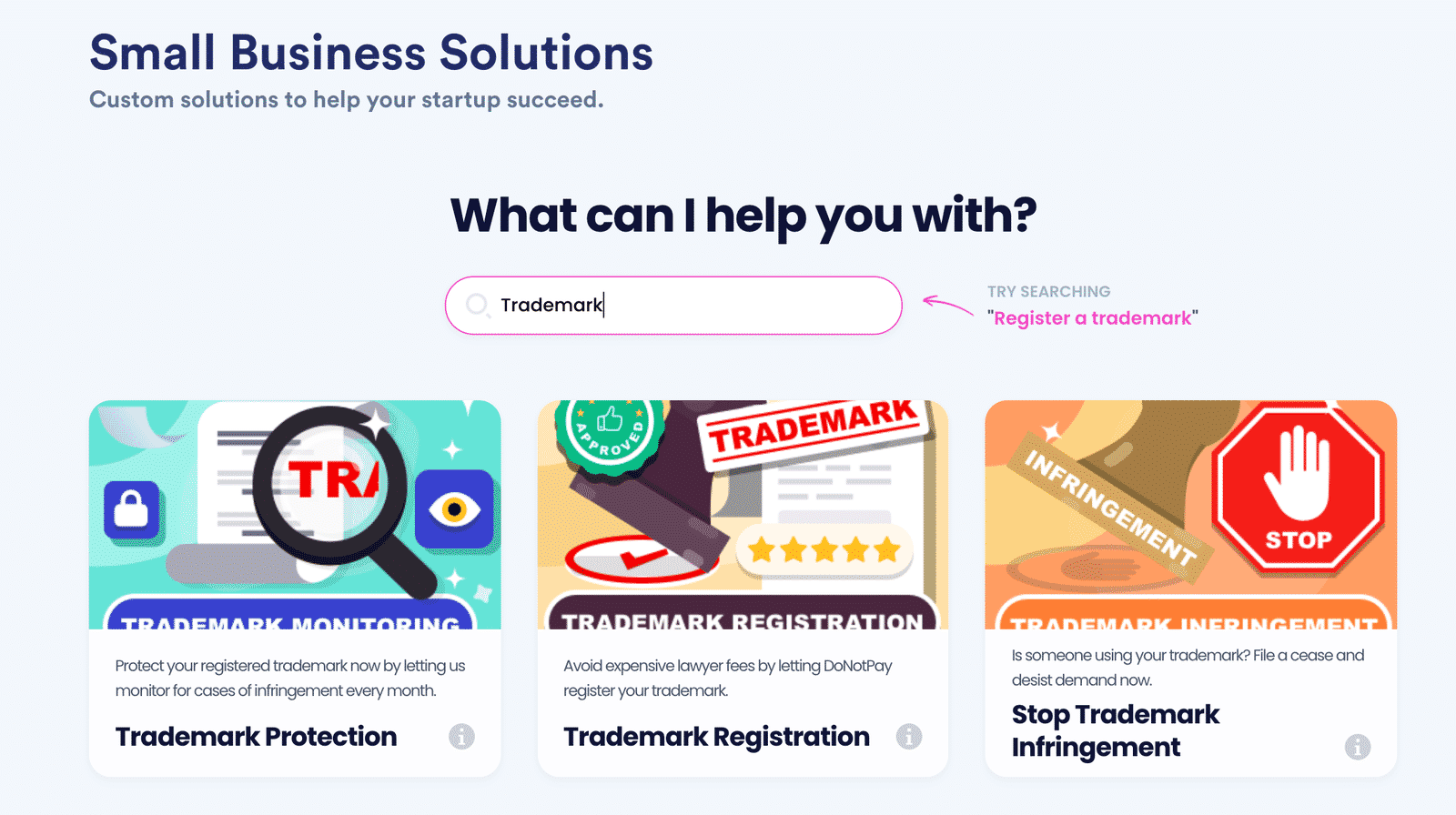 The fastest and most reliable way of registering a trademark is by using our trusted AI-operated platform. With DoNotPay's Trademark Registration product, you will be able to fill out a trademark application form in minutes.
Here's what you should do:
Access the Trademark Registration product
Answer some questions about your brand and desired trademark
Verify you have paid the fees upfront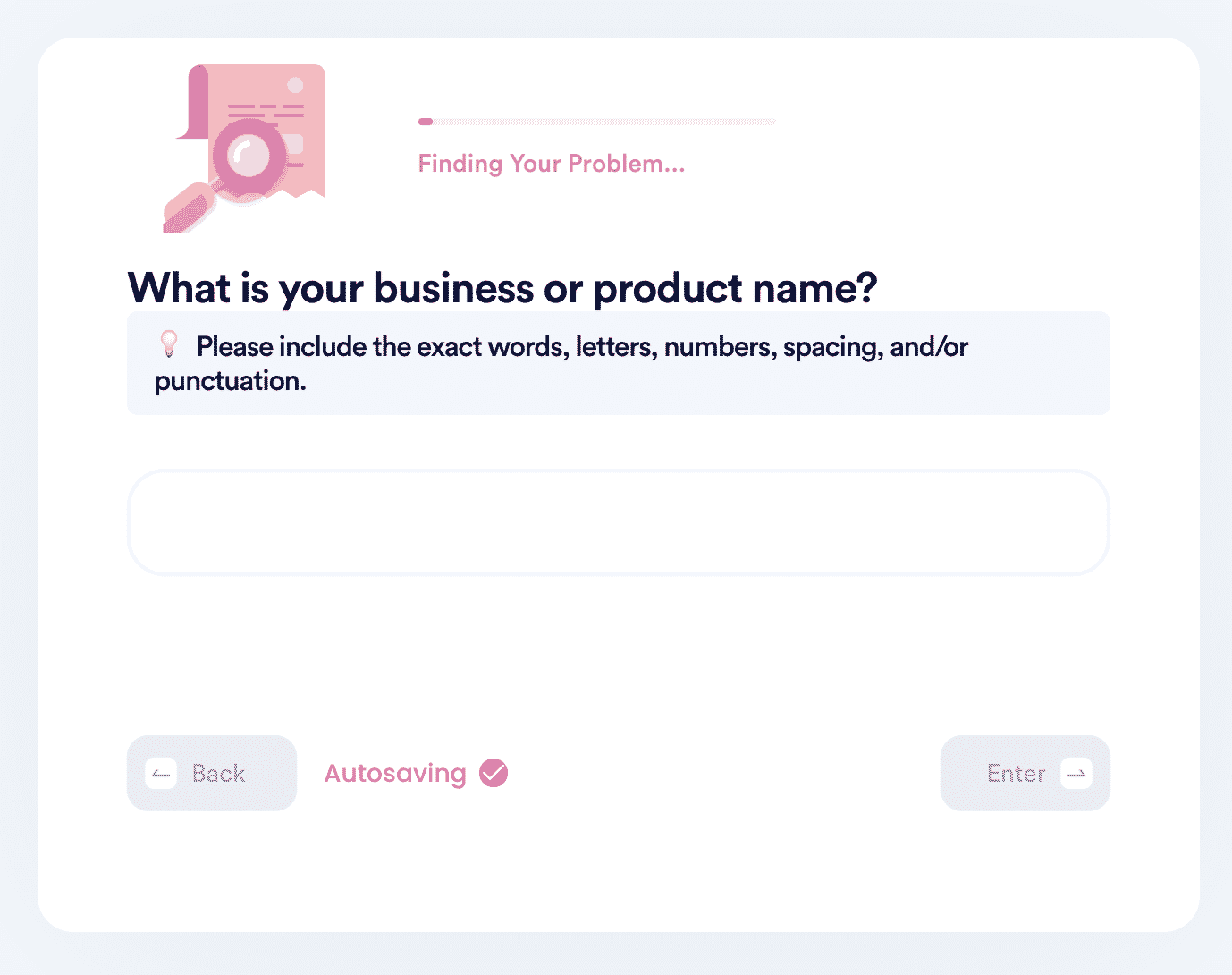 After these easy-to-complete steps, all you have to do is provide your e-signature. DoNotPay will then immediately forward the application to the USPTO in your stead.
Resolve Various Business Problems With the Help of DoNotPay
Handling annoying administrative issues is the last thing you want to worry about while trying to build a business empire. The good news is that you do not have to! DoNotPay has developed many nifty products that make various pesky tasks easy to complete.
Some of the small-business-related matters we can help you with are:
Taking out business loans
Obtaining an Employer Identification Number (EIN)
Automating the filing of 83(b) election forms
Requesting your money from customers who won't pay
Registering a DMCA agent
DoNotPay can also make communication with your clients or business partners easier as we enable you to fax and mail your letters, forms, and other important documents without leaving your office.
Maintain a Good Business Reputation
It is no secret that building a trusting relationship with clients takes time and effort, so why have all that hard work ruined by negative online reviews that are fake? DoNotPay is here to help you remove illegitimate, fake reviews in a matter of clicks!
Want to dispute unfair chargeback requests but are not sure how to go about it? By using our Fight Chargebacks feature, you can have DoNotPay create a customized chargeback rebuttal document in a few minutes.
With our app, you can also protect your trademark from people trying to use it, file the self-certification request with the Privacy Shield program, and handle many other aspects of your business hassle-free!