A Guide to Making a Service Contract Template
Hiring a person or business to do a job for you requires writing a contract. If you don't know how to write a contract and don't want to spend extra money on attorneys to help you draft one, you should consider using a sample.
This article will provide a detailed explanation and instruction on finding the most reliable service contract template that meets your needs.
What Is a Service Agreement?
A service contract is an agreement between a person or business that needs a specific service and an individual or company that provides it for a certain amount of money. This legal document outlines the fees, terms, and conditions of said service.
People that provide services are typically called contractors or freelancers. A service agreement refers to any service they provide, including:
Child and adult care

Illustration and graphic design

Writing and editing

Translation

Branding, marketing, and public relations

Web developing and programming

Serving,

catering

, and bartending

Live performance
The purpose of a service agreement is to protect both parties—it guarantees the hiring party that the job will be done in previously defined terms and the service provider that they will be compensated accordingly.
What Should a Service Agreement Contract Include?
What specific terms a service contract is going to include depends on the service and included parties.
Most service agreements include several generals items, such as:
Contact information of both parties

Description of work and service

Deadlines

Fees and payment schedule

Insurance and compliance terms

Warranties

Indemnification terms

Contract violation terms
To protect the parties fully, service contracts often include:
Types of Service Agreements
There are various service agreement types. You can find a brief explanation of the most common ones in the table below:
Service Contract Type
Use and Description

Master Service Contract

For defining terms for future transactions or future agreements. The master service contract usually specifies terms like:

Liabilities

Warranties

Dispute resolution

Intellectual property ownership

Maintenance Service Contract

When one party promises to maintain the efficiency of the other party's material or appliance. Includes terms regarding regular check-ups and required repairs

Professional Service Contract

For unique and technical jobs and services provided by independent contractors for a short period. The service usually includes jobs like:

Design

Auditing

Marketing

Consulting

Medical services

Software development
How To Write Your Own Service Agreement Template
If you have no experience when it comes to writing legal documents, you should consult some of the many contract templates available online. You can even use a ready-made sample, but it is best to make one by yourself, so you can include the terms and conditions that your contract requires. Once you generate a service contract template, you can use it for future agreements.
Here are some hacks for making a perfect service agreement sample:
Include a detailed description of the services

Be clear and specific to avoid any misunderstanding and potential disputes

Insert a clause specifying everything regarding the payment—the amount, payment dates, payment methods, and other details

Specify dispute remedies and resolutions
What Happens if One Party Violates a Service Agreement?
If the other party cannot fulfill the terms you agreed upon, you should discuss the matter with them first. When the problem is small, like a deadline or payment schedule, a conversation could resolve it. In case of more significant disputes when you both disagree with new terms, you might have to go to a small claims court and resolve the issue there.
Draw Up Legal Documents With DoNotPay's Assistance
Contracts are an essential part of daily life for most people. Dealing with legal documents can be challenging if you don't have any knowledge or experience in law, which is why people often rely on attorneys to help draft these files.
What happens if you can not afford legal assistance? You can always rely on DoNotPay!
Our nifty feature allows you to create valid and enforceable legal documents without trouble. Here's what you should do:
Open DoNotPay in a preferred

web browser

Type the name of the document you need in the search box

Respond to several questions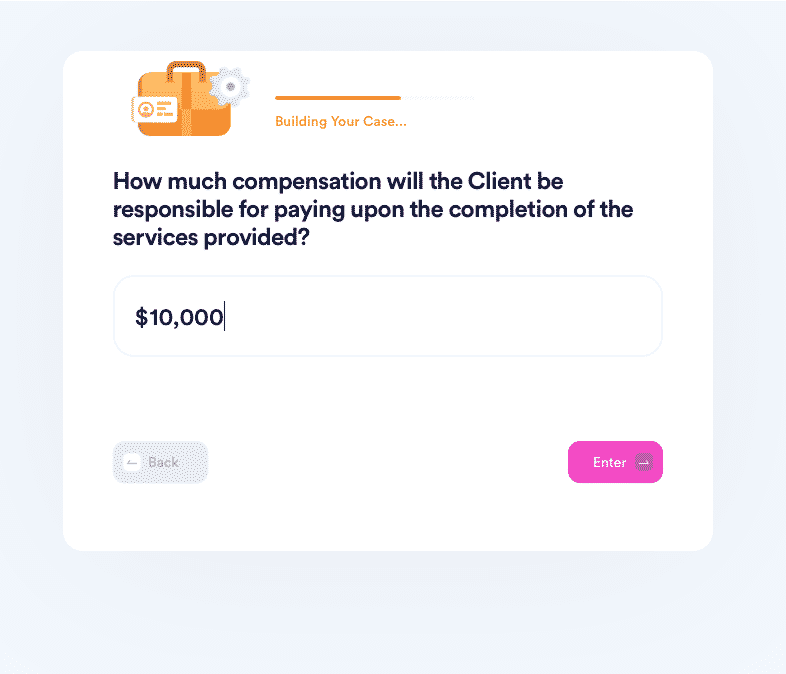 Once you get a personalized document, you can print, sign, notarize, and fax it to other parties with our handy online faxing service.
List of Legal Documents DoNotPay Can Create for You
DoNotPay can generate a variety of personal, business, real estate, and other legal documents, such as:
Estoppel Certificate

Quitclaim Deed

General Affidavit

Non-Compete Agreement

General Business Contract

Intent to Purchase Real Estate

Promissory Note
Besides creating contracts, we can provide you with useful information about:
DoNotPay Is an Ultimate Money-Saving Assistant
Our app can help you manage bills that are too high to pay, but there are plenty of other money-saving possibilities out there we can help you with.
Want to challenge a parking ticket? DoNotPay can dispute parking citations in any city! Is someone getting revenue from your creative work? Cut the thieves off with DoNotPay!
We can also help you get your college application fees waived, file any insurance or warranty claims, locate unclaimed funds in your name, or earn some extra cash from paid clinical trials in your area.
No More Risky Free Trials With DoNotPay
Do you love free trials but tend to forget to cancel your subscription before the trial ends? If this is the case, check out DoNotPay's virtual credit card for a risk-free experience.
With our virtual credit card, you can sign up for any service without worrying about unwanted charges. DoNotPay will even provide you with a random email address, which will help keep your inbox clean from spammy emails from the company.
Our app can also get in touch with the company's customer service, request a refund from them, or even escalate your issue to small claims court if the company is challenging to communicate with.