Serve Notice on Providers With a
Service Contract Cancellation Letter Sample
We have all been there—bills from providers charging us for services we neither use nor need keep popping up among our monthly expenses, yet we keep paying them month by month.
DoNotPay understands the headaches that come with unwanted charges and costs. We are here to help with advice on how to write any contract or legal document, including the service contract cancellation letter.
What Is a Service Contract?
A service contract is a legally binding agreement between you—the client—and a provider that stipulates they'll perform a service for you. Examples of service contracts could be:
An agreement for a contractor to paint your house

A contract to automatically replace ink cartridges in your printer when they run out

An agreement with a cleaning company to clean your home once a week
Service contracts can be found everywhere and are normally written. Verbal service agreements do exist, though, and could be enforceable in court—particularly if you have used the service regularly and established a custom.
What Must Be in a Service Contract?
A service contract is a legal document, so it needs certain elements to be included, as follows:
| | |
| --- | --- |
| Contract Element | Explanation |
| Names of parties | The agreement should include the full names, addresses, and contact details of both parties |
| Date of contract commencement and term of the contract | You should state the exact date on which the agreement starts and how long it runs for. You can also include terms for automatic renewal or extension of the agreement |
| Services to be provided | The agreement should itemize the exact services to be provided |
| Cost of services | All costs should be listed and detailed, together with payment terms, any discounts offered, and any contract initiation costs that may be due |
| Warranties | The service provider should offer guarantees or warranties on their work |
| Termination clauses | These clauses detail the reasons why the contract can be terminated, as well as the procedure for doing so. This will normally entail a defined notice period and the stipulation that the cancellation must be delivered in writing |
| Dispute resolution | This clause explains the process for dispute resolution if you or the service provider are unhappy with the work performed |
| Governing law | The agreement should define which state's law governs the agreement. This will normally be the state in which the service is provided |
When Can I Cancel a Service Contract?
Many service contacts are bound by state and federal law to offer certain vesting periods, during which you can cancel them at any time. Examples of these vesting periods are:
Three days for any purchase made in your own home (door-to-door) of $25 or more

Five days for gym contracts under $1,500 and some further education courses

Seven days for many personal security company contracts

Ten days for some insurance contracts

30 days for electronics, used car, or home appliance service contracts

60 days for new car service contracts

Any time cancellation is possible for property insurance contracts and many private tuition agreements
You can cancel a service contract at any time outside these stipulations, but you should study the contract carefully before signing it to understand how to cancel and whether you will be charged any penalties.
What Should the Cancellation Letter Contain?
When you write your cancellation letter, you need to include the following:
Names and addresses

Your reference or contract number

Today's date

Statement of intent to cancel

Reasons

Call to action

Salutation
Names and Addresses
You should state your full name and address as it appears on the contract, followed by the service provider's name, address, and contact person if you know a name.
Your Reference or Contract Number
Your personal reference or contract number should appear on your statements or bills, and you should quote this as a reference so the service provider can allocate your cancellation notice correctly.
Today's Date
Your letter must include the day of drafting.
Statement of Intent To Cancel
The first sentence of your letter should state that you intend to cancel your contract.
Reasons
You should describe your reasons briefly and clearly, without going into too much detail. The service provider should understand that your reasons are valid and that you are not interested in having them contested.
Call to Action
The final sentence in the main body of your letter should ask for the service provider to cancel your contract.
Salutation
You should end your letter with a salutation such as:
Yours Sincerely

Sincerely

Best Regards

Regards
You should then add your name and title and list any documents you have attached to your cancellation letter.
Service Contract Cancellation Letter Sample
Your sample letter of cancellation of contract could look like this:
[Your name and address]
[Recipient's name and address]
Reference: [your contract number]
Date: [today's date]
Dear Sir or Madam,
I would like to inform you of my intention to cancel my contract [contract number].
The reasons for my cancellation are as follows: [briefly state your reasons]
I hereby request you to cancel my contract with immediate effect and confirm the cancellation in writing. I expect no further charges from you in respect of this contract.
Sincerely,
[Your name and title]
Enclosures:
Copy of the contract
How Can DoNotPay Help With Legal Documents?
We know how difficult it can be to create legally-binding documents, so we are here to create them for you!
We have a range of contract templates and legal documents for many situations, all of which you can customize to your own requirements, and here's how:
Navigate to DoNotPay in your web browser and

Search for the document you need

Fill out the details you want included

Wait while we generate your document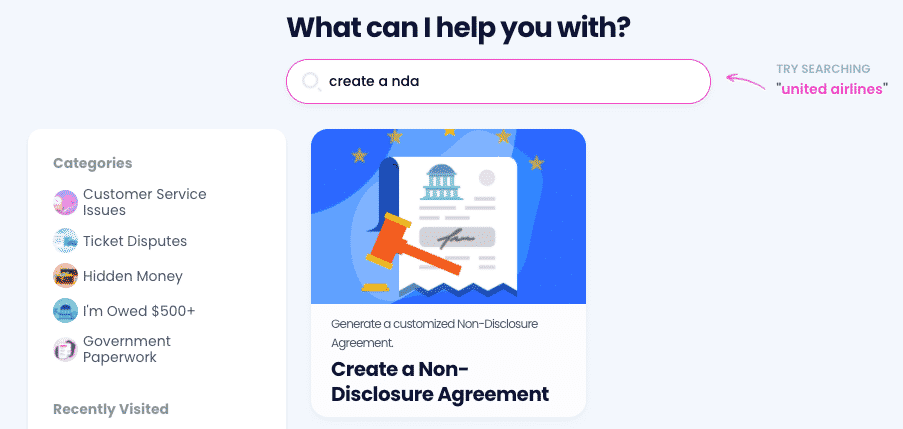 What Legal Documents Does DoNotPay Offer?
Our range of customizable legal documents is expanding constantly, and here is a you:
Business:
General business contract
Property:
Estoppel certificate

Quitclaim deed

Intent to purchase real estate
Personal:
General affidavit

Promissory note
Falling for Scams Is Less Likely With DoNotPay
Thanks to AI technology, DoNotPay is a great resource for protecting your privacy and finances from potential scammers. Our bots can help you report robocalls, keep your inbox clean from spam email and shady text messages, or even deal with stalking and harassment, if it comes to that. 
In case the issues escalate, skip the expensive lawyers and sue the offenders in small claims court with ease. 
Another great way to increase your online security is to use our virtual credit cards and sign up for any free trial without risking unwanted charges. You can even avoid sharing your contact info with our Burner Phone feature. 
The Solution to Your Driving Woes
DoNotPay provides invaluable help to future and current drivers. By helping you ace that driver's license test, scheduling a DMV appointment the easy way, or contesting parking tickets, our app saves you money and time. 
If you need to file a car warranty or an insurance claim, we will help you deal with the necessary paperwork within minutes. Trying to get out of a car wash membership? DoNotPay can cancel it in an instant. 
Our platform works above ground as well. You can use DoNotPay to secure refunds from airline companies or compensation for delayed and canceled flights.