Separation vs. Divorce in California—Which Path Should I Take?
Have you and your spouse decided to part ways? If you reside in California, you can choose between filing for legal separation and filing for divorce. Both procedures have their benefits and drawbacks, and understanding each can help you decide which option is right for you.
In this article, DoNotPay will explore the separation vs. divorce in California dichotomy and give you the details necessary to make an informed decision. If you choose to end your marriage by divorcing, we will explain why a friendly, low-cost divorce is the way to go!
The Main Difference Between Legal Separation and Divorce in California
Legal separation and divorce in California both involve a couple living separately according to specific legal rules. The main difference between these arrangements is permanence.
Take a look at the table below for a more detailed explanation:
Legal Separation
Divorce

A legal separation in California is an official court order where couples no longer live together but remain legally married
This arrangement allows you to create financial boundaries, make arrangements about the division of property and debts, and determine child custody and support details without the permanence of divorce

A divorce implies a permanent end to a marriage
Once the divorce is completed, the parties will be considered legally single and allowed to remarry
Similarly to legal separation, you have to settle all issues regarding child custody, spousal support, and division of property privately, with the help of a mediator or in a trial
Legal Separation vs. Divorce—CA Legal Requirements
Filing for legal separation or divorce in California requires the couple to fulfill state-specific requirements. Some are common for both procedures, and the others significantly different. The essential criteria include:
Meeting residential standards—If you want to file for divorce in California, you must be a resident of the state for at least six months before filing. Spouses who have recently moved to California from another state can get the process underway by filing for a legal separation first (which doesn't impose any particular residential requirements)
Honoring the waiting period—Legal separation doesn't involve a waiting period, while you have to wait at least six months for a divorce in California to be finalized
Citing the suitable grounds—Legal separation and divorce can be filed on the same grounds, be it irreconcilable differences or one spouse's incurable insanity. California is a no-fault state, meaning neither party needs to prove that one spouse's behavior is the reason for the marriage ending
California Legal Separation vs. Divorce—Understand the Procedures for Both
Legal separation and divorce in California involve different procedures. If you choose to file for divorce, you should take the following steps:
Submit the divorce papers with the court and serve your spouse
Wait for your spouse to respond to the petition (30 days max)
Disclose all financial information
Settle divorce-related issues out of court and without a lawyer (you can also try mediation) or attend a trial to have them settled for you
Get a Judgement of the Dissolution of Marriage at the final hearing
If you opt for legal separation, you need to:
File a petition that includes an option for legal separation and divorce
Submit the form FL-100 and FL-105/GC-120 (if you have children) at your local county court
Serve the copy of the documents to your spouse
Legal Separation vs. Divorce in California—Which To Choose
Before you file for legal separation or divorce, you should know the pros and cons of each potential course of action. Take a look at the reasons for choosing each option in the table below:
Reasons For
Details
Legal separation

Significant tax benefits are available for spouses who remain married
One or both partners are struggling financially and want to postpone divorce until the situation gets better
Residency restrictions are currently preventing parties from filing for divorce
One or both spouses have religious reasons to refuse divorce
Partners may not be sure if they're ready to give up on the marriage completely
One spouse is eligible for the other spouse's government's or medical benefits, and they want to retain them
Parties aren't ready to negotiate a divorce agreement
One spouse will soon become eligible for the other's social security benefits (after ten years of marriage in California)

Getting divorced

Spouses plan to remarry eventually, which they can only achieve by legally divorcing
Partners are sure the marriage cannot be fixed
One spouse is eager to get financial independence as soon as possible (apart from a child or spousal support)
If you decide that divorce is the best option, bear in mind that you can complete the process without being emotionally and financially drained (check out the cost of divorce in California). An uncontested divorce in California ensures a quick end to your marriage and enables you and your spouse to move on with your lives.
To file for an uncontested divorce, you and your partner must:
Opt for no-fault grounds
Resolve all divorce-related issues without a judge's interference
Outline the details of your arrangement in a marital settlement agreement ( to get a professional, comprehensive document swiftly)
DoNotPay Helps You Get a Quickie Divorce in California
When a divorce is inevitable, you should make sure not to spend unnecessary cash on lawyers or risk using online divorce services. Our app provides the essential document in any divorce—marital settlement agreement—at a low price!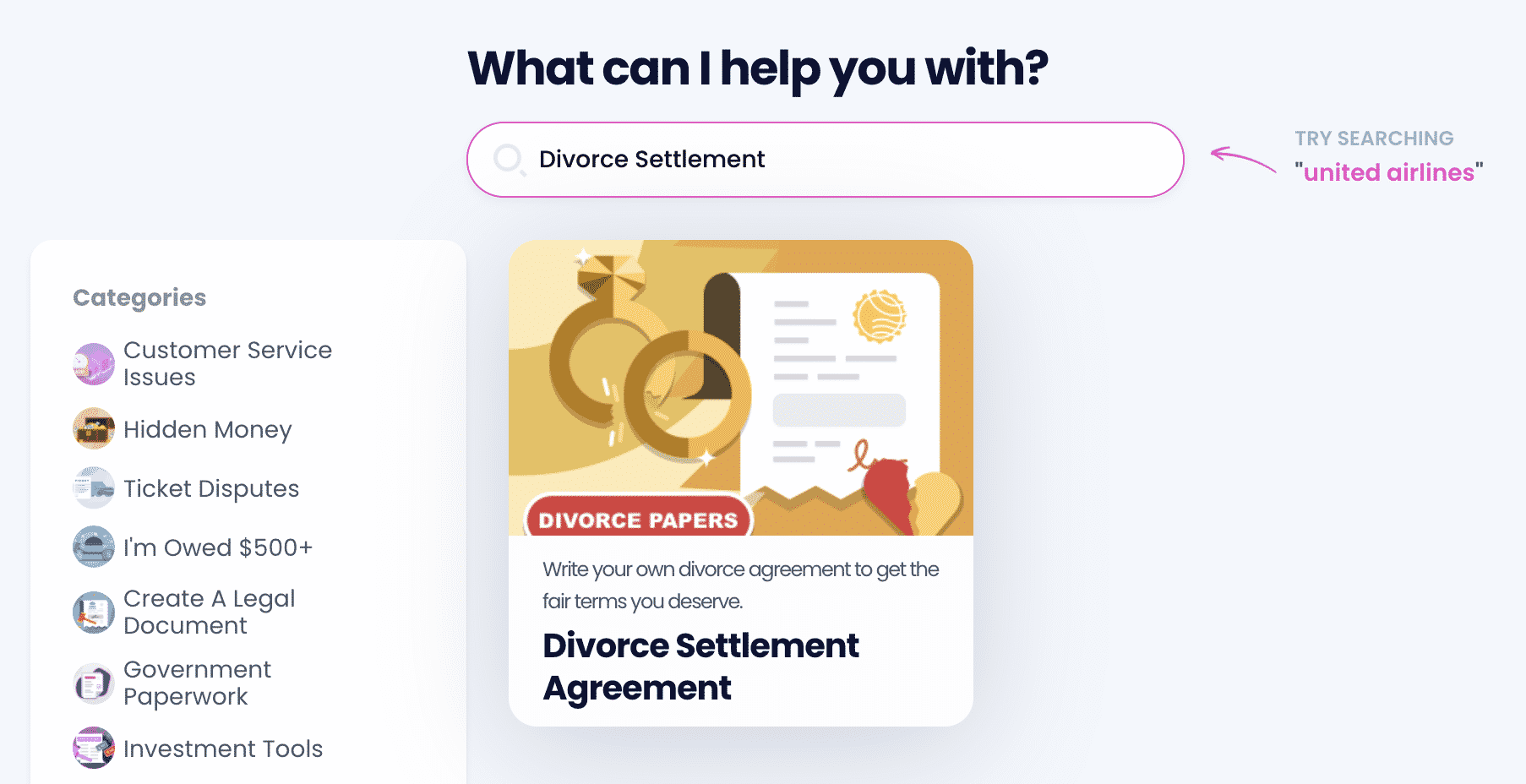 You only need to and take these steps:
Find the Divorce Settlement Agreement tool
Answer our chatbot's questions about your case
Choose to have the document notarized for extra security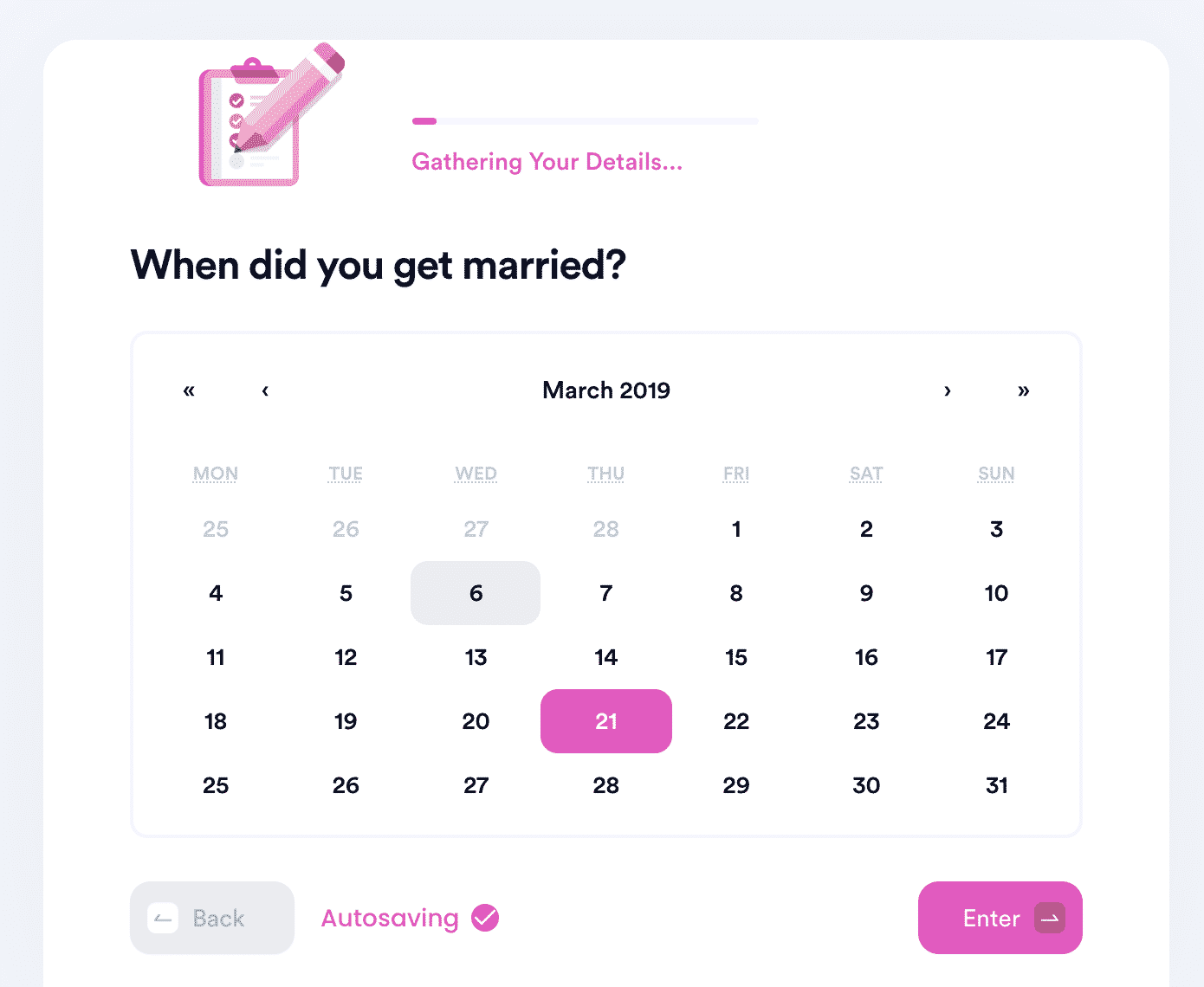 We will use the data you provided to generate an agreement that caters to your needs and state-specific requirements.
Notarization with our help is just as easy—we'll connect you to an online notary and enable you to set up a meeting 24/7!
If you need clarification for other frequent concerns—such as hiring a lawyer in an uncontested divorce, gathering correct uncontested divorce papers, or reaching an out-of-court divorce settlement—consult our extensive knowledge base!
DoNotPay Is an App for Everyone
Whether you need help with drafting paperwork, searching through government databases, or managing your bills, DoNotPay has a feature that'll make your life easier. The number of features keeps growing, and you can check out a table showcasing some of them:
| | | |
| --- | --- | --- |
| Solving Legal Issues | Saving Money | Protecting Privacy |
| | | |
Get More Done With Our Do-It-All Platform
DoNotPay can take care of any daily hurdle you come across. For a small yearly subscription fee, you get access to various features that you'll find handy on a daily basis. Besides everyday chores, signing up for DoNotPay will help get you:
The list could go on for days. You can even get in touch with an inmate or fight for discrimination at your workplace!