Get the Scoop on the
Separation Agreements in Virginia
!
If you are a Virginia resident looking to get a separation agreement, look no further! We provide you with all relevant information regarding separation agreements in Virginia! Assistance with other legal documents, such as a parenting plan, is also something that we can help you with!
You don't have to draw up agreements by yourself any longer—!
Understanding the
Virginia Separation Agreements
Legal separation is a legal arrangement that allows a married couple to live apart while staying officially married. The difference between a legal separation and a divorce is that with a legal separation, you can deal with the division of assets and other aspects a divorce would cover but still stay married. It's a common alternative to a divorce—both arrangements deal with custody terms and child support.
In Virginia, unlike in many other states, the courts don't grant a legal separation. If you want to live separately from your spouse in Virginia, you can move out and sign a separation agreement.
The separation agreement ensures that if divorce does occur, it will be considered a no-fault divorce. By signing a separation agreement, you and your spouse will:
Live apart

Divide the marital property in a way you both agreed on

Provide visitation rights and

child support

if your children are minors

Agree to other provisions, such as spousal support
In Virginia, leaving your spouse without the separation agreement can be deemed as spousal desertion. In such cases, the 'deserted' spouse can usually file for a fault divorce a year after the other spouse leaves. If a court decides it is a fault divorce, a larger part of the assets and property could go to the 'deserted' spouse.
For the divorce to be deemed as a no-fault divorce, you will have to:
Have the separation agreement in place

Separate from your spouse and live apart for six months if you don't have minor children (12 months if you do)
Once all of the above-mentioned requirements are met, you can file for a divorce on no-fault grounds.
What Should My
Separation Agreement in Virginia
Include?
The separation agreement should cover the following aspects:
Property and debts division

Visitation of minor children

Child support payments

Spousal support

Health insurance

Disposition of the marital home

Pension plans and other retirement assets
Property and Debts Division
Property and debt division is usually the most stressful part of the divorce and separation processes. To avoid any mishaps and confusion, make sure to include a clause at the beginning of your separation agreement stating clearly how the property and debts will be divided.
Visitation of Minor Children
You will have to decide who the primary caretaker of your children will be. Discuss when the other spouse will be allowed to visit them and specify all the details regarding the rights of the other spouse that concern the children.
Child Support Payments
Negotiate and agree upon the child support payments that one spouse will be giving to the other. Include all details about the amount, the time when the payments will be made, and the methods of payment.
Spousal Support
You may be eligible for getting spousal support that covers the basic expenses during the divorce process, such as food and housing. Discuss this and state the decision in this section.
Health Insurance
When you separate from your spouse, you are usually no longer allowed to be a dependent on their health insurance. Make sure to specify the details of that here.
Disposition of the Marital Home
The marital home is one of the biggest marital assets, so it's relevant to discuss how you will deal with it. One of the spouses can keep living there and pay the other spouse a certain amount to buy the house out or choose a different way to deal with it.
Pension Plans and Other Retirement Assets
Reach an agreement on how the pension plans and retirement assets will be divided between the former spouses and state it clearly.
Curious How You Can Create Agreements the Simple Way? DoNotPay Is the Answer!
What if we told you that you don't have to go out of your way to find easy and efficient methods to draft a contract or—even better—that you can have our app generate the document for you? 
The process is simplified to a T, and there is no faster way to have your agreement set and ready to go! All you need to do is complete the simple instructions provided below, and you will gain access to your document easy-peasy!
Provide us with the

name of the document

you want us to generate

Supply us with some additional info, like the names and addresses of the parties involved
You and the other party will have to sign the document. Depending on the document in question, you may have to notarize it as well. Once you are done with that, your contract will be ready.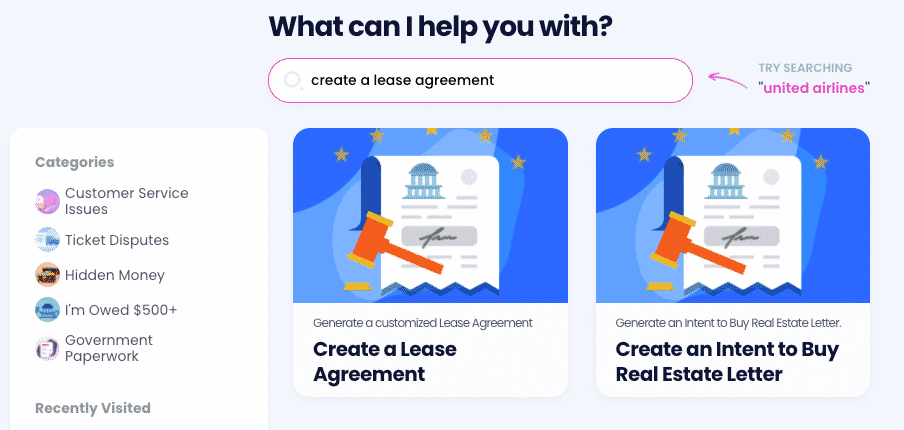 We can create numerous contracts and assist you in drafting an abundance of legal documents! If you are looking for assistance with any of the agreements we listed below, our app provides you with the most efficient instructions for drafting the following documents:
Business Agreements

Other Documents

General business contract

Intent to purchase real estate

Estoppel certificate

Quitclaim deed

General affidavit

Promissory note
Get Back at Greedy Corporations With DoNotPay
How many times have you tried reaching out to an airline regarding your canceled flight? Did you ever spend hours trying to contact customer service reps only to be refused your refund request?
Big companies tend to make certain processes complicated for their customer in hopes they would give up on pursuing their goals.
This is why your warranty claims often get denied the first time or why canceling a gym membership can be an administrative hell.
Our AI-powered app is here to help you sort these problems out.
Whether you're trying to file an insurance claim, schedule your driving test, start a free trial without disclosing your payment info or a phone number, or get access to public records, we've got you covered.
DoNotPay Is the Virtual Assistant You Need
DoNotPay is the first robot lawyer in the world created to simplify complex tasks. We can help you with anything from appealing your parking citations to filing lawsuits in small claims court.
In case you need to save up some money, our app will show you how to get an extension on your bill payments, sign up for paid clinical trials, or avoid paying your college application fees.
DoNotPay can also report robocallers, text spammers, and email phishing attempts, and real-life stalkers with a few clicks.