The Essentials of a
Separation Agreement
Once you and your spouse decide to go your separate ways, you should split all assets and properties you acquired together in an agreed way. Any separation is not only an emotional burden, but it also involves numerous legal documents and procedures. Signing a separation agreement is one of the steps you should consider. 
If you aren't sure what the purpose of this document is and how to write it, we offer all the necessary information! Avoid vague separation agreement samples and templates and learn how to compose a valid contract fast and easy!
What Is a Separation Agreement, and When Should You Use It?
A separation agreement is a legal document signed by two persons who are still legally married but preparing to part ways. Its purpose is to establish the financial and parental responsibilities of each party and clear rules regarding the division of all assets. 
The contract allows you to settle particular issues with your spouse in the following cases:
You and your partner don't want to get divorced, but you want to live apart until you solve your problems. In such cases, you need a separation agreement to determine your financial and family duties during the separation

Your partner and you decided to get divorced, and you want to divide your assets and define your responsibilities before officially ending your relationship. A separation agreement gives you a chance to agree on everything without having to get your assets split by the court. Once the divorce procedure starts, this contract can be the basis of a

settlement agreement

It's in your interest to stay married, but you want to live separately from your partner. You can regulate your duties and obligations in such circumstances by signing this contract
This agreement isn't obligatory, but it can help solve the matter between spouses amicably and efficiently.
Are
Separation Agreements
Legally Binding?
A separation agreement becomes a legally enforceable document when both parties sign and file it with the court. Once the judge checks the contract, they grant it by issuing a court order. 
In some cases, the court can refuse to approve the agreement. The primary reasons are:
You and your spouse don't have separate lawyers when entering the agreement

The agreement favors the interests of one party while neglecting the other entity's rights and expectations

Either party doesn't report the funds or lies about the real state of their assets or properties

One of the parties puts pressure on the other or doesn't give them enough time to decide whether they want to sign the contract
What Are the Necessary Sections of a Separation Agreement?
The contents of your separation agreement depend on your needs. You can check the recommendable sections in the table below:
Sections
Details

General and personal information

Names and signatures of both spouses

Marriage date and city/place

Start date of the agreement

Personal property division

Home

Vehicles

The division of other mutual property

Business and corporate interests

Finances

Child support

Spousal support

Tax expenses

Debts

Financial and retirement accounts

Insurance information

Children

Child custody

Visitation rights and schedule

Information about medical, educational, and recreational support for children
Generate Your Contracts in a Snap Using DoNotPay
Composing a contract on your own may result in a disaster if you don't have the necessary legal knowledge. Lawyers can do it for you, but their services may cost more than you can set aside, while most online contract templates are vague and unverified.
The good news is that you can turn to DoNotPay and use our quick and affordable service. We created an easy-to-use feature that allows you to pick a legal document template and personalize it in a few simple steps! Say goodbye to failed attempts and hours of drafting—we take over all the grunt work.
Here are the steps you should follow:
Visit DoNotPay in your preferred

web browser

Track down the document in question using the search field

Tell us what you want to include in your contract
Once we process your answers, we generate a fully customized contract ready for signing. All you need to do to make it enforceable is to take it to a notary!
Besides learning about separation agreements, you can get many handy tips from our knowledge base. Our articles can teach you the essentials of: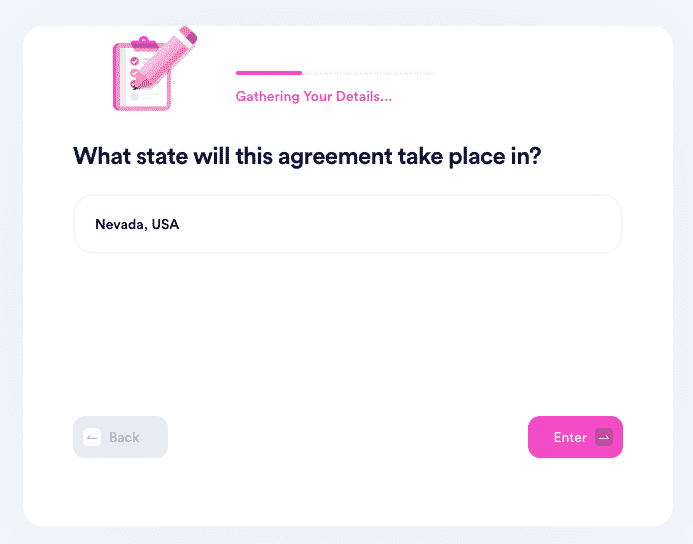 DoNotPay Has the Best Legal Document Templates
With our virtual lawyer, you get an unlimited number of documents. There are three categories you can choose from:
Real estate contracts

Estoppel Certificate

Quitclaim Deed

Intent To Purchase Real Estate

Business contracts

General Business Contract

Other documents

General Affidavit

Promissory Note

Child Care Authorization Form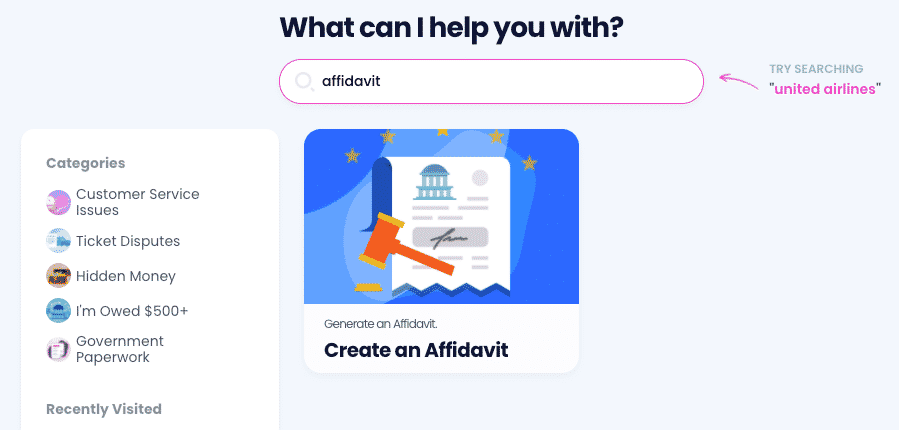 Our Robot Lawyer Gets Rid of All Admin Tasks
What makes DoNotPay so unique is that it helps you get back what is rightfully yours in many different ways. You can appeal parking tickets, find unclaimed money, demand a refund for canceled or delayed flights, get help with bills you cannot pay, or get your college application fees waived with the help of our platform.
If you're sick and tired of annoying robocalls, spam emails, copyright violations, text message spam, or stalkers and harassers, DoNotPay can assist you in getting rid of them once and for all.
DoNotPay Can Help You Save Money
Have you ever subscribed to a service's free trial you forgot about after a few days? Many Americans have, which is why DoNotPay has a free trial feature that will help you avoid getting charged once the trial is over.
If you want us to scan all your active memberships and help you not pay for the ones you don't use, connect your email address or credit card to DoNotPay. Our cancel feature will ensure that you don't waste your money on subscriptions you don't even remember exist.
If a merchant charges you once the free trial is over, though, you can use our robot lawyer to request a refund and skip the phone queue when doing so.
In case a company refuses to grant you a refund, you can also use our app to sue them in small claims court.