A Rundown on the Separation Agreement in PA
If you want to part ways with your spouse, you should consider creating a separation agreement to protect your legal rights. In this guide, we provide all the relevant information to help you draw up a separation agreement in PA stress-free. Subscribe to DoNorPay to learn how to write a valid contract and draw up numerous legal documents in no time.
What Is a Separation Agreement?
Pennsylvania does not have a formal process for legal separation. The only way for spouses to separate is to seek a divorce. If a couple cannot do that, they may negotiate the terms of separation between themselves until they formalize their divorce.
Separation occurs when:
A couple mutually decides to part ways
One spouse forces the other to move out
One spouse moves out voluntarily
A separation agreement is a legal document between two spouses who are married but want to separate from each other. It is created to establish guidelines on the division of parental responsibilities, asset ownership, and child custody.
When you and your spouse sign the separation agreement, you agree to:
Live apart
Distribute all individual and collective assets
Negotiate child custody and support arrangements
Pay alimony and spousal support
What Should a Separation Agreement in PA Cover?
If you want to create a separation agreement yourself, you need to research various legal resources to make sure you include all essential elements. A single mistake can nullify your contract. Here are a few key provisions you have to include in your document:
Key Provisions
Brief Explanation
Information on the couple

Names
Addresses
Contact details

Separation details

The effective date of separation
Terms of separation
Confirmation from both parties wishing to seek to live separately
Financial distribution of assets, debts, and income

Children

Child custody details
Visitation rights
Parenting responsibilities
Education and health costs
Child support

Other information

Loan payments
Credit card payments
Tax refund division
Spousal support
Health insurance changes, if any

Liability

Breach of contract
Penalty on contract violation
Possible remedies

Signature

Signature of both spouses
The effective date of the agreement
In Pennsylvania, it is mandatory to get a separation agreement notarized to confirm that both parties have willingly signed the contract. If you want help finding a notary, we have got your back!
Are Separation Agreements in PA Legally Binding?
In Pennsylvania, a separation agreement is legally binding only if the agreement meets the following terms and conditions:
Both parties have willingly signed the agreement. A judge might nullify the contract if a spouse was coerced into signing the contract
The agreement must be in writing. Oral contracts are not legally binding
A separation agreement can be upheld in Pennsylvania court if a judge or court order mandates and approves it
The agreement must follow Pennsylvania's legal regulations
If any spouse breaks the contract without legal justification, they will be held responsible and will be penalized.
Should You Consult a Lawyer To Draft Agreements?
When creating legal documents, it's best to consult a lawyer to make sure you don't forget any crucial elements. If you can't afford a lawyer, another option is to search for free templates online.
The good news is—you don't have to hire a lawyer or spend hours browsing the web in search of a perfect contract sample when creating other documents. By relying on DoNotPay, you can save both time and money!
Generate Legal Documents With the Help of DoNotPay
If writing agreements is a frustrating process for you, we can help you out! DoNotPay can assist you in drafting various contracts and agreements in a matter of minutes. You can say goodbye to expensive lawyers and outdated templates by following the instructions below:
Enter the name of your document
Answer our chatbot's questions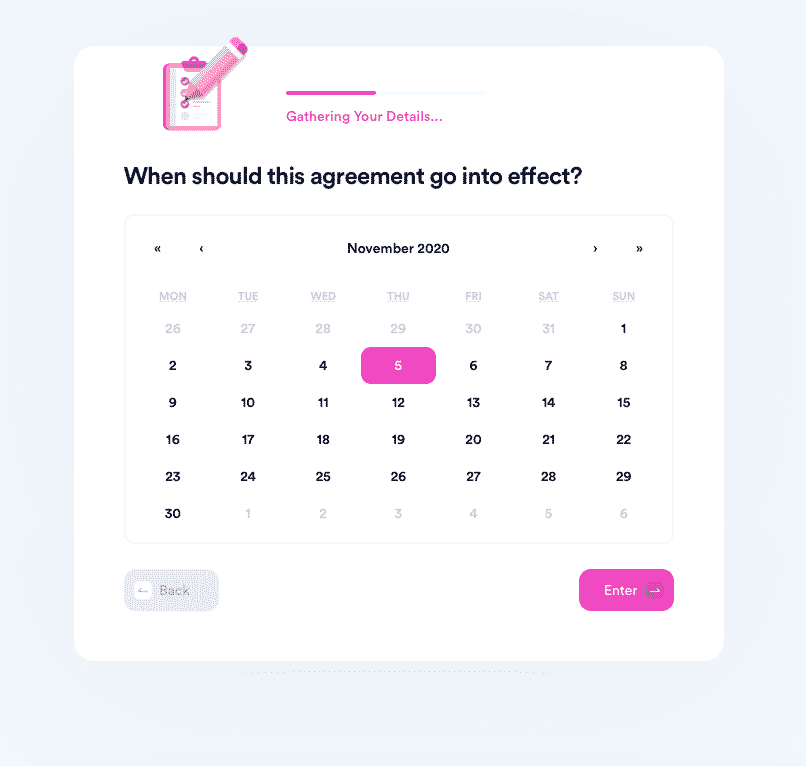 We will generate the contract and send it to you for signing. If you want to get the document notarized, we can help! We have integrated the Notarize Any Document service with the Standardized Legal Documents tool to ensure you can do both easily!
DoNotPay will help you set up a meeting with an online notary in a few clicks and get your documents notarized in a matter of minutes!
Here is a brief list of the documents you can create with the help of DoNotPay:
General Business Contract
Intent To Purchase Real Estate
Quitclaim Deed
General Affidavit
Promissory Note
Child Care Authorization Form
If you can't find the document you're looking for, don't panic! DoNotPay is working round the clock to add more to the list, so stay tuned to find out more!
Do you want information on other contracts? Our learning center can provide tips and tricks on various legal documents, including:
Easy-Breezy Ways To Deal With Not So Breezy Issues
Administrative and similar tasks don't have to be as complicated as we've known them to be. With DoNotPay, dealing with paperwork and companies is done in a few clicks. Let the world's first robot lawyer help you:
Money Troubles? I Don't Know Her!
As our app's name says, DoNotPay's mission is to put a stop to losing money and overpaying. We will help you get your hands on free trials and snatch free raffle tickets. DoNotPay can also provide solutions for you to get help covering bills and reduce your property taxes.
If you want to get some additional funds, use our app to sign up for clinical trials. You may also take our practice tests to ace a government test and land a better-paying job.
It doesn't hurt to check whether you are owed some unclaimed money, and we can help you with the application.