Separation Agreement in NC From A to Z
While there's no denying that separation is one of the hardest times to go through, not every aspect of this event has to be complicated. If you and your ex-spouse want to make the entire process less stressful, you should consider signing a separation agreement. Even though a separation agreement in NC isn't obligatory, both you and your ex will appreciate having it once the court day comes. 
This article will explain all about the separation agreement and teach you how to write it. We will also help you handle other legal documents—such as the child custody agreement—in a matter of minutes.
What Is a Separation Agreement?
A separation agreement is a binding contract between separated or soon-to-be-separated spouses. Its main purpose is to specify the agreed-upon terms regarding numerous issues caused by the separation. The agreement usually answers the following questions:
Will one of the spouses stay in the marital home?

Where will the kids live?

Which one of the spouses needs to pay alimony?

How will the property be divided?

Who will pay the debts?
If you signed a prenuptial agreement before your marriage, all of these issues should've already been addressed. In that case, you could create a separation agreement for additional details that weren't covered in the prenup.
You and your spouse are considered separated only if you live in different homes and intend for the separation to be permanent. If you live in the same home, you're not legally separated. 
Most people reach the terms of an agreement through:
Mediation

—A mediator is a neutral professional whose job is to help the separating couple work out arrangements acceptable for both parties. The mediation usually takes around six sessions. Once it's over, the mediator will draw up the agreed-upon terms. Both spouses can consult a lawyer before signing the agreement

Negotiation through solicitors

—You and your spouse should each have their own solicitor that will give you independent advice regarding the negotiation and terms of the agreement
Do I Need a Separation Agreement in NC?
In North Carolina, a separation agreement isn't required—you can get separated and divorced without it. While you don't have to create it, the agreement can come in handy if you want to make the entire process cheaper, easier, and more efficient. 
If you don't draw up the agreement, the court has the right to make decisions regarding your assets, children's schedule, and alimony. This process can be lengthy and expensive. Creating an agreement beforehand is a much better solution if you and your spouse can agree on the above-mentioned terms easily.
How To Draw Up a Separation Agreement in North Carolina
You can create a separation agreement in three ways:
Hire a lawyer

Use of the separation

contract templates

Write the agreement yourself
Hiring a lawyer is the easiest solution for most people. Since lawyers charge hundreds, sometimes thousands, of dollars for legal documents, not everyone can afford them. Another solution you have is to search for online templates and print the one that suits your needs. Most templates are general, which means that you might have to modify them to include any additional info. 
The last option is to write the entire agreement yourself, which can be challenging if you don't have an education in law. You could try writing the agreement by following a template to see how to structure a document and which legal terms to use. 
Should I Write a Separate Child Custody Agreement?
Divorce is even more complicated when there are children involved, which is why a child custody agreement is of significant importance. Writing a simple separation agreement might not be enough if you'd like to address multiple issues regarding your kids, including:
Custody and visitation details, such as:

Weekly schedule

Holiday and vacation schedule

Exceptions

One-time events

Religion-related decisions

Education-related decisions

Medical care

Child support 

Extracurricular activities
In that case, you should consider creating a separate contract. 
Need Help Writing Legal Documents? DoNotPay Has the Best Solution!
Hiring a lawyer to take care of your legal documents and spending hours navigating poorly written contract templates don't have to be your only options. DoNotPay has come up with an efficient and affordable feature that will help you draw up many documents—including the child custody agreement—in no time. 
With our help, you can draw up any contract in a few clicks by following these steps:
Access your

account

Type in the name of the agreement you want to create

Answer our questions 

Download, print, sign, and notarize the contract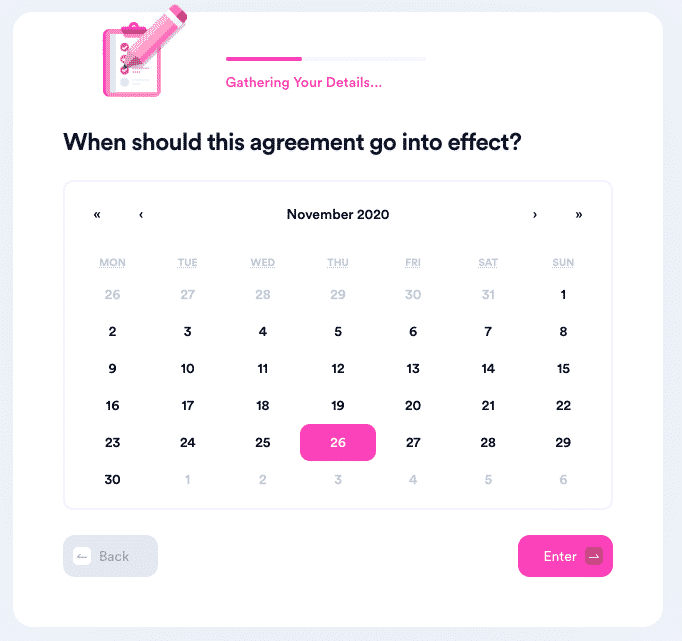 What Other Documents Can I Write With DoNotPay?
's extensive database allows us to create various business, real estate, and family matters documents in less than five minutes. The following table shows some of the contracts you can create with our help:
Business Contracts

Real Estate

Intent To Purchase Real Estate

Quitclaim Deed

Estoppel Certificate

Other

Child Custody

Promissory Note

Child Care Authorization Form

General Affidavit
What Else Can This Award-Winning App Do for Me?
If you think that's impressive, wait until you've heard about other features we boast!
Our powerful app can draft paperwork for you, locate unclaimed funds under your name, cancel subscriptions, sue robocallers, and protect you from stalkers and harassers—all in one nifty browser app!
Our services have been recognized by the esteemed ABA Brown award, serving as a testament to our abilities to assist you with your small claims issues, free trial auto-renewals, college fee waivers, public records, copyright protection, and much more!
More Benefits of DoNotPay
DoNotPay is a useful tool for handling many otherwise annoying life's trifles, including: