Separation Agreement
in
MA
101
To separate from your spouse in Massachusetts, you can't go through a legal separation per se. You can draw up a separation agreement and live separately from your spouse.
Drafting any legal documents, especially in a difficult situation like this one, can be overwhelming. Whether you decide to hire a lawyer, download a template, or write it by yourself, this article will walk you through the separation agreement in MA.
In case you need a child custody agreement or any other legal document, , and our app will draft them for you!
Massachusetts Separation Agreement
Explained
Whether you'd like to separate and not divorce for personal, financial, or religious reasons, you can enter into a separation agreement with your spouse.
A separation agreement is a document between spouses stipulating the terms of your separation. You don't have to file it with the court before living apart, but it could be difficult to enforce it if you and your spouse can't see eye to eye on every term of the agreement.
Is a Separation Agreement Legally Binding?
A separation agreement becomes enforceable once both parties sign it willingly and file it with the court. Once it's filed, the judge decides whether to approve it, that is, whether it's fair and reasonable for both parties. The judge signs the agreement and makes it a court order.
What Should a MA Separation Agreement Cover?
If you have a prenuptial agreement, some terms and clauses may already be agreed on between you and your spouse. Typical clauses that a separation agreement includes are the following:
What To Include

Key Details

Details about the couple

Full names and addresses

Separation info

Statement that both parties seek to live separately

Established date of separation

Division of property

Personal property

Real property

Tangible property

Intangible property

Allocation of the assets

Confirmation of property as separate

Children

Custody and parenting plan

Visitation

Parenting responsibilities

Educational and other costs

Child support

Outline of the child support request

Child support changes in the future

Debt allocation

Loan payments

Credit card debt

Car and other payments

Taxes

Tax refund division

Establishment of the filing status

Health insurance

Any changes in the insurance policy of both spouses

Additional clauses

Alimony

Other types of marital support

Life insurance
What Is Separate Support in Massachusetts?
While married couples in Massachusetts don't need the court's permission to live apart, you may need additional help during your separation. You can receive separate support in the following situations:
You are abandoned by your spouse

Your spouse fails to support you without a justifiable cause

One spouse has a justifiable cause to live apart from the other

Spouses have a breakdown in communication and cannot live together anymore
Besides having the legal grounds for filing for separate support with the court, you have to be a legal resident of Massachusetts.
The process is similar to divorce. Once you file a petition for separate support and maintenance, the judge will devise or assist in making marital support and a parenting plan and issue a court order for separation.
During a separate support case, numerous issues will be decided, regardless of whether your separation agreement covers them or not. You'll get a chance to present evidence, and if you can't agree on a point with your spouse, the judge will decide in your stead.
Generate Documents With the World's First Robot Lawyer
When writing agreements or contracts gets too difficult or too expensive, you can count on our assistance! Our app can write up various legal documents in minutes for a fraction of the price of hiring a lawyer.
All you have to do is and complete these steps:
Type in the document name in the search field

Answer several questions to customize your document

Download it and print it if you need to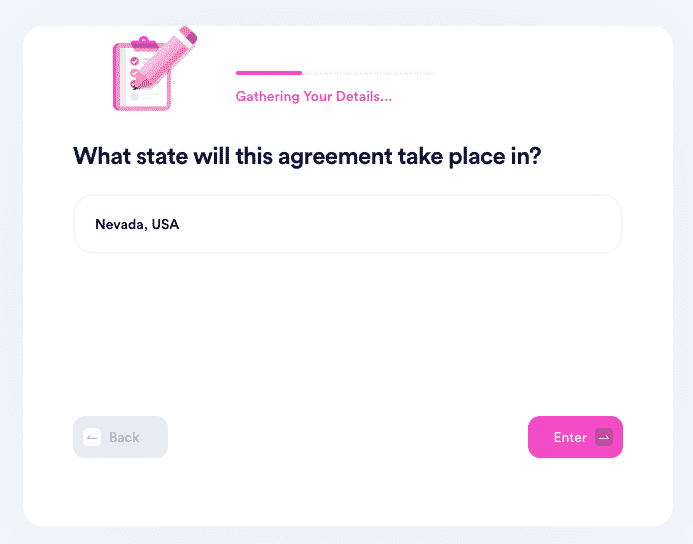 Check out the documents you can create using DoNotPay:
Types
List of Legal Documents

Business

General Business Contract

Real Estate

Residential

Lease Agreement

Quitclaim Deed

Intent To Purchase Real Estate

Estoppel Certificate

Other

Parenting Plan (Child Custody Agreement)

Prenuptial Agreement

General Affidavit

Promissory Note

Child Care Authorization Form
Need Guidance With Other Agreements? We Can Help!
Much like walking you through separation agreements, we can give you the lowdown on many other types of documents, such as:
If you are the person moving out from your marital home, we can help you with various real estate agreements, including:
Use Our Robot Lawyer To Eliminate Pesky Tasks
Administrative tasks are often time-consuming, which is why many people give up on them before even trying to tackle them. Requesting refunds, canceling services, signing up for clinical trials, reporting stalkers and robocalls, and trying to find unclaimed money are all processes that would usually take a long time to resolve.
With the help of DoNotPay, though, all of these admin hurdles become a piece of cake. In just a few minutes, our app can assist you in appealing parking tickets, getting in touch with your imprisoned loved one, getting an extended warranty, reporting copyright infringement, and so much more!
Don't Break the Bank—Sign Up for DoNotPay!
Our app can save you lots of money by helping you get a refund from any airline, sign up for a free trial without your credit card info, earn off persistent and illegal spam emails, and get an application fee waiver for a college you apply to.
With DoNotPay, you can even schedule a DMV appointment or jump the phone queue when getting in touch with a customer service representative without breaking a sweat!