What Do You Need To Know About a Separation Agreement in California?
A separation agreement in California needs to abide by California laws regulating this type of legal document—but what do these laws stipulate exactly?
If you're not someone who deals with contracts, you may be confused about what to do about your separation agreement. Luckily for you, DoNotPay has all the answers.
In this article, you'll find out everything about the California separation agreement. You'll also see how DoNotPay helps you write contracts without wasting your time on generic templates or your hard-earned cash on expensive lawyers.
What Is a Separation Agreement?
A separation agreement—or a marital settlement agreement—is a contract that two spouses enter when they want to get a divorce or a permanent legal separation.
You should not confuse a separation agreement with a divorce decree. While it can become one of the divorce documents, the separation agreement does not legally dissolve a marriage.
A separation agreement serves to help the spouses who are considering getting divorced settle the following issues:
Marital property division

Tax issues

Joint debts

Child custody

Alimony

Health insurance

Pension plans
How Do Separation Agreements in California Work?
In California, there is a cool-off period that you need to wait to pass if you want to get legally divorced. It usually lasts for six months. With a legal separation, there is no cool-off period.
Justifiable reasons for getting a legal separation are:
One spouse suffers from a severe mental illness

Both spouses are determined there are irreconcilable difference in the marriage and want to get a legal separation
The court should allow the separation under these conditions as long as neither party is forced into a legal separation through fraud or coercion.
Note that you cannot be married to more than one person at the same time in California. This means that if you decide to get a legal separation rather than a divorce from your spouse, you won't be free to remarry. Filing for a divorce does not require the consent of both spouses. If you choose to go this way, your divorce plea will most likely be granted even if your spouse doesn't want it.   
Why Do People Use a Separation Agreement?
Drawing up a marital settlement agreement (MSA) is one of the smartest actions separating spouses can take. Whether you plan to be separated from your spouse permanently or file for a divorce in the future, you need a separation agreement if you:
Have one or more children with your spouse

Own marital property that needs to be divided

Have joint debts    
There are also plenty of reasons why choosing a separation agreement is simpler. If, for the time being, you want to only be legally separated from your spouse and decide after some time to file for a divorce, the pleading process will be much shorter and simpler with an existing MSA.
One of the reasons why couples may choose a separation agreement instead of a divorce decree is that divorce does not align with their religious beliefs. Other reasons are financial. For example, there are tax and health insurance benefits legally separated spouses can keep enjoying and that they would not be eligible for if they dissolved their marriage through a divorce decree. 
Is a Separation Agreement Legally Enforceable?
A separation agreement isn't automatically enforceable by law. 
For the contract to become legally enforceable, the judge needs to incorporate the agreement into your divorce decree.
Use DoNotPay To Create Tailor-Made Legal Documents in a Heartbeat
It may seem like you need to resort to the over-expensive services of lawyers when you need a simple legal document—but this is not true. By becoming a DoNotPay user, you gain access to different contracts in a few short taps.
Here's how to get your fully personalized legal document fast:
Tell us the name of the document you need

Provide a few key information your document needs to have

Download your customized document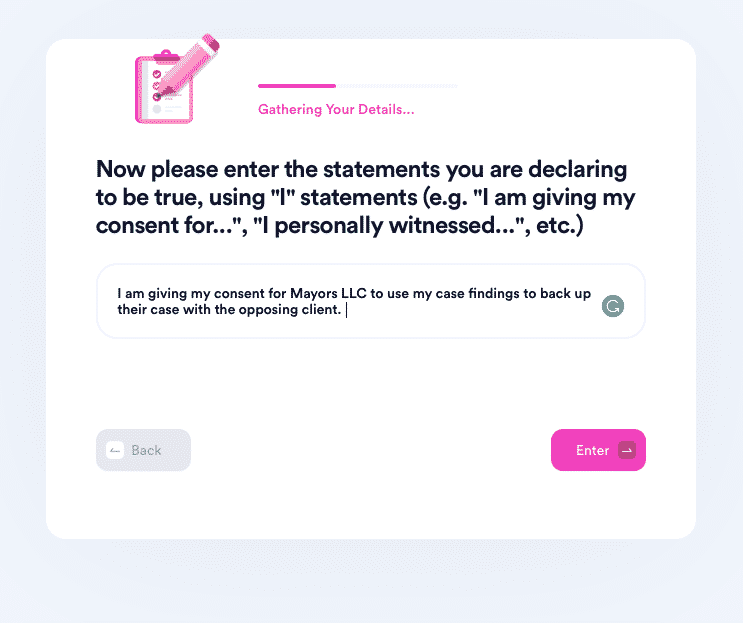 The best part about using DoNotPay to generate legal documents is that you can e-sign and get your contract notarized all in one app! We also enable you to fax your documents from your phone or laptop—no fax machine needed! You won't be charged any additional fees for using all the features DoNotPay offers.
DoNotPay Offers a Variety of Different Contracts for You!
With a , you can generate all these contracts at any time:
Legal Documents DoNotPay Generates
Real Estate
Business
Other

Intent to purchase real estate

Quitclaim deed

Estoppel certificate

General business contract

Promissory note

General affidavit

Child care authorization form
Do Not Let Companies Burn Your Pocket—Fight Back With DoNotPay
In the golden age of consumerism, it's easy to fall for greedy corporations' tricks and waste your money, sometimes without even knowing it. We are here to nip the money-grabbing techniques in the bud!
With your DoNotPay account, you'll be able to sign up for free trials without worrying about losing money once the trial expires. Are you also concerned about your privacy since most free trials require credit card info? With DoNotPay's virtual credit card, your privacy will remain intact.
Say goodbye to drawn-out refund and cancellation processes with the virtual assistant extraordinaire by your side.
If you need help returning an item or claiming its insurance or warranty, we'll help you throughout the entire procedure.
Need Some Extra Money? Find Unclaimed Funds or Get Compensations
Whether you need help with bills, you're strapped for cash, or you just want to get your money back but you can't bear dealing with customer service, we know what to do!
DoNotPay can help you overturn your parking tickets, apply for a college fee waiver, lower your property taxes, and get free raffle tickets. We can also show you the best way to discover your unclaimed money and obtain different types of refunds and compensation involving airlines, gift cards, and late deliveries.