A Breakdown of the Senior Citizen Property Tax Exemption
As a senior, you may live on a low or fixed income, which is why you might require help paying property taxes. Even if you live in one of the states with low property taxes, your tax bill could be too steep for you. There is something you can do before the bill arrives—apply for a senior citizen property tax exemption.
This article will help you understand what this exemption is and give you tips on other methods of lowering your property taxes.
What Is a Senior Exemption for Property Taxes?
A property tax exemption excludes a part of your property's value from being taxed. While the exemption doesn't affect the tax rate, it will reduce your tax bill.
In certain states, you need to be 65 years of age or older, whereas in others, 62 is the minimum to qualify. If you and your spouse own your home together, only one of you needs to meet the age requirement. Being a senior won't automatically qualify you for a senior property tax exemption. You have to apply for it, and what's more important, you usually need to meet one or more requirements to qualify.
Here are factors that may influence your eligibility for a senior exemption:
Eligibility Factors
Brief Explanation

Residence

You have to legally own your home

Your home needs to be your primary residence

Income

Low-income homeowners have higher chances of qualifying for the exemption

In some locations, your income cannot exceed a set income limit the local government imposes

Ownership

You need to own and live in your home

Some states require seniors to own their homes for at least one up to ten years

Disability

Seniors who are also

people with disabilities

can qualify (e.g., in

New Jersey

)

Some local governments don't allow homeowners to qualify for two exemptions—senior and disability. You need to decide on one
What Kind of Property Tax Help for Seniors Is There?
Senior property tax exemptions are not the only types of tax relief you may qualify for. Other tax help available for seniors may come in the shape of senior property tax:
Property Tax Freeze for Seniors
A property tax freeze can mean that the authorities will freeze your home's value so that the value over the set amount cannot be taxable. In some states, the authorities reimburse you for the property tax increase on your residence.
Property Tax Rebate for Seniors
A rebate is essentially a reimbursement. Some states impose a maximum rebate amount based on homeowners' income rates.
Property Tax Deferral for Seniors
A property tax deferral program allows you to delay your property tax payments. Typically, the program operates as a loan with interest. Your state pays your taxes and charges you interest.
Property Tax Exemptions for Senior Citizens in Different States
All 50 states provide some kind of tax relief for senior citizens. Check out our articles on various states to learn how your state helps seniors manage their property taxes:
Property Tax Reduction Tips for Seniors
Reducing your property taxes starts long before your tax bill arrives. Here are some tips that can help you pay less:
Be home for your

property tax assessment

and make sure the assessor is doing a fair calculation

Don't make any home improvements that may increase your property's value

Check your tax bill for errors

Negotiate with your local tax assessor if you don't agree with the assessment of your home

File an

appeal
Other Property Tax Exemptions for Seniors
If you don't qualify for the senior citizen property tax exemption, you may be eligible for one of the following:
Exemption for agricultural properties

Exemption for persons with disabilities

100% disabled veteran property tax exemption
Snatch DoNotPay's Guide on Senior Citizen Property Tax Exemptions
Since there are significant differences in state and even local policies in terms of senior property tax exemptions, it's difficult to handle everything on your own. You need to find out what the exemptions entail in your location, check whether you're eligible, collect the necessary documentation, and submit an application.
DoNotPay will show you the ropes! You can rely on our Property Tax guide to provide all the info you need. Our guide will help you:
Find out what property tax exemptions you're eligible for

Understand how to apply (compile evidence, fill in forms, learn the deadlines, etc.)

Instruct you on the appeal process if you believe your assessment was wrong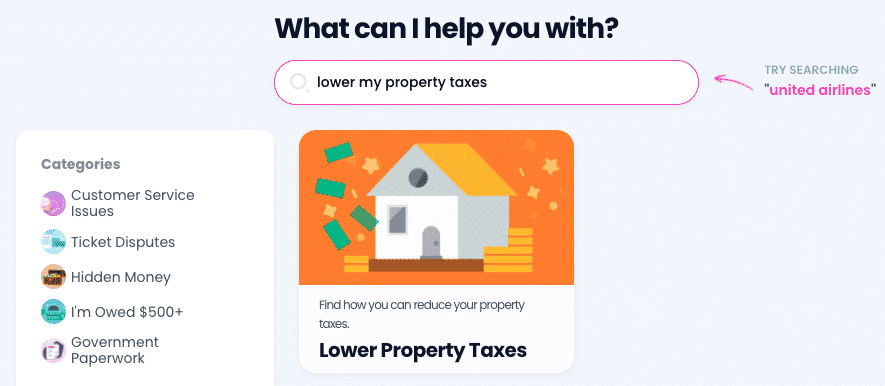 All you have to do is answer several questions, and our AI-powered app will compose a comprehensive guide on dealing with property taxes for your specific situation.
Once you open DoNotPay in a web browser, follow these steps and get your guide:
Access the

Property Tax

feature

Provide info regarding your age, location, and income

Answer questions about your property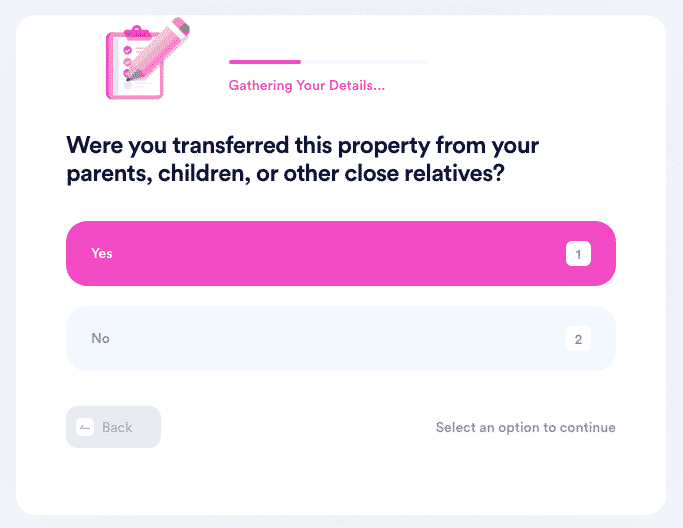 Tired of Companies Not Taking You Seriously? Use DoNotPay To Put a Stop to It
If you're sick of companies that violate your consumer rights, DoNotPay is here to help. If you're struggling with reporting robocalls, requesting a refund, claiming any type of warranty, scheduling a DMV appointment, reporting spam text messages, or anything else, our robot lawyer will help you sue any firm or individual in small claims court.
With DoNotPay, you can also sign up for any free trial, cancel any subscription, avoid getting charged after your free trials end, and much more!
Want Your Money Back? DoNotPay Is Here To Help
Are you looking for your missing money? Do you want to get a refund for a delayed or canceled flight? Are you trying to flip the script on illegal robocalls and earn money off them? DoNotPay will assist you in dealing with any of these pesky issues!
We can also help you bypass phone number verification, sign up for clinical trials stress-free, ace any government test in a jiffy, and block spam emails for good.