All About the Senior Citizen Property Tax Exemption in New York

While New York isn't considered a state with low property taxes, there are ways you can lower them. One method that can reduce your tax bill is applying for a tax exemption, such as the senior citizen property tax exemption.
Understanding your property taxes and the exemption you may qualify for is the starting point in keeping the numbers on your tax bill low. We'll help you familiarize yourself with the senior citizen property tax exemption in New York and provide you with a personalized guide to it.
Does the Entire New York State Offer the Property Tax Relief for Seniors?
No, it doesn't. Local governments across New York can choose to provide the senior citizen property tax exemption, such as Nassau County and New York City, but not all of them do. Even the counties or municipalities that offer the senior exemption can differ in their eligibility factors or tax reduction amounts.
You can check with your local property tax assessor or website whether this exemption is available in your location. To skip the hassle, use DoNotPay to get all the info regarding your specific situation in terms of the senior citizen exemption and any other.
Do I Qualify for the Property Tax Relief for Seniors in NY?
To qualify for a senior citizen exemption, you typically need to be 65 years of age or older, but more eligibility factors come into play:
Ownership eligibility

You have to own a property for at least 12 consecutive months

Properties that may be eligible for the senior exemption besides your home are cooperative apartments, life estates or trusts, and manufactured homes

Income eligibility

Yours or the income of all property owners cannot exceed the maximum income limit imposed by the local government (typically between $3,000 and $29,000)

The income is based on the preceding income tax year

Age eligibility

The property owner must be 65 or older

All owners have to be at least 65 unless they are spouses or siblings

Residence eligibility

The property has to be a legal residence

You have to own and live at the property as your primary residence
The Senior Citizen Property Tax Exemption in NY Explained
The NY senior citizen property tax exemption is essentially a tax reduction. Your home's taxable assessment will get a 50% reduction if your income isn't higher than the set maximum income limit. Certain local governments allow homeowners whose income exceeds the limit to receive the reduction but a much lower percentage.
Claiming Multiple NYS Property Tax Exemptions
Sometimes, you can combine different property tax exemptions. If you qualify for the senior citizen exemption, you can also apply for the School Tax Relief (STAR) exemption. In case you are a person with disabilities and a senior, you have to choose between these two exemptions.
What if I Don't Qualify for the Senior Citizen Real Property Tax Exemption?
If you are not eligible for the senior citizen property tax exemption, you can check whether you qualify for any other. The New York State property tax relief programs are the following:
School Tax Relief (STAR)

Exemption for agricultural properties

Exemption for persons with disabilities
Other NY Property Tax Reduction Methods
When you need help paying your property taxes, you should learn a few strategies. Here are some handy tips you can use to lower your taxes:
Method
Key Details

Be present and stay close to the tax assessor during your home's property tax assessment

Ask and answer questions

Make sure the assessor isn't misunderstanding or miscalculating something

Plan your home renovations according to your property tax assessment date

Avoid doing renovations right before your assessment

Home improvements could increase your home's market value and your property tax rate

Examine your property tax bill

Contact the tax assessor if you have any questions

File a

property tax appeal

with the help of DoNotPay
Get DoNotPay's Guide on New York Property Tax Exemption and Appeals
Figuring out whether you qualify for an exemption, collecting the necessary documents, and applying to the correct institution can be tiring and confusing, to say the least. DoNotPay will be your assistant and walk you through the entire process with the help of our personalized guide! The property tax guide consists of two sections that cover:
The property tax exemptions you qualify for and instructions on how to apply

Steps to appealing your property tax assessments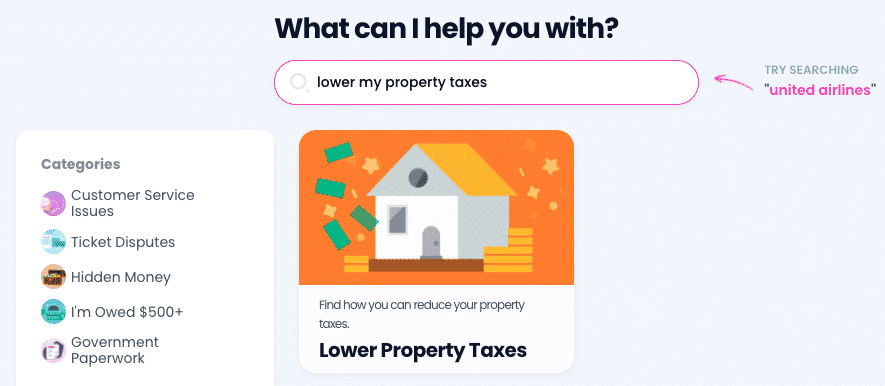 With this guide, you are bound to reduce your property taxes and give your bank account a (tax) break.
As soon as you open DoNotPay in a web browser, follow these instructions to obtain our guide:
Tap on the

Property Tax

feature

Answer a few question regarding your age, income, and location

Provide relevant info about your property
Once you provide us with the necessary details, we will generate your unique guide in a matter of minutes!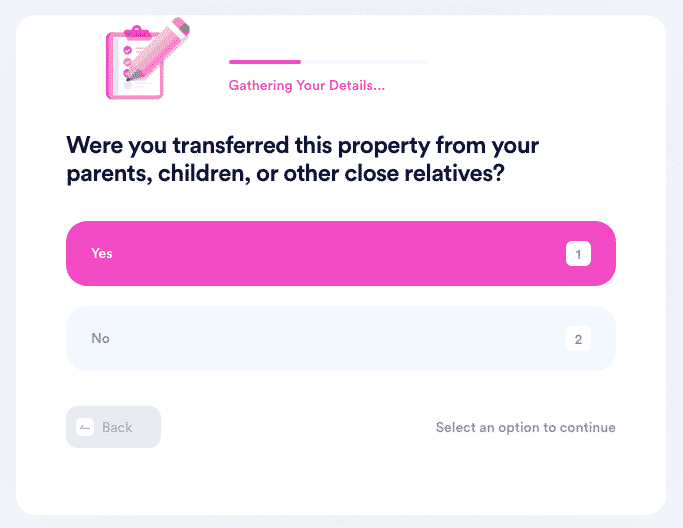 Use Our Robot Lawyer To Eliminate Pesky Tasks
Administrative tasks are often time-consuming, which is why many people give up on them before even trying to tackle them. Requesting refunds, canceling services, signing up for clinical trials, reporting stalkers and robocalls, and trying to find unclaimed money are all processes that would usually take a long time to resolve.
With the help of DoNotPay, though, all of these admin hurdles become a piece of cake. In just a few minutes, our app can assist you in appealing parking tickets, getting in touch with your imprisoned loved one, getting an extended warranty, reporting copyright infringement, and so much more!
Don't Break the Bank—Sign Up for DoNotPay!
Our app can save you lots of money by helping you get a refund from any airline, sign up for a free trial without your credit card info, earn off persistent and illegal spam emails, and get an application fee waiver for a college you apply to.
With DoNotPay, you can even schedule a DMV appointment or jump the phone queue when getting in touch with a customer service representative without breaking a sweat!