How To Apply for
Senior Citizen Property Tax Exemption in California
While California's property tax rate (0.73%) isn't as high as in most American states, not everyone can pay property taxes. Senior citizens often have low income. That's why setting aside a few hundreds of dollars each year can be challenging for them. 
Many states—including California—offer property tax exemptions for seniors, veterans, disabled citizens, and other eligible homeowners to help them pay property taxes. If you'd like to apply for property tax relief in California, DoNotPay will help you do it hassle-free.
Learn All About Property Taxes
Every county in America charges property taxes to homeowners and uses tax money to fund various beneficial services, such as:
Hospitals

Education

Law enforcement

Fire department

Libraries

Road and highway constructions 
Property tax rates are different in each state, and they range from 0.18% in Louisiana to 1,89% in New Jersey.
Who Determines My Property's Value?
Your local assessor estimates your home's value according to:
Your home's curb appeal

Homes in the neighborhood

Location

Size and number of bedrooms

Your home's interior 
Once the assessor establishes the market value of your property, he or she will perform the property tax assessment and, consequently, calculate your property tax bill. 
Can I Lower My Property Taxes?
Even if you live in one of the states with the lowest property tax rates, you should be able to lower your property tax bill. You can try out a few strategies to do so: 
Participate while the assessor evaluates your home so that you can highlight both the advantages and disadvantages of the property

Postpone any renovations until after the assessment because every home improvement can increase your property's value

Analyze your tax bill and report inaccuracies to the assessor, especially if the bill shows that your home has a much higher value than other homes in the area

Apply for property tax exemptions if you're eligible 

Appeal your property tax bill if necessary
Key Aspects of
California Property Tax Exemptions for Seniors
California offers three property tax relief programs for senior citizens:
Property Tax Exemption Program
Who's Eligible?
Description

Property Tax Assistance for Seniors in California

Seniors (62 or older)

Blind and disabled citizens

Low-income residents earning less than $13,200 annually

The state reimburses a part of the property taxes to eligible individuals. Candidates should apply for the program every year. The exemption applies to a portion of the assessed amount (the first $34,000).

Property Tax Postponement Program

Seniors (62 or older)

Blind and disabled citizens

Applicants whose house income doesn't exceed $45,000 

Candidates who have a 40% equity interest 

The state pays full or partial property taxes until the person in question:

Moves

Sells the house

Passes away

Passes the title to an ineligible person

The postponement has to be paid eventually, with interest.

Replacement Housing Program

Residents enrolled in this program can transfer the old property's assessed value to their newly purchased home, which prevents the market value reassessment. The new home needs to be purchased in the same county within two years of selling the previous property.
Other Property Tax Exemptions in California
California counties offer other property tax exemptions:
Main residence

—The exemption applies to the first $7,000 of the home's value from property tax

Family transfers

—Citizens who buy a property from their parents or kids don't have to schedule a full reassessment 

Veterans

—The following resident categories can apply for up to $4,000 veteran exemptions:

Individuals who are currently serving or have served in a war

Veterans who have been honorably discharged

Unmarried surviving spouse or a parent of the veteran

Disabled veterans

—Individuals who are disabled due to war service can get an exemption of more than $4,000

Disaster relief

—Some California counties grant property tax exemptions to individuals whose homes were seriously damaged in a disaster. These residents qualify for a reduced assessment while the property in question is being repaired
DoNotPay Can Help Your Lower Your California Property Taxes in a Snap
If you're not sure whether you qualify for senior property tax exemption in California, DoNotPay is here to help you. We will determine which exemption you can apply for and generate a personalized guide explaining the best way to do so. To lower your property taxes in a few clicks, log in to DoNotPay and follow these steps:
Select the

Property Tax

feature

Answer our questions regarding your property

Follow the instructions on your personalized guide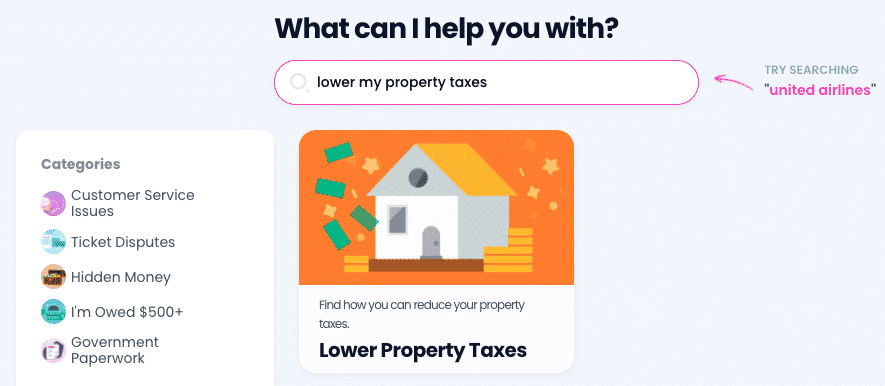 DoNotPay will help you learn everything about the California property tax assessment and generate a guide to applying for the property tax reassessment exclusion. Besides helping you apply for senior citizen property tax exemption in California, DoNotPay can also help you handle property tax-related issues in other states and counties, including:
Property Tax Appeal Made Easy Thanks to DoNotPay
Has the county rejected your senior citizen property tax exemption request? DoNotPay will provide a guide that will help you file a property tax appeal in under five minutes. We will tell you how to:
Complete the appeal forms

Collect evidence to prove you're eligible for the exemption, such as

finding comparables
What Else Can Our Award-Winning App Do for You?
If you think that's impressive, wait until you've heard about other features we boast!
Our powerful app can draft paperwork for you, locate unclaimed funds under your name, cancel subscriptions, sue robocallers, and protect you from stalkers and harassers—all in one nifty browser app!
Our legal services have been recognized by the esteemed ABA Brown award, serving as a testament to our abilities to assist you with your small claims issues, free trial auto-renewals, college fee waivers, public records, copyright protection, and much more!
More Benefits of DoNotPay
DoNotPay is a useful tool for handling many otherwise annoying life's trifles, including: