Trapped in Tricky Senegal Tourist Visa Rules? Shoot a Way Out With DoNotPay
Senegal is a captivating medley of colonial architecture, mind-boggling sceneries, and exotic species. From mysterious pink lakes to magnificent pink flamingos—there's so much to explore in this coastal land!
This country is perfect if you're looking for a cheap, off-beat, and fulfilling trip—but getting a Senegal tourist visa can be challenging due to procedural complications. The pandemic rules have only worsened the country's tourist inflow.
If Senegal has charmed its way into your heart, don't hold yourself back due to obscure visa guidelines. Use DoNotPay's Tourist Visa Guide tool to understand the country's visa requirements within seconds. You can also rely on our app's focused assistance while applying for a tourist visa—sign up to get tailored support!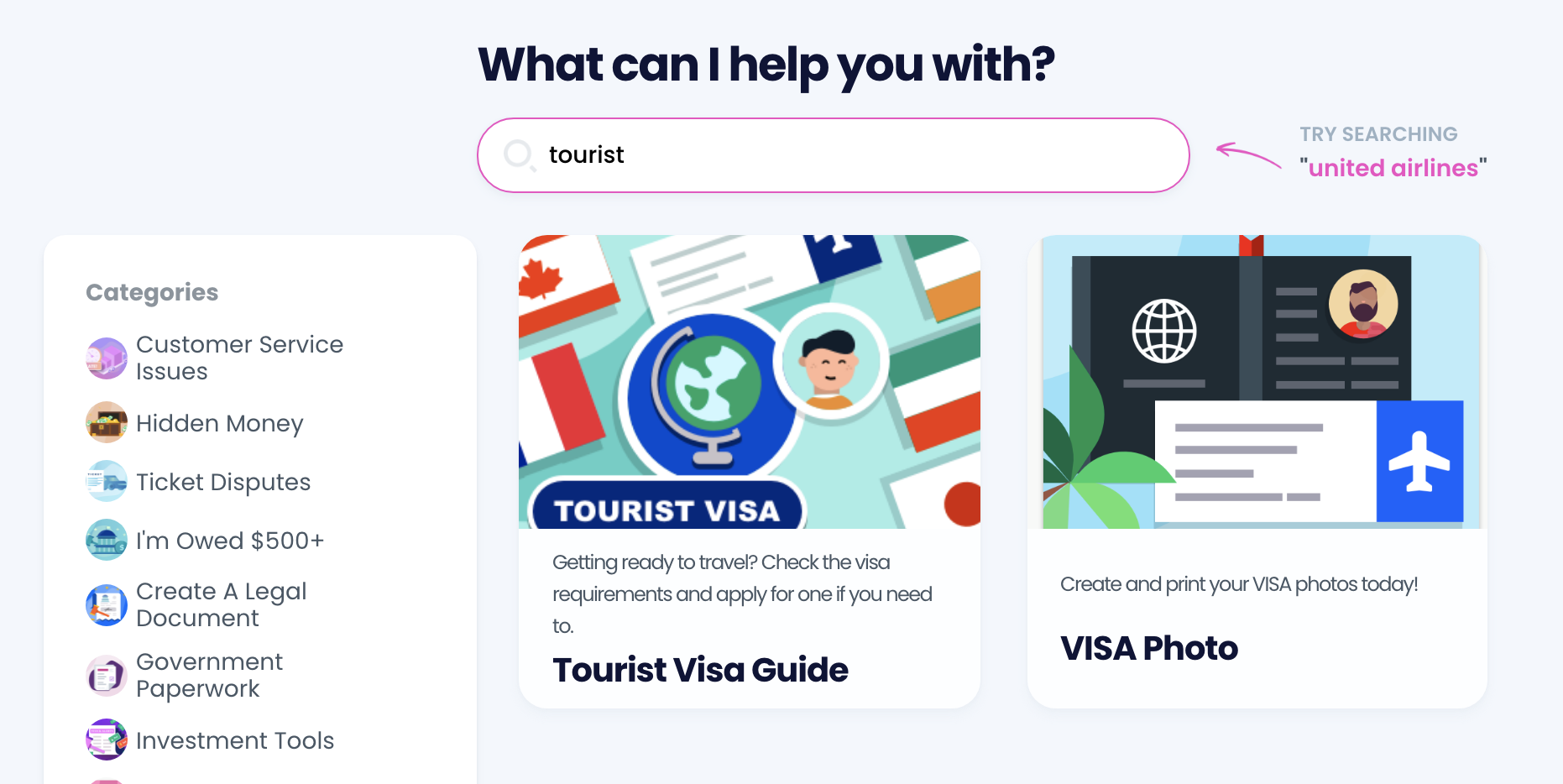 Senegal Tourist Visa—Understand the Requirements for U.S. Citizens
Senegal's tourist visa policy for U.S. citizens is straightforward—you don't need to apply for a tourist visa in advance if you:
Have a valid U.S. passport that:

Doesn't expire for at least six months beyond your date of travel
Has a minimum of two blank pages for stamps

Leave Senegal within 90 days
Once you arrive in Senegal, the border control officers will verify your travel documents and entry eligibility. If you have the paperwork in order, the officers will give you a Visa on Arrival (VOA) and stamp your passport with the date your visa is set to expire.
If you want to stay in Senegal for longer than 90 days, have two options:
Request an extension
Apply for a visa in advance
How To Apply for an Extension
To request an extension, you must apply to the local immigration authorities by submitting the following documents:
A handwritten cover letter stating the reason for requesting an extension
Certified copy of your ID
Three passport photos
Proof of accommodation in Senegal
Bank records to show financial sufficiency
Proof of clean criminal record in the U.S. (for three months preceding your date of entry in Senegal)
Medical evaluation certificate issued by a local doctor
Receipt showing full payment of the extension fee (the authorities fix the fee based on your country of origin)
After your extension application is approved, the authorities will issue you a Carte d'Etranger, which will act as your foreign identity card.
If you think the extension process is long and tedious, you can consider applying for an advance tourist visa with the Senegalese Embassy in the U.S.
How To Apply for a Senegal Tourist Visa in Advance
You are eligible to apply for a visa in advance only if your total stay in Senegal is going to be longer than 90 days.
To get a Senegalese visa, you need to visit the Senegalese Embassy in Washington and get the application form. The officers will ask you to submit the duly filled form with supporting documents, such as:
Round trip tickets
Hotel reservation details
Medical and travel insurance
Bank statements
Due to the absence of defined laws, there is no information available on the visa fee or processing time—this procedure depends heavily on the judgment of the Embassy workers.
Senegal Tourist Visa—Entry Eligibility Explained
Senegal's entry requirements change from time to time, but the most recently established rules are directed to keep the pandemic in check. Use this table to understand the current traveler eligibility standards at the point of entry:
Entry Requirement
Details
Vaccinations
You must be vaccinated for the following before visiting Senegal:

Yellow fever
COVID-19
Polio (only for minor travelers)

The authorities may also require you to get vaccinated for meningitis if your travel itinerary includes a trip to an endemic zone

COVID-19 negative report

You must submit a negative COVID-19 report based on a PCR test
Your test should have been conducted within five days before entry
You can alternatively submit a report proving that you recovered from COVID-19 in the 90 days preceding your travel

Public Health Passenger Locator form

You should download and pre-fill this form as per guidelines issued by the International Civil Aviation Organization
The purpose of this form is to obtain your contact details as per pandemic diligence protocols

Embassy support letter
You may need to show a travel support letter from a Senegalese Embassy, but only for certain arrivals marked by the airline authorities
Currently, U.S. travelers don't have to meet any quarantine requirements in Senegal.
Turn Your Tourist Visa Nightmare Into a Picnic With DoNotPay's Solid Support
The Senegal visa policy can be a menace to deal with due to half-explained rules and fluctuating guidelines. The unclear documentation requirements can only add to your stress.
DoNotPay aims to make any tourist visa application process significantly easier by laying down a framework for you to follow.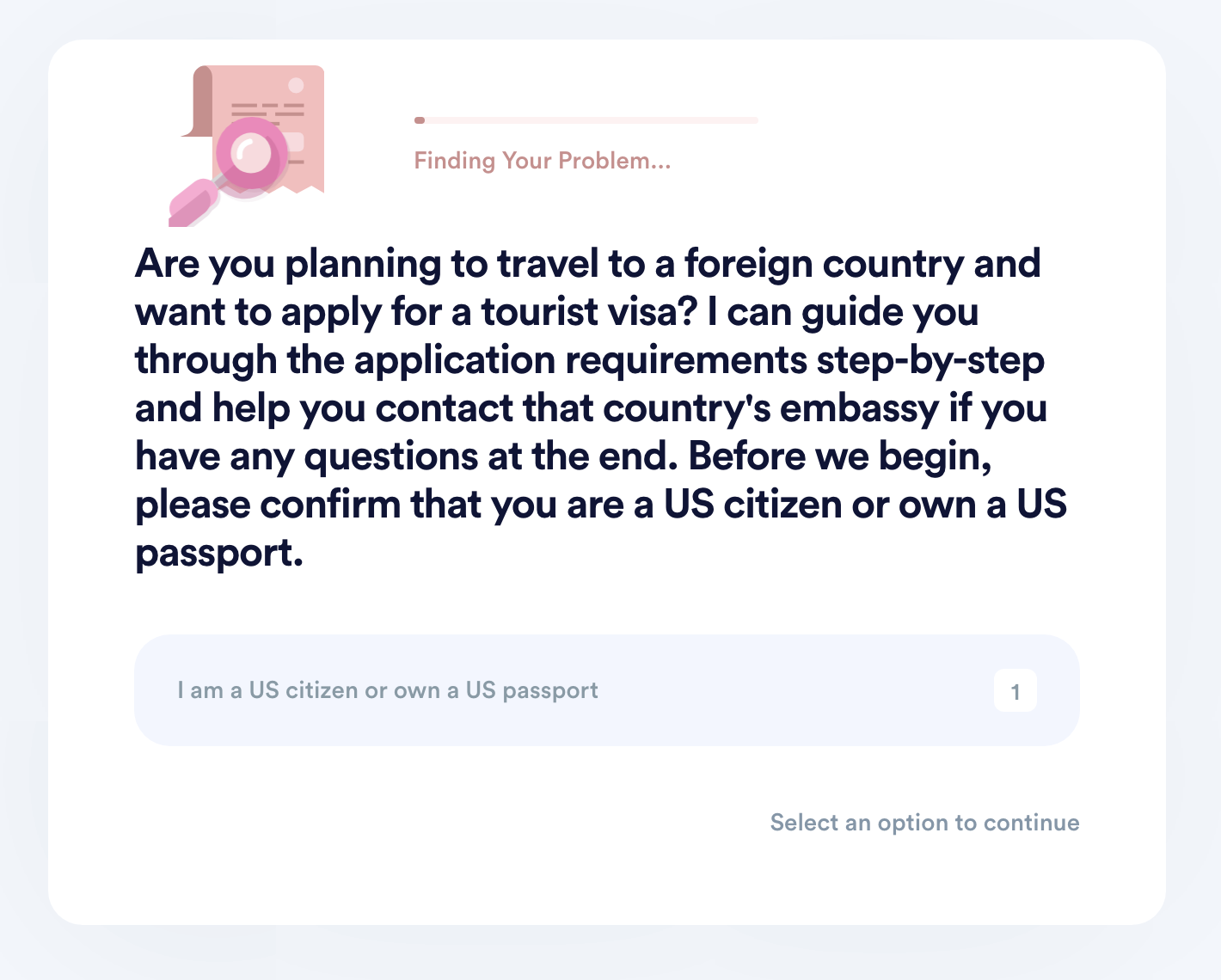 Our AI-enabled Tourist Visa Guide product keeps up with the latest visa laws to give you an assessment of your eligibility to enter a particular country.
If you're applying for a tourist visa, there will be no room for uncertainty or errors because our app will give you a comprehensive list of documents required for the application! We will also generate a customized visa application instruction manual for you!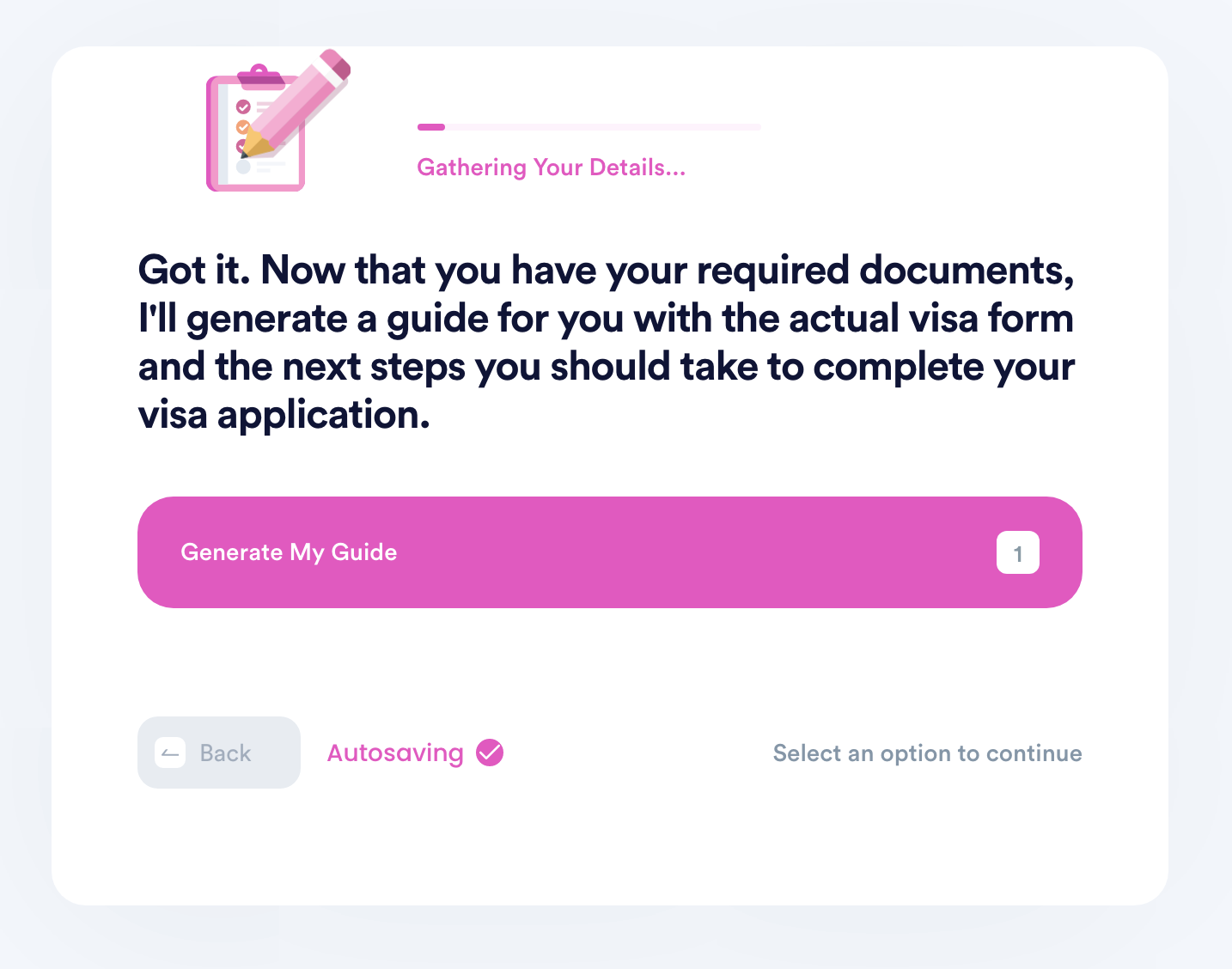 You can also use our app to:
Download the original PDF application form to be submitted at an embassy
Get mailing instructions straight from the embassy (if in-person applications are stalled due to pandemic restrictions)
Find the authentic government portal to submit your application (only if authorities allow online applications)

Follow these steps to use our plethora of functions:
Log in to DoNotPay and go to Tourist Visa Guide
Confirm that you have a valid U.S. passport
Select your destination country
Interact with our chatbot to complete the process
Since presenting a valid passport is a requirement, you can also use our dependable Create Passport Photos tool to print the photos you need!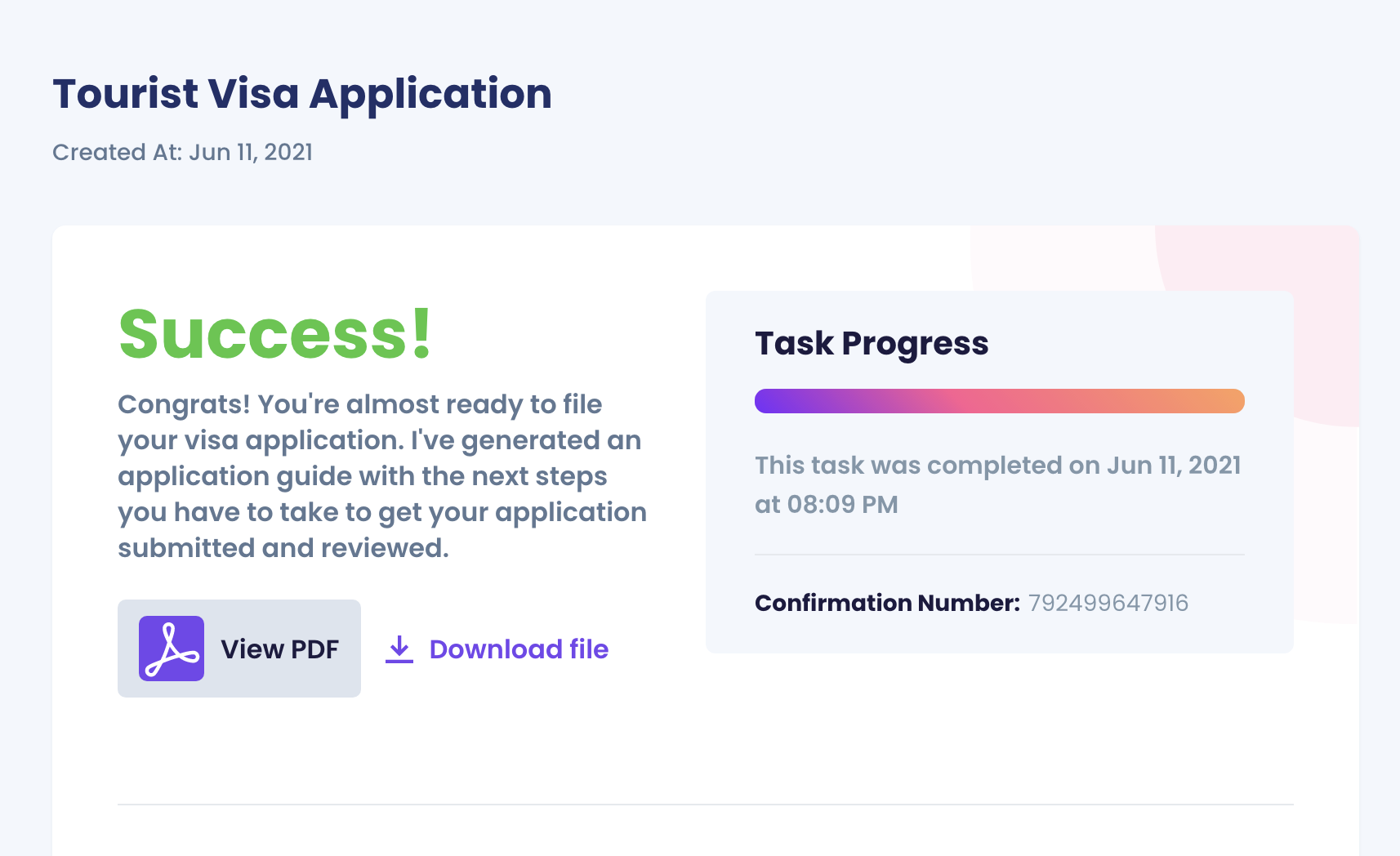 General Tips for Your Senegal Visit
Senegal has a low crime rate, but you should be wary of the local norms. We have compiled some tips to make sure you have a pleasant stay in Senegal:
Consume packaged drinking water
Brush up on your French to interact with the locals
Be wary of pickpockets while navigating the streets
Stay respectful of the local culture
Don't display your sexuality if you are a homosexual—it's locally condemned, and the country has a history of prosecuting homosexuals
Can't Get Enough of Africa? Use DoNotPay's Guides To Discover New Places
If you are a wildlife enthusiast and a true-blue explorer, Africa hits the jackpot! Use this table to check out our tourist visa guides for other countries on this continent:
Have Your Documents Created and Notarized in Less Than Five Minutes!
Why spend hundreds or even thousands of dollars on lawyers when the ideal solution is only a few clicks away?
DoNotPay saves the day by enabling you to generate numerous legal documents. Creating proper child travel consent forms, divorce settlement agreements, and powers of attorney has never been easier!
Our perks don't stop here—you can also have your documents notarized electronically from any location. Once you obtain a notary stamp and signature, your paperwork can be faxed online without outdated machines.
Explore Everything DoNotPay Has To Offer
Day-to-day tasks you must deal with don't have to be a burden or rocket science. Signing up for DoNotPay is your ticket to performing them the easy way! We offer a wide selection of products that don't cost an arm and a leg but do excellent work when it comes to solving your administrative issues!
Our services will help you: