Senator Warren Contact Details, Bio, and More
When we think of the Consumer Financial Protection Bureau, we think of Senator Elizabeth Warren. The two-time, Massachusetts senator rose to the limelight under Barack Obama as a special adviser in charge of protecting American's hard-earned money from dubious lenders and credit facility companies.
As the first female senator in Massachusetts, Warren has remained at the forefront of planned parenthood, national security, health, and the regulation of the US digital finance and cryptocurrency sector. See Elizabeth Warren's contact details below and reach any of her offices instantly!
Senator Elizabeth Warren Contact Information
Senator Warren operates two local offices and one federal office at the capital. Here's the contact info:
Office Location
Phone Number
1
Boston

2400 JFK Federal Building

15 New Sudbury Street

Boston, MA 02203

(617) 565-3170
2
Springfield

1550 Main Street

Suite 406

Springfield, MA 01103

(413) 788-2690
3
Washington

309 Hart Senate Office Building

Washington, DC 20510

(202) 224-4543
She is also active on social media platforms and can be reached via:
If your cause for contact concerns issues that can be handled by other state and federal public officials serving the state of Massachusetts, here are their details:
Senator Elizabeth Warren Brief Bio
Elizabeth Ann Warren (June 22nd, 1949 - ) is a class 1 senator serving the state of Massachusetts. She is a member of the Democratic Party. As the first female Massachusetts senator, Warren has served in the 113th to 117th US Congress as a member of the following:
Member of the House Finance Committee
Member of the House Committee on Banking, Housing, and Urban Affairs
House Committee on US Armed Services
House Committee on Aging
Senator Elizabeth Warren was a scholarship recipient at the prestigious George Washington University in 1965, before proceeding to the University of Houston for a bachelor's degree in Speech Pathology and Audiology in 1970 and a Juris Doctor from Rutgers Law School in 1976.
Senator Warren has been married twice - first to James Robert Warren in 1968 and then to Robert H. Mann in 1980.
When You Should Contact Senator Elizabeth Warren
Apart from passing legislation and drafting bills, senators are also saddled with other peripheral responsibilities. Citizens may have specific reasons to contact their state or city government official. In any case, here are some common reasons people contact Senator Elizabeth Warren, especially those who live in Massachusetts:
| | |
| --- | --- |
| Do contact Senator Warren for | Do not contact Senator Warren for |
| Federal Agencies and Programs | Personal or family issues within Massachusetts. |
| Emergency reports on the state of Massachusetts, the US financial sector, or issues concerning veteran welfare. | Immigration issues |
| Scheduled private and corporate meeting | Criminal or civil case intervention |
| Sharing an opinion, giving an update, or requesting Senator Warren to take a stand on specific bills. | Issues with state agencies |
| National grants and aids | advice or attorney services |
| US Forces Academy nominations | Private business affairs |
| Nominations for special recognition | Matters irrelevant to the constituents of Massachusetts |
| Small business start-up and access to credit | |
| Issues regarding the rights and benefits of Servicemembers, Veterans, and their families | |
| Application for and access to Congressional Directed Spending (CDS) 2021. | |
| Internships | |
Need Help Contacting Senator Warren?
Only a few Americans are active in their state politics and get in touch with their representatives. When people do choose to contact their government representatives, offices sometimes take extremely long to respond, demand formal procedures, and may never give the desired response. A trip down to these physical office locations may also not be the best option either.
Fortunately, there are tools like DoNotPay that help to get in touch with offices of senators, governors, and legislators in the U.S! See how to use DoNotPay below!
Let DoNotPay Contact Senator Warren for You!
offers a fast and reliable way to contact public officers in the US. It will contact your representative without you having to create a formal letter yourself!
1. Search "contact representative' or ' legislator' on and select the Contact Your Government Representative product.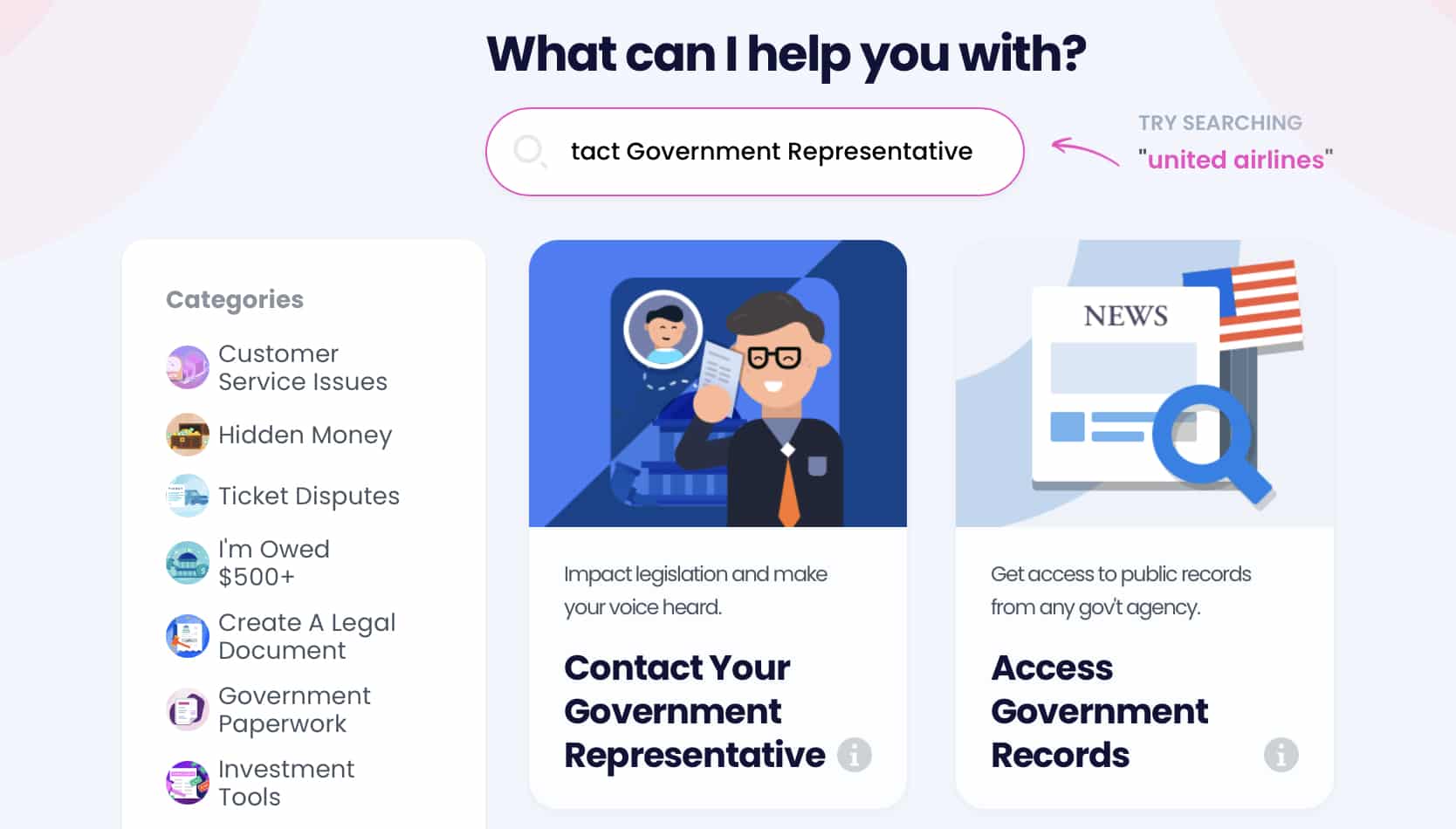 2. Choose whether you want to contact your Senator, state representative, Governor, President, or Mayor.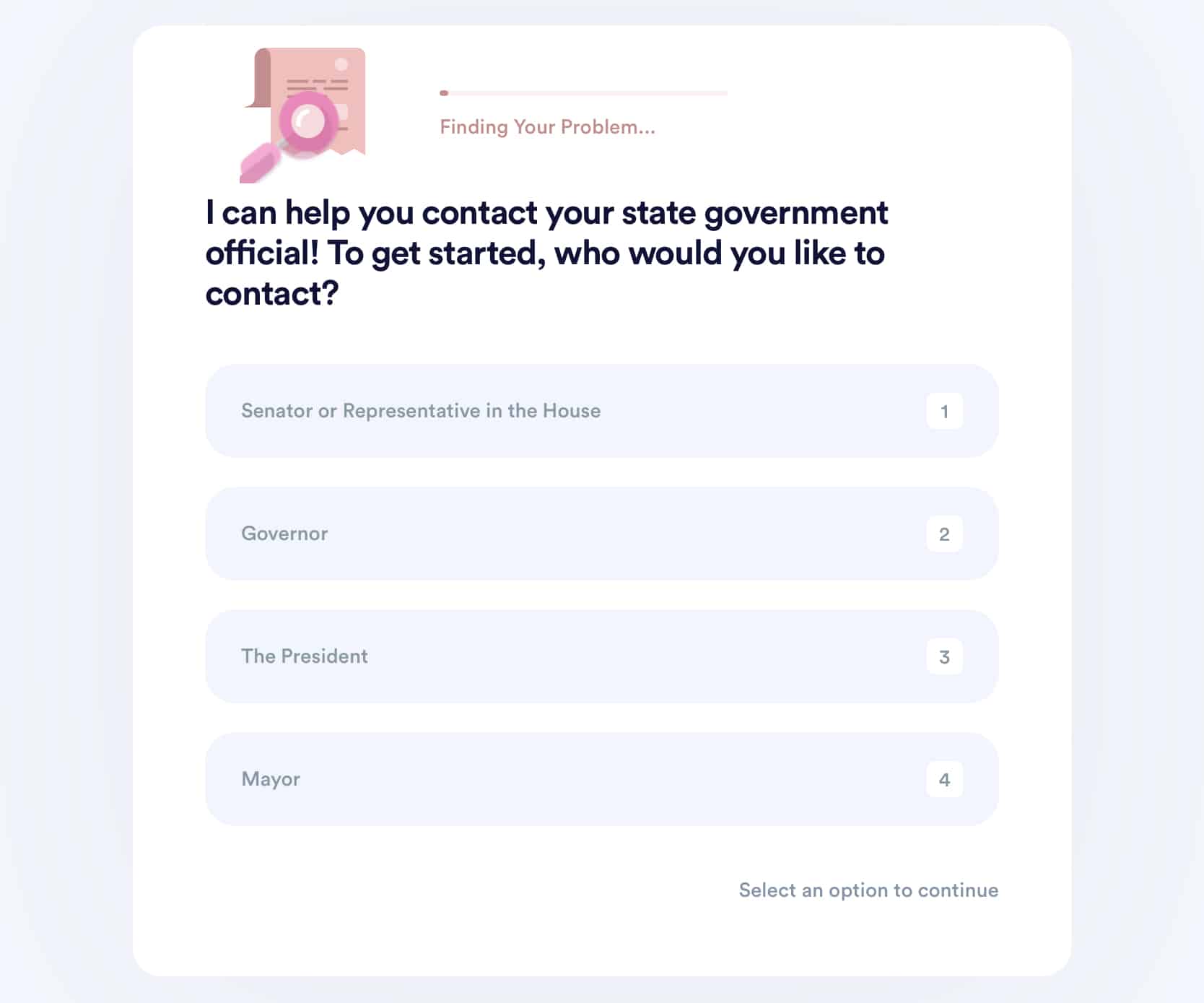 3. Tell us why you are contacting your representative.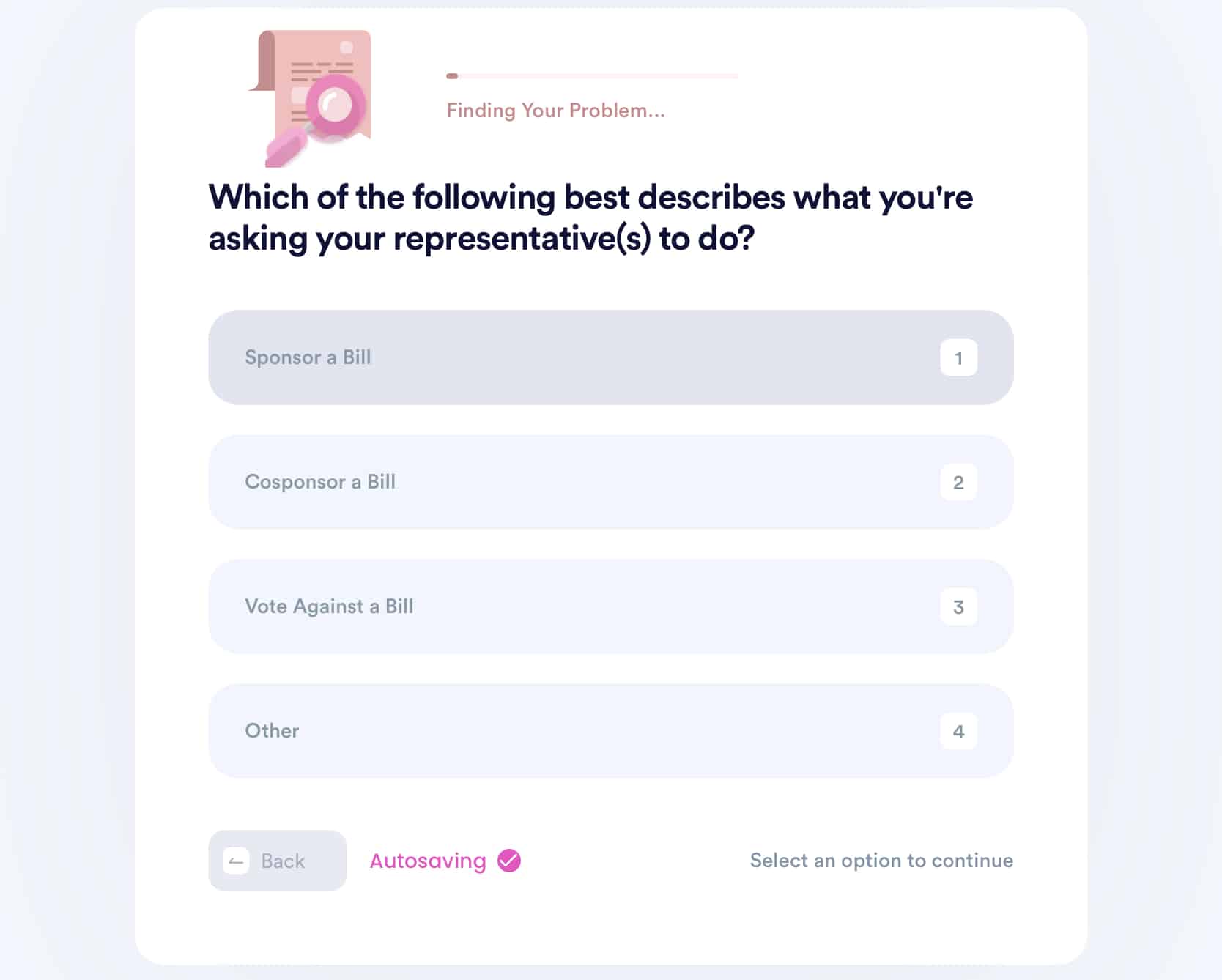 Sit back and relax! DoNotPay will deliver your message and handle the rest for you. Our bots will fill the contact forms on your legislator's website on your behalf!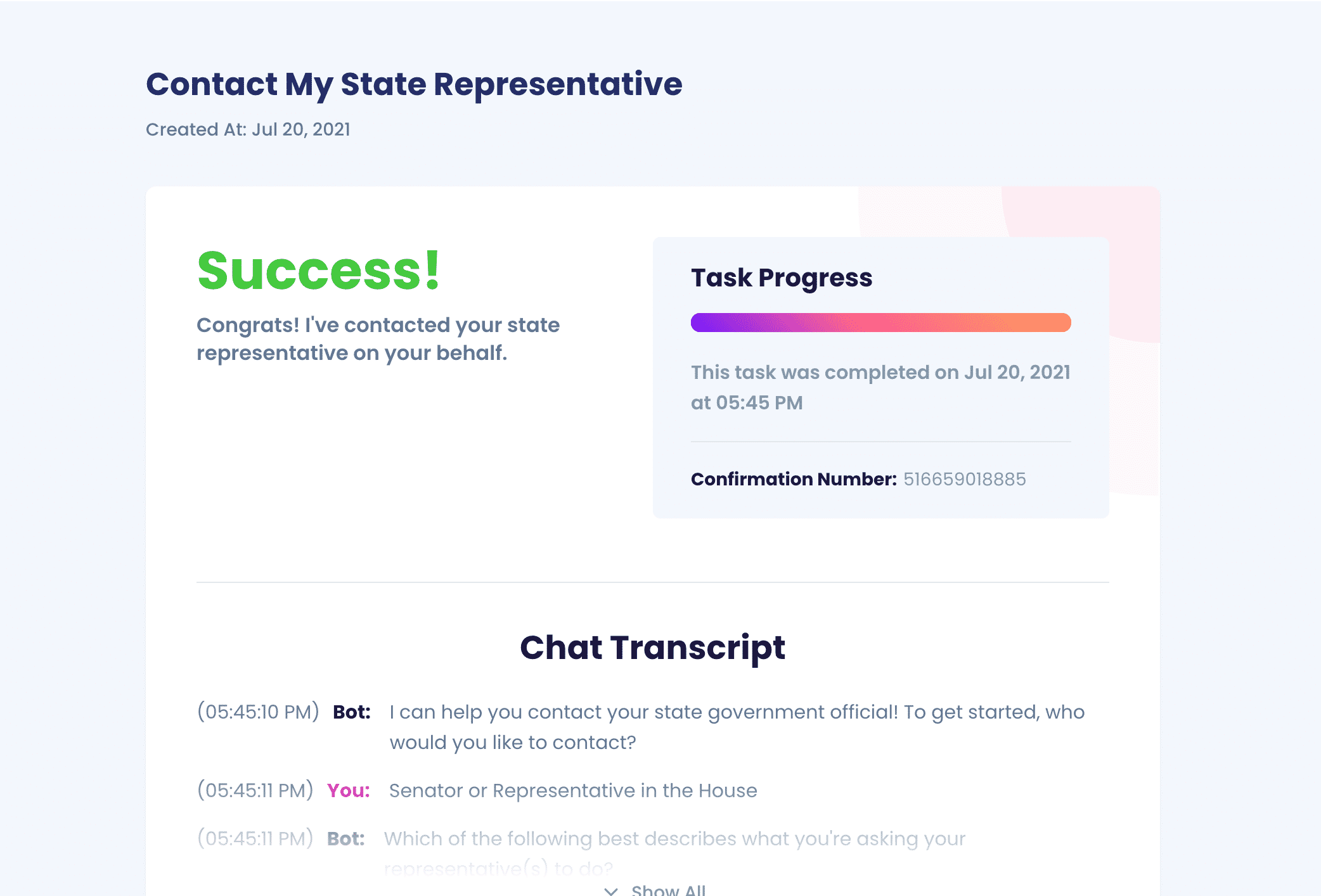 DoNotPay Can Do Much More!