Get the Gist of Seminole County Divorce Forms With DoNotPay
Legal technicalities surrounding the divorce process can cause a headache, especially because the divorce papers you need are specific for every state and county. It can be confusing to get the hang of it at first, but don't worry—DoNotPay has prepared a guide to help clear any confusion!
We'll show you the ins and outs of Seminole County divorce forms and assist in drafting the best divorce settlement agreement.
Seminole County Divorce—The Basics
The Sunshine State recognizes no-fault divorces, meaning that you don't have to play the blame game with your spouse in court. You can also file for a simplified dissolution of marriage, also known as an uncontested divorce. This type of divorce has numerous benefits, including:
Amicable relationship with your spouse after the divorce (in most cases)
No need to attend multiple hearings
Fewer forms to complete
Faster procedure as you can end your marriage in 30 days
Greater control over the divorce as you decide on the terms in a settlement agreement
Requirements for an Uncontested Seminole County Divorce
To qualify for an uncontested divorce in Seminole County, you and your spouse must:
Agree that the marriage is irretrievably broken
Give up on the right to a trial and appeal
Not seek alimony
Have no minor children or dependant marital children—the wife also can't be pregnant
Be willing to sign the petition
Attend the final hearing together
Be residents of the state for at least six months (applies to one spouse only)
In case you can't agree on any of the crucial divorce aspects, divorce mediation is recommended. You will get professional guidance in reaching a middle ground with your spouse and become eligible for a quick divorce.
Simplified Seminole County Divorce Process
The simplified divorce process in Seminole County entails the following steps:
Gather the required forms
Attend the final hearing
Where To Get Seminole County Divorce Forms
All Seminole County divorce forms are available on the official government website. You can also visit your local county house and ask the clerk for hard copies. The forms you need are:
Petition for Simplified Dissolution of Marriage—This document should contain your and your spouse's information, a statement that you both agree to a simplified dissolution, and signatures
Marital Settlement Agreement—This contract is crucial in the procedure as it outlines the terms on which you're getting divorced. It needs to be drafted with care because the judge will review it before finalizing the divorce. To get a top-notch agreement, use DoNotPay
Affidavit of Corroborating Witness—This form confirms that you or your spouse meet the state's residency requirements. It must be signed by a person who knows that one of you have lived in Florida for at least six months
Family Court Cover Sheet—This form lets the court know whether you're filing your case at the right courthouse or not. It also needs to inform the judge what type of divorce you've chosen
Final Judgment of Simplified Dissolution of Marriage—The final judgment is an order issued by the court finalizing the divorce. It becomes valid once the judge assigned to the case signs it
How To Get a Perfect Divorce Settlement Agreement Easily With DoNotPay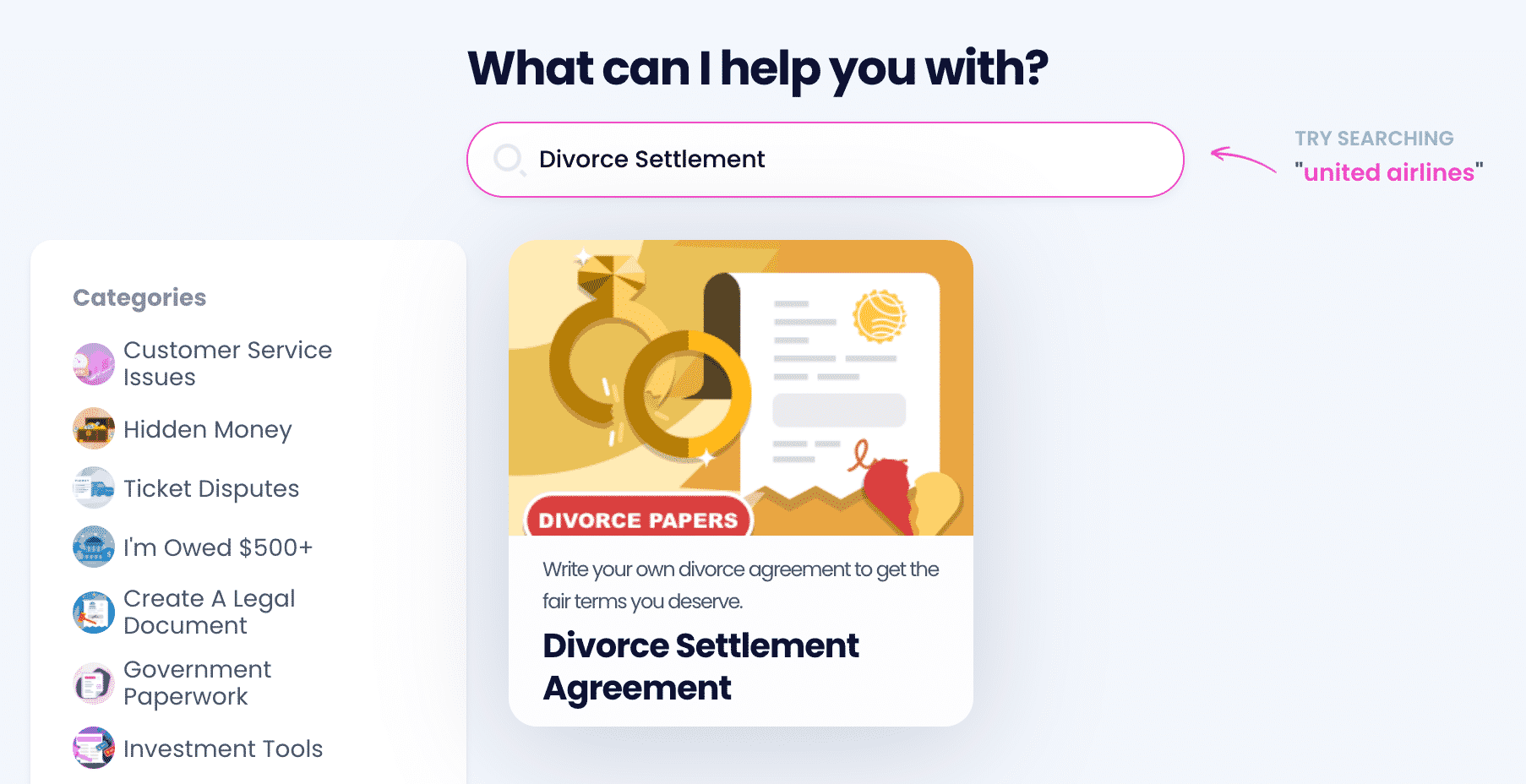 You had to pay big bucks or waste your time writing the divorce settlement agreement yourself before DoNotPay hit the scene. Nowadays, there's no need for you to hire expensive lawyers or draw up the document on your own—you can use DoNotPay!
With our Divorce Settlement Agreement product, you can get the contract drafted according to your needs in no time! The best part is that you won't have to spend a fortune. Here's the drill:
Select the Divorce Settlement Agreement product
Answer our chatbot's questions
Opt for online notarization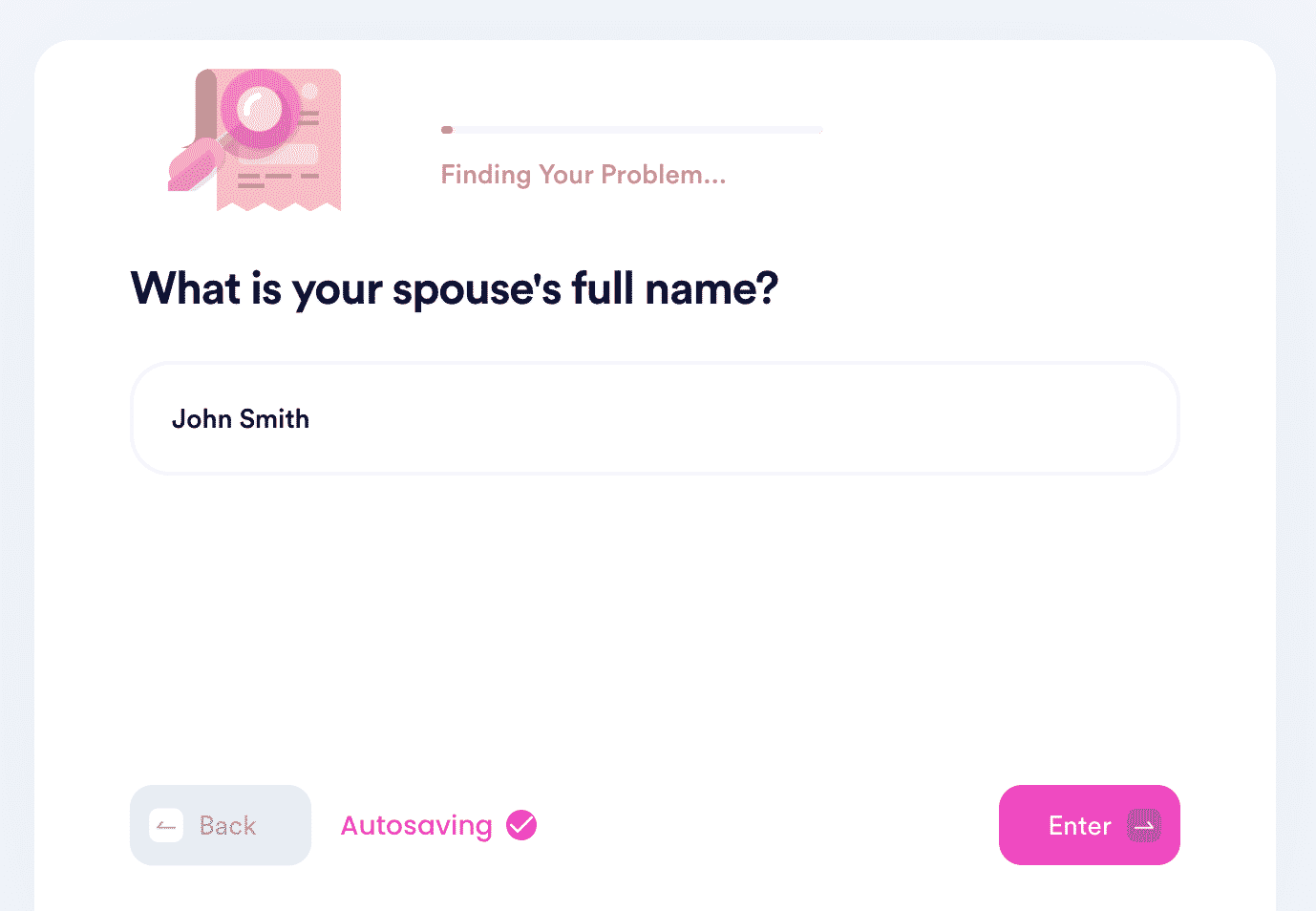 We'll process the details you give us and use them to create a tailor-made agreement for you. Follow the link we send you via email to schedule an appointment with an online notary and add legal weight to your document hassle-free.
Florida divorce laws can be tricky, but we have a solution for that too! Check out DoNotPay's handy articles and learn all about the Sunshine State divorce issues:
| Florida-Specific Guides | General Divorce Articles |
| --- | --- |
| | |
DoNotPay Is Committed to Solving All Kinds of Problems for You
Are you lost in the sea of administrative tasks? By subscribing to DoNotPay, you gain access to many products and features that can assist you in:
Check Out What Our Robot Lawyer Can Do for You
Not too skilled at drafting contracts and agreements? Keep calm and let DoNotPay, your virtual assistant, do it for you! Our app can generate various legal documents, including divorce settlement agreements, child travel consent forms, and powers of attorney. All it takes is to click a few times or answer several quick questions—we do all the rest!
Besides providing personalized documents, DoNotPay takes over other tiresome legal tasks. These include having your documents notarized, filing lawsuits in small claims court, requesting crime victims' compensation, or submitting HR complaints.