Selling a House After a Divorce Agreement in a Nutshell
Going through a divorce brings many concerns, but deciding on property division may be one of the most complicated steps. If you decide to sell the property you lived in, you must consider all crucial points and make a deal with your ex-partner. The best way to do it is to sign a suitable contract and settle the matter amicably.
In this guide, we will explain the essentials of selling a house after a divorce agreement. You will also find out how to write various legal documents without drawing them up manually or paying an arm and a leg for them!
How Do You Divide the Common Property After a Divorce?
When parting ways with your spouse, you must create a legal document specifying the way you will handle child support, divide the common real estate, and other aspects. This contract is known as a divorce or marital settlement agreement. 
If you decide to sell the house, this must be stated in the agreement in a specific clause related to the division of the property. Neither party can sell the house, transfer the title to someone else, or increase the mortgage if the other spouse isn't informed about it. 
If you and your ex have a decent relationship, you can always come to a win-win agreement and solve the matter without disputes. In case you don't reach an amicable agreement and the case goes to court, the judge will have to decide whether the property can be sold. They will consider various factors, such as:
Age of your children

Reasons for getting divorced

Child custody

Income and financial status of both parents
Do You Have To Get a Divorce Settlement Agreement Notarized To Make It Enforceable?
The parties involved must sign a divorce settlement agreement and have it notarized, but this doesn't make the document legally binding. It must be approved by the court first—that's the only way for it to become enforceable. 
How To Put a Divorce Settlement Agreement Into Effect
Here are the steps you should follow to create a valid marital settlement agreement and make it legally binding once you file for divorce:
Step

Details

Try to come up with a solution with your ex-partner

You can hire a mediator for this purpose, but it's not necessary if you can agree upon all the terms and conditions

Compose an agreement

There are several options:

Paying for a professional draft made by a lawyer

Editing one of the online

contract templates

Drawing up a contract yourself

Get the document notarized

Book a meeting with a

notary

and have your signature and the signature of your spouse verified

Submit the contract to the court for approval

If the judge decides to approve your contract, they will draw up a formal decree, which will make your agreement enforceable
How To Generate Unlimited Personalized Contracts With DoNotPay
Unsuccessful drafts are quite a common case when it comes to writing contracts by yourself. This usually happens because people don't have enough legal expertise to draw up a valid document covering all necessary aspects. 
Even the slightest mistake may make your agreement invalid and useless, which is why you should ensure it's clear and professionally made. The best part is that you don't need to pay attorneys to write a contract for you—DoNotPay will help you generate the document you need in a split second!
Our AI-powered app helps you create various types of business, real estate, and many other legal documents with no bureaucracy involved! All it takes is a few clicks, and you will have a state-specific contract of your choice ready for signing.
Here's how to take advantage of our Standardized Legal Documents feature:
Open DoNotPay

in any web browser

Navigate to the document you need

Help us create it for you by answering a few of our chatbot's questions
Subscribe to our app today and use this service to create the best:
Child Care Authorization Form

Quitclaim Deed

Intent To Purchase Real Estate

Promissory Note

General Affidavit

General Business Contract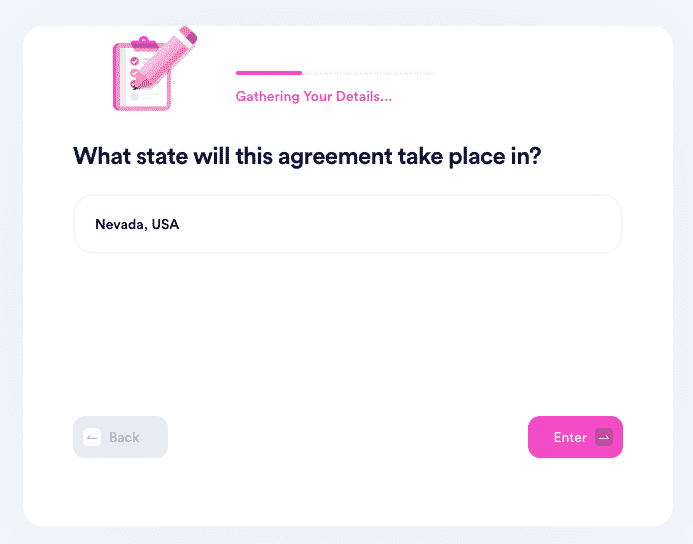 DoNotPay Helps You Have Your Documents Notarized Remotely With Ease
Note that, depending on your state laws, you may need to have your document notarized. Typical notarization involves many time-consuming steps, such as looking for a convenient notary, driving or walking to their office, and waiting in never-ending queues. With DoNotPay, you can skip them and get everything done remotely without a hitch! 
The system we created will help you choose a suitable time for an appointment with an online notary. It can match you with authorized officials at any time, including weekends and holidays! All you should do is:
Access DoNotPay

from your web browser

Pick the

Notarize Any Document

service

Attach the document you want to have notarized

Enter your email address
We will email you a link to a notary's timetable where you can pick the desired time slot!
Our learning base boasts notary-related guides for all U.S. states, including:
Let DoNoPay Help You With Your Paperwork
Why waste time on bureaucracy if you can rely on DoNotPay to handle pesky tasks for you? Cancel all your subscriptions at once, find unclaimed funds in a matter of minutes, appeal parking tickets hassle-free, and discover the best way to get your documents notarized remotely. 
In case you need help paying bills or you want to earn some money by participating in paid clinical trials, DoNotPay is here to help you out! 
Fighting workplace discrimination is of utmost importance, but the entire procedure seems rather complicated. The same goes for the crime victims compensation application in most states. DoNotPay is here to change that. We will help you file a report, request compensation, and create numerous other documents, including demand letters for neighbor complaints.
Keep Your Online Safety in Check!
While internet safety should be one of your top priorities, staying anonymous while surfing the web is almost impossible. If you want to avoid giving out your number when registering for services, you should try out our Burner Phone product. 
DoNotPay can also protect your credit card info, name, and email address, all through our handy virtual credit card. Sign up for free trials without worrying about unexpected charges.
With our app, you will learn how to deal with stalkers and harassers and how to access public records the easy way. 
DoNotPay offers many other useful products that can help you prepare for government tests, have your college fees waived, and manage any annoying issue in minutes.