The Seller Breach of Contract in Real Estate—Take Care of the Issue With DoNotPay
If you are dealing with a seller breach of contract in real estate, DoNotPay will present the potential solutions. We can create a breach-of-contract demand letter for you and even assist you in filing a lawsuit against the violating party.
What Constitutes a Real Estate Breach of Contract?
A breach of contract occurs when a party violates a term included in your real estate contract. It often happens when a home seller backs out because they received a better offer or experienced a change in life circumstances. The good news is that you have the right to seek justice and are entitled to breach-of-contract remedies.
What Seller Breach of Contract Remedies Can You Expect?
The remedies available to you as the non-breaching party depend on the type of violation you experienced (material or minor). If a seller fails or refuses to perform the obligations under a contract for the sale of real property, you can get:
Monetary damages for breach of contract
Liquidated damages
Termination of the contract and return of the deposit
Specific performance of the agreement
Monetary Damages as a Form of Remedy for a Seller Breach of Contract
The amount of money you can get for a breach of a real estate contract depends on your state law and how you were affected by the violation. If the seller acted in good faith, they might be liable only for the return of the deposit and other reasonable expenses, such as:
The cost of the title examination
Preparation of a survey
Attorney's fees
If the seller caused you significant harm, the court might grant you additional financial compensation.
Liquidated Damages as a Form of Remedy for a Seller Breach of Contract
If you had a liquidated damages clause in your contract, you should be able to get a predetermined amount of money required due to a breach of contract. It is an estimate you make at the time of signing, so it might not be entirely accurate.
Liquidated damages are only enforceable if calculating actual damages for the particular breach is difficult and the estimate is reasonable under the circumstances.
Termination of the Contract and Return of the Deposit as a Form of Remedy
You can also end the contract and not buy the property. In this situation, you are likely entitled to recover any payments you made to the seller, including the deposit.
Specific Performance as a Form of Remedy for a Seller Breach of Contract
Specific performance entails a court order to the breaching party to take a particular action. The judge usually chooses this option when monetary damages are not an adequate remedy. In the real estate world, specific performance typically includes transferring ownership of the property to the non-violating party.
Courts do not order specific performance often because they are reluctant to force a homeowner to sell in situations when they plan to remain in the home.
What Is the First Step Toward Solving a Seller Breach of Contract Dispute?
Before the situation escalates to a lawsuit against the seller, you must prove the breach-of-contract elements and send a demand letter asking the violating party to fulfill their end of the deal. DoNotPay can provide you with a rock-solid legal document to send to the seller.
Making a Demand Letter Is Simple With DoNotPay
You have a few options for creating a demand letter, including:
Hiring a lawyer and spending a small fortune
Using a free template and often ruining your chances of winning
The solution to your struggles is DoNotPay. Our app will make sure you get an airtight legal document in the shortest time. These are the only steps to take:
Choose our Client Breach of Contract product
Answer a few questions about the client and the contract you made
Enter a payment deadline for the client
Add any photographic evidence if possible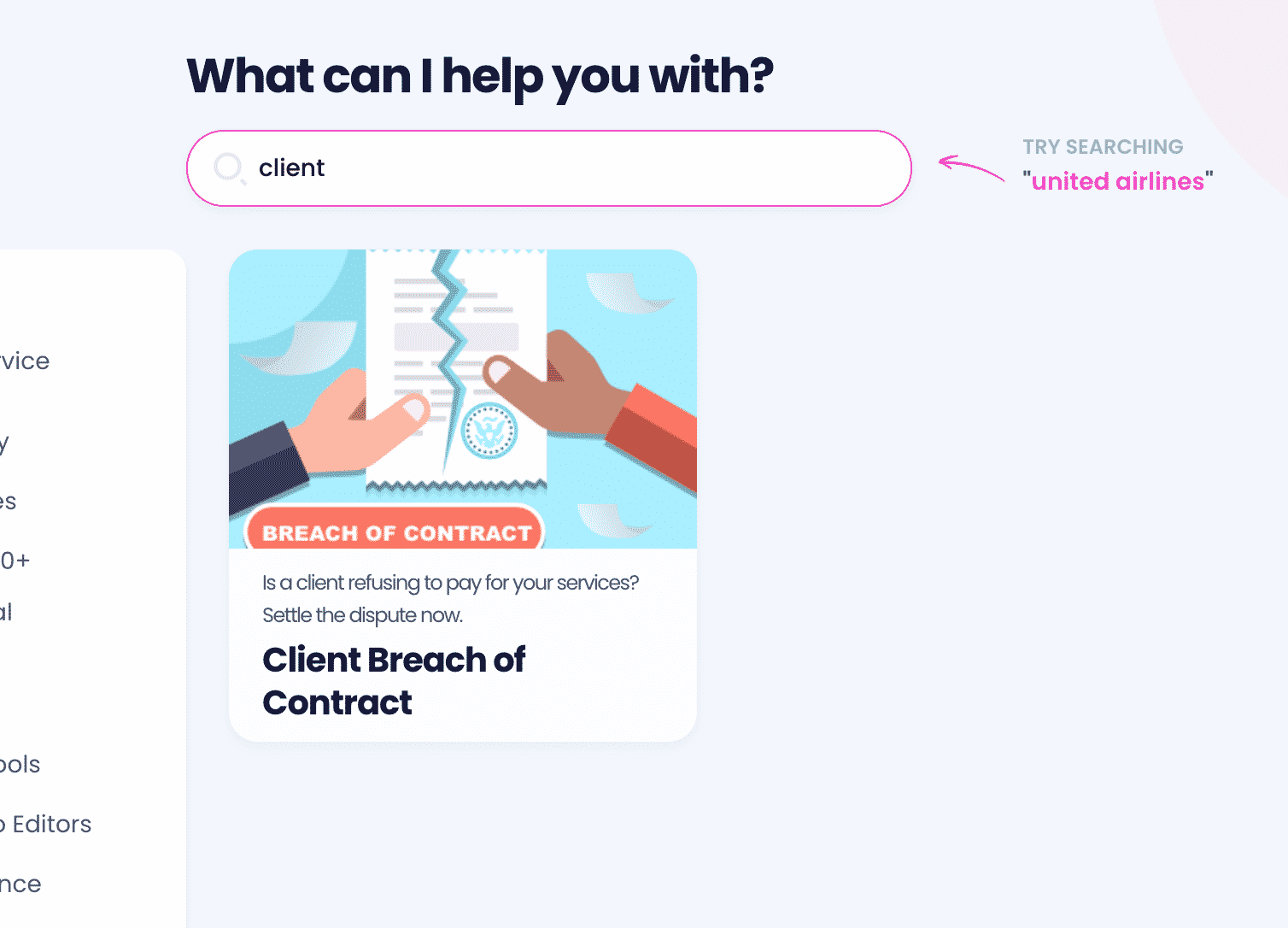 You can find practical guides to creating a demand letter in different states in the following table:
Suing a Home Seller for Breach of Contract With DoNotPay's Help
If you need assistance with suing a seller for breach of contract, you should let DoNotPay help you take the breaching party to small claims court and seek justice there. We received the Louis M. Brown Award for Legal Access in 2020 and can handle various administrative matters with ease.
We will gather all the paperwork, fill out every required court form, and submit the complaint on your behalf. DoNotPay also creates a script based on persuasive arguments to use in court.
When it comes to the breaching party's defenses, we have the information you will need to combat them and win the case easily.
DoNotPay Helps You Do Everything by the Book!
Are you confused by the numerous business-related laws and procedures? If you cannot seem to get the hang of all of the processes, you should rely on DoNotPay. Allow your robot lawyer to help you take care of Employer Identification Number (EIN) and DMCA agent registration in a matter of minutes!
Once you handle those tasks, you should consider using DoNotPay to register your business slogan, name, or logo as a trademark and protect your brand by allowing us to check for trademark violations regularly.
Not sure how to handle 83(b) election forms? Automate the entire process and have your employees fill out and submit the forms in a few clicks! We can even help you protect the privacy of your clients by filing a self-certification request with the Privacy Shield program on your behalf so your website complies with data protection requirements.
Running a Business Is Smooth Sailing With DoNotPay
DoNotPay has a solution for any business issue. We can help you:
Draw up a professional and convincing small business loan request letter and get the necessary funds for your business
Report unjustified negative reviews that could damage your brand until they are taken down
Request payment from clients who break the contract
Dispute chargeback requests when they are unfair
Send letters or paperwork without going to the post office