Putting the Secure in Security Deposit Agreements
When you sign a residential lease agreement, it usually comes with a security deposit agreement. Security deposit agreements are documents used to protect landlords in case of property damage and tenants when landlords wrongfully withhold, increase, or deduce deposits.
Sounds a little confusing? You want to protect yourself but don't know how to write legal documents or contracts? DoNotPay will help you learn more about how security deposit agreements work and how to make them on your own.
Why Are Security Deposit Agreements Important?
Landlords should use security deposit agreements when they are leasing a property to someone they don't know or trust. If any damage to the property occurs while the lease agreement is in effect, landlords can rely on the deposit to cover the expenses.
Tenants should use these agreements to ensure consumer protection and to avoid unreasonable deposit deductions by the landlord.
Remember that landlords must refund the entire deposit amount if they do one of the following:
Fail to deliver a complete receipt within a month of getting the deposit
Fail to put the deposit in a separate bank account
Don't allow tenants to see their deposits and repairs records
Request from tenants to give up their security deposit rights
Fail to deliver an itemized list of deductions and repairs
Don't return the deposit balance at all
How To Make a Security Deposit Agreement From Scratch
DoNotPay is here to guide you through the drafting process and help you create a security deposit agreement on your own.
Every security deposit agreement needs to state the following:
Deposit amount—the exact deposit amount you will pay your landlord
Deposit storage—some states, like Massachusetts, require the money to be held in escrow. If your landlord doesn't inform you where they're storing the deposit, they lose the right to keep it
Interest rate—in case the landlord deposits the money in an interest-bearing bank account, they must inform the tenant of the interest rate
Deposit deductions—all the reasons the landlord can keep a part of or the entire security deposit
Deposit return—the deadline to return the money to the tenant after they move out. In some states, the law regulates those deadlines
Deposit Amount Limits and Return Periods
Depending on your state, amount limits and return deadline regulations can vary. Take a quick look at security deposit limits and return periods in different states that you should mention in your agreement:
State
Security Deposit Limit
Time Limit for Return
Alaska
Two months' rent (no limit if monthly rent exceeds $2,000)

14 days with a notice of termination
30 days without notice or if there are deductions

California

Two months' rent for an unfurnished property
Three months' rent for a furnished property

21 days
Connecticut

Two months' rent for lessees under 62
One months' rent for lessees that are 62 years old and older

30 days after lease termination
Florida
No limit
Within 30 days of a written notice
Illinois
No limit

30 days from the day a tenant moves out if there are deductions—obligatory written notice
45 days after a tenant moves out, if the landlord intends to return it in full—written notice not necessary

New York

No limit
One month's rent for rent-stabilized property

14 days from the time the tenant moves out
New Jersey
One and a half month's rent—the landlord can increase it but not more than ten percent per year

30 days after the lease gets terminated or a tenant moves out
15 days if a tenant moves out because they're a domestic violence victim
Five days in case of an accident, natural disaster, or condemnation of property

Ohio
No limit
30 days of the tenant moving out
Make Legal Documents With DoNotPay—Your Budget's Savior
When the budget's a little tight, but you need help with legal documents, DoNotPay can help you make them in a few steps:
Open DoNotPay in your web browser
Type in the name of the document you want to create
Provide relevant information to our chatbot
Once everything is set, we will send you your custom document.
You can draft all kinds of documents on our platform, including: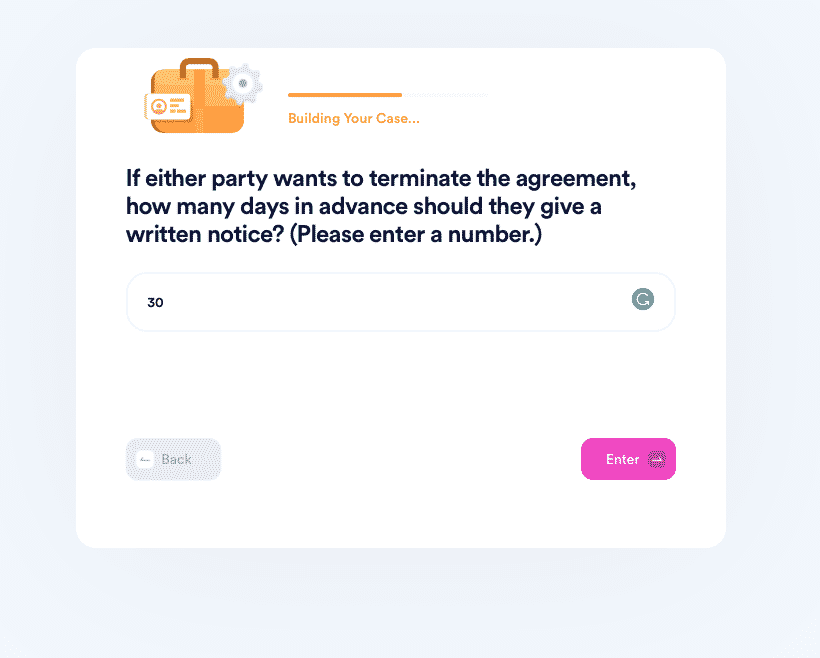 What To Do if You Don't Get Your Security Deposit Back
If you didn't get your security deposit back, do this:
Fill and copy a Request for Return of Security Deposit form
Mail the form to your former landlord via certified mail and request a return receipt
Save that receipt as proof of your request notice
Wait seven days for the landlord to respond
If your landlord doesn't answer or refund the security deposit after the seven-day notice, you can sue them in small claims court with the help of DoNotPay—a recipient of the prestigious ABA Brown Award for Legal Access.
Sign up to get access to all of our app's features!
Need Some Extra Money? Find Unclaimed Funds or Get Compensations
Whether you need help with bills, you're strapped for cash, or you just want to get your money back but you can't bear dealing with customer service, we know what to do!
DoNotPay can help you overturn your parking tickets, apply for a college fee waiver, lower your property taxes, and get free raffle tickets. We can also show you the best way to discover your unclaimed money and obtain different types of refunds and compensation involving airlines, gift cards, and late deliveries.
Do Not Let Companies Burn Your Pocket—Fight Back With DoNotPay
In the golden age of consumerism, it's easy to fall for greedy corporations' tricks and waste your money, sometimes without even knowing it. We are here to nip the money-grabbing techniques in the bud!
With your DoNotPay account, you'll be able to sign up for free trials without worrying about losing money once the trial expires. Are you also concerned about your privacy since most free trials require credit card info? With DoNotPay's virtual credit card, your privacy will remain intact.
Say goodbye to drawn-out refund and cancellation processes with the virtual assistant extraordinaire by your side.
If you need help returning an item or claiming its insurance or warranty, we'll help you throughout the entire procedure.