Create a Bullet-Proof Security Agreement
Anyone who needs a loan must be willing to sign a security agreement. This document makes the transaction between the creditor and the debtor safer by outlining credit conditions.
DoNotPay can help you understand the most important security agreement sections and create any legal document easily!
What Is a Security Agreement?
A security agreement is a contract between a creditor(lender) and a debtor. It is designed to secure personal and commercial loans owed to the creditor. Security agreements should provide lenders with a security interest in an asset offered as collateral.
Loans are common between a bank and a business or between two businesses. Security agreements make lenders feel more confident about a loan. They outline the terms for repaying the debt and the consequences if the debtor defaults on the loan.
What Are the Terms of Security Agreements?
Businesses and individuals often need to take on a loan to fund their operations. While some lenders approve credit based on the debtor's word or interest payments, others require stronger insurance.
Lenders are often reluctant to approve the loan without outlining the following:
Provision for the advancement of funds

Repayment schedule

Insurance requirements
The creditor requires the debtor to offer collateral on the loan until the debt is paid. The collateral serves as a promise from the debtor that the loan will be paid. The lenders frequently accept tangible and even intangible property, such as patents or receivables, as collateral for the loan. If the debtor can't pay off the credit, the creditor has the right to seize the assets offered as collateral.
Both creditor and debtor must sign the security agreement. The borrower may ask an individual or an organization to pose as a guarantor for the loan. The guarantor promises to take on a loan if the borrower can't pay it back.
After signing, security agreements should be perfected and notarized. These steps are not mandatory but provide extra safety for those with a security interest.
UCC Security Agreement
in a Nutshell
Many security agreements include the Uniform Commercial Code -1 (UCC-1) statement. It is a statement the creditors make to publicly announce their rights to the debtor's personal property.
The UCC-1 form's function is to ease the process of seizing assets from borrowers who default on their loans. They help lenders obtain court orders and other resources to collect collateral.
The UCC-1 forms serve as a lien on the collateral. A business loan contract needs to incorporate completed UCC-1 forms to be effective.
The form should contain detailed information on the debt and the assets that serve as collateral.
Lenders have the right to file two types of UCC-1 forms:
Specific collateral lien

—Gives lenders a right to the real estate property obtained with the loan

Blanket lien

—Provides the lender with the right to various assets as long as they are described in the UCC-1 form
What Should a Security Agreement Contain?
Before you decide to draft a security agreement, you must familiarize yourself with its most important elements. Take a look at the table below for more details:
Security Agreement Information

Description

Personal information

Information on both parties includes:

Borrower's and debtor's full names and addresses

Full legal name of the company in case the borrower is a business entity

Transaction details

Transaction details involve:

Originally owed amount

Interest rate

Approximate date when the interest will start to accumulate

Prepayment

Prepayment refers to the debtor's right to pay the loan ahead of schedule. If you allow that, you may deny yourself of receiving steady, regular payments from the debtor, as well as collecting predictable interest

Payment details

Payment details refer to repayment terms, such as whether the debt will be repaid:

Every month

With a one-time payment

On the lender's demand

Collateral

The agreement must contain a detailed description of the asset the debtor will use as collateral

Notary and witness

You should have a witness or a

notary

sign the agreement since they can attest to the document's validity

Personal recourse

Personal recourse allows the lender to hold the debtor personally responsible if they default on a loan

Co-signer

You can include one or more co-signers to guarantee the repayment of the debt if the debtor defaults on payments

Perfection

Make sure no other creditor has a claim on the collateral by signing and filing a UCC-1 form within the debtor's state or local jurisdiction
Write Any Contract With DoNotPay Easily
Now that you know the basics of writing a security agreement, use our learning center to improve your knowledge. Find out how to write any contract and whether using contract templates is a good idea.
, such as:
Quitclaim Deeds

General Affidavits

Promissory Notes

Estoppel Certificates

Intent To Purchase Real Estate Documents

General Business Contracts

Child Care Authorization Forms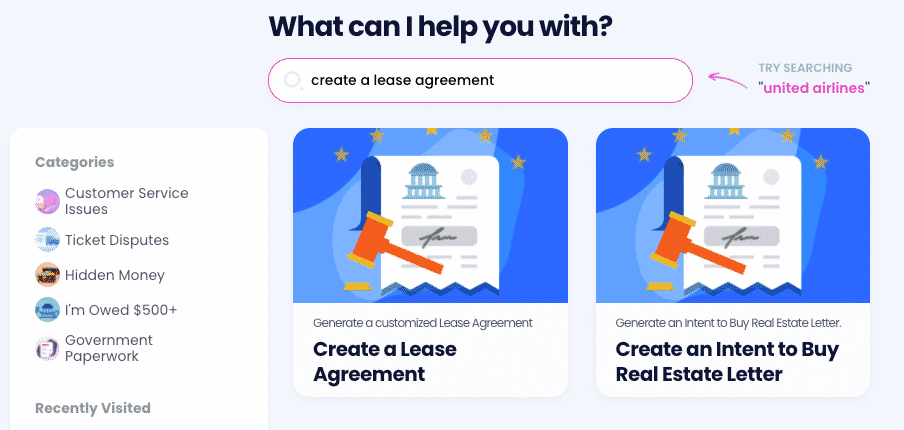 How To Create a Security Agreement With DoNotPay
After you provide some basic info about your contract requirements, we will create a personalized document from scratch!
All you need to do is:
Enter the name of one of the documents from above

Wait for your tailor-made contract to arrive!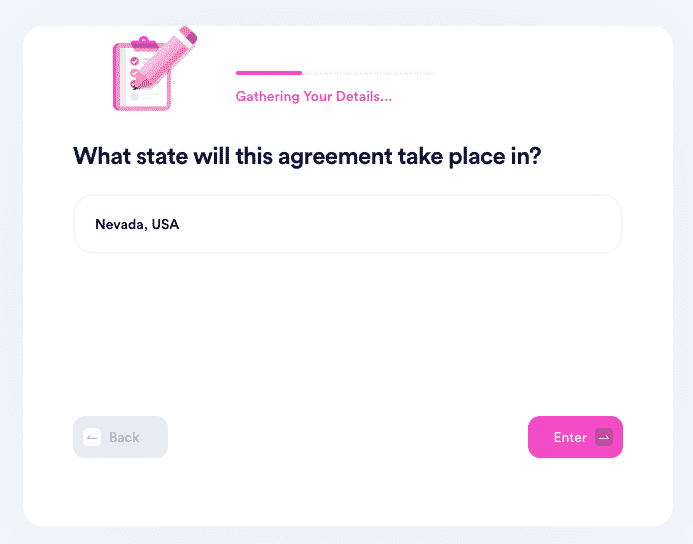 DoNotPay Keeps Your Privacy Intact
DoNotPay can help you surf the web safely and securely. No need to provide your personal information to every company whose service you'd like to take for a test drive. Our Virtual Credit Card and Burner Phone products shield your data from prying eyes and dishonest merchants.
Feel like subscribing for a free trial? Make it truly free and avoid automatic membership renewals with our card. It can also help identify spammers and potential scammers who send bothersome robocalls and robo texts your way. As soon as they act on the virtual card number, DoNotPay will unmask them and demand compensation!
DoNotPay Can Help You Bring Any Business to Justice
Should a company refuse to grant you a refund or compensation, our app will help you take them to small claims court!
We'll help you cancel the service in question to avoid any future charges, and we'll call their customer service so you can get info on your denied request. We'll draft the relevant court documents for your jurisdiction and give you instructions on filing them.
More Nifty Features That'll Make Your Day
You may not have breach of privacy issues or reasons to bring someone to court, but you surely have ample motivation to save or earn a few dollars here and there—especially if we catch you unawares!
DoNotPay can show you how to reclaim funds that you didn't know were under your name or make a denied warranty appeal to any company. We streamlined the processes of requesting refunds, college fee waivers, airline flight compensation, parking infraction dismissals, as well as applying to clinical trials that pay!