All About the Japanese Consulate in Seattle
Whether you are a Japanese citizen living in Washington or a US citizen planning on a trip to Japan, the Japanese Consulate in Seattle offers help on all of your travel and documentation needs!
We've gathered all the information you need to know about the Japanese Consulate in Seattle. This article will go over all that there is about the Consulate General of Japan in Seattle, including how and what they can help you with and how DoNotPay's AI-powered robot can contact the consulate for you!
Where is the Japanese Consulate in Seattle?
The Japanese Consulate is located near Downtown Seattle and Pike Place Market, just a few blocks away from the Seattle Public Central Library. Here is the address of the consulate:
701 Pike Street #1000, Seattle, WA 98101, USA
If you are taking public transportation to the office, here are some of your options:
If you want to take the bus to get there, you can take one of the following routes: 43, 49, 545, 60, 8
For the light rail, you can take LINK. The consulate is located 10 minutes by walk from the Westlake station.
The Contact Information of the Japanese Consulate in Seattle
The table below shows all the ways you can contact the consulate, in case you wanted to contact the consulate yourself:
The Consulate General of Japan in Seattle does not accept any visa applications for the time being until further notice. They only accept the applications if it is an emergency for an exceptional situation such as a death in the family or serious illness.
The Seattle location serves those living in or located in the state of Washington and Montana. It also assists those in Idaho in these counties:
Boundary
Bonner
Kootenai
Shoshone
Benewah
Latah
Nezperce
Clearwater
Lewis
What Matters the Japanese Consulate Can Help You With?
The table below shows a list of all the services the Japanese consulate in Seattle can help you with.
Border Protections to Prevent Spread of COVID-19

Denial of Permission to Entry
Denial of the Re-entry from Certain Countries Designated in Response to Coronavirus Variants of Special Concern on Border Measures
Quarantine Measures
Suspension of Visa Validity
Suspension of Visa Exemption Measures
Restrictions on Airports for Arrival
Only Allow Entries of Foreign Nationals with Special Needs

Visa

For now, they are unable to respond to visa-related inquiries made through their website and advise you to contact the Consular Section of the Embassy or Consulate General of Japan nearest to you for more information.
Visa Application Procedures
Visa Application Documents
Inquiries Concerning Visa

Certification

What is an Authentication/Apostille?
Application Procedure Guide
Download Application Form

Information About Japan

The Government & Policies
Culture & Technology
News
Tourism
Education
Business

The Huge Convention (Convention on the Civil Aspects of International Child Abduction)

Implementation of the Hague Convention
Before Travelling Abroad with a Child
Assistance in Child's Return to Japan
Helps With Visitation or Contacts with Child in Foreign Country
Helps in Child's Return to Foreign Country
Helps Visitation or Contacts with a Child living in Japan
Mediation
Legal Aid for the Hague Convention in Japan
Contacts, Videos, Brochures, Symposia & Seminars

Judicial Processes and Documents

Civil Trial
Commercial Trial
Criminal Trial

Residing in Japan

Specified Skilled Worker
Disaster Information

Japanese Passport

Country Signing Certificate Authority
Renewing & Applying for a Passport

Program to Help Japanese Nationals and People of Japanese Descent (Nikkei) Economically.

Application Guidelines
Application Forms
Reports Forms
You Can Contact The Japanese Consulate in Seattle with DoNotPay
Sometimes, you need to do a lot of research before making an appointment. You can call the consulate yourself but this can take time away from you. With DoNotPay, you'll have your very own messenger and personal assistant by your side! DoNotPay can contact any embassy and consulate across the US for you. Here's how you can do it:
1. Search for embassy or consulate on DoNotPay's website or app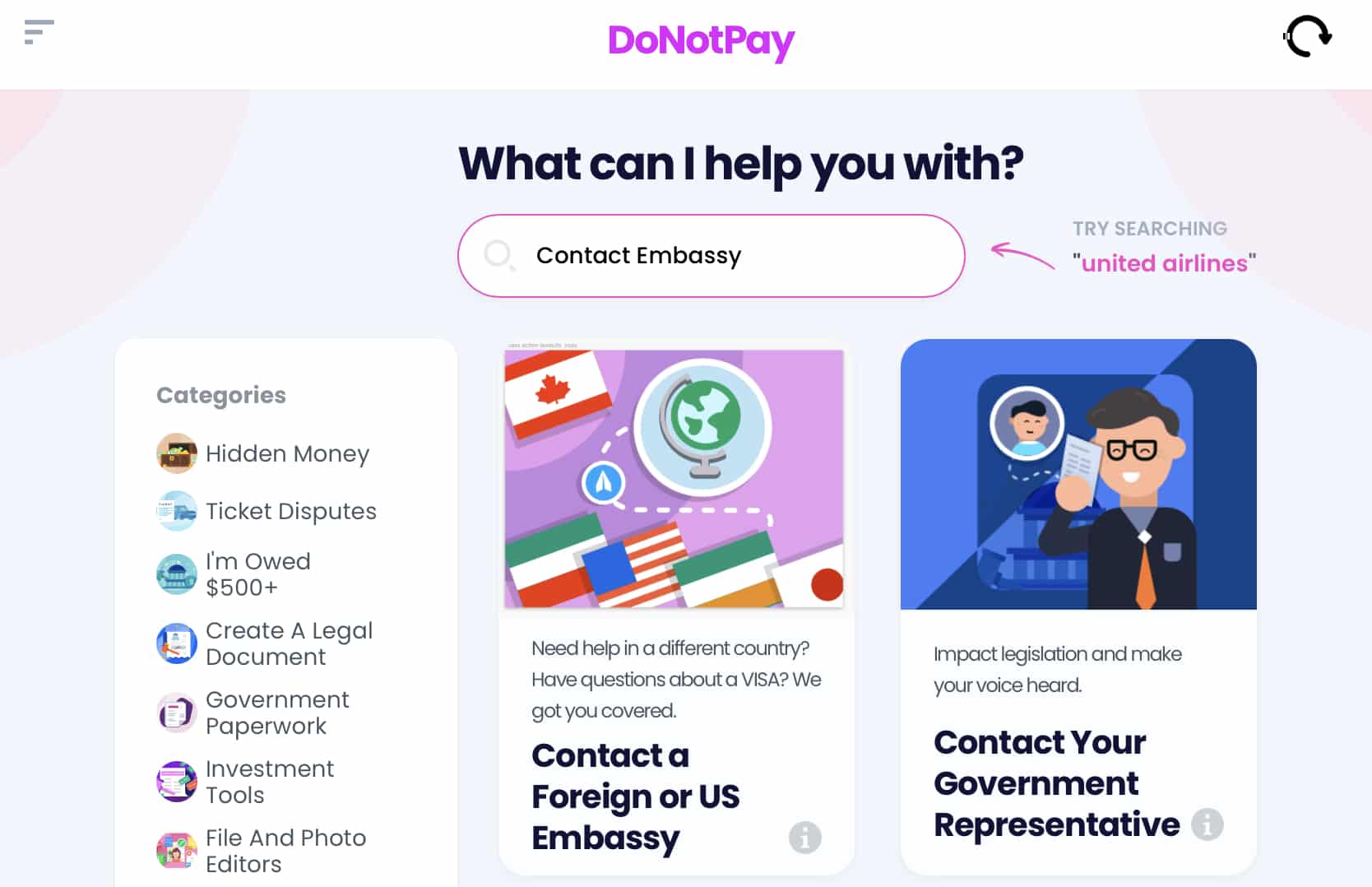 2. Choose to contact a foreign consulate/embassy in the US or a US embassy in a different country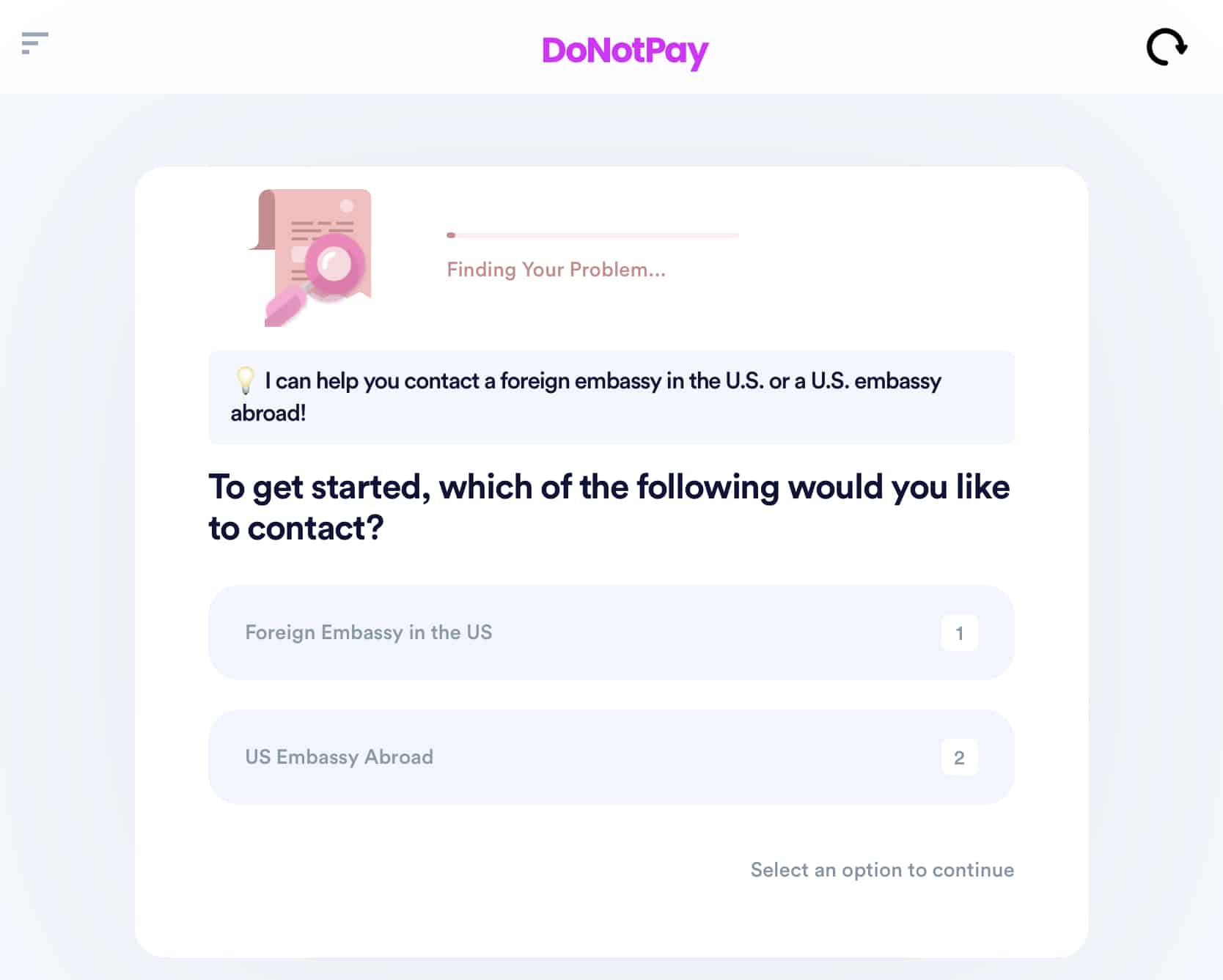 3. Explain any questions or concerns you have that the consulate should be aware of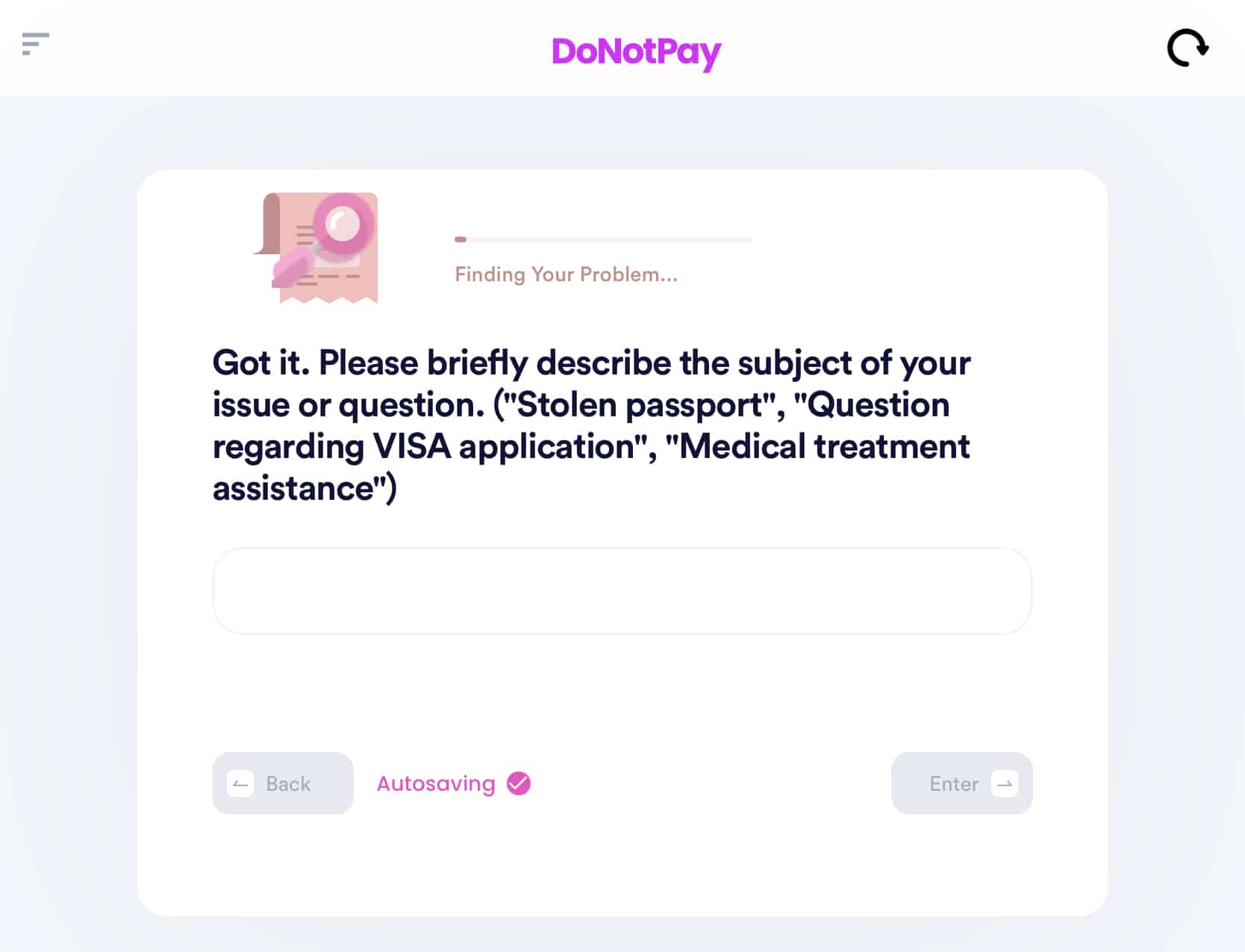 4. Enter the country of the embassy or consulate you wish to reach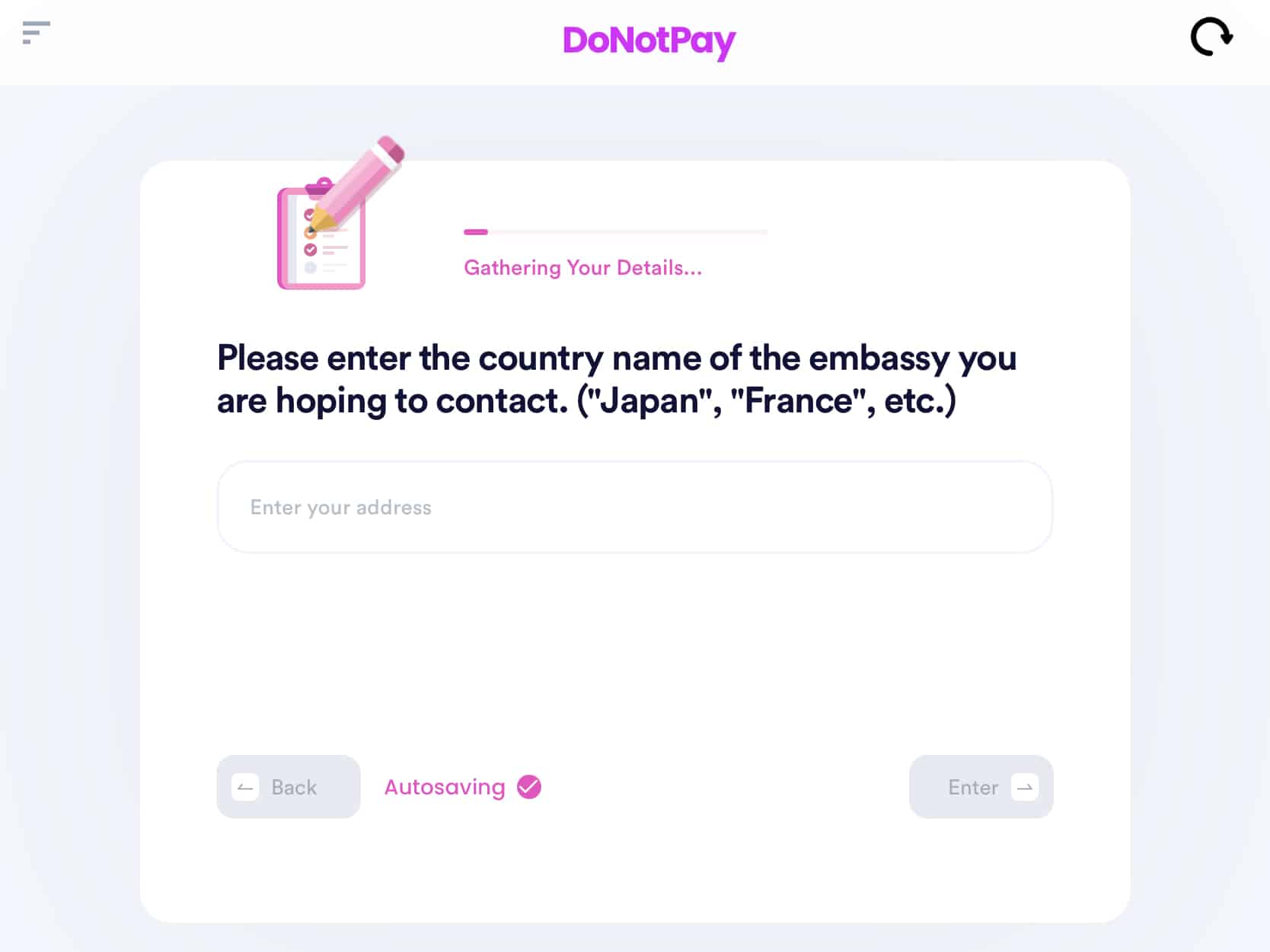 That's it! DoNotPay will write an email addressing all of your listed questions and concerns. We'll even have the consulate send their response to your email!
Embassies/Consulates DoNotPay Can Reach Fast