Fight Scotwest Credit Union Debt Collectors 
Scotwest Credit Union Debt Collectors is a financial institution located in Glasgow. While the credit union has mostly positive reviews, falling behind on debts is always stressful. It can be especially difficult when you do intend to pay but you're just really having a hard time making ends meet.
If you have debt with Scotwest, the good news is that it is a credit union. Credit unions are generally easier to work with than a bank or debt collection agency. Chances are, you will be able to work out all disputes directly with Scotwest. But if you need to fight debt with Scotwest Credit Union, DoNotPay can help.
Scotwest Credit Union Contact Details
Headquarter Address
Scotwest Credit Union Ltd

13 Elmbank Street

Glasgow

G2 4PB

Hours
Mondays: 08:30 - 17:00

Tuesdays: 08:30 - 17:00

Wednesdays: 08:30 - 17:00

Thursdays: 08:30 - 17:00

Fridays: 08:30 - 16:00

Phone Number
(+44) 0141 227 2390
Email
office@scotwest.co.uk
Online Widget
Contact Form
What to Do if You Are Struggling to Pay a Debt With Scotwest Credit Union
As a credit union, Scotwest is more inclined to work with customers who are having problems with debt. If you are having problems with debt with Scotwest, one of the best things you can do is contact them and explain your situation. 
Scotwest is known for having long wait times on the phone– email is probably the most efficient means of communication. While they try hard to help customers overcome debt problems, delinquent accounts will be turned over to collection agencies.
It will be much easier to work out a reasonable plan with Scotwest versus a collection agency.
Scotwest works with countless nonprofit and government agencies that help people who are behind on debt. You can find a list of these agencies on the Scotwest website. 
What if Scotwest Credit Union Already Transferred My Debt to a Collection Agency?
There are a few different paths you can choose based on your specific scenario.
If the Debt is More Than Five Years Old
If the debt is older than five years, you are likely eligible for debt forgiveness via Statute-Barred debt laws. (The rest of the UK outside of Scotland mandates six years.)
DoNotPay can help verify that old debts are removed from the books (more details below).
The Debt Isn't Yours
Debt collectors are known for making clerical errors.
If you are certain the debt isn't yours, then you'll want to send a Prove It Letter.
If there is a slight misspelling of your name for a debt that isn't yours, you'll still want to send a Prove It Letter.
If the name on the debt is completely different than yours, simply inform the collection agency that they have the wrong person.
The Debt Is Yours and Is Under Six Years Old
Common Problems Working With Debt Collectors
Get Help With DoNotPay
DoNotPay can help in a variety of ways when it comes to debt collection. We will ask you a series of questions about your situation and provide a recommended course of action. Our automated system can quickly determine if the debt collector is violating regulations established by the Financial Conduct Authority (FCA).
Depending on your scenario, we can submit a Prove It Letter to the collectors, demand that the collectors stop contacting you or file a formal complaint to the appropriate governing body.
To get started, simply follow these three easy steps:
1. Search for the "debt collection" product on DoNotPay.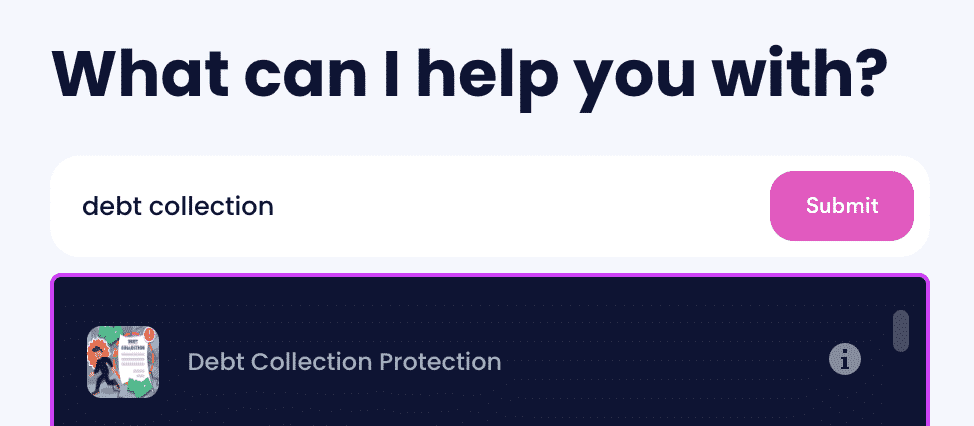 2. Answer some questions about the debt collectors, including when and how you were contacted. That will help us determine if any regulations were broken.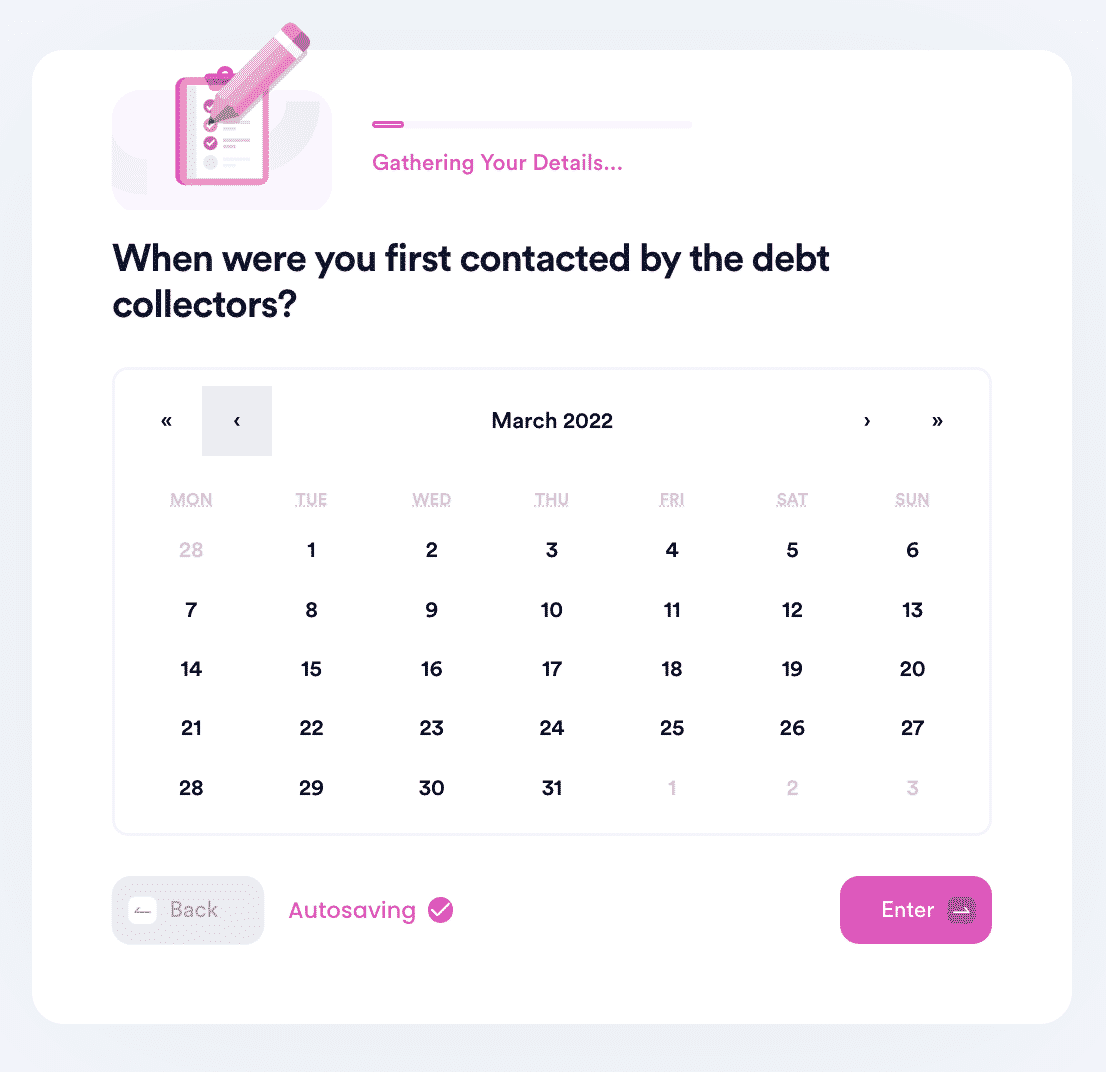 3. After providing you with recommended guidance, you get to choose what you think the best course of action is.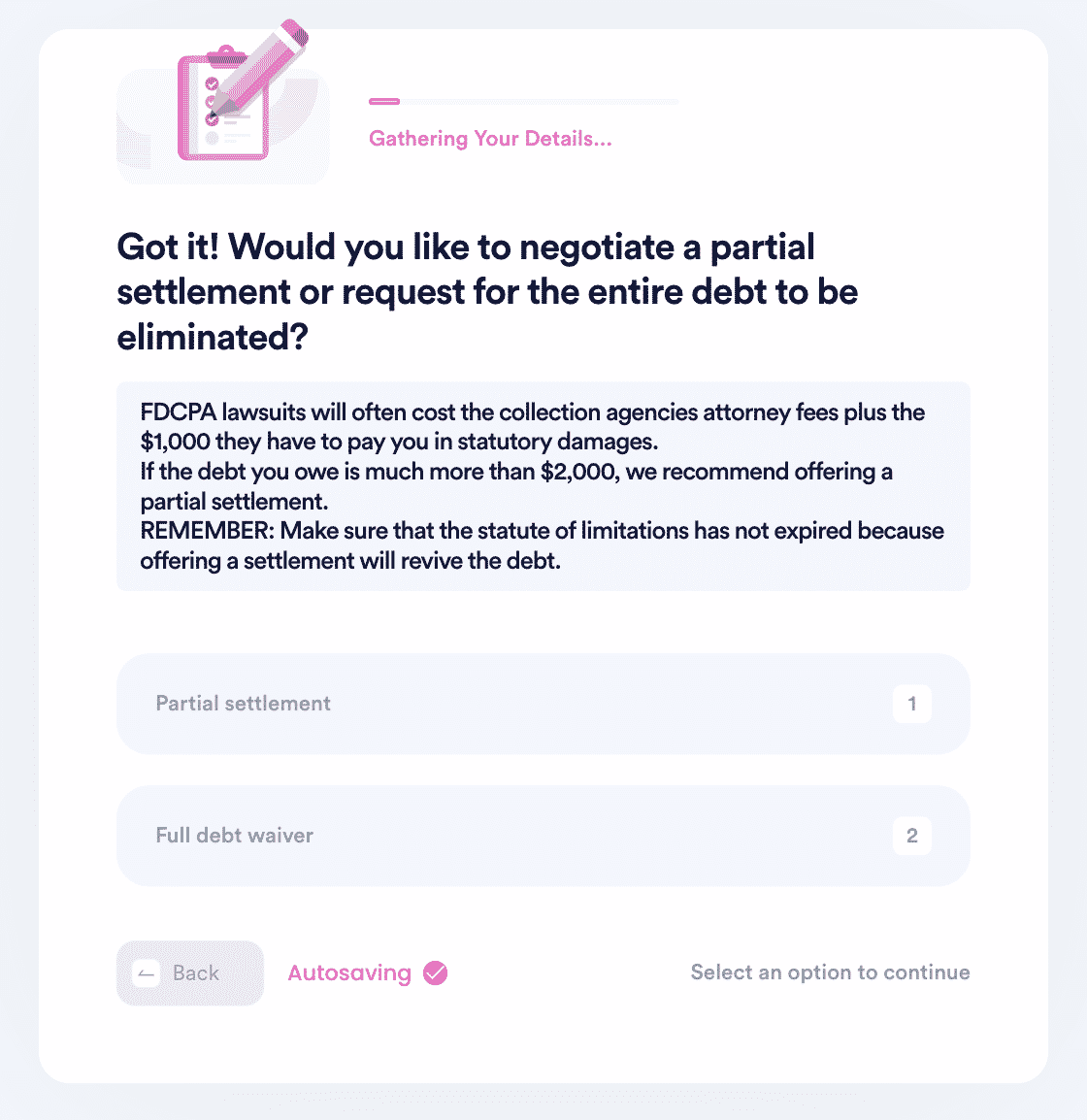 What Else Can DoNotPay Do? 
DoNotPay started as a platform for people to fight unfair parking tickets. After managing a quarter-million cases in both the UK and the USA, we have since expanded our services to offer a large variety of products. We have become so successful that we won the Brown Award from the American Bar Association.
Debt Collection Services
More Services From DoNotPay
No matter what legal conundrum you may have, this AI-powered lawyer has got you covered. Sign up with DoNotPay right now and experience doing everything in a quicker and more convenient way!