Get a Scoping Documents Template That Drives Your Project Towards Success
Projects succeed or fail depending on how well they are planned. One of the most important project planning tasks involves defining the scope of the project. With a solid scoping document, everybody's expectations can be managed successfully.
Most legal documents are difficult to create, and hiring a lawyer can get expensive. DoNotPay can help with contract templates and advice on how to write a contract. Read on to get the scoping document template you need to ensure your project is successful.
What Is a Scoping Document?
A scoping document is an agreement between the project manager or project owner and the people responsible for delivering the work, who are called delivery agents. If the delivery agents are external suppliers, the scoping document is a contract and hence should be legally enforceable.
Every project should have clearly defined goals if it is to be successful. The more exactly you define the scope of the project before you start, the better you will be able to track its success both during and after completion.
A scoping document sets out:
Scoping Document Element

Explanation

Project goals

This defines what the project aims to achieve and includes the work that should be performed as part of the project

Key deliverables

The deliverables refer to the benefits the project manager should see as a result of the project. These could include:

Improved efficiency

Faster communication

Increased sales

Higher productivity

Timelines and milestones

Including the completion date and the major milestones in the scoping document means that you can make sure the project stays on track

Requirements

The scoping document should define what resources are needed to make the project viable

Barriers to success

You should list any constraints or barriers that may affect the success of the project, as well as your plans to mitigate the risk
What Should a
Scope Documents Template
Look Like?
You should start your scoping document by stating the:
Parties to the agreement

Overall project description

Date of the agreement
The scoping document also needs to contain the following points:
Expected deliverables

Overall project timeline

Milestones

Reporting requirements

Fees
Expected Deliverables
You should define what work you expect to be completed in the project clearly. The more detail you include in this section, the better you can avoid conflict during the project and after completion.
You can include the full work breakdown structure in this section.
Overall Project Timeline
This section should include:
Project start date

Target completion date

Breakdown of project phases with start and completion dates
Milestones
You should set out what needs to happen by when to make sure the project stays on track. Milestones allow you to see the progress of the project and correct any issues before they become threats.
Reporting Requirements
You can require regular reports from the delivery agent, and you can define what these reports should contain.
Fees
You must define the fees you will pay for the work, and you can stipulate fee structures that are dependent on:
Milestones being reached

Reports being submitted on time

Satisfactory completion of the project
You can also build in a percentage of the full fee that is withheld until final inspection and project handover has been completed. This means that any snags you identify need to be rectified before you pay the final tranche of the project fee.
Many project managers withhold 10–20% of the full project fee until handover is completed.
What Do You Need To Complete the Scoping Document?
After you have written the project scope above, you should add the following clauses:
Clause

Explanation

Breaches

You should define the situations that would represent a breach of contract. These could include:

Non-delivery of scope elements

Not reaching milestones

Delays caused by the delivery agent

Quality issues

Missing reports

Guarantees and warranties

The delivery agent should offer guarantees and warranties to ensure their work meets the standards you need and delivers against your requirements

Termination

You can define the terms under which the contract can be terminated

Governing law

You should define the applicable state law that governs the agreement. This will usually be the state in which the project takes place
Can DoNotPay Help With a Scoping Document?
The above template should be all you need to create a solid scoping document, but you and the delivery agent will need to sign it and have it notarized to make it legally binding.
DoNotPay is your one-stop resource for your legal document needs. We have a range of templates that you can customize to your requirements with a few clicks—all you need to do is:
Navigate to DoNotPay and

Search for your required document

Fill in the details you want

Wait for us to generate your document in a flash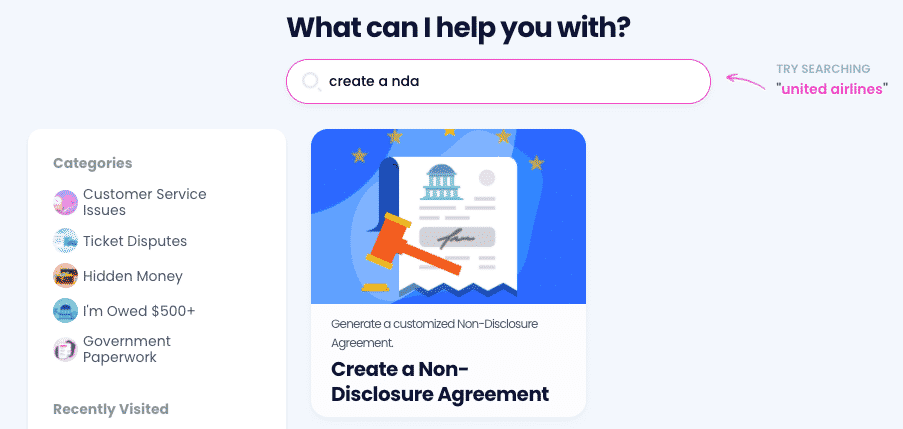 DoNotPay Can Help You With Other Legal Documents
Our range of is growing all the time. Here are a few examples of what we have to offer:
Business:
General business contract
Property:
Estoppel certificate

Quitclaim deed

Intent to purchase real estate
Personal:
General affidavit

Promissory note
DoNotPay Breaks Down Communication Barriers
Communication and new technologies walk hand in hand, and DoNotPay can smooth out any bumps on that road. On our platform, you can find useful tools for avoiding phishing emails and text messages, sending faxes online, stopping annoying robocalls, or signing up for new services without phone verification.
Contacting customer support is no party, but DoNotPay can make the process so much easier, whether you need to request a refund, demand compensation for a canceled flight, or file a warranty claim.
You can even use our platform for locating your loved ones in prison and sending them letters the proper way!
Can Your Virtual Assistant Do This?
Hey, Siri! Make me ready for my upcoming small claims court appearance. No luck? OK, Google! Prepare a DMCA notice for that website that uses my photos without authorization. Still nothing?
DoNotPay is the virtual assistant that won't back away from issues that require legal expertise. Our lawyer bots work around the clock to get you due date extensions for utility bills, reduce your property taxes, or stop stalking and harassment before it gets ugly.
The world's first robot lawyer will provide assistance even with securing compensation for victims of crime!