Science Scholarships in a Nutshell
It can cost anywhere from $10,000 to $120,000 per year to earn an undergraduate or graduate degree in science. Luckily, a variety of scholarships and grants for science are available in the U.S.
This aid is offered by private organizations, colleges, institutions, and the federal government.
If you have any unanswered questions about science scholarships, check out this comprehensive guide prepared by DoNotPay!
Types of Science Scholarships
Many scholarships do not specify a scientific field you must pursue a degree in or are open to more than one field of study. There are also major-specific science scholarships for the following fields:
Physics
Chemistry
Astronomy and astrophysics
Mathematics and statistics
Geology
Meteorology
Once you know what major you're going for, you can try some additional options to finance your studies. Certain scholarships focus on helping students belonging to specific groups or minorities, such as:
How To Find Scholarships for Science Majors
The first place to look for a science scholarship is the financial aid office at the university you want to attend. Many educational institutions offer science scholarships based on merit or need.
You can also try:
Approaching your employers or your parents' employers—if you're employed, your company may be interested in investing in your education, especially if your degree can be useful for your job
Asking in your network—Check with your friends and online contacts about any financial aid they have used or can recommend. LinkedIn might be a good place to start
Googling science scholarships and conducting meticulous research—Don't expect to find every scholarship you qualify for online because some lists you bump into may be incomplete or outdated
If this looks like too much work and you feel like you can't dedicate enough of your time to the search for science scholarships, sign up for DoNotPay. Our app will match you with any scholarships you qualify for in no time!
How To Apply for Scholarships for Science
While most scholarships are available to current college or graduate students, others are targeted specifically at college freshmen. In the latter case, the best time to apply for scholarships is as soon as you start your senior year in high school. Always check the deadlines and eligibility criteria because each scholarship has different requirements.
After finding a scholarship that's the best fit for you, you'll have to fill out an online form. For federal financial aid, it will be a FAFSA (Free Application for Federal Student Aid) form. Additional documents required by most scholarship providers are the following:
A resume
An official transcript or your grades
GPA scores
Who Can Apply for Science Scholarships?
To be eligible for most science scholarships, you must:
Be a U.S. citizen
Be admitted to a science school
Pursue a degree in a field of science
Have a certain GPA
Keep in mind that some scholarships are available to international students as well.
What Are Some of the Best Scholarships for Science?
Some of the best science scholarships in the United States are listed in the table below:
| Scholarship | Award Amount | Who's Eligible? |
| --- | --- | --- |
| Barbara Lotze Scholarships for Future Teachers | $2,000 | Physics majors who intend to teach the subject at the high school level after graduation |
| Edwards Lifesciences Scholarship Program | $2,500 | High school seniors in Orange County, CA or Salt Lake County, UT demonstrating financial need and planning to pursue a major in STEM at an accredited university |
| Hardwood Forest Foundation Educator Scholarship | $2,000 | College students enrolled in an accredited doctoral, master's, or bachelor's degree program for science teacher education in the U.S. |
| Blacks at Microsoft Scholarships | $20,000 | Black high school seniors pursuing a degree in engineering, computer science, or some business programs |
| Payzer Scholarship | $5,000 | Undergraduate students pursuing a degree in engineering, mathematics, physical or biological sciences. They must be enrolled full-time at an accredited college or university |
| Hyundai Women in STEM Scholarship | $10,000 | Graduating seniors and college women planning on a career in STEM-related fields |
DoNotPay Helps You Find Scholarships Without Breaking a Sweat
Using the DoNotPay app, you will get a list of scholarships that are tailored to your needs. We'll tell you who the scholarship sponsors are, why they grant financial aid, and when the application deadline is.
To initiate a scholarship search through our app, you'll need to take four easy steps:
Log in to your DoNotPay account from any web browser
Search for the Apply for Scholarships product
Answer a few simple questions from our chatbot about your:

Level of study
Educational interests
Special qualifications (for example, veteran status)

Click on the Submit button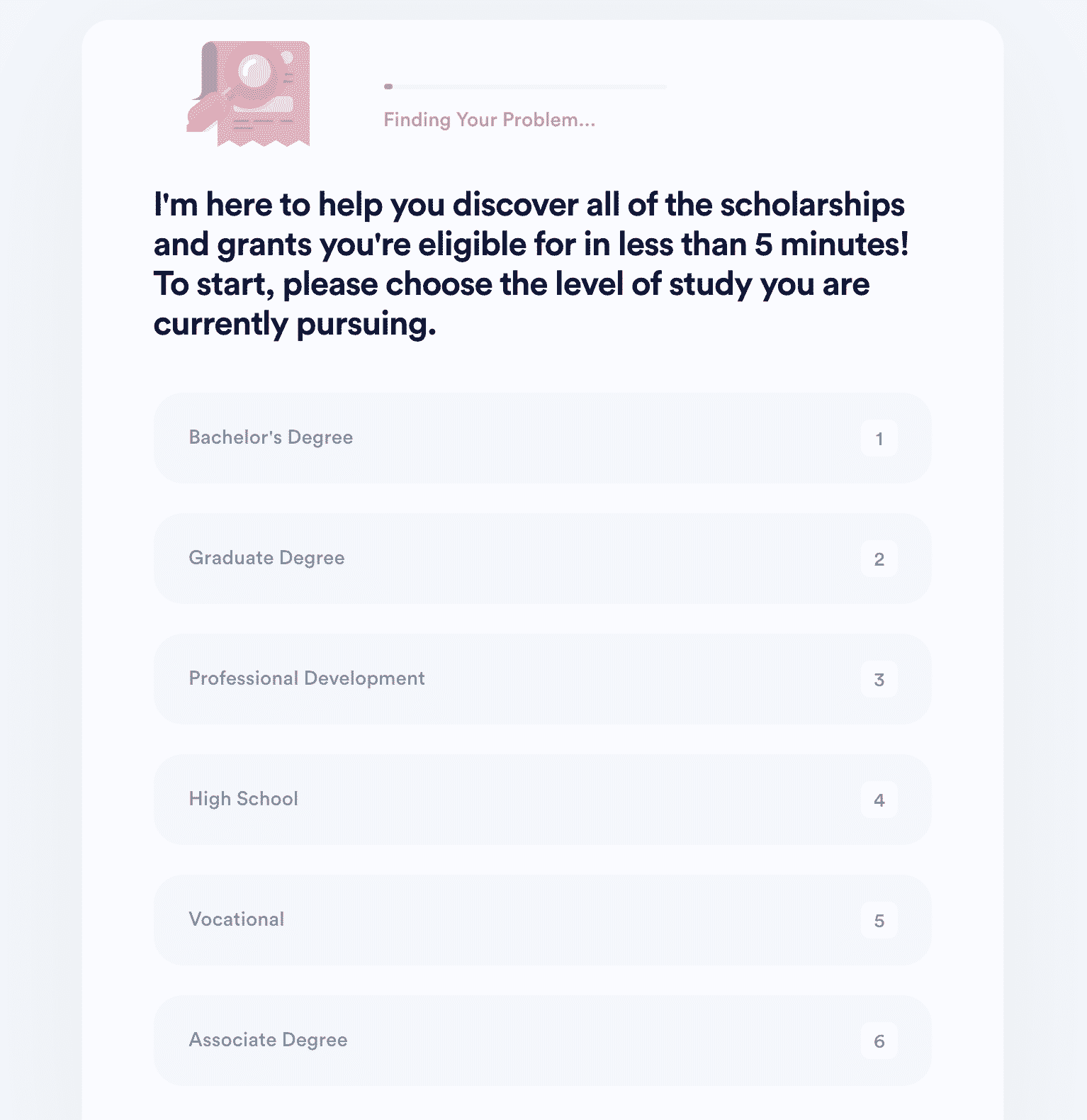 Not only can we match you with all scholarships you qualify for in a matter of minutes, but we can also apply for no-essay scholarships in your stead.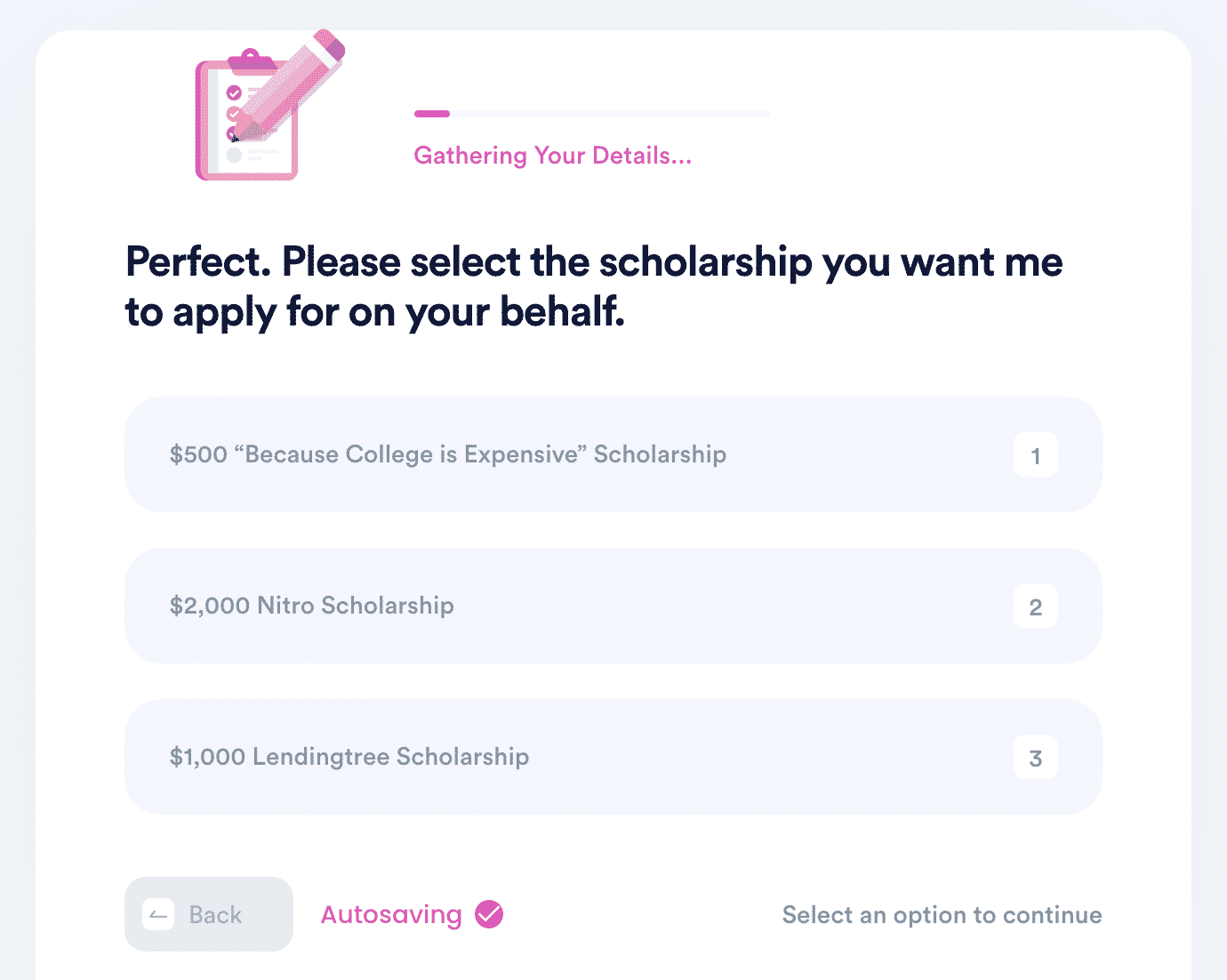 Use DoNotPay To Deal With a Plethora of Bureaucratic Tasks!
Tired of dealing with bureaucracy? We understand the struggle, and that is why our app makes handling administrative tasks a breeze!
Regardless of whether you need to compose a legal document, such as a power of attorney or a child travel consent form, appeal property taxes or your parking tickets, file a financial aid appeal and a FOIA request, or get a document notarized, DoNotPay has got you covered!
In case you also need to submit anonymous HR complaints, our app will provide you with the easiest way to do so!
Go on a Stress-Free Shopping Spree With DoNotPay
Do you like to shop until you drop? With DoNotPay, you won't have to worry about dropping! We'll make sure you can:
If you need more money to continue your shopping spree, let our app help you find any unclaimed funds under your name and enter numerous giveaways and sweepstakes!