A Practical Guide to Scholarships in Texas
Besides having some of the best higher education institutions in the country, Texas provides various student financial aid awards, such as grants and scholarships. With so many opportunities in sight, it's no wonder that many students get confused when it comes to choosing appropriate awards they can apply for.
There are numerous college and grad school aid programs, but finding scholarships that match your qualifications is usually a burdensome and time-consuming task. This is why we bring you an ultimate guide to locating the best scholarships in Texas without breaking a sweat. Find out all about the active award programs in the Lone Star State and learn how to apply for them within minutes if they don't require essays or recommendation letters!
How Can You Find Texas Scholarships?
The first question that may come to your mind when thinking about Texas scholarships is—where can you find them? Here's a list of resources that can be your starting point:
Federal agencies—Federal government proposes numerous financial aid packages for students living in all parts of the USA
State grant agencies—Texas has four state financial aid resources:

Special Education Agency
State Department of Education
State Higher Education Agency
State Adult Education Agency

Financial aid offices of the colleges you are considering—Each university has a scholarship office where you can get more information about the active financial support programs. Some of the most prestigious universities in Texas include:
High school counselors
Local business owners
Library reference sections
Various types of organizations, including:
What Are the Most Popular Types of Scholarships in Texas?
Texas boasts numerous scholarship programs from various resources and for many student groups. The table below presents the most popular award categories and the best scholarships within them:
Type
Scholarships
Scholarships for graduate students in Texas

Texas State Graduate Merit Scholarship
Kenneth H Ashworth Fellowship Program
ATLE Student Scholarship

Scholarships for high school seniors in Texas

Urban Scholarship
Education First Scholarship
British American Foundation of Texas Undergraduate Scholarship
V&E Diversity Scholarship
Austin Board of REALTORS Scholarship
Caleb Tripp Thornton Memorial Scholarship
Association of Texas Leaders for Education Scholarship
Zeta Phi Beta Stork's Nest Scholarship

Scholarships for college freshmen in Texas

LNESC Emergency Scholarship
Terry Foundation Freshmen Scholarships
Texas Educational Opportunity Grant
NIADA Foundation Scholarship

Other Texas scholarships for college students

British American Foundation of Texas Scholarship
State Fair of Texas Scholarship Program
Texas Advance Commitment
Amarillo Area Foundation Scholarship
How To Apply for Scholarships in Texas—A Simple Guide
Here are some general rules you should follow to apply for most Texas scholarships successfully:
Find the scholarship program you are interested in—Besides specific student groups, you can search the websites of Texas financial aid providers for other award categories. There may be hundreds or even thousands of scholarships for women, veterans, foster youth, homeschoolers, or low-income students
Check the application deadlines proposed by the scholarship providers—Each college, school, or institution has specific time frames for scholarship applications. Inform yourself about them on time to avoid being late and losing the necessary financial support
Determine whether you meet all the eligibility requirements for a specific scholarship—Check whether you need to maintain a particular GPA, complete a specific number of service hours, or perform any other activities to qualify for the award
File a Free Application for Federal Student Aid (FAFSA)—It helps scholarship providers assess your financial need or educational achievements and determine your eligibility for the particular award
Complete and submit a Texas Application for State Financial Aid (TASFA)—Submitting this form qualifies you for state or institutional financial aid packages
Prepare a scholarship essay if required—Present yourself and talk about your life and educational goals, strengths, and achievements
Once you submit your FAFSA and other requested forms and documents and they get processed, the scholarship providers will send you their offers. All you should do is compare the proposed amounts and choose the one that can cover your education-related expenses.
If you are interested in no-essay scholarships, you can skip all these steps and apply for them in a few clicks by using DoNotPay.
Tired of Searching? Let DoNotPay Find Scholarships for You!
What if we told you that we can spare you hours of internet searching and give you a list of scholarships you are eligible for within seconds? That's exactly what DoNotPay can do for you! If you give us a couple of essential details about your education and qualifications, we can extract only the awards you are eligible for.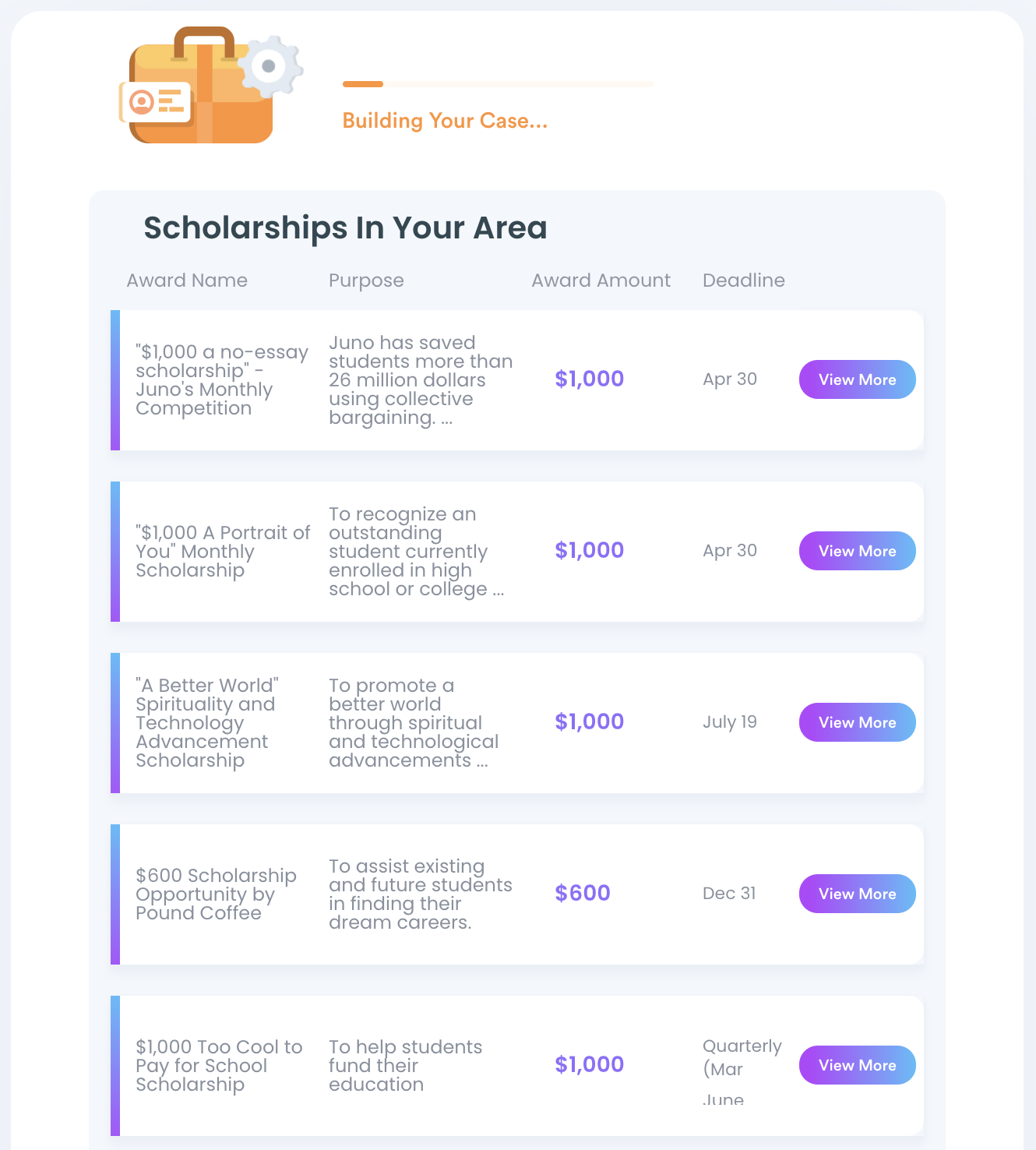 Here's what you should do:
Go to Apply for Scholarships
Tell us what your level of study is
Answer a few of our chatbot's questions to help us understand your qualifications and match you with appropriate scholarships
You can also choose if you want us to apply you for some awards automatically, which means that you can easily avoid lengthy and tiresome procedures.
There Is No Shortage of Tasks DoNotPay Helps You With
If you find finishing administrative tasks tedious, you can rely on our app to assist you through the entire process and make it a smooth-sailing experience. Check out the table below to find out what DoNotPay can help you do:
| Deal With Companies By | Get Rid of Pesky Spammers By | Get Help With Your Studies By |
| --- | --- | --- |
| | | |
Buried in Paperwork? Not for Long!
Is creating legal documents giving you a migraine? Not everyone is acquainted with the law and legal jargon, which is necessary when writing documents, such as:
Luckily, DoNotPay can draft your legal documents in minutes! Why waste hours doing it yourself or hire a lawyer when you can have our app do it in no time?
Creating anonymous HR complaints and demand letters for your inconsiderate neighbors is also something our app does best!