How To Find Scholarships in Oregon With DoNotPay's Help
Oregon is home to over 570 colleges, universities, and high schools. Many students give a lot of money on tuition fees and other education-related expenses. Most of them can't afford that, so they end up with debts they can't repay.
Schools, colleges, institutions, and companies offer hundreds and thousands of grants and scholarships in Oregon with a view to helping out students. In this article, we'll show you what kind of scholarships exist and how you can apply for them.
We'll also explain where you can start your search and help you speed up the entire process.
What Scholarships in Oregon Are There?
As there are many educational institutions in Oregon, different scholarships cater to different levels of study. You will be able to find scholarships reserved for:
You can choose from three types of scholarships:
Federal and state scholarships
Private scholarships
Need-based scholarships
Federal and State Scholarships
The government, together with state institutions, offers numerous scholarships, namely:
Financial aid offered to students of a specific school or college, such as the University of Oregon
State-level scholarships that you can apply for regardless of which school or college you attend
Take a look at this table to learn about various scholarships in Oregon:
Scholarship Name
Requirements
Award
Asian American Foundation of Oregon

Resident of Oregon
U.S. citizen
GPA of at least 2.5

$1,000
Brent Strohmeyer Memorial Foundation

Resident of Polk, Marion, or Linn counties
Enrolled in automotive classes
GPA of at least 2.5

$400
Association for Women Geoscientists Pacific Northwest Center

Pursuing a Bachelor's degree in a geoscience-related field
Resident of Oregon or Washington
GPA of at least 3.2

$1,200
Beverley Swaim Staley Leadership Legacy

Only for women
3.0 GPA minimum
1,000-word essay
Letter of recommendation

$3,500
BBB Foundation—Students of Integrity

Cumulative GPA of 3.0
90-second video about how BBB helps educated consumers
Residents of:

Alaska
Oregon
Montana
Western Wyoming

$5,000
Oregon Community Quarterback

Only for high school seniors
Proven financial need
Involved in community activities

$16,000
Private Scholarships
Private Oregon scholarships and grants are awarded by companies, private funds, and non-government organizations. You can receive both private and state scholarships, but keep in mind that your odds of getting a second scholarship decrease if you receive one already.
An important aspect of private scholarships is eligibility. Most of these programs come with exclusivity, meaning only certain groups can apply for them. You will find scholarships that offer financial help to students who are:
Students in a particular field of study, for example:
Students of faith, such as:
Need-Based Scholarships
If you can't get financial help based on your academic performance, you can seek aid by proving financial hardship. Depending on the program, need-based scholarships can be either loans or non-repayable ones.
To get a need-based scholarship, you need to fill out the Free Application for Federal Student Aid (FAFSA) form and prove your financial need. You can do this by sending either transcripts of your tax returns or your parents' expected contribution.
Where To Look for Scholarships in Oregon
When applying for Oregon scholarships, the most difficult part of the process is finding all programs you're eligible for. Since there are hundreds of options out there, you could spend months searching for a program you can successfully apply for.
If you don't know where to begin and haven't had any luck on Google, we suggest you try the following:
Talk to your school's financial aid office—Almost all schools in Oregon have financial aid officers you can turn to. They will go over your academic achievements and tell you in which direction your search should go
Visit your school's website—Most colleges have a section dedicated to scholarships on their website
Oregon Department of Education—This website lists some of the most popular scholarships for Oregon students
Scholarship websites—Individual scholarships have their own websites containing all the necessary information. This can be useful if you already know what scholarship you'd like to apply for
DoNotPay—Why spend hours and days compiling a list of scholarships you might be eligible for when DoNotPay can do everything in your stead? With our app, you can get a personalized containing all the available programs you can apply for
Applying for Scholarships in Oregon
Every scholarship has a different application process, which means that you'll have to do research on specific requirements before you start applying. Some programs only ask you to fill out a form, while others require you to submit various documents.
Before you apply, you need to make sure that:
You're eligible for the scholarship in question
The deadline hasn't passed
You have the necessary paperwork, such as:
DoNotPay Can Help You Get an Oregon Scholarship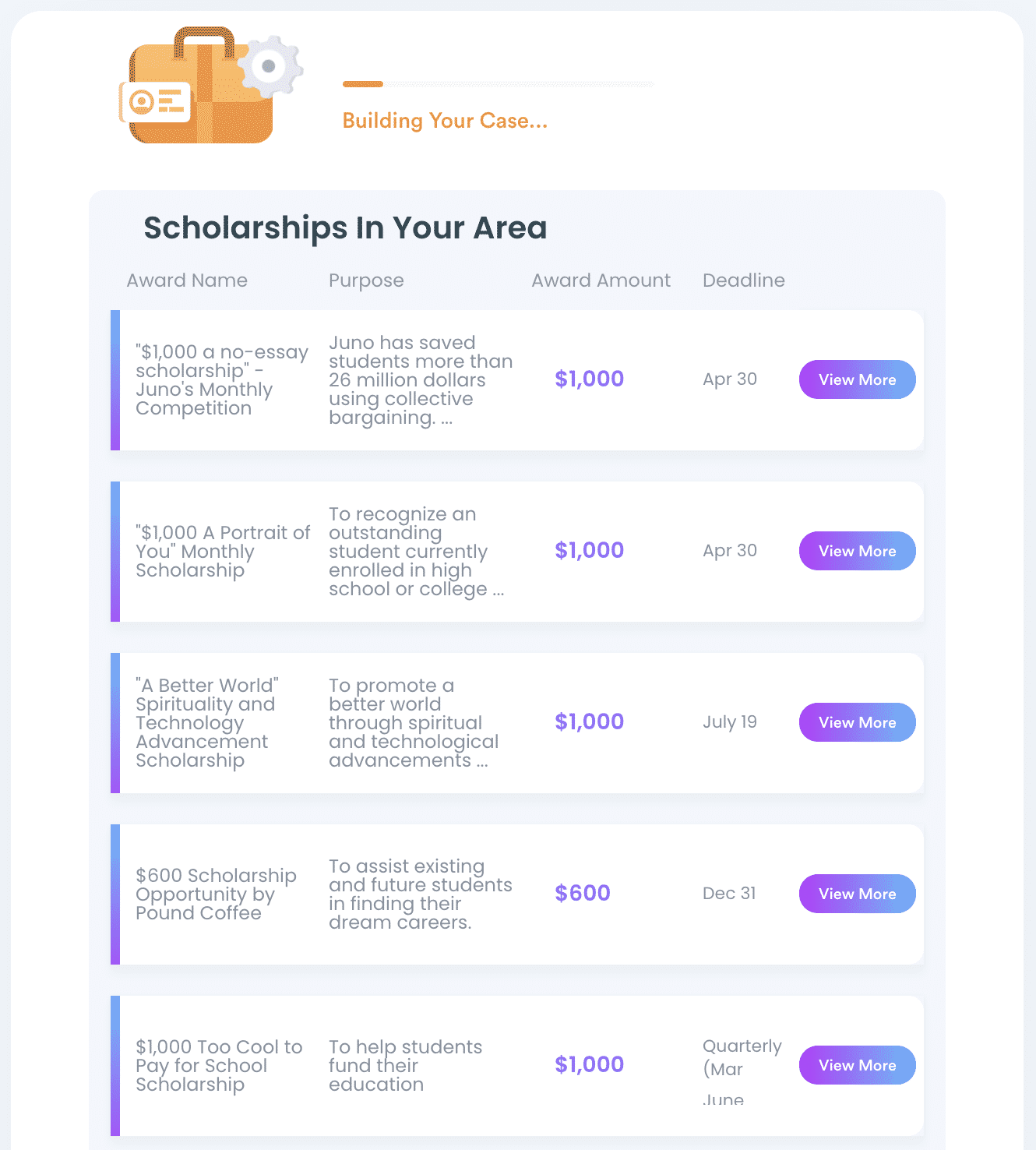 You don't have to spend months browsing through an endless number of websites and sifting through the information about each scholarship. Chances are, you'll give up before you find a program that suits you.
You can make your life easier with DoNotPay! Our app will allow you to run custom searches and get a list of all possible scholarships that are in line with your level and field of study, as well as your academic achievements.
Here's how you can use our app:
Click on the Apply for Scholarships product
Answer a few questions
Choose what type of scholarships you'd like to find
We'll come up with the list and tell you all you need to know about each program.
If the list contains no-essay scholarships that you want to apply for, you can do so within the app. We will apply for the scholarship on your behalf automatically.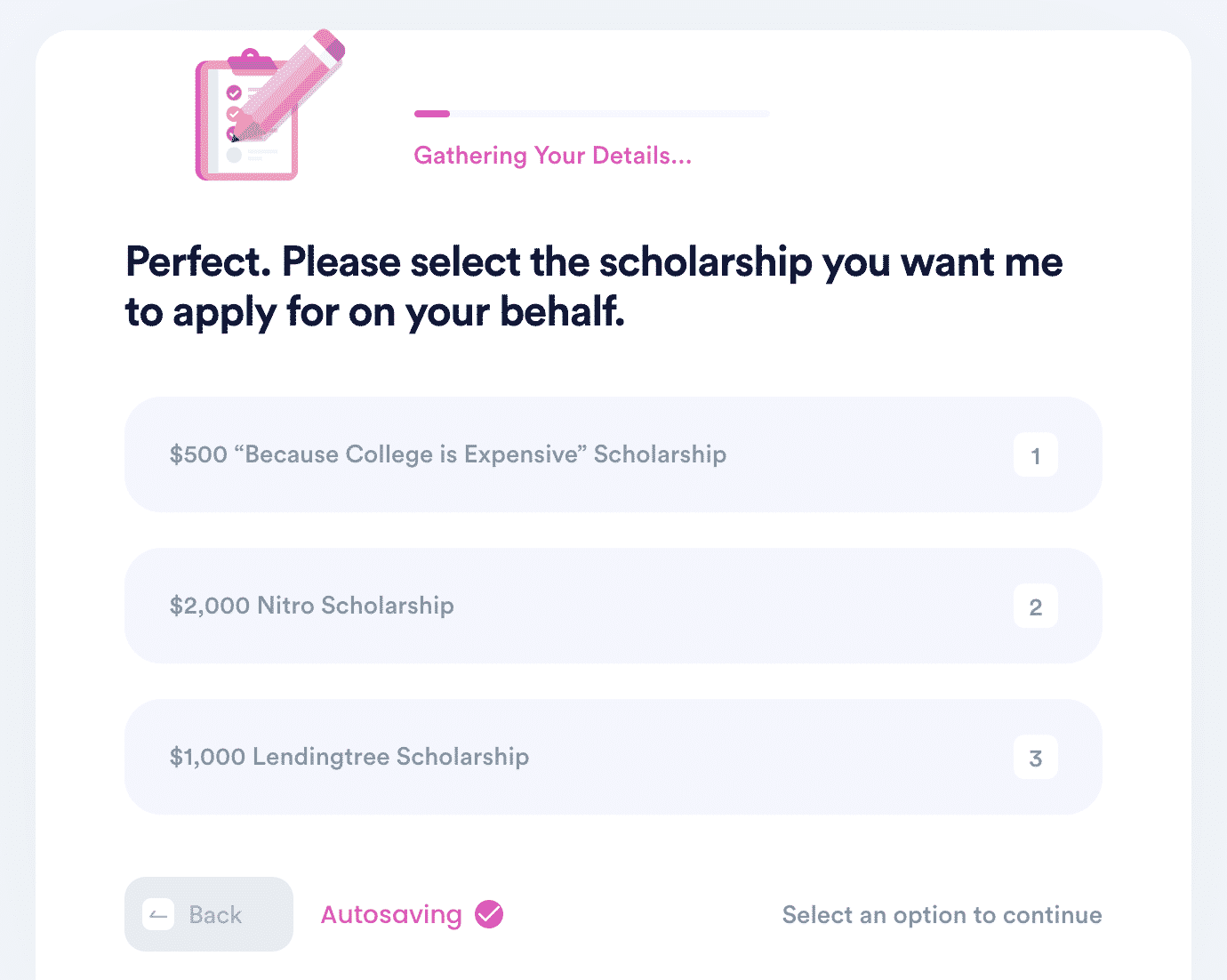 Managing Everyday Tasks With DoNotPay Is a Breeze
Completing mundane tasks doesn't have to be a nightmare! With our help, you can relax and finish them in a few taps! All you need to do is register for DoNotPay and let us help you with:
Have Your Documents Drafted and Notarized With Our Help!
If you need to draft a legal document, such as a divorce settlement agreement, power of attorney, or a child consent form, hiring a lawyer to assist you is probably the first thing that comes to mind. What if we told you that spending hundreds of dollars on legal services is unnecessary? Not only can DoNotPay draft contracts and agreements in a few minutes, but it is also your most affordable and effortless option!
The benefits our app provides don't stop there! After we generate your document, we'll connect you with a remote notary and show you how to get it notarized online without leaving the comfort of your home! You can even fax the document online and skip dealing with outdated fax machines.