All You Should Know About Scholarships in Ohio
Ohio boasts 13 state universities that educate nearly 400,000 students. Well-known ones, such as Ohio State University, University of Cincinnati, Bowling Green State University, Kent State University, and Ohio University, are among them. Thousands of students seek financial assistance, and many of them end up receiving it because there is a variety of scholarships and grants they can apply for.
Read this comprehensive guide and learn everything there is to know about scholarships in Ohio.
Scholarships in Ohio—The Basics
Scholarships in Ohio are awarded by the following sources:
Colleges and universities
State and federal governments
Private organizations
Individuals pursuing higher education in Ohio State can apply for need- and merit-based scholarships. There are also some scholarship opportunities for students pursuing vocational education in fields that are traditionally underserved. The Ohio Board of Regents supports a variety of these scholarships designed for specific areas of study.
Each scholarship has some requirements and specific deadlines that must be met before applying and after receiving the award. Some universal requirements that may apply to most scholarships in Ohio are:
Residing or enrolling in a school in Ohio
Seeking an undergraduate, graduate, or doctoral degree at an accredited institution
Having a certain GPA—usually no less than 3.0
Enrolling full-time
How To Find Scholarships for Ohio Students
You can look for scholarships in several ways if you are an Ohio student, including:
Reaching your school's financial aid office
Contacting the federal financial aid agencies
Talking to your high school college advisor
Entering Scholarships in Ohio into a search engine
There is an easier and quicker way to get a full list of scholarships you qualify for. Avoid all the hassle and let DoNotPay handle the scholarship search. All you need to do is sign up for our service and answer a few simple questions.
The Best Scholarships in Ohio
Some of the best scholarships for Ohio high school, college, and graduate students are listed in the table below:
| Scholarship | Award Amount | Who's Eligible? |
| --- | --- | --- |
| Ohio EPA scholarship | $2,500–$5,000 | Undergraduate students at Ohio post-secondary institutions who pursue a career in environmental science or environmental engineering |
| Ed Johnson Memorial Scholarship | $1,000 | Ohio high school seniors and undergraduate students who are members of the Future Farmers of America (FFA) and pursue a major at the Ohio State University |
| Ohio Safety Officers College Memorial Fund | Varies | Children whose parents were firefighters or peace or safety officers and were killed in the line of duty |
| Jody Stowers Scholarship | $1,000 | Students majoring in parks, recreation, and leisure studies in Ohio |
| Ohio Newspaper Association University Journalism Scholarships | $1,250 | Student currently enrolled and majoring in the fields of journalism, marketing, advertising, or communications at an Ohio college or university. They must be enrolled as sophomore, junior, or senior students |
| Clarke Price Accounting Scholarship | $2,000 | Full-time students enrolled in a bachelor's or master's degree at AACSB-accredited business schools |
| East Ohio Racial Ethnic Scholarship | $5,000 | Native American, Hispanic, Asian, African American, or Pacific Islander students who are active Church members. They must reside in East Ohio |
| Josh Smith Memorial Ohio Scholarship | $1,000 | Incoming Ohio freshmen who are coping with type 1 diabetes. They must be U.S. citizens or permanent residents, maintain good academic standing, and be active in the diabetes community |
How To Apply for Ohio Scholarships
Follow these steps to apply for a scholarship in Ohio:
Find the scholarship program you are interested in—it may be a program related to your studies or your association with specific groups of students, such as black, transgender, international, female, or disabled ones
Check the eligibility criteria to see if you qualify
Check the application deadlines to avoid sending your application too late
Fill out the Free Application for Federal Student Aid (FAFSA), which is used by federal and state governments to determine your eligibility for financial aid
Complete and submit the online application form on your school's website or other scholarship providers' websites
Submit other documents along with your application. In most cases, you'll need to attach the following:

The official transcript of your grades
Your GPA score
A scholarship essay describing your strengths and career goals
A resume—include your life and academic achievements, volunteer work, and work experience (if any)
Applying for a no-essay scholarship means you can skip all these steps. What's even better is that we can apply for such scholarships in your stead.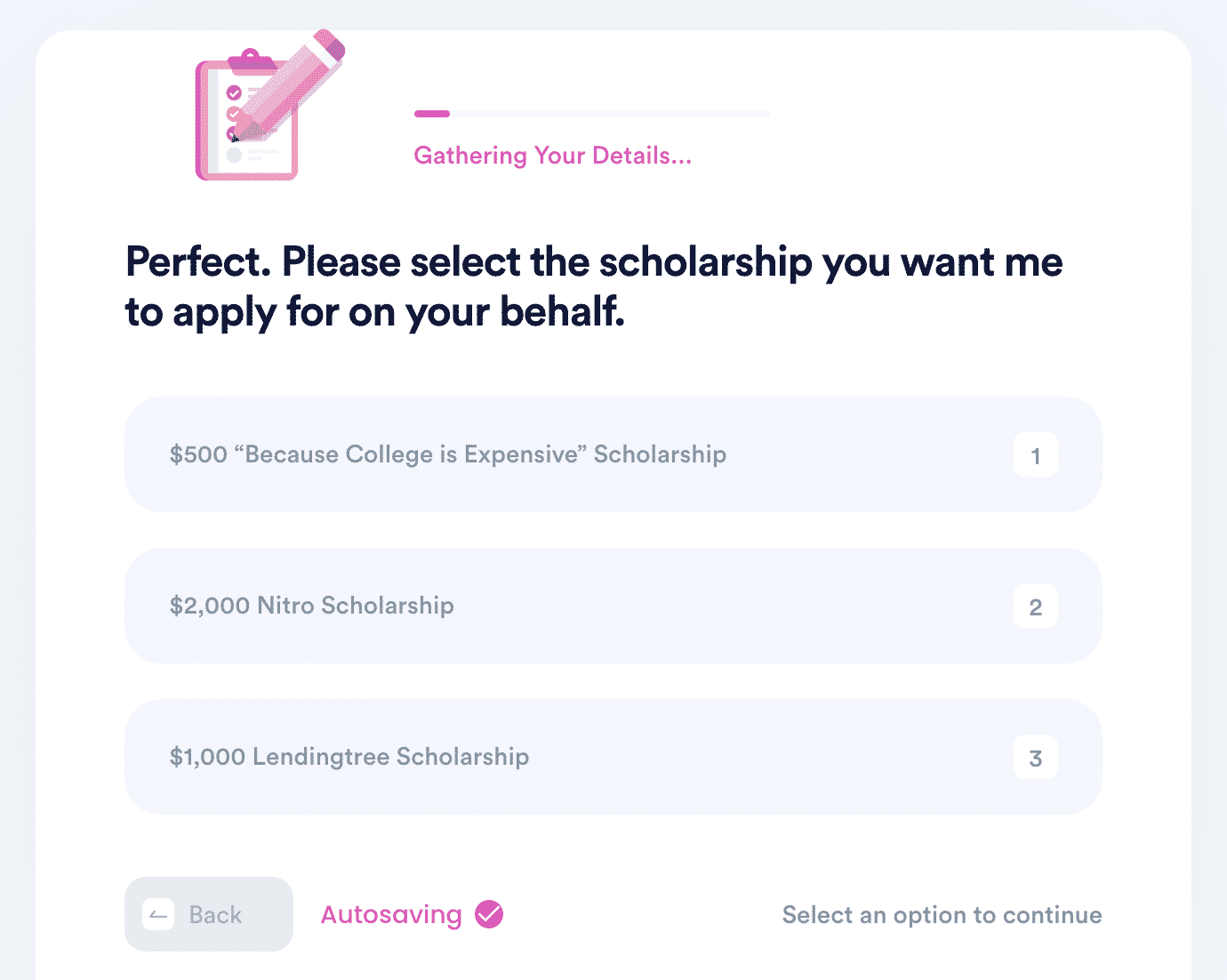 DoNotPay Can Help You Find an Ohio Scholarship in No Time
Why waste your free time on a stressful scholarship search when we can send you a customized list of all the ones you qualify for?
To initiate a scholarship search with DoNotPay, all you need to do is:
Access your DoNotPay account from any web browser
Look for the Apply for Scholarships product
Answer a few simple questions from our chatbot regarding your:

Level of study
Educational interests
Special qualifications (for example, veteran status)

Click on the Submit button

Save Time With DoNotPay
DoNotPay is not done helping you! We offer you assistance in completing a variety of tasks quickly and efficiently, such as:
Canceling Subscriptions Has Never Been Easier!
If you keep getting charged a monthly subscription fee even though you no longer want to use a certain service, don't let your money go to waste! Some companies tend to renew your subscription automatically, but that doesn't mean you have to put up with it—use our app to terminate your membership or subscription in a few clicks!
Do you want to sign up for free trials and create a virtual credit card or a burner phone number to protect your sensitive info? Once you subscribe to DoNotPay, we will walk you through the process of doing all of the above in no time!
You can also count on our assistance if you need to get rid of spam or robocalls.