Scholarships in Nevada Everyone Should Know About
If you are a Nevada student in need of financial aid for your higher education but don't know where to look, finding scholarships can be challenging. To make the whole process more clear, we have prepared this comprehensive guide for you.
Whether you're a high school senior or college, graduate, or international student, DoNotPay can provide you with a list of grants and scholarships in Nevada that will fit your needs.
How To Find Nevada Scholarships
If you are planning to apply for one of the scholarships available in the state of Nevada, you can find the ones you qualify for by:
Conducting an online search
Speaking with your school's college advisor
Contacting state or federal grant agencies
Visiting the financial aid office at the university you plan to attend
Exploring scholarships awarded by local businesses, organizations, and foundations
These five methods will give results, but you should arm yourself with patience and be willing to spend hours on meticulous and tedious research.
To save your time and effort, ! Answer a few questions from our chatbot and receive a list of scholarships you qualify for without breaking a sweat.
Who Qualifies for Nevada Scholarships?
The majority of Nevada scholarships are merit-based, but some do include a need-based component. Each scholarship has its own requirements, and students need to meet them before and after receiving the money. Some of the requirements that apply to most scholarships are:
Being born and raised in Nevada
Being a resident of Nevada
Having a certain GPA
Even if you aren't a current resident of Nevada but plan to study in the state, you may be eligible for some scholarships.
What Are the Best Scholarships in Nevada?
The state of Nevada provides numerous scholarships to assist students in paying for their education. While some are based on certain interests or talents, others are designed for particular groups, such as women, transgender people, Hispanics, military children, teachers, veterans, minorities, disabled students, etc.
Some of the best and most popular scholarships in Nevada are listed in the table below:
| Scholarship | Award Amount | Who Can Apply? |
| --- | --- | --- |
| Governor Guinn Millennium Scholarship Program | $5,000 | Upcoming college seniors with a record of community service who are pursuing an education degree. They must have a minimum 3.5 GPA and commit to teaching in Nevada after graduation |
| Reno Rodeo Foundation Scholarships | $1,000 | High school seniors graduating in Northern Nevada with demonstrated financial need and a GPA of at least 3.0 |
| Ron & Linda Smith Family Scholarship | $1,000 | U.S. citizens residing in Northern Nevada and pursuing a degree or certificate. A GPA of 2.0 is required |
| UNR Presidential Scholarship | $8,000 per year | Full-time incoming freshmen at the University of Nevada, Reno with high test scores and a GPA of at least 3.5 |
| Jo Marshall Memorial Scholarship | $1,000 | Female Republicans from Nevada |
| Nevada's Otto Huth Scholarship | Up to $40,000 | Young people who've aged out of the foster system and possess a high school diploma. They have to apply before their 20th birthday and enroll full-time at an accredited Nevada college |
How To Apply for Nevada Scholarships
Steps you need to take when applying for scholarships vary. Here are some general guidelines you should follow to be successful in applying for most scholarships in Nevada:
Submit a resume with information about your achievements, awards, community involvement, and work experience (if applicable)
Write a scholarship essay (usually up to 500 words; your grammar, spelling, and content quality will be evaluated)
Submit one to three letters of recommendation from your teacher, professor, or another relevant person
Deliver an official transcript of your grades—in most cases, you'll need to have a GPA of at least 3.0 or 3.5
Make sure you send the required documentation to the financial aid office within the given deadline. Remember that each college or university has its own deadline.
Use DoNotPay To Get a Personalized List of Scholarships in a Flash!
If you already know what school you want to attend and which scholarship you want to apply for, you won't need much time to do your research. In case you don't have any idea or are looking for external scholarship opportunities—you may be overwhelmed by the number of scholarships you can choose from.
Don't let this stop you from studying at a university that is out of your budget—we can help!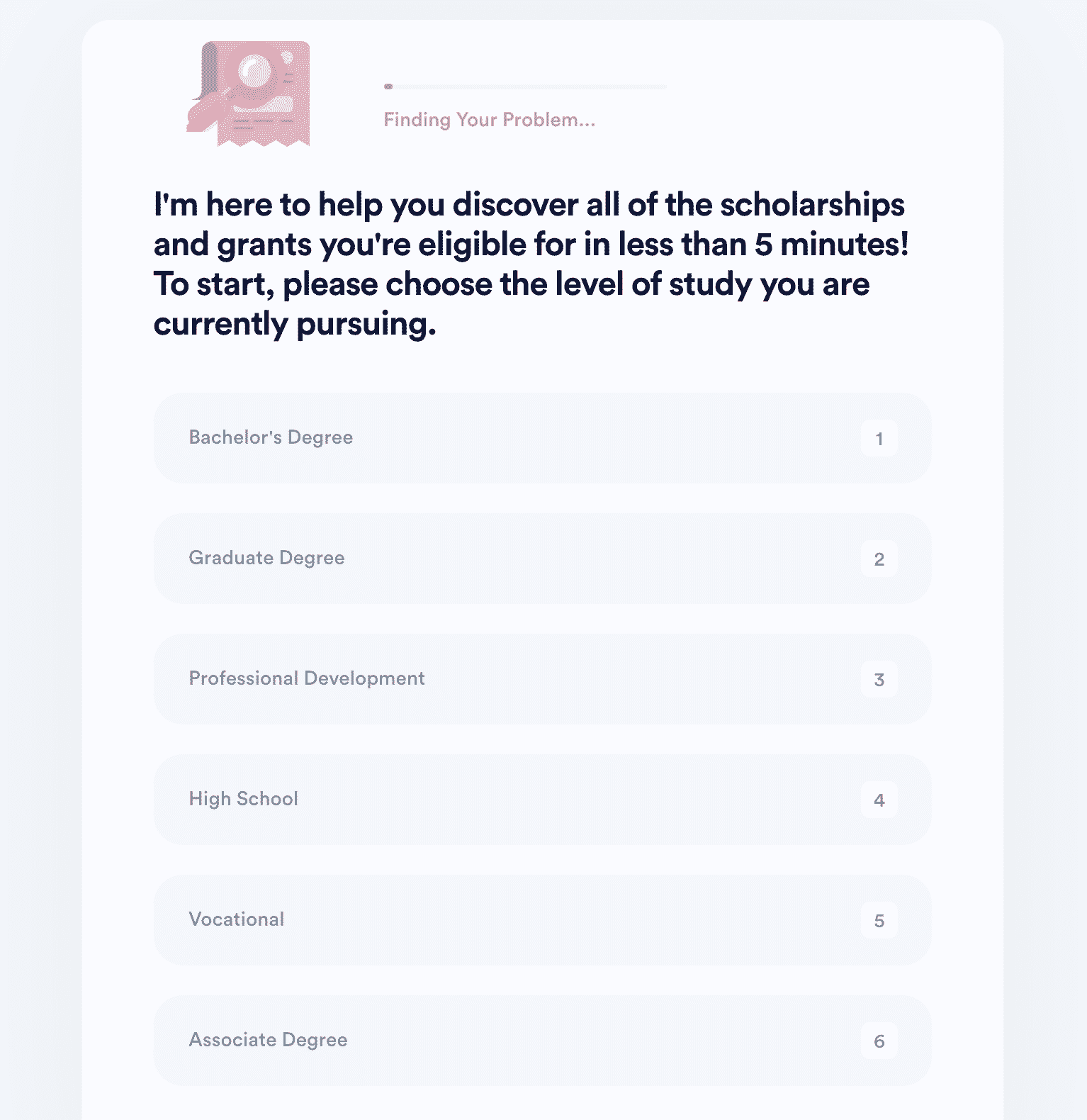 To get started, you need to follow these four simple steps:
from any web browser
Find the Apply for Scholarships feature
Answer a few questions from our chatbot regarding your current:

Level of study
Grades
Educational interests
Types of scholarships you want
Special qualifications (if any)

Submit the form
Once you're done, we will send you a personalized list of scholarships you qualify for in minutes! You can even apply for no-essay scholarships through our app.

Save Time With DoNotPay
DoNotPay is not done helping you! We offer you assistance in completing a variety of tasks quickly and efficiently, such as:
Canceling Subscriptions Has Never Been Easier!
If you keep getting charged a monthly subscription fee even though you no longer want to use a certain service, don't let your money go to waste! Some companies tend to renew your subscription automatically, but that doesn't mean you have to put up with it—use our app to terminate your membership or subscription in a few clicks!
Do you want to sign up for free trials and create a virtual credit card or a burner phone number to protect your sensitive info? Once you subscribe to DoNotPay, we will walk you through the process of doing all of the above in no time!
You can also count on our assistance if you need to get rid of spam or robocalls.